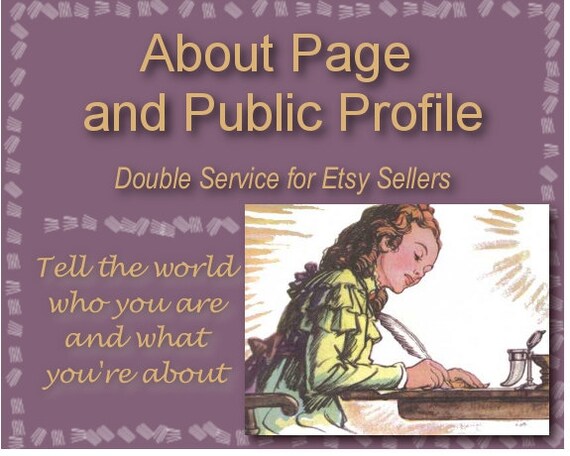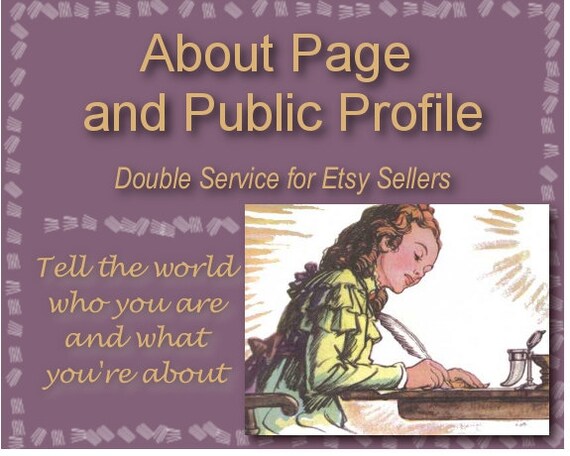 Arrives from the United States
---
Features
Made in Seneca, South Carolina
---
Item details
Are you struggling to write a Profile or About page? Hire a pro to maximize the effectiveness of your Etsy introduction with an affordable Profile and About bundle written by an experienced copywriter.

With a personable, approachable Profile and an interesting, flawless About page, your Etsy shop turns from just another storefront to a business and a person from whom shoppers want to buy. SEO-conscious and buyer-attractive information can help you gather your audience and forge personal connections with customers.

However, even the best marketing writers complain of creative block, embarrassment, and loss of motivation when they face the challenge of writing about themselves. That's where I come in. I don't create a story tuned to customers; I take your own and polish it, showing your personality and quirkiness to the world with exactly the level of detail that makes you comfortable.

----

This bundle includes:
- a Personal Profile of up to 1 single-spaced page
- an About Page of up to 1 single-spaced page
- a one- or two-line bio for your About Page (on request only)

If you need photo captions written for your About Page as well, let me know how many you would like and I will adjust your order price to reflect it; these are $4 apiece.

***Please make sure to read the Client Responsibilities listed in my Shop Policies. By purchasing this service, you are agreeing to be bound by the terms of my Shop Policies and the Client Responsibilities within, as well as the contents of this listing.

-----

Within our agreed term of both (a.) receiving your information*** and (b.) your payment clearing, I will email you a digital file in your chosen format with your new profile or about page.

The purchase of this listing buys you a digital file containing your custom wording, to be delivered via email or Etsy convo (your choice). With the file (.doc, .rtf, .odt or email body) comes one round of edits, my retention of a digital copy of your wording as a free service in case of file loss, the material under your unregistered copyright (which allows you to copy and reuse any boilerplate however you like), and proofreading by a Clemson University professor of business writing.

-----

Things to think about when you are choosing information for me to work with in a profile could include any of the following:
- What inspires you? This is a terribly open-ended question, but think about historical eras, art styles, or anything you find yourself reflecting in your work's colors, patterns or shapes.
- What are the parts of your personal life (that you're comfortable sharing) with which a reader might identify? Hobbies, fun family stories, kids and pets are great choices for this.
- What else are you passionate about? This could be the study of spiders, Great Dane rescue, growing native wildflowers -- too much of this sounds scattered, but a little of it can be just the personal touch you need.

For an About page, consider these questions:
- How did your business begin? How did you decide to start an online shop?
- Why do you use the materials, motifs, themes, or techniques you have chosen to use? What makes them different from those used by others?
- What makes your products better than similar ones sold by others?
- What is your business's higher purpose? That is, what is the underlying reason for its existence? Do you donate proceeds to charity? Are you using the funds to pay for sitting for a special-needs kid? Are you trying to find a little more independence through the work of your hands? Any of these reasons can help your business feel special to the reader.

*** Since there has been some confusion about the nature of this listing, please be aware that I *cannot* write a profile or about page for you without receiving some details from you. I can't create content without a topic.

-----

This is a fast, affordable, professional copywriting service. I have an advantage over many Etsy sellers in that I'm a professional freelance copywriter; I have an advantage over copywriters in that I'm also an experienced Etsy seller who understands exactly what an Etsy business needs. You can review my qualifications in more detail in my own profile.

I look forward to writing you the perfect profile or about page!
---
Sep 13, 2016 by Rachel Nevarez
Great work! Thanks for your help!
Dec 27, 2014 by Emmy K.
Perfect, thank you. My about page now looks professional!
Aug 26, 2014 by Diana Milnes
I had been wanting to polish up my Public Profile and About Me page for sometime. I recently added two more local artisans to my shop and knew the time was now! I just wasn't sure how to go about this or the best way to write this information. Fortunately I found Chelsea! She has done a remarkable job of writing our profile and about me pages. The information written rings true and sounds genuine and professional. I plan to use her services again for some new listings we will have. I would not hesitate to recommend her services to other shop owners. Chelsea was easy and quick with communications. Her turn around for us was incredibly quick. Thank you, Chelsea!
Mar 5, 2014 by Susan Burnett
very happy with service and will use again!
Mar 5, 2014 by Shawnna Rennae Porter
---
Shipping & policies
Arrives from the United States
Estimated Shipping
Essentially, the items for sale in this shop are digital copies of the text I will generate for you, which will be emailed to you in the file format of your choice.

Word .docs, OpenOffice .odts, and universal .rtf files are all options; I can also send content in the body of an email or Etsy convo. Simply let me know what you prefer.
---
Payments
I accept PayPal and, in some cases, I will take money orders. The deadline for PayPal payments is three days. All payments must clear before we begin working together.

Scribblegoat is a barter-friendly Etsy shop! Convo me to offer a trade. However, keep in mind that copywriting is my primary job; I have bills to pay, and can't always afford to swap my services.

I am unable to haggle on my pricing. My assistance is expert and professional; the fees I charge are carefully evaluated in order to be competitive with the market price of similar services.

However, I am able to offer better rates for very large quantities of copy. If you want multiple descriptions, a set of seasonal content, or even a full overhaul of your shop's text content, this might be available to you. Convo me to inquire about any specifics or unusual services -- I love a challenge and I'd be happy to figure something out!

RUSH ORDERS AND TURNAROUND TIMES

With most freelancers, the standard turnaround for site copywriting projects is 4-6 weeks. Because of my business's size, I am able to prepare your content speedily; I offer shorter turnaround times in most cases -- dramatically shorter, in the case of single descriptions and profile pages!

However, there are times when I become booked. I would never neglect your order in favor of someone else's, and I would never present you with hasty or sloppy work -- which means that the time until I can begin new projects may at times lengthen considerably. Please convo me to find out how quickly I can start work on the content you need. If you have a specific deadline, you MUST clear this with me before you order.

If you are in a significant time crunch, rush orders may be available to you; this means that I will dedicate time to your order over and above normal working hours so that I can deliver what you need in time for your deadline. The fee for rush orders is based on 40% but may vary from case to case, depending on the complexity of your needs and how many clients I am serving at that time.
---
Returns & exchanges
If for any reason you should need to cancel your order, I will estimate at my sole discretion what percentage of the work is complete ($10 is the minimum charge for cancelled orders). I will then return to you whatever portion of your paid fees remains.

Cancels are only made on request. If I do not hear from you within a reasonable amount of time I will consider your funds to be under escrow until such time as you are ready to complete your order with me.

I will make reasonable attempts to contact you, but orders for customers I haven't heard from only remain on my books for one calendar year. If I have lost contact with a client, their content order will be cancelled one year after their purchase, and any fees paid will be forfeit as compensation for the time I spend attempting to make contact.

***

I do not offer refunds for site copy, because there is no way for me to reuse any part of my work or regain the time spent in crafting your text. However, if there has been a significant misunderstanding on my part or some extreme circumstance, I may offer rewrites on a case-by-case basis.

I am aware that some other copywriting services offer full refunds under all circumstances. However, I find that's often a warning sign of sloppy work and low commitment. I devote too much time, research, and attention to everything I write to be able to afford to take a loss on the time I have spent on your copy -- and sadly, I have had customers refuse to approve content because I would not agree to give them further services for free.

These policies are not negotiable. My payment and refund policies are in place so that, whatever happens, you can continue to expect the absolute highest caliber of service from Scribblegoat.

That said, if you have any questions or concerns, please contact me; I want you to leave my shop completely satisfied and will go to great lengths to make sure of this.
---
Additional policies
I'm not a get-rich-quick, quit-your-day-job scheme (of which, sadly, there are so very many, usually fraudulent, that target small-scale online sellers). Consequently, I do not guarantee a given number of increases in views or sales. I am not an expert in images, and my SEO training is entirely based on savvy use of Google tools and long, attentive experience.

I DO promise that I will do my utmost to help you learn to make knowledgeable choices in your writing for your business, and that content written with my qualified assistance will be easier and more pleasing for your customers to read and will set your items in a better light than ever before.

***

CLIENT RESPONSIBILITIES

I apologize for sounding stern here, but I adore my clients and want to give them all the time, skill, and attention that I possibly can. When new customers don't take the time to know what they're getting into, it's a major drain on my energy and resources.

Therefore, do please take the time to familiarize yourself with the Client Responsibilities before making ANY purchase from Scribblegoat.
I am not responsible for clients' failure to familiarize themselves with their Responsibilities, and reserve the right to cancel orders (and charge applicable service fees listed above) for clients who have clearly not read and followed these Responsibilities.

- Clients must have read the descriptions for the services they are purchasing.
- Clients must take the time to learn the nature of the service they are requesting. E.g., clients should know what a press release is if they order a press release; clients should be aware that I offer copywriting, NOT ghostwriting. (If you're not sure, ask me! Seriously! I like to explain things! I don't bite!)
- Clients must provide all necessary information for content to be written (including links, photographs, item specs, background information, etc.) promptly.
- Clients must inform the copywriter of any deadlines, preferably before ordering. I will not be responsible for meeting a deadline of which I wasn't made aware prior to purchasing.
- Clients must remain accessible and in contact; I reserve the right to cancel orders without refund if a client is unresponsive for an unreasonable period of time.
- By purchasing, clients acknowledge their willingness to pay the $10 service fee for my time.

Okay, now that's out of the way and we can proceed! Thank you for taking the time to read this list; it makes everything go much more smoothly.

***

*The Scribblegoat FAQs*
(updated as questions are asked frequently)

"Do you work on websites other than Etsy? Can you write for my independent website?"

Yes! In fact, I'd love to. I've written for countless independent ecommerce sites, as well as Etsy, Ebay, OpenHerd, Kickstarter, Indiegogo, and a number of other venues. Let me know your needs and I'll adapt the style to match.


"When you write my content, will it sound like something I wrote?"

Probably not. If that's what you're looking for, you might want a ghostwriter rather than a copywriter. I don't do ghostwriting, but try Freelancer.com or Upwork.com to find someone who does.


"Do you offer graphic design? Phone consultation on my business? Web hosting? Publicity and publication services?"

Nope! I offer text. My work is well worth what you pay for that text if it's utilized. What you do with the text is up to you.


"Will my items get more views on Etsy after my descriptions are rewritten?"

Maybe. That depends on how well the titling, tagging, and first couple of lines were working together before I came along. However, the customers who do find your item and read its description will be charmed, informed, and tempted by the words more than they were before. That's hard to quantify, but it's absolutely vital to making sales.


"What exactly is SEO?"

SEO is Search Engine Optimization. In short, SEO consists of the steps you take to make sure that search engines like Google, and Etsy's search engine crawlers, will find your item or web page and consider it relevant to users. Part of SEO has to do with your site's meta-tags, which are invisible to the visitor and about which you can consult your webmaster. The other part is based on the text on your page -- and that's where I come in.


"Doesn't my content need [the keyword phrase] in it more often for SEO purposes?"

Short answer: Maybe, but not as much as you're probably imagining.

Long answer:
As an online seller, you have probably been advised that you should pack in your keyword phrase, whatever it happens to be, as often as possible. However, the experts I trust on the topic of SEO content would tell you that the advice you're getting is a little out of date. It is vital to have keyword phrases, but search engines are much more sophisticated these days than they were when much of the advice on SEO was written, and today, varied secondary keywords are just as important. The best site text is relevant, rich text, not keyword-"stuffed" text.

And to add to that, some search engine explorers actually deduct SEO points if your keyword density is too high! Unfortunately, no one knows what that "magic number" is. At one point, experts were saying that keywords should be less than 8% of your text -- I think that's still quite uncomfortably high.

It is certainly possible to pepper in more of your keyword phrase, but I will caution that if you use the same phrases too often, it sacrifices the real-person reading experience and turns off customers from reading your descriptions in full.


"But my customers don't seem to read my descriptions anyway."

I feel your pain.

Naturally, there are always a few customers who won't read descriptions no matter what you do with them. However, in my experience, there are far more customers for whom the decision between two similar items is made by a clever, interesting, readable description. For these customers, it's important that the text be engaging.


"Should I buy a shop success/SEO/description-writing guide from [X shop]?"

It's up to you -- but I will take this opportunity to warn you that most of the shop guides I've seen are an unedited mess. Just because an Etsy shop has pretty graphics and an outside website that looks legitimate doesn't necessarily mean that they have any idea what they're doing, even in the topics their ebooks are about.

However, if you would like a success guide, convo ThePreppyOwl on Etsy -- she's a fantastic seller and I believe she's working on a set of ebooks explaining how she has become so successful on Etsy. I also offer a Business Planning Guide in PDF format -- if you don't see it listed in my shop, just ask and I'll relist.


"Do you want a guide for yourself? I'm selling one."

No, thanks. I've been doing this for quite a while, and I find professional experience is a far better teacher. However, I might be willing to review a copy for you, depending on my current workload.


"Do you want a guide for yourself? I bought an extra copy of this one."

I always, I always want to know your specific wants and needs for your copy and the guidelines or requirements of your sales venue. However, please don't provide me with some kind of third-party general writing guide. If my extensive credentials and years of positive feedback don't leave you convinced that I am competent to meet your specific writing challenge, you should probably look for someone that you feel will better suit your needs.

Example: I don't want a general "how to sell products online" ebook with a suggestion that I read pages 80-150. That's actually really insulting. (Yes, this has happened.) However, I DO want to know your web designer's opinion of which segments of the site are crawled most frequently, the word-count limit in your section of Amazon.com, and any specifics of your brand persona.


"Why are your prices higher than those of [X shop] that offers similar services?"

Because I'm a professional copywriter, and that's worth something. Because I'm experienced on Etsy and on a number of other sites, and that's worth something. Because I'm fast, friendly, and flexible, and that's worth quite a lot. Because I sincerely believe that, for all of these reasons and more, my services are of a higher caliber.


"Why are your prices lower than those of [X shop], then?"

Well, primarily because I offer effective descriptions, not long ones. Some of them are also offering to do your research for you (which I sometimes do to enhance my knowledge on the topic, but I'm uncomfortable charging every single customer for it, since I'm already pretty conversant with a number of crafting techniques and artistic styles). It's also because I'm very fast for a writer in this industry.


"Who edits your work?"

First, I do; that's part of what you purchase, and I give myself a day between writing and editing whenever possible to make sure I edit competently and completely. But since you can never fail to benefit from a second (or third) pair of eyes, there's a Clemson University business writing professor who I call in for second opinions.


"Who does your graphic design?"

I do. That's why it's not that great. I'm self-aware. I taught myself to use the GNU Image Manipulation Program and have no formal training. The cute graphics I've used are in the public domain, and most of them come from the fantastic lady at grandmasgraphics.com, which is an incredible resource.


"Do you use British or American rules for punctuation and spelling?"

I can use either (and Canadian, Australian, and Singaporean, too). I'm most comfortable with the American rules, but until Elance closed, I was considered one of the top 20% of freelancers on the entire site for at least knowing the difference! However, if you spot somewhere that I've switched, please let me know; I'm not perfect in this area.


"What are your feelings on the Oxford comma?"

It's not quite as attractive, but I default to using it when I'm writing for ecommerce. It's just clearer.


"Do you ever break grammar rules?"

Only for effect. Mostly in the case of sentence fragments. You might have noticed this by now. Sometimes I consider them necessary, but if they bother you, I'll omit them.

I also usually use "they" to refer to a singular entity of indeterminate gender, because it's simply more concise. Let me know if you have another preference.


"Who or whom? Thee or thou?"

Who is the subject of the sentence? The object of the sentence would be whom? And if thou art the subject of thy sentence then the object of thy sentence wouldst be thee.


"What's your favorite punctuation mark?"

The semicolon, for now. But it hurts me so badly when it steps out of its proper grammatical place, I'm seriously thinking of leaving it for the interrobang. But don't tell the semicolon; it would hurt its feelings.


"Have people actually asked you all of those questions?"

You caught me. Only some of them. The rest were added because I'm opinionated. But if you have any questions that you think should be added to the list, contact me here on Etsy or at scribblegoat at gmail dot com. I'm looking forward to hearing from you and chatting about the descriptions that will make your artwork, services, or personality shine!