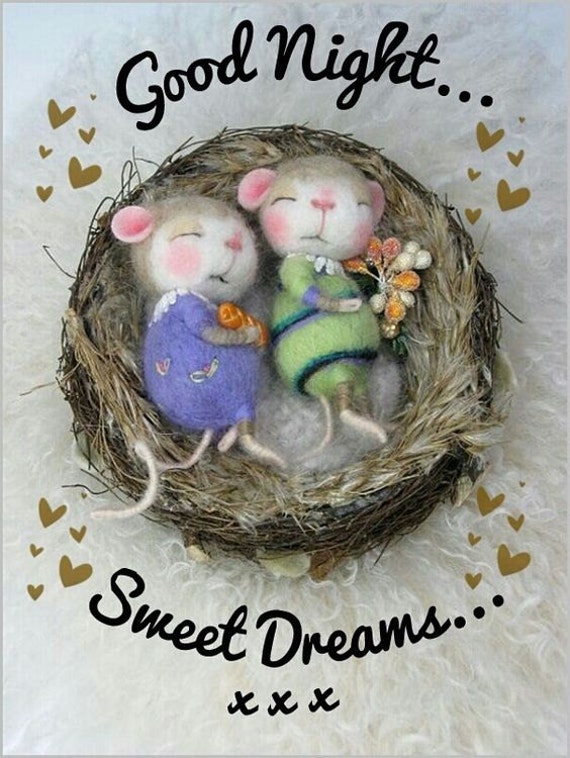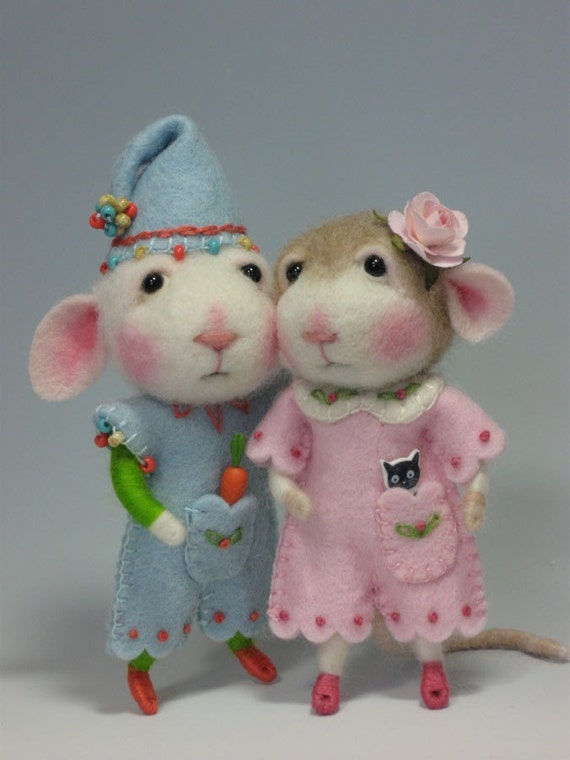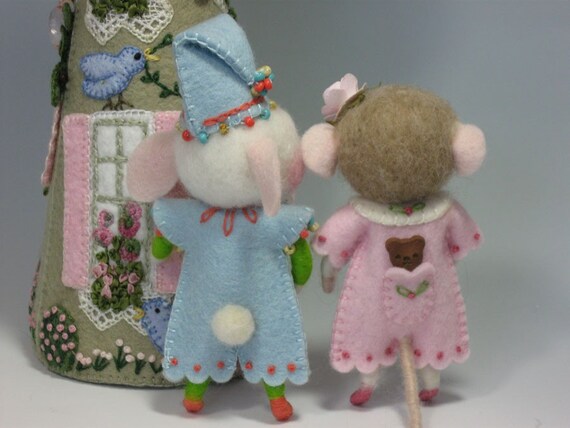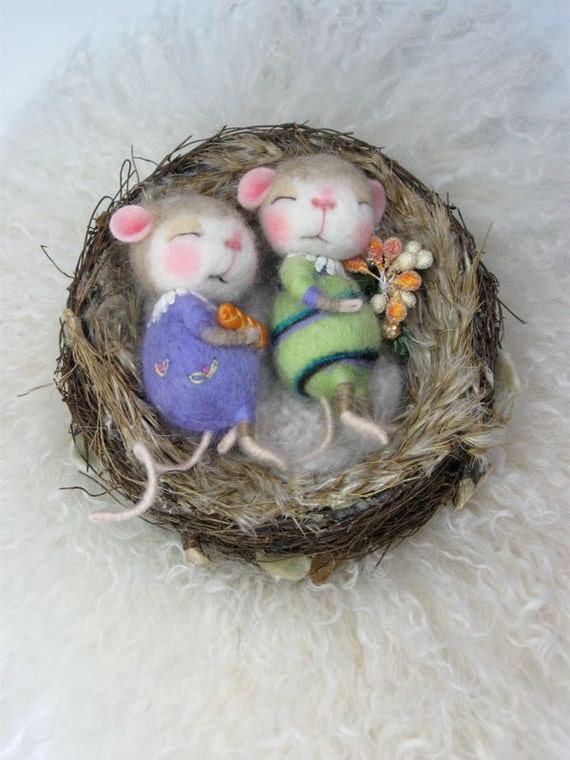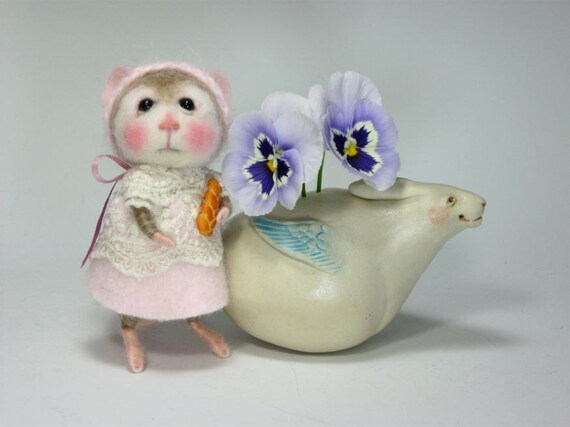 Preparation takes 1-3 business days
Arrives from the United States
---
Features
---
Item details
Hello!

I have included the "Story of Rodanta" below the description if you would like to know where all of my critters live.

Meet Peanut Bunner & Jilly Sannich the bunny and mouse class mascots in the 2nd and 3rd photos. They are the mouse and bunny you would create in this class. I am posting other photos of dressed mice on this listing just to show you what is possible after you learn how to make your own Peanut Bunner and Jilly Sannich!

This is a class I am selling. I am not selling the actual mice, owls, Gnomes, boar, monsters or houses. The pattern for this class is to create a dressed mouse and bunny only as shown in the 2nd and 3rd photo.

OOAK Wool Needle Felted Dressed MOUSE & BUNNY Class

By Barby Anderson © 2011

I respectfully ask that you do not duplicate my class in any way as it is fully copyrighted. This is how I make my living and I appreciate you not sharing this class with anyone else.


PLEASE READ ALL OF THE INSTRUCTIONS BELOW BEFORE PURCHASING!


After purchasing this needle felting class I will be sending you the class and pattern via email in PDF files. The clothing pattern is also in a PDF attachment and is the actual size after printing out a copy of the pattern. I do not send this class to your home via physical mail, again I send it to your email address on PDF files.

This class is fully copyrighted, Barby Anderson © 2011. You may create the mouse and bunny from this class at your leisure as there is no set time to finish your project. Once you purchase the PDF files of this class it is yours and you may create your mouse and bunny whenever you would like. I work in my studio 6 days a week and am happy to help any student with their needle felted mouse or bunny.


I am very excited to share my knowledge on needle felting through my PDF "Needle Felted Dressed Mouse and Bunny Class" to help you create your very own 3-1/2" needle felted mouse and bunny. Yes, this class teaches you how to make BOTH the dressed mouse and dressed bunny along with tips on how to create a closed eye critter too! This listing is for my "Needle Felted Dressed Mouse and Bunny Class" © 2011 sent to your email address in PDF files and not for the actual wool bunny or mouse that are shown in the photos, nor the owl or house or any other props. Again, the pattern for the clothing is in a PDF attachment. The clothing pattern included is just like the clothing "Peanut" and "Jilly" are wearing. If you would like a companion kit with wool supplies it is in another listing sold separately in my Etsy store. Please email me through my Etsy store if you have questions.

I do require that any person that creates and sells a similar mouse or bunny from this class to add to their listing or hang tag "The original pattern was designed by Barby Anderson, copyright 2011." Barby Anderson Etsy ID: barby303

I have 132 colored photos for you to follow in this PDF class along with my easy-to-read instructions under the photos. You may print one copy of this class for your records and it is not to be shared with any other person.

"Needle Felted Dressed Mouse and Bunny Class"


This will be a five-lesson class as shown below:

Lesson #1- Wrapping and needle felting the body

Lesson #2- Making the tail for the mouse and creating the head

Lesson #3- Creating the clothing and faces for the mouse and bunny

Lesson #4- Finishing the face, creating the ears and eyelids plus sewing up the inseam to the romper

Lesson #5- Creating closed eyes, adding the bunny tail and elf hat, plus adding a brown overlay for the mouse's head



A supply list will be included in your first lesson.

The photos of the dressed mouse and bunny in this listing are examples of what you would be learning to create. The mouse and bunny you will be creating have black bead eyes, a pink nose and mouth and pinkish flesh ears. The mouse and bunny are needle felted from wool and have wire armatures inside the arms and legs for posing, plus a string jointed head for movement. Everyone needle felts a little differently and so each creation by each student will vary. I have included many photos of the class mouse and bunny with step-by-step instructions in the five class lessons. This class was created for beginning needle felters, however it is challenging enough for the more advanced needle felter. The class teaches you how to create a mouse and bunny with hand stitched clothing. There are a few simple embroidery stitches you may use to embellish the outfits and you may look up the basic stitches online. I do not teach the actual embroidery stitches, however I explain which stitches I have on the outfits and there are many ways to embellish their outfits.

For those who have not needle felted this is a process of poking fluffy wool with a barbed needle hundreds of times to sculpt a shape. Needle felting is basically sculpting and painting with wool! The wool mouse and bunny you will be creating is not intended for children or pets.

THE STORY OF "RODANTA"

WELCOME to the mystical, magical world of "Rodanta!" As the story goes.....there is a village deep in the forest called "Rodanta." A unique and wondrous place. There live the creatures of the forest, mostly mice, however many bunnies live there too, plus a few squirrels and other creatures. The village is always watched over by the birds of the sky...... such as owls, blue jays, crows and much more. In the village is "Helen's Well of Wisdom." Many gather there to drink from that well, as the spirit of an elfin girl that roamed the forest lives there. Any one who needs to be refreshed, and receive sage advice, certainly drinks from "Helen's Well."

Many Gnomes live near "Rodanta," and they watch over the village creatures also. It is not often one sees a Gnome though, and if you do, you are blessed with a smile on your face for life! You may see a fox or squirrel with that grin, they must have given the Gnomes a ride through the forest. When extreme danger may enter the forest, which is not often, the crow gives a warning call that gathers all of the grand owls of the forest. They will battle to the death, if need be, to protect "Rodanta." There is an "Uldra," a troll of sorts, that lives in the forest too, he can be a bit disconcerting to all, however he is pretty harmless.

The Pixie of the forest is a kind little Pixie, no one really knows if the Pixie is a girl or boy, however the Pixie tends to all of the tiny birds of the forest, and places them back up in their nests if they fall out. The Pixie also calls on the forest mice to help her assist a baby deer stand, after the birth. Bats even come to the Pixie, if need be, to protect the wee Pixie. They will flash signs upward to the sky for help, and soon the sky is filled with bats who try to drive away any threat. If that does not work, the crows come to bombard the intruder with their sharp beaks, and lastly the owls, and they always take care of the matter!

You might see a little bearded man in his red suit flying above on a donkey, ahhhhh yes, keep your eyes open for that fellow! He is dearly loved by all.

The forest creatures are very happy, so they decided to make a special place called "The Dancing Place." A wonderful spot to gather, to laugh, and tell stories of their day in the forest. Rapunzel's cottage is not far from this place. She tends to the sheep of the forest and spins their fine wooly-hair into golden threads. This was made for the beloved King Gnome "Ollamh's" finest clothing. The King watches over the forest too, and he carries many special powers.

There is a garden in the forest village too! Everyone tends to the garden and eats from the garden. Florence Bunningtale is the bunny who picks the veggies and turns them into healing soups and stews. Her Grandpa "Sir Vancelot" passed on his knowledge to his granddaughter Florence, however, he still cares for many who may have a bit of an ache or pain.

Nearby is a walking trail, with a bridge over "Barby's Creek." Waterfalls always provide a musical and happy sound. The creatures of the forest love walking near water, and it all stems from "Finnian's Spring," an endless supply of fresh cool water.

Cascading around the village is the magical caterpillar tree, and many of the very young creatures play hide and seek in that tree. There is always a nose here or there peeking from the caterpillar tree. Nearby is a magical flower garden and anyone who picks a flower from that garden will laugh with glee, and pass the flower on to another.... to continue the joy!

The hollow tree, so warm and inviting, where forest creatures can take a nap, or just peek through the holes to watch the other forest creatures play. And when wanting to explore or just get out of the rain, Manderson's Cave is just the place! One can only hope to catch a glimpse of this fine forest, and the tiny village......ahhhh yes, "Rodanta" ......a mystical, magical.......happy place!
Copyright Barby Anderson 2015



Helen Visser Priem made the incredible owls, boar, Uldra Troll, crow and many other companions for my critters, sweetpoppycat makes the sweater monsters, cats and pugs for my critters, twolefthands made the darling houses, SharLappage makes the cakes for my critters, MaidofClay made the bunny vase, pinkpeppercorns makes the lovely hand dyed ribbons for my critters, buttonsbyrobin makes wonderful mini buttons for the pockets, dreamalittle7 makes the wee bird friends that my critters hold in their arms and woollyduck made the tiny wool caramel candy.
---
---
These are well written instructions with lots of photos. The seller was very prompt in sending me the PDF files. She is also very friendly and helpful! I would recommend her store and her PDFs to anyone interested in needle felting.
Dec 9, 2014 by Erin W.
A super seller .. Fast response and very helpful. I am very happy with my purchase. Many thanks :)
Dec 15, 2012 by A fellow maker
Dear Barby, thank's a lot again:))) I love your babies critters:))) Wish you good Luck In future work! With best regards, Inna.
Sep 30, 2012 by A fellow maker
Fast Service. Delightful tutorial! Thank you! nHugs, nSandee
Aug 29, 2012 by A fellow maker
---
More from this seller
---
Shipping & policies
Preparation takes 1-3 business days
Arrives from the United States
Estimated Shipping
I ship within one or two business days when you purchase any item in my store. I email the PDF file class purchases within 12 to 24 hours and most are sent very quickly. When you purchase a class, you buy the PDF attachments for the class that I send you via email. You may print a copy for yourself also. My classes and patterns are fully copyrighted and I ask kindly that you please respect that.
---
Returns & exchanges
I am always happy to help you if you have any questions pertaining to refunds, just send me a convo!