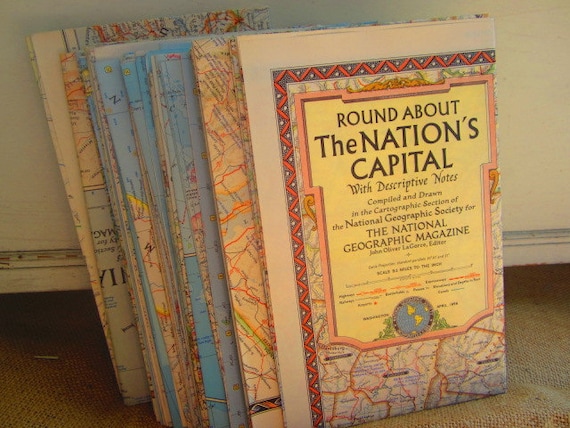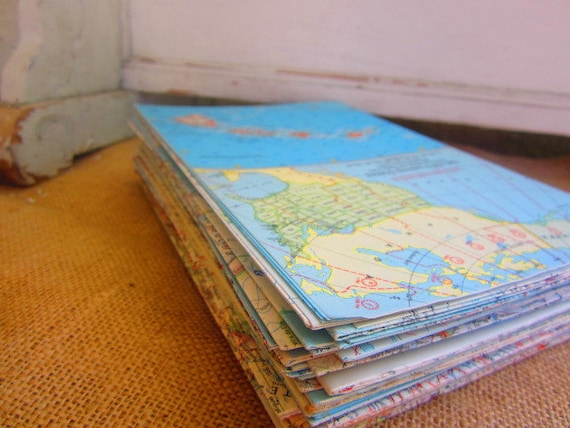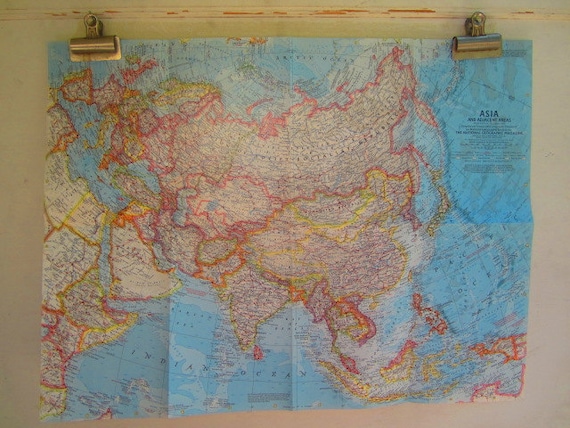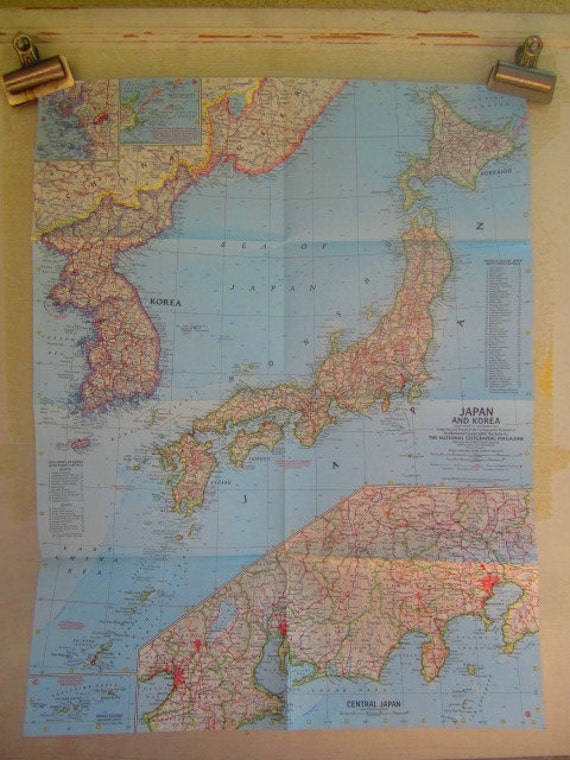 Arrives from the United States
---
Features
---
Item details
This Listing is for 5 maps of your choice. I have the complete list of all that are available, so choose and leave me a note at checkout with the one you choose. These maps are in great condition. Besides a little worn from folding and fading on a few they look almost new. There may be small tarnishes, markings, or creases from fold but that's what gives these old maps character, remember most of these are about 50 years old or older!

These would look great framed, use for projects, historical piece and so much more.

If you would like to see pictures of certain maps let me know or if you would like a larger quantity just message me!

Available Maps:
1944 AFRICA (sold)

1953
March- MEXICO AND CENTRAL AMERICA
October-CHINA COAST AND KOREA
December-GREAT LAKES REGION(sold)

1954
June- CALIFORNIA
August- NORTHERN EUROPE (sold)
December- NORTHERN AFRICA (sold)

1955
March- EASTERN SOUTH AMERICA
June- NEW ENGLAND (sold)
December- ATLANTIC OCEAN (sold)

1956
April- ROUND ABOUT THE NATIONS CAPITAL
June- ALASKA (sold)
December- LANDS OF THE BIBLE TODAY

1957
March- THE WORLD (sold)
June- EUROPE
September- ANTARCTICA (sold)

1958
January- SOUTH EASTERN UNITED STATES (sold)
March- SOUTHERN SOUTH AMERICA
May- NATIONAL PARKS
July- BRITISH ISLES
November- NORTH CENTRAL UNITED STATES (2)
December- GREECE (sold)

1959
January- LAND OF THE EASTERN MEDITERRANEAN (2)
June- GERMANY (sold)
July- ALASKA
September- WESTERN SOVIET UNION (sold)
November- SOUTH WESTERN UNITED STATES
December- ASIA

1960
February- SOUTH AMERICA
April- NORTH WESTERN UNITED STATES (sold)
June- FRANCE, BELGIUM, AND NETHERLANDS (sold)
July- HAWAII (sold)
September- AFRICA (2)
November- THE WORLD (sold)
December- JAPAN AND KOREA (2)

1961
February- SOUTH CENTRAL UNITED STATES
April- BATTLEFIELDS OF THE CIVIL WAR
May- SOUTHEAST ASIA
July- UNITED STATES (sold)
October- MEXICO AND CENTRAL AMERICA
November- ITAL Y
December- CANADA

1962
February- THE BALKANS (sold)
April- PACIFIC OCEAN
June- EUROPE (sold)
August- UNITED STATES WASHINGTON TO BOSTON
September- EASTERN SOUTH AMERICA (2)
December- WEST INDIES

1963
February- ANTARCTICA
April- SCANDINAVIA
May- SOUTHWEST ASIA
July- CENTRAL CANADA
September- AUSTRALIA
October- AFRICA COUNTRIES OF THE NILE/ (2)

1964
April- NORTH AMERICA

1965
January- VIETNAM (small)

1968
October- MIDDLE AMERICA

1971
March- THE PEOPLES OF MAINLAND SOUTHEAST ASIA

1972
July- PEOPLES OF THE MIDDLE EAST
October- SOUTH AMERICA (sold)
December- INDIANS OF NORTH AMERICA(sold)

1973
February- THE RED PLANET MARS
March- CLOSE UP: USA THE NORTHWEST
May- MEXICO

1974
March- CLOSE UP: USA THE NORTH CENTRAL STATES (sold)
April- BRITISH ISLES
October- THE SOUTH CENTRAL STATES
December- DISCOVERERS OF THE PACIFIC (2)

1976
February- SOVIET UNION (sold)

1977
May- CELTIC EUROPE
July- WILD AND SCENIC RIVERS (sold)
October- THE SOUTHWEST (sold)
December- COLONIZATION AND TRADE IN THE NEW WORLD

1978
April- Close-Up Canada- BRITISH COLUMBIA ALBERTA YUKON TERRITORY
September- EARLY CIVILIZATION IN THE MIDDLE EAST

1979
May- Close-Up Canada- SASKATCHEWAN MANITOBA NORTHWEST TERRITORIES

1980
May- Close-Up Canada- QUEBEC/NEWFOUNDLAND
December- AZTEC WORLD

1982
November-THE SOUTHWEST
December- THE HISTORIC MEDITERRANEAN (sold)

1984
August- THE MAKING OF AMERICA- CENTRAL ROCKIES
October- SPAIN AND PORTUGAL

1987
April- PINNIPEDS AROUND THE WORLD

1989
December- HOLY LAND

1992
February- SPAIN IN THE AMERICAS

1994
September- MEXICO

1996
April- THE OLD JERUSALEM

2000
December- THE AMERICAS

2002
September- A THIRSTY PLANET

2004
August- THE WORLD

Thanks for looking!
---
---
More from this seller
---
Shipping & policies
Arrives from the United States
Estimated Shipping