Set of 18 KLIMT Art STICKERS- Klimt paintings, Klimt prints, The Kiss, Klimt Dominoes, Accomplishment, Three Ages of Woman - READY to use
(16)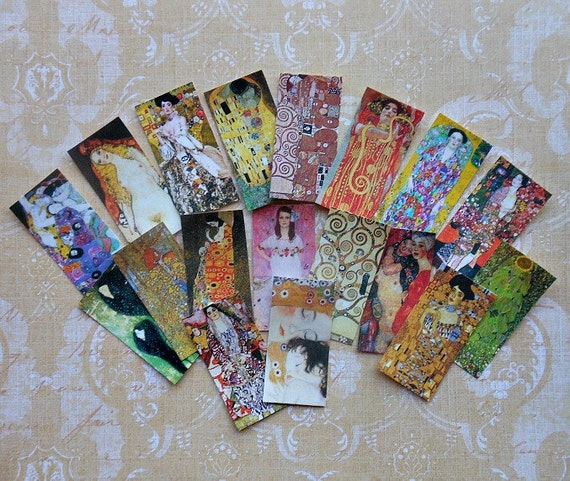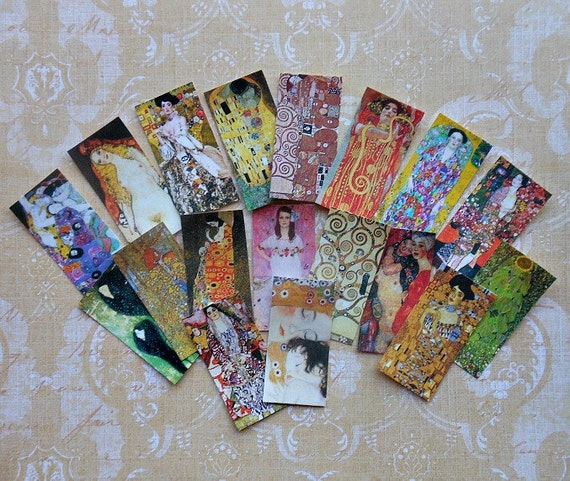 Preparation takes 2-5 business days
Arrives from the United States
---
Features
---
Item details
Please READ THIS before ordering!
The adhesive-backed PAPER used to print my stickers is PERFECT for jewelry-making, scrap booking, journaling, card-making, crafts of all kinds, and for general use. It performs especially well when polymer, acrylic or resins are applied, as there is no repelling or absorption (like with coated stickers). I use these stickers myself for decoupage because of its water-resistance and durability. I use these for decorating letters, cards, tags, packages, boxes, and other projects, and know for a fact that they are DURABLE and HIGH-PERFORMING. You can even RE-POSITION them if needed, and they also have great STICKING POWER and will last a long time with normal usage. BUT, if you are thinking that they will look like commercial stickers in store, please think again (and read).

Please DO NOT expect the unlaminated stickers to be glossy without choosing the LAMINATION feature on the menu! All stickers are printed on PAPER in sharp detail using high quality materials and water-resistant ink. They are printed on adhesive backed PAPER, not vinyl or clay coated paper, but can be LAMINATED (for an additional fee). I use a top-notch inkjet printer (Epson Workforce), which is a home computer, in which I take pride. I do have a HOME business, as do many shops on Etsy. Please DO NOT EXPECT these to look like stickers from mass commercial sticker manufacturers, with shiny clay coating like in a magazine! I do NOT describe my stickers to be such, they are adhesive-backed PAPER. This paper is fairly durable, but NOT for outdoor use. LAMINATION is RECOMMENDED for heavy duty use such as on cell phones, laptops and water bottles, etc. Lamination will NOT make stickers water-proof, only vinyl is waterproof (only available in select shops).

If you want the most DURABLE stickers possible, please CHOOSE the LAMINATED ones on the DROP-DOWN menu. If you do not see this option, PLEASE ASK for it- go to "Ask a question" and I will be happy to help you. If you are wanting to use stickers in crafting, then the plain unlaminated ones will work fine and are fairly durable. But if you PREFER glossy ones ones, or are going to use them on high-use items such as notebooks, phones, and lockers, (etc.), then you should choose the LAMINATED ones.The quality of my LAMINATED stickers will surpass any store-bought mass-made ones! The unlaminated stickers in my shop are printed on ADHESIVE-BACKED PAPER and are not sealed in any way. Please understand this- please do not order incorrectly and then complain later by not reading and understanding this. ALWAYS CONTACT ME if there is any problem or misunderstanding and I can help you!

Stickers are EXACTLY as pictured in the photos, they are hand-cut, separated and put into STACKS (NOT on a single sheet), then are shipped in plastic zippered bags or cello bag. You will receive FREE items such as tags, punches or other stickers, along with business cards and a NOTE to contact me if there is any problem. I DO care what you think, and try my best to provide as much information as possible. But I do not want to build up unrealistic expectations either, so I am writing this FULL DISCLOSURE to make certain that all of my products have complete, accurate, and HONEST descriptions and portrayals. Feel free to ask any question, nothing is too trivial!

Again, please do not expect the unlaminated stickers to be glossy without choosing the LAMINATION feature on the menu. Thanks for reading!
---------------------------------------------------------

Klimt was such a fantastic artist, his works still endure after decades. In this set of 18 stickers, there are some prints of his most famous works, formatted in a size that is perfect for domino tile jewelry or just about any other craft you would use stickers on.

This colorful and handy set of 18 stickers can be used to dress up a greeting card, scrapbook, journal, or just about anything that needs a little sprucing up! Make tags, magnets, bookmarks, bookplates, etc.- the list goes on and on!

NOTE- Actual designs may vary by one or two stickers. These images are EXACT depictions of Klimt's works, and have not been graphically altered, therefore there may be a few small areas that are a bit fainter in intensity of color than others. It is because that is what the ACTUAL PAINTING looks like.

QUANTITY of 18 stickers.

**** MEASUREMENTS: 1 inch across by 2 inches tall. DOMINO-size for those of you who make domino jewelry.

All stickers are printed in sharp detail using high quality materials and water-resistant ink. They are printed on adhesive backed PAPER, not vinyl or clay coated paper, but can be laminated (see below). This paper is perfect for jewelry crafts where clear resin is applied, as there is no repelling or absorption. Please do not expect these to look like commercial stickers- they are printed on my home computer, not a mass industry printer!

OPTIONS:
- Have these printed smaller, for jewelry or miniatures.
- Have these printed on plain white or cream colored paper (for decoupage or other projects).
- Have these printed in sepia tone or black and white (stickers or plain paper).
Please go to "Ask a question" or "CONTACT Shop Owner" and let me know which options you need and I will make a reserved listing to include your choices.

A NOTE about art stickers : These stickers are prints which are made from photographs of IMPERFECT paintings. A painting is not necessarily done with the idea of having it made into perfectly photographed and printed images such as stickers, but to be viewed in person. It is only natural that sometimes details may get lost in the translation. Any art can have imperfections such as unevenness in shading or faint lines. Qualities such as these can be found in almost any painting, but can also possibly be a source of disappointment to someone who doesn't understand the nature of art and/ or painting. Please consider these facts when critiquing or reviewing the product.

Thank you for looking!
---
---
Feb 7, 2018 by Ada Dowling
May 15, 2017 by Maureen Petty
This was not what I expected. I easily could have printed these off myself, it wasn't even on nicer paper than I have access to. It was a waste of my money and I am disappointed.
Aug 9, 2016 by Mallory McFall
Jul 26, 2016 by Riley Brown
Sep 30, 2015 by ofSolipsism
---
More from this seller
---
Shipping & policies
Preparation takes 2-5 business days
Arrives from the United States
Estimated Shipping
Shipping is done in a professional, timely and diligent manner. Having had experience along these lines as a picture framer, I have had a 100% success rate in getting items shipped safely without damage.

As you can see in my reviews, I have fairly fast shipping. Most orders will be "processed" (prepared for shipment) within 1-3 BUSINESS days of ordering, but I do have two Etsy shops (both stay very busy), so sometimes it may take longer! Please allow 3-5 MORE business days for actual DELIVERY by USPS. That means that it may take 5-10 business days ALTOGETHER for the final receipt of your shipment. REMEMBER that weekend days do NOT count, as in most shops. If you're having a party and need a rush listing, I will make one for you, but it usually costs extra. I try to fill orders according to the date they were received, which is the most fair way. Please be patient- THANK YOU!

Please allow extra time for any items that must be made, or for large quantity orders. Please READ all info in listings, sizes and materials. I am NOT responsible for "mis-perceptions" or for someone not reading the whole text. Please pay attention to your INVOICE after ordering (instead of contacting me) about when you will receive your order. The invoice will tell you when to expect your shipment. I will definitely EMAIL you as soon as it is shipped, so please be patient. There is also info in each listing about shipping, and please remember that all times are approximate.

If you need RUSH shipping or tracking numbers, you must CONTACT me first, BEFORE making the purchase, so that I can adjust the cost! These features are free only on larger packages, NOT on small envelopes like sticker orders (though you can get a tracking number for 1.25 if you want it on something small). Please don't worry- you WILL get your purchase! My track record is more than 99.9%, even WITHOUT using tracking numbers on every shipment!

I DO ship internationally- simply send a message with your location- I will answer questions and make a listing for you if needed.

If there is ANY problem whatsoever with your shipment, please don't hesitate to send me a message or call me (Mari) at 972-871-0032, so that I can resolve it immediately. PLEASE DO NOT LEAVE PUBLIC FEEDBACK without letting me know what the problem is! I CAN HELP YOU by giving a refund, replacement, or credit, or by finding a solution to the issue. I am trying my best to do my customers right in every way! Please give me the benefit of the doubt if you feel that something is wrong, and I will take the time to make it RIGHT.

In the event of lost packages or slowed delivery, the situation will be investigated and I will update you as needed or give a refund or replacement. 30 days is the customary cutoff point for refunds in most shops. A credit is possible but the situation must be assessed on an individual basis. Please CHECK YOUR INVOICE for information about when to expect your delivery. I appreciate your consideration in doing this (rather than contacting me), as it saves me so much time.

RUSH SHIPPING, International shipping, tracking with delivery confirmation, and insurance are available if you desire them. Some listings with paper items already have shipping prices for international delivery, but if you do not see one, then CONTACT me so that I can set up a reserve listing for you at an adjusted price. Thank you!
---
Payments
I accept any form of payment except C.O.D.'s. Of course. If you send a check or use an electronic payment, delivery of your item will take longer. Paypal accounts are easy to set up, and have very reasonable rates. If you need help checking out or setting up a Paypal account, please CONTACT ME by going to "Ask a question" or by leaving an email or message. Thank you!
---
Returns & exchanges
Refunds are dependent on circumstances, which will be deemed as necessary at the time. Credits may be issued in certain instances, such as slight damages or incorrect ordering.

Simply contact me here in my shop, and I will help! See business card or your invoice for information, or call 972-871-0032 and ask for Mari.

In the event of lost packages or slowed delivery, the situation will be INVESTIGATED first. Then I will update you as needed or give a refund or replacement. If 30 days have passed, I cannot offer a refund, but a credit may be issued, depending on the circumstances.

Items are presented as close to reality as possible, with measurements included. Please READ CAREFULLY so that you will know what to expect! THANK YOU.
---
Additional policies
Some items can be custom made, sized differently, or printed on different types of papers. Sometimes there may an extra fee involved, as with lamination of stickers.

If you are not sure about something, JUST ASK- I am here to HELP!

Some products are available at wholesale prices, but most are not.

Marimakings guarantees that you will be pleased with your purchases, or you may send the item back and your money will be refunded. I appreciate your business, and back that up with my policies and customer service. Thanks, and best wishes- Mari