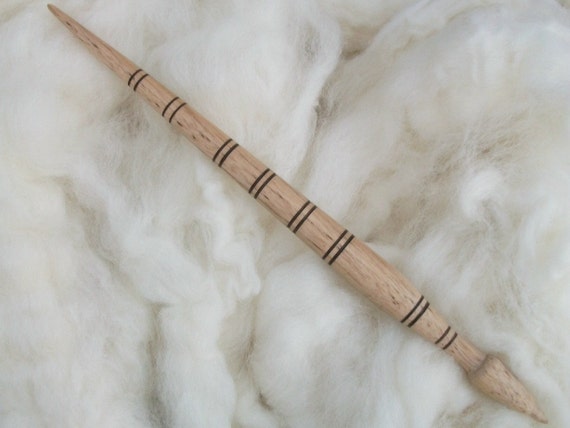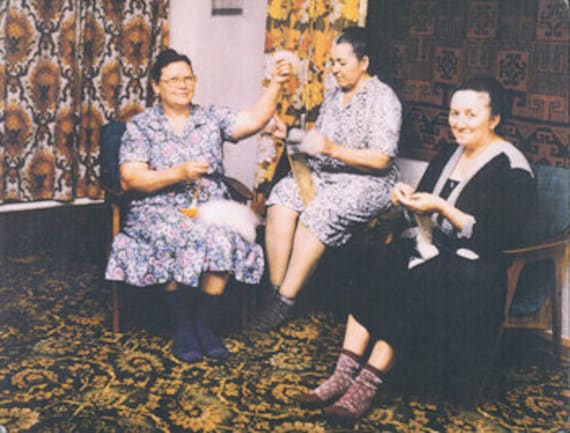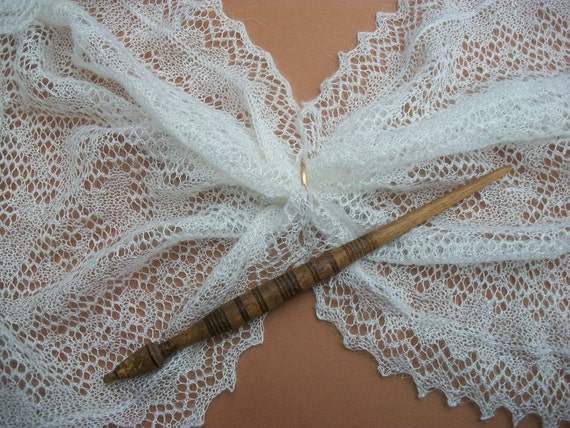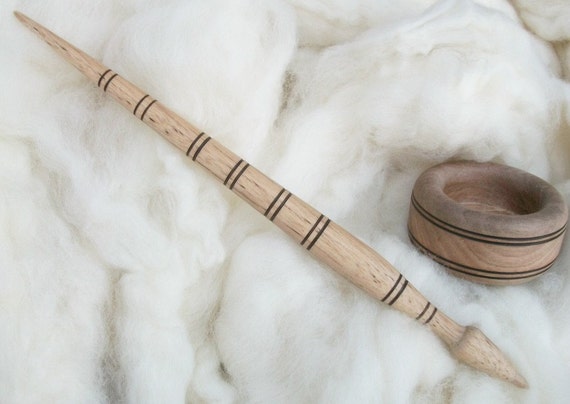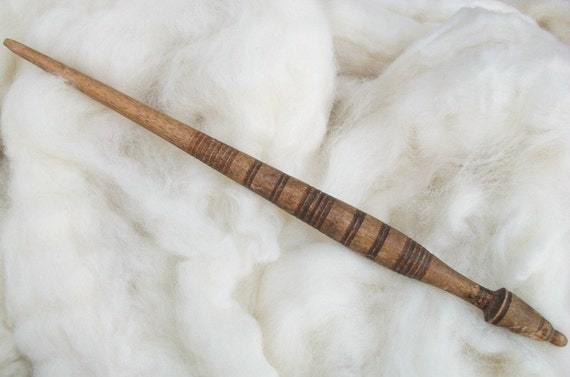 Arrives from the United States
---
Item details
Attention , if you want to spin Orenburg lace yarn you need this very light spindle, like you see in my shop, but for plying this yarn you need another spindle, bigger & longer, because you need to put the yarn & silk thread together & then ply. I do have a support bowl too, if you want all 3 items please convo me & I will put a special listing for you for all 3 items. So take a look at this link , here you will have a plying spindle for your Orenburg gossamer web :
https://www.etsystudio.com/listing/102146591/original-russian-spindle-hand-made-by

Taking orders now. Spindles are here . Nikolay created Orenburg spindle for me . Another heirloom.
And now another miracle, which happened to me just few days before Thanksgiving. My best friend Iryna, prepared a birthday present for me & decided to mail it from Ukraine, she thought if she could mail it in June the present will be in time in September for my birthday in USA. She called on Sept. 16th & asked me if I got the present. My answer was - NO. She was very disappointed , but I told her, do not worry, it will come. But Iryna told me, no , probably it is lost or simply disappeared. I tried to comfort Iryna & told her that miracles happened , the present will be in USA, you have to believe & have faith. And guess what? The present arrived 1 day before Thanksgiving. I immediately called Iryna & told her, that all is OK. She could not believe. I did not know what was in that package, but when I opened, I almost became speechless. The very very old ORIGINAL Orenburg spindle from her Grandmother was in the package & another very very old ORIGINAL Turkish spindle too. I had no words, I started to cry & then scream. Iryna told her Mother a lot about me, that I am a "crazy" spinner & her Mother gave these 2 spindles to Iryna & asked her to mail them to me. Iryna's Mother was a spinner, but Iryna never learned to spin, so her Mother said, that these 2 spindles will be very happy in Lusy's hand, send them to her. These 2 spindles more than 100 years old. Iryna's Mother is 85 years now, & these 2 spindles were her Mother's. She was married to the man from Orenburg, Ivan, was his name, he made Orenburg spindle for her. But the Turkish spindle- this is another story for another listing. Mother-in-law, taught her to spin Orenburg lace .Now it is my turn and yours to learn to spin Orenburg lace , using this ORIGINAL ORENBURG SPINDLE.

So I decided to ask my dear old friend Uncle Nikolay , a very good craftsman to reproduce me a couple of these Russian Orenburg spindles. So here you will have spindle, original birch wood from Russia, Siberia. From the Siberian woods , Novosibirsk region ( New Siberia), hand made by a Siberian Man , his name is Nikolay. A very talented craftsman. And by the way Orenburg is not too far from Novosibirsk.

Birch , because this is lightweight wood, very easy to use with your fingers.

Available in natural birch, and I can stain in walnut as well, similar to my plying spindle. Please tell me which one you prefer & I will mail to you.

The size , the length is 10 " long, 26 cm.
It has a small rounded head that measured about 1/2" , 2cm and a very thin tip..
Weight ½ oz , 15g ( ORIGINAL spindle, it is dark in color) ( The cat was playing one day & took some pieces J true) But Uncle Nocolay said, it is lighter because , it is very old & dry so hard.
The weight of the reproduced spindle is 19gram.

The spindle is supported in a small bowl. If you want a bowl too, please tell me & I will put a special listing for you for both items, spindle & a bowl.
You can find a listing for bowl in my shop too. Take a look here.
https://www.etsystudio.com/listing/102201265/original-russian-support-bowl-for

It takes a proficient Russian spinner approximately 5 hours to spin 1/2oz 15gram of clean down onto one spindle , 5-6 days to spin enough yarn for a gossamer shawl,
measuring 63" X 63" ( 160cm X 160 cm ) and weighing 3 oz ( 90 gram)

The women in Orenburg region spun lace type yarn for their famous Orenburg scarf,
shawls ( PLATOK). You can see that on the last picture in my shop. My friend's Mother & her 2 friends working on the Orenburg shawl. One is spinning, using a support bowl, one is carding the famous Orenburg goat down & the third woman is knitting the shawl.

And did you see this link in my shop, if not, please take a time & read it. I know you will love that story too. All my life is very interesting, has a lot of interesting events. All my friend spinners love to listen to my stories. :)

https://www.etsystudio.com/listing/102146591/original-russian-spindle-and-bowl-hand?

The original Orenburg spindle is dark, it is shown with my Mom's Orenburg scarf, which I have here in USA. This is my treasure. I put the scarf thru my Mother's wedding ring ( My Mom left me her ring , the last time she visited me). You can ask why thru the ring, the answer is - REAL ORENBURG shawl will go thru a wedding ring, very thin & very light. This shawl my Grandmother made for my Mothrer's wedding. This is another interesting story of my life.

This is listing is for 1 ORIGINAL ORENBURG Russian spindle. Thank you for looking in my shop & reading all my stories. Lusy.

And now featured in this lovely treasury:
https://www.etsy.com/treasury/NDEyNDMxMjJ8MjcyMzc2ODg2Nw/russian-vintage
And another very nice treasury:
https://www.etsy.com/treasury/NDc0NDQzODF8MjcyNjUxMDE0NA/treasury-of-true-fairy-168-gifts-of
---
---
Beautiful. Will really look nice when doing demos
Jan 25, 2018 by melbrigda1519
Lovely spindle! Will certainly work with this seller again. Very friendly.
Aug 31, 2017 by Shannon Collins
Nice Spindle. I will use it as decoration, because it does not turn as fast and long as I would have liked.
Jul 26, 2017 by Lorema
Spinning on this spindle is effortless. I'm so in love! Shipping was fast, and the spindle was packaged very securely. Will definately recomend!
Aug 2, 2016 by Evelyn Elliott
Thank you for the quick shipping and, again, fantastic customer service.
Feb 7, 2016 by Stetson Weddle
---
More from this seller
---
Shipping & policies
Arrives from the United States
Estimated Shipping
I can ship any way you want, but usualy I ship by US mail, insured. I ship worldwide.
---
Payments
PAY PAL, money order or checks .
---
Returns & exchanges
If you are not happy with my items, no problem to send it back, but you have to pay shipping on the way back.You have 3 days for inspection period since the day you received the item, please contact me first before you want to return anything. Thanks.Will be20% restocking fee and shipping is not refundable.
---
Additional policies
I can do custom orders, spin, knit, crochet for you. Just drop me a note and I will explain to you in details. Thanks.