One in Three and Three in One - Three Hares Beaded Cuff Bracelet/Armband Beadweaving Pattern PDF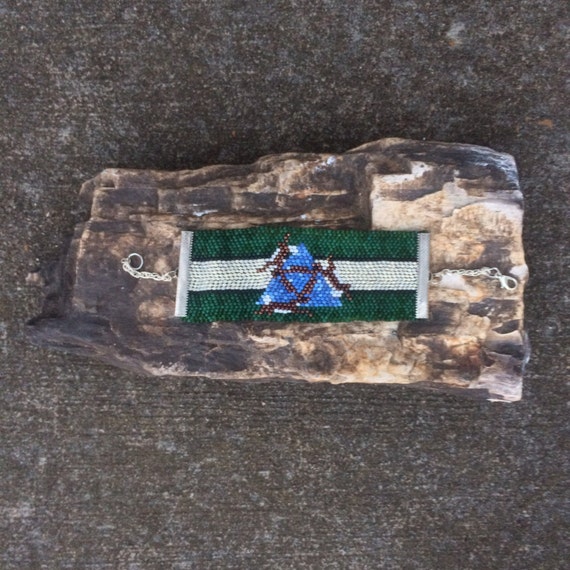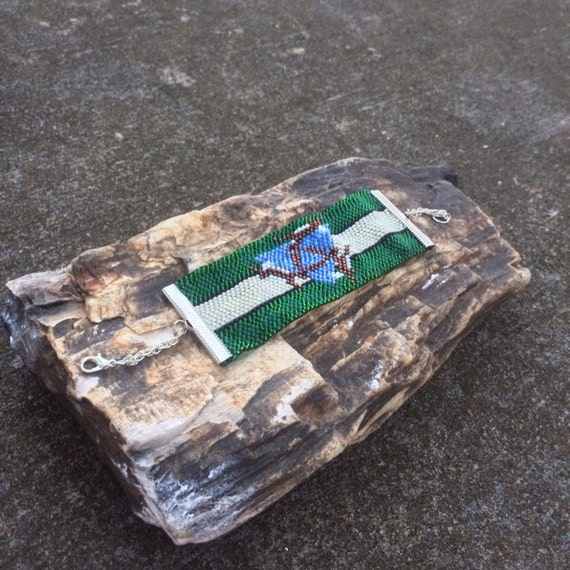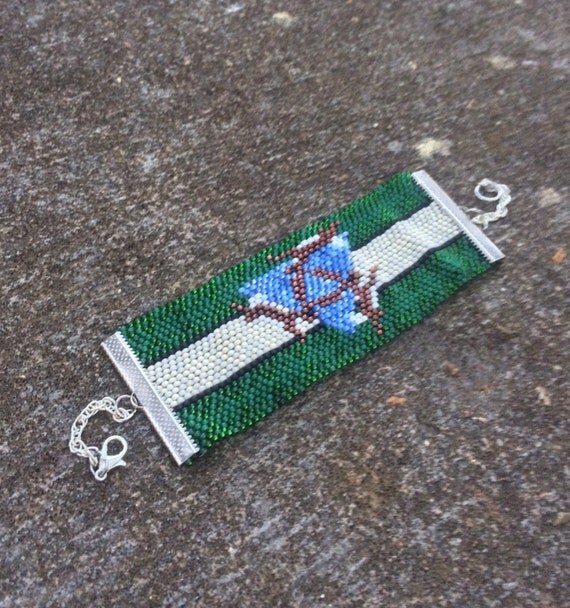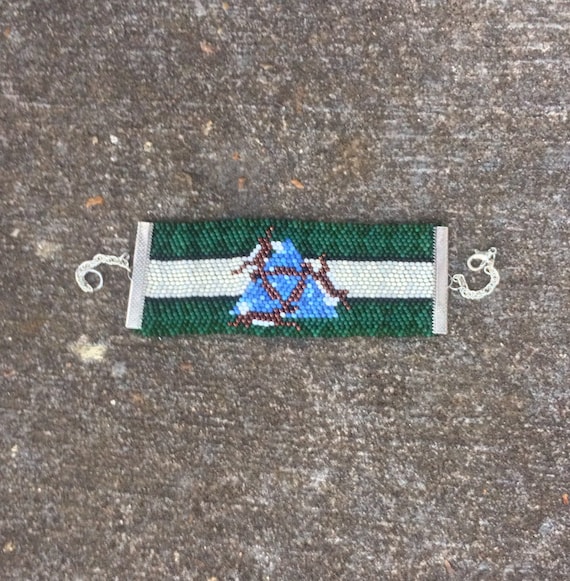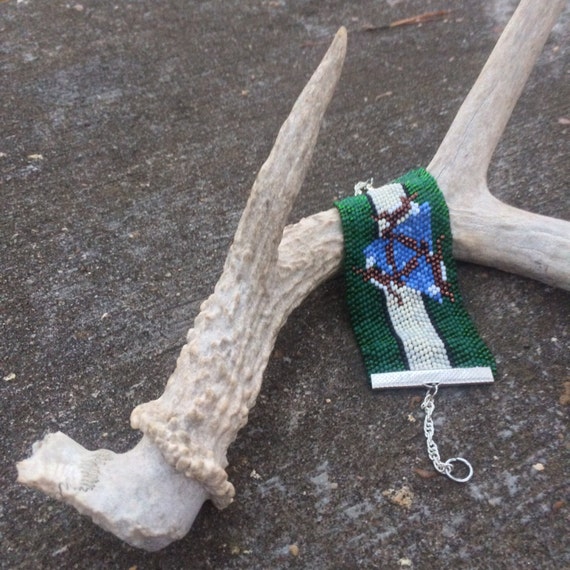 ---
Features
---
Item details
Follow me on Facebook for sneak peeks, promotions, coupon codes and more!

The three hares motif is a circular pattern which appears in sacred sites from the Middle and Far east to the churches of southwest England and historical synagogues in Europe. The earliest appearance of this image occurs in the 6th and 7th centuries. It has been used as an architectural icon, a religious symbol, and a logo for adornment, and has a number of mystical associations and is associated with fertility and the lunar cycle. It is associated with pagan and Wiccan symbolism, and in Christianity it has been used to represent the trinity.

This beaded cuff features an interpretation of the iconic three hares motif, and the number three is repeated dozens of times in the foreground and background of the pattern.

Pattern Level : Advanced Beadweaving
Stitches Used - Odd Count Peyote

Supplies Required :

-beading needles
-nylon beading thread
-thread conditioner
-Seed beads in the following colors :
*Black - .5 grams MATTE, 3 beads GLOSS
*White - .5 grams GLOSS
*Eggshell/Cream 1.5 grams MATTE, 2 grams GLOSS
*Green 4 grams MATTE, 5 grams GLOSS
*Copper 1.5 grams METALLIC
*Light blue 1.5 grams GLOSS
-Findings
*2 40mm ribbon clips
*chain
*clasps
*jump rings

This listing is for the PATTERN only.

Please note that this pattern assumes that you know how to do the odd count peyote beadweaving stitch. It does include a link to an excellent tutorial for those unfamiliar with the stitch, as well as directions on how to do the "turn" necessary in odd-count peyote work. I recommend this pattern for intermediate to advanced beadweavers due to the complexity of the background. I have fully tested the pattern and made it several times over before offering it for sale. It is versatile and can be finished for wear in a number of ways, and can be enlarged to fit a wide variety of wrist sizes.

If this pattern or its directions are ever updated, all purchasers will be provided a copy of the new file.

This file and its content are copyrighted and are offered for sale for personal, non-commercial use only. This project and all pages of these directions are copyrighted to Sarah Richie and are not to be taught, transmitted, or copied without written permission from the artist.

No refunds are offered on digital content.
---
---
More from this seller
---
Digital downloads
---
Payments
I accept Paypal and credit cards through Etsy direct checkout. If you would like to make arrangements to put an item on lay away, and pay in installments please let me know.
---
Returns & exchanges
If your purchase does not meet your expectations for any reason, let me know as soon as possible! I will strive to make it right.

For custom orders I do not offer cash refunds, however I will offer a store credit.

For items that may get lost in transit, I will happily replace the item at no cost to you.

For orders placed in the US that are NOT custom, I can offer a refund as long as I am made aware of the issue within two weeks of the shipping date. Refunds will be completed the day I receive the item back.

For orders placed internationally, I can offer a refund as long as I am made aware of the issue within 45 days of the shipping date. Refunds will be completed promptly when I receive the item back.

Refunds are made in the amount of the item purchased less the cost of shipping.

I offer repairs for all items sold in my Etsy shop for the cost of return shipping.
---
Additional policies
Frequently Asked Questions

***

1. Can you make me a piece of custom jewelry using hair from my horse?

Yes, I make custom jewelry using your provided hair. When placing your order for a custom piece, simply select the "My Hair" option from the dropdown menu. The mailing address to send your hair to is included in the confirmation email you will receive after placing your order.

2. How do I send my horse's hair to you for you to make into jewelry?

My mailing address is included in the confirmation email you will receive after placing your order. Simply package it securely in an envelope and mail it to me. Please contact me if you plan to send it by a method other then USPS.

3. How do I collect hair from my horse?

I recommend lifting the horse's tail and cutting the hair from behind the skirt of the tail. By doing it this way the overall appearance of the tail is not effected.

4. How much hair do you need?

I need a hank of hair approximately the circumference of a dime and as long as you can manage. I sort the hair out by length after washing it and brushing out the very short pieces, then count the hair out into bundles for braiding. This amount ensures that I receive enough usable hair.

5. Can I send you mane hair?

Mane hair is unsuitable for braided work, and I will not braid it without you making prior arrangements with me. There is also an additional charge of $20 due to the increased difficulty of working with mane hair. If I am sent mane hair without prior arrangements being made, the hair will be returned at your expense and the remainder of the order will be refunded.

Mane hair does, however, make excellent tassels and there is no additional charge for using it in this way.

6. Can you return any unused hair to me?

Any unused hair can be returned to you with your completed order at your request.

7. Where do you get the hair for your premade jewelry?

Premade jewelry is made out of hair leftover from other orders that the owners' did not want returned to me. I also occasionally trade custom work for hair in colors that I need. I have yet to find a commercial source of horsehair that is not a byproduct of the slaughter industry, and thus far I have been able to avoid buying it.

8. What are your findings made of?

I use nickel alloy endcaps and silvertone plated brass jump rings. Using non-precious metal findings allows me to keep my work affordable.

9. Can you make me a custom piece with special findings/a special charm/etcetra?

I can make a custom piece using special findings, but require that the customer pay for them.

10. How long does it take to finish my custom piece?

Depending on my workload, it takes 1-3 weeks from the time I receive the hair to complete the custom piece.

11. How do I know what size bracelet to order?

Measure the diameter of your wrist in inches and add one inch. Average is 7.5-8 inches. If the bracelet is too tight you may find it difficult to work the clasp!

12. How do I care for horsehair jewelry?

Heat, light and friction are the enemies of horsehair jewelry. It should not be repeatedly wetted, although it can be washed with gentle soap if dirty, and it should be stored in a cool, dry place when not being worn.

13. How durable is horsehair jewelry?

As long as it is properly cared for, horsehair jewelry will be a wonderful keepsake for years to come. There are pieces of Victorian-era hairwork in existence that are still wearable after over 100 years!

14. I have a question that isn't answered here!

If you have a question that isn't answered here, just send me a note through Etsy! I'll do my best to get back to you as soon as possible.