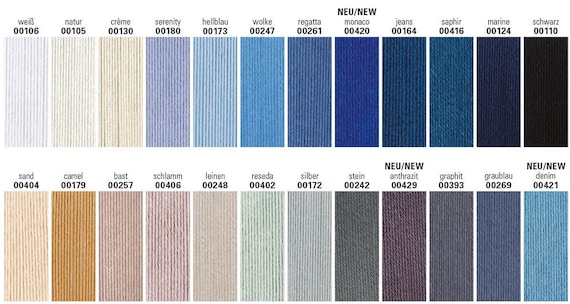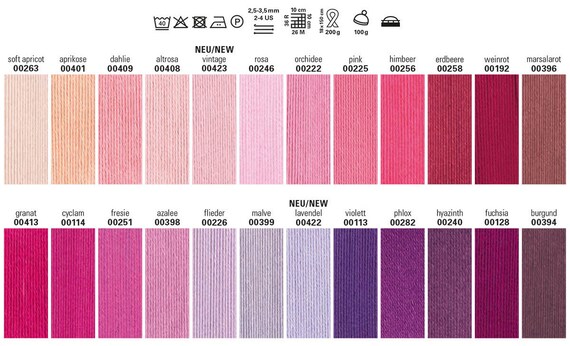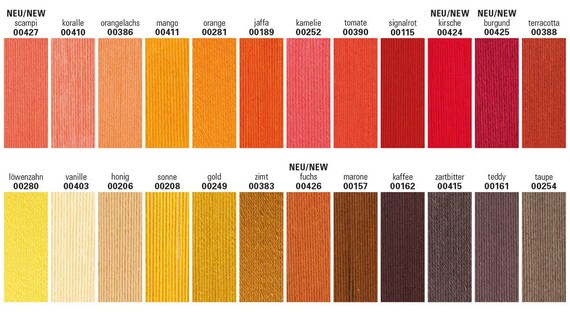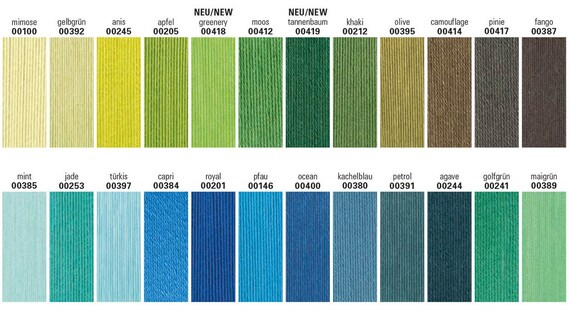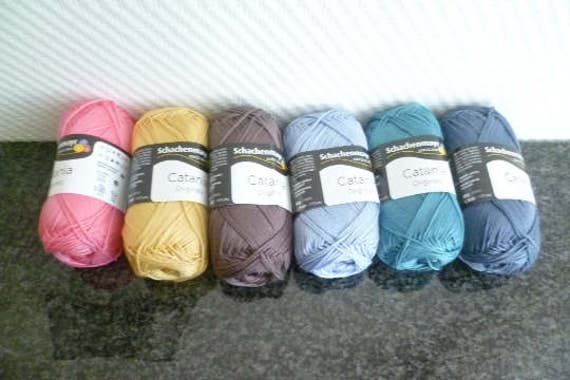 ---
Item details
Schachenmayr Catania, 100% Cotton

Catania is a classic cotton summer yarn – a high-quality all-round cotton yarn in a wide range of colors. The cotton is treated in a variety of ways for different textures. Cool and pleasant to wear. Fashionable and easy-care.

Fibre Content: Cotton: 100%
Yarn Ball Weight: 50 g
Yarn Meterage/Yardage: 125 / 137
Tension/Gauge /stitches: 26
Tension/Gauge /rows: 36
Knitting Needle (UK): 13-10
Knitting Needle (US): 2-4


Now available: 3 x 50 g Catania by Schachenmayr.
Pick 3 colors and call me the color numbers when ordering parts. The wool is then on the same day on the trip.

I do not assume responsibility for the shipping!
International shipping with tracking number cost 5,90€


These colors (see color plates) are all available
---
---

Thank you! Love this yarn!

Apr 15, 2018 by John Deming

Very nice yarn. Fast shipping.

Apr 1, 2015 by Jerri Hall

Lovely soft yarn, but colours a bit different to colour chart, some colours received weren't eexactly what i was expecting. Fast postage.

Jan 23, 2015 by Emma Roworth

This is the best cotton yarn around, thank you so much!!

Jan 29, 2014 by Katrina
---
More from this seller
---
Shipping & policies
Estimated Shipping
The delivery time amounts as a rule from 1 to 4 weeks.

I do not assume responsibility for the shipping!
International shipping with tracking number cost 5,90€
---
Payments
All prices are final , including VAT.
Please make payment within 7 days of purchase. I try very quickly to deliver , delivery time up to max . to 7 days after receiving the money within Deutschand .
CAUTION: Insured shipping ONLY upon request !
---
Returns & exchanges
Widerrufsbelehrung

Verbraucher ist jede natürliche Person, die ein Rechtsgeschäft zu Zwecken abschließt, die überwiegend weder ihrer gewerblichen noch ihrer selbständigen beruflichen Tätigkeit zugerechnet werden können.

Widerrufsrecht

Sie haben das Recht, binnen vierzehn Tagen ohne Angabe von Gründen diesen Vertrag zu widerrufen. Die Widerrufsfrist beträgt vierzehn Tage ab dem Tag, an dem Sie oder ein von Ihnen benannter Dritter, der nicht der Beförderer ist, die Waren in Besitz genommen haben bzw. hat. Um Ihr Widerrufsrecht auszuüben, müssen Sie uns (Frau Sieglinde Holl, Schulstr. 7, 72135 Dettenhausen, E-Mail-Adresse: sieglinde.holl@t-online.de) mittels einer eindeutigen Erklärung (z.B. ein mit der Post versandter Brief oder E-Mail) über Ihren Entschluss, diesen Vertrag zu widerrufen, informieren. Sie können dafür das beigefügte Muster-Widerrufsformular verwenden, das jedoch nicht vorgeschrieben ist. Zur Wahrung der Widerrufsfrist reicht es aus, dass Sie die Mitteilung über die Ausübung des Widerrufsrechts vor Ablauf der Widerrufsfrist absenden.

Folgen des Widerrufs

Wenn Sie diesen Vertrag widerrufen, haben wir Ihnen alle Zahlungen, die wir von Ihnen erhalten haben, einschließlich der Lieferkosten (mit Ausnahme der zusätzlichen Kosten, die sich daraus ergeben, dass Sie eine andere Art der Lieferung als die von uns angebotene, günstigste Standardlieferung gewählt haben), unverzüglich und spätestens binnen vierzehn Tagen ab dem Tag zurückzuzahlen, an dem die Mitteilung über Ihren Widerruf dieses Vertrags bei uns eingegangen ist. Für diese Rückzahlung verwenden wir dasselbe Zahlungsmittel, das Sie bei der ursprünglichen Transaktion eingesetzt haben, es sei denn, mit Ihnen wurde ausdrücklich etwas anderes vereinbart; in keinem Fall werden Ihnen wegen dieser Rückzahlung Entgelte berechnet. Wir können die Rückzahlung verweigern, bis wir die Waren wieder zurückerhalten haben oder bis Sie den Nachweis erbracht haben, dass Sie die Waren zurückgesandt haben, je nachdem, welches der frühere Zeitpunkt ist. Sie haben die Waren unverzüglich und in jedem Fall spätestens binnen vierzehn Tagen ab dem Tag, an dem Sie uns über den Widerruf dieses Vertrags unterrichten, an uns zurückzusenden oder zu übergeben. Die Frist ist gewahrt, wenn Sie die Waren vor Ablauf der Frist von vierzehn Tagen absenden. Sie tragen die unmittelbaren Kosten der Rücksendung der Waren. Sie müssen für einen etwaigen Wertverlust der Waren nur aufkommen, wenn dieser Wertverlust auf einen zur Prüfung der Beschaffenheit, Eigenschaften und Funktionsweise der Waren nicht notwendigen Umgang mit ihnen zurückzuführen ist.

Ausschluss bzw. vorzeitiges Erlöschen des Widerrufsrechts

Das Widerrufsrecht besteht nicht bei Verträgen

- zur Lieferung von Waren, die nicht vorgefertigt sind und für deren Herstellung eine individuelle Auswahl oder Bestimmung durch den Verbraucher maßgeblich ist oder die eindeutig auf die persönlichen Bedürfnisse des Verbrauchers zugeschnitten sind;
- zur Lieferung von Waren, die schnell verderben können oder deren Verfallsdatum schnell überschritten würde;
- zur Lieferung alkoholischer Getränke, deren Preis bei Vertragsschluss vereinbart wurde, die aber frühestens 30 Tage nach Vertragsschluss geliefert werden können und deren aktueller Wert von Schwankungen auf dem Markt abhängt, auf die der Unternehmer keinen Einfluss hat;
- zur Lieferung von Zeitungen, Zeitschriften oder Illustrierten mit Ausnahme von Abonnement-Verträgen.

Das Widerrufsrecht erlischt vorzeitig bei Verträgen

- zur Lieferung versiegelter Waren, die aus Gründen des Gesundheitsschutzes oder der Hygiene nicht zur Rückgabe geeignet sind, wenn ihre Versiegelung nach der Lieferung entfernt wurde;
- zur Lieferung von Waren, wenn diese nach der Lieferung auf Grund ihrer Beschaffenheit untrennbar mit anderen Gütern vermischt wurden;
- zur Lieferung von Ton- oder Videoaufnahmen oder Computersoftware in einer versiegelten Packung, wenn die Versiegelung nach der Lieferung entfernt wurde.

Muster-Widerrufsformular

(Wenn Sie den Vertrag widerrufen wollen, dann füllen Sie bitte dieses Formular aus und senden Sie es zurück.)

- An Frau Sieglinde Holl, Schulstr. 7, 72135 Dettenhausen, E-Mail-Adresse: sieglinde.holl@t-online.de:
- Hiermit widerrufe(n) ich/wir (*) den von mir/uns (*) abgeschlossenen Vertrag über den Kauf der folgenden Waren (*)
- Bestellt am (*)/erhalten am (*)
- Name des/der Verbraucher(s)
- Anschrift des/der Verbraucher(s)
- Unterschrift des/der Verbraucher(s) (nur bei Mitteilung auf Papier)
- Datum
---------------------------------------
(*) Unzutreffendes streichen.

Quelle: Widerrufsbelehrungs-Generator von Rechtsanwalt Niklas Plutte
---
Additional policies
AGB
Allgemeines:

Der Vertrag unterliegt ausschließlich dem materiellen Recht der Bundesrepublik Deutschland und gilt für private und gewerbliche Käufer.
Ihre Daten werden vertraulich behandelt und an keine Dritten weitergegeben.

Lieferung:
Die Lieferung erfolgt frühestens am ersten Werktag nach Zahlungseingang, spätestens 7 Tage nach Zahlungseingang., ausgenommen Urlaubszeiten usw. die bei daWanda ausgewiesen werden. Eine Zusammenfassung ist nach Absprache möglich, dabei fallen je nach Gewicht und Größe der Sendung entsprechende Kosten an.
Die Lieferung erfolgt, soweit nicht anders vereinbart, an die von Ihnen angegebene Lieferadresse. Sollten die Adressdaten falsch oder unvollständig sein, trägt der Käufer evtl. zusätzlich anfallende Kosten.
Teillieferungen sind zulässig.

Transportschäden:
Warenlieferungen sind vom Kunden zu überprüfen. Im Fall äußerlich erkennbarer Transportschäden verpflichtet sich der Kunde, diese auf den jeweiligen Versandpapieren zu vermerken und vom Zusteller quittieren zu lassen. Die Verpackung ist aufzubewahren.
Ist der (teilweise) Verlust oder die Beschädigung äußerlich nicht erkennbar, hat der Kunde dies innerhalb von 5 (fünf) Tagen nach Ablieferung gegenüber dem Verkäufer oder aber zumindest binnen 7 (sieben) Tagen nach Ablieferung gegenüber dem Transportunternehmen anzuzeigen, um so zu gewähren, dass etwaige Ansprüche gegenüber dem Transportunternehmen rechtzeitig geltend gemacht werden.
Irrtümer – Schäden:
Irrtümer und Druckfehler sind vorbehalten, ebenso Farbabweichungen der Internetdarstellungen. Nachdem alle Waren Unikate sind, kann es von Modell zu Modell zu geringen Abweichungen kommen, welche nicht zu Reklamationen berechtigen.
Den gesetzlichen Regelungen entsprechend hat der Kunde im Fall von Mängeln an der gelieferten Sache grundsätzlich zunächst nur einen Anspruch auf Nacherfüllung. Der Verbraucher hat insoweit die Wahl, ob die Nacherfüllung durch Nachbesserung oder Ersatzlieferung erfolgen soll; der Verkäufer ist allerdings dazu befugt, die Art der gewählten Nacherfüllung zu verweigern, wenn sie nur mit unverhältnismäßigen Kosten möglich ist und die andere Art der Nacherfüllung ohne erhebliche Nachteile für den Verbraucher bleibt. Gegenüber Unternehmern leistet der Verkäufer für Mängel der Ware zunächst nach eigener Wahl Gewähr durch Nachbesserung oder Ersatzlieferung, soweit diese möglich ist.

Für Schäden durch falsche Reinigung der erworbenen Produkte haften ich nicht.
Ohne die ausdrückliche Zustimmung seitens des Verkäufers ist der Kunde nicht berechtigt, einen vorliegenden Mangel unmittelbar selbst zu beseitigen oder durch Dritte beseitigen zu lassen (Selbstvornahme); insoweit angefallene Aufwendungen werden nicht erstattet.
Verwendungszweck:

Bei Bezahlung immer angeben: Artikelname und Name des Bestellers.

Anspruch:

Sollte binnen 14 Tagen kein Geldeingang zu verzeichnen sein, so verfällt der Anspruch auf Lieferung. Die Ware bleibt bis zur vollständigen Bezahlung unser Eigentum.

Sonstige Regelungen:

Sollte eine oder mehrere Bestimmungen dieser Vereinbarung ganz oder teilweise unwirksam sein oder ihre Rechtswirksamkeit später verlieren, so soll hierdurch die Gültigkeit der übrigen Bestimmungen nicht berührt werden. Anstelle der unwirksamen Bestimmung gelten die gesetzlichen Vorschriften.