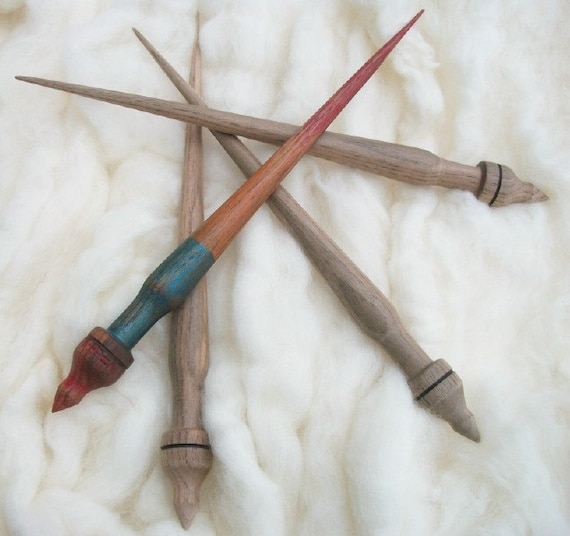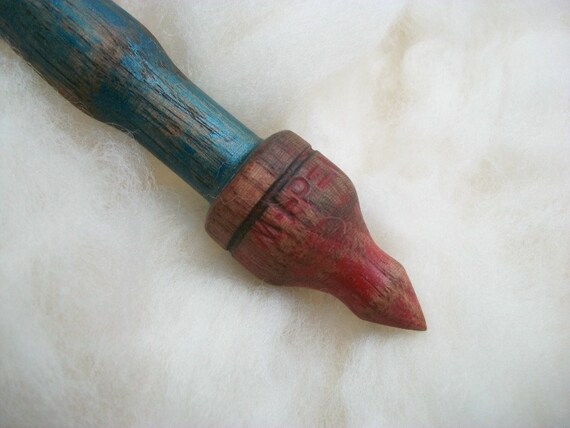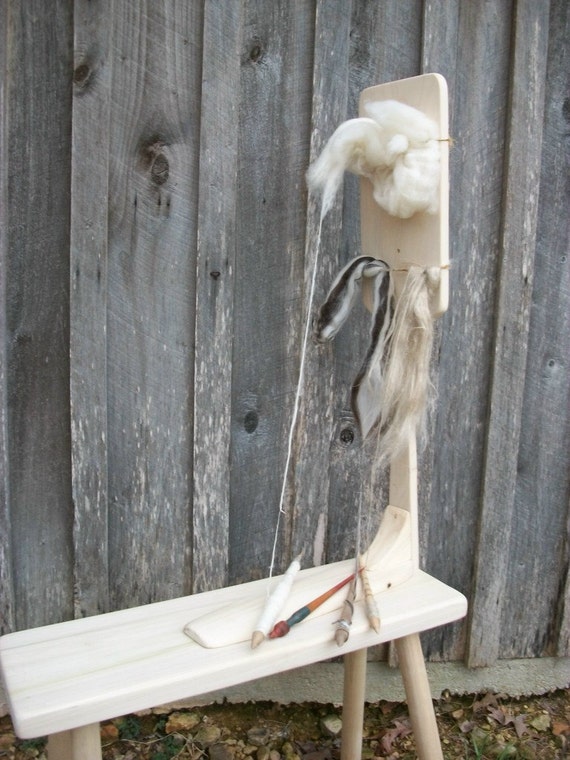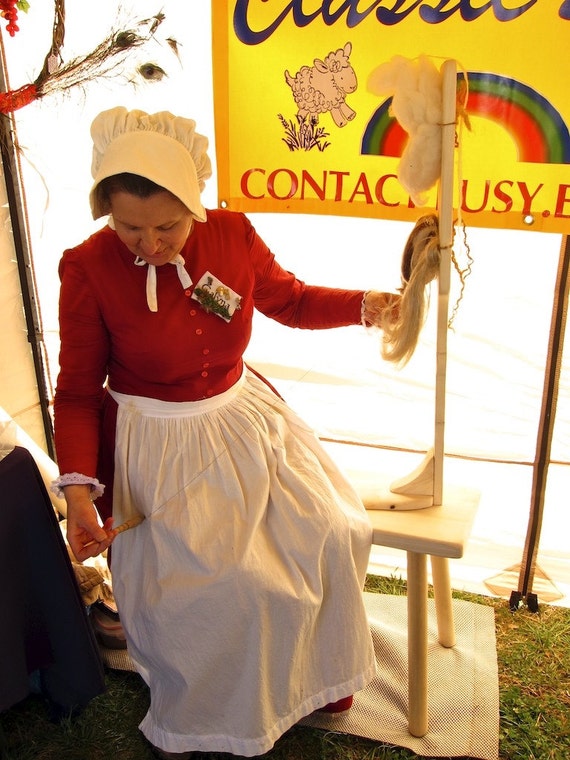 Arrives from the United States
---
Item details
ATTENTION! The listing is for 1 spindle.
The painted spindle is not for sale, the other spindle in natural wood , birch tree spindle is for sale.
Please read the story :).

Are you ready for another story from my life? Ok. Take a cup of tea with lemon & honey, the Russian way & I will tell you the story. This is how I was always listening to my Grandmother when she was telling me the story. She would be spinning & I had a little break from knitting , having a cup of tea with lemon & honey & listening to my Grandmother's story.
The wood stove would be going, a lot of hot tea & homemade bread with homemade jam, what else do you need ? My Grandmother would be spinning on a spindle in 2 different ways, simply holding & turning the spindle in her right hand & pulling the fiber with her left hand from distaff and the other way she was spinning using a support bowl for her spindle, that would be the yarn for the shawls, she was telling me. I remember how she told me one day , Galyna, you are so good at knitting hats & scarves, & so fast, and now it is your time to start helping me with knitting the warm shawls. There was no pattern on the shawls, simply knit, knit and knit plain stitch all the rows only the borders had some patterns, but not very difficult for me to remember. Yes I said, this is how we were creating Orenburg style warm shawls in my native Nikolayev region. But probably you would like to know who introduced this, Orenburg shawl making to my Grandmother, I will tell you, because I asked a lot of questions to my Grandmother during that long winter nights, and this question was one of that millions of questions I asked my Grandmother. My Grandmother had a younger sister Motryona, but she called her softer Motya. She was a teacher at the local school, but when the WWII started she volunteered to go to the front as a battle field nurse. She went thru all the war to Berlin. Had a lot of medals, was wounded many times, but the doctors fixed her & she returned to the front line. During that time she saved the life to one man during the battle near Volgograd, they fall in love & later got married after the war. In Ukraine it is like this, if you got married you have to go to live with your husband's family & her husband was from Orenburg region. So now you know the rest of the story. Yes, his family taught Motya how to spin yarn & knit Orenburg shawls, all kinds of shawls, warm & gossamer web shawls too. And one day Motya came to visit my Grandmother & brought some shawls as a present & taught my Grandmother to do the same, I wish I could have that shawls, Motya brought , but my Grandmother is gone, Motya is gone and the shawls are gone too. But I do have some shawls my Grandmother & I created together for my Aunts & the shawls my Grandmother created for my Mother, warm shawl & gossamer web shawl, white shawl , very light & beautiful. My Aunt Alexander still has these shawls in the Ukraine.

But you can ask me, why I am telling you about the shawls & selling the spindle. Oh, that's right. I decided to research about Motya & find her daughter Lyudmila, softer simply Mila, my another Aunt. And I found her. She lives now in the same region , where I was born, lives in the same house where her Mother Motya lived before the WWII, I have been in that house many times when I was a little girl. I wrote her a letter & told a lot about me spinning & knitting. And you will not believe Mila brought all her Mother's items from Orenburg back to her home in Semenovka, Ukraine. She brought the spinning wheel, distaff, all kinds of spindles. And she told me when you come to visit us this coming September , you are welcome to have all my Mothers stuff, I do not see well , my hands, my fingers are very stiff to spin & knit, I am getting very old, my daughter is not interesting in this, but you do, you are like my Mother, I want you to have all these & my Mother's treasures be alive again. I did not know what to say I was simply speechless. And all this happened just few months ago. And today is the 29th of March 2013 , just few days before Easter & guess what? I got a very old, Orenburg spindle, which Motya's husband made for her just after the WWII, in 1946, & even engraved on the spindle in Russian letters M+P=L , MOTYA + PYOTR = LOVE. This spindle is painted , like the other Siberian spindle I have in my shop, but the colors are different, and do you know why? I will tell you, all the villages in Siberia have their own colors & patterns. If you know this you can easy tell from which area the shawl came or spindle.
Motya's spindle is in blue, yellow & red. And Mila explained to me:
blue- the colr of the sky,
yellow - the color of the golden field of wheat,
red- the color of the sun.
These were 3 very important colors in the life of Russian / Ukrainean people.

This spindle, I called it Motya's spindle is
11 inches ( 27cm ) long & weight is 0,9oz (26 g)

You can spin lace type yarn or any other kind of yarn, it is universal spindle. It is not for sale, but I do have some extra spindles ( not painted) , exactly like Motya's spindle, Motya's son-in- law Mila's husband made . He is from Orenburg region too, but now they live in Ukraine. Mila sent them all to me , so I decided to put in my shop here on etsy.

Do not miss this very unique full of life spindle.

On the last 2 pictures you can see the Original distaff, my Grandmother was spinning like this too.
I am spinning at the Mule Day festival in Columbia Tennessee, USA.
This distaff was made in Belarus from the birch tree. I spin on this distaff, you can see some spindles on the last picture , I spun some sheep wool and flax. If you are interested in distaff, please convo me & I will talk to you about the price. You can buy only distaff, or with the bench too.

Please check my other 2 kinds spindles in my shop.
Siberian spindle :
https://www.etsystudio.com/listing/102146591/original-russian-spindle-hand-made-by

And another Orenburg spindle :
https://www.etsystudio.com/listing/120024650/original-russian-orenburg-spindle-hand and another interesting treasury:https://www.etsy.com/treasury/NTE0ODM1OHwyNzI2NDY3MjEw/vassilissa-the-beautiful
And another very impressive treasury:https://www.etsy.com/treasury/MjE5NzkyNTh8MjcyNjUwNjkyNA/make-art-not-war
---
---

The item came quickly and well-packaged. It is a beautiful spindle. I am using it for symbolic purposes so I can't assess how well it actually spins material, but the wood is smooth and it feels nice in the hand. I would buy from Lusy again.

Feb 12, 2018 by Anna Meadows Helvie

The spindle is amazingly fast and steady in movement, it spins practilly all by itself. I tried some alpaca on it, totally in love.

Jul 6, 2017 by Isabela AJ

Well-packaged, arrived safe and sound! The wood is very smooth to prevent snags while spinning, and it's a beautiful yet functional spindle. Now to learn how to use it!

May 6, 2015 by Lucy Handfield

Well made. smooth spin. working to figure out how to use.

Feb 24, 2015 by pathomas12

Motya's style spindle is a beautiful, smooth, silky birch hand crafted work of art. It spins beautifully well and feels wonderful in my fingers while spinning. This will be a treasured heirloom.

Jul 23, 2014 by Anne Baron
---
More from this seller
---
Shipping & policies
Arrives from the United States
Estimated Shipping
I can ship any way you want, but usualy I ship by US mail, insured. I ship worldwide.
---
Payments
PAY PAL, money order or checks .
---
Returns & exchanges
If you are not happy with my items, no problem to send it back, but you have to pay shipping on the way back.You have 3 days for inspection period since the day you received the item, please contact me first before you want to return anything. Thanks.Will be20% restocking fee and shipping is not refundable.
---
Additional policies
I can do custom orders, spin, knit, crochet for you. Just drop me a note and I will explain to you in details. Thanks.