BIRDS-2 Collection of 1020 vintage illustrations pictures images in High resolution 300dpi digital download printable for collages clipart
(2)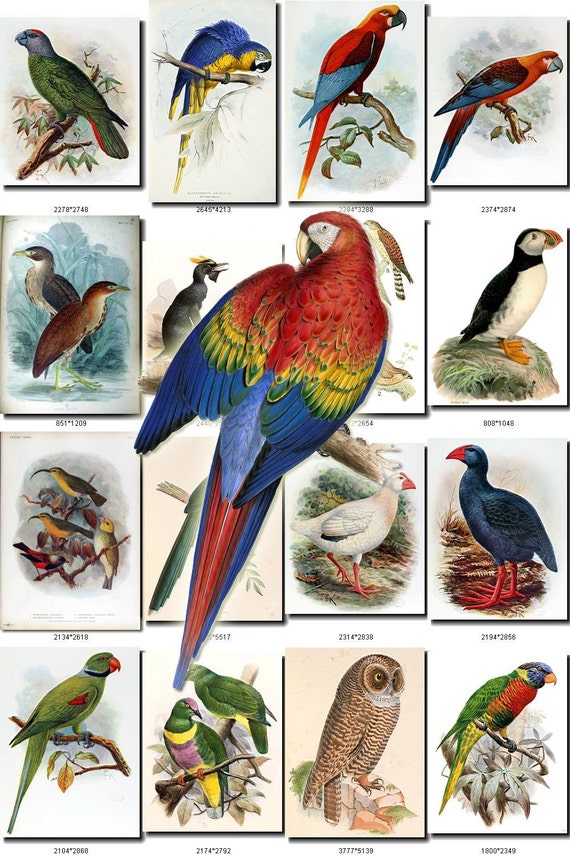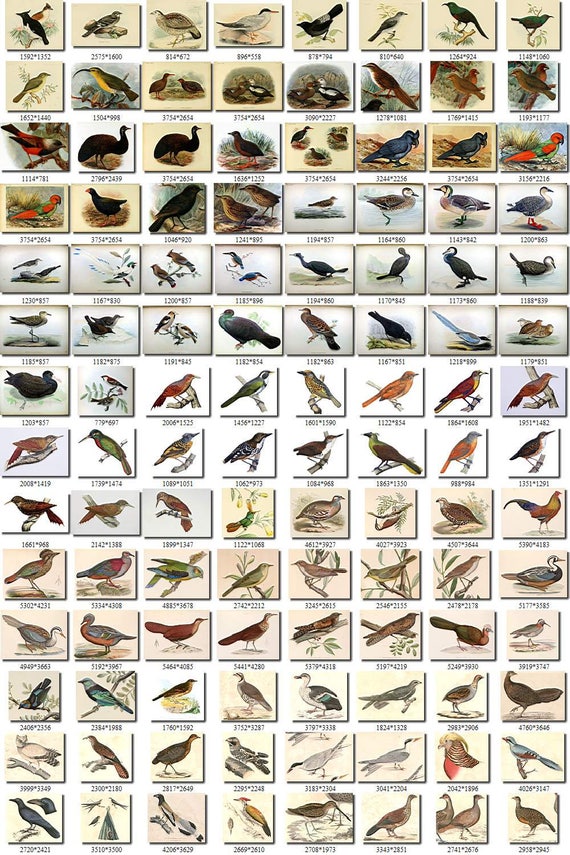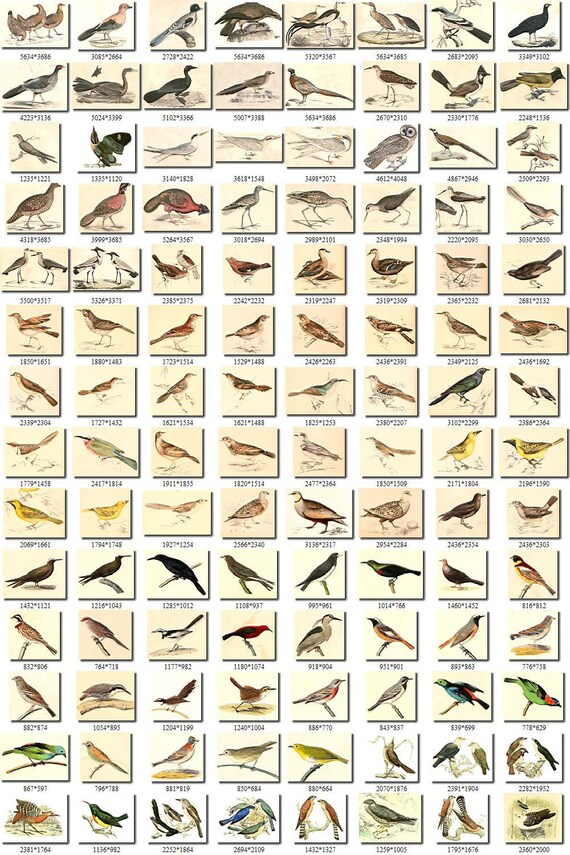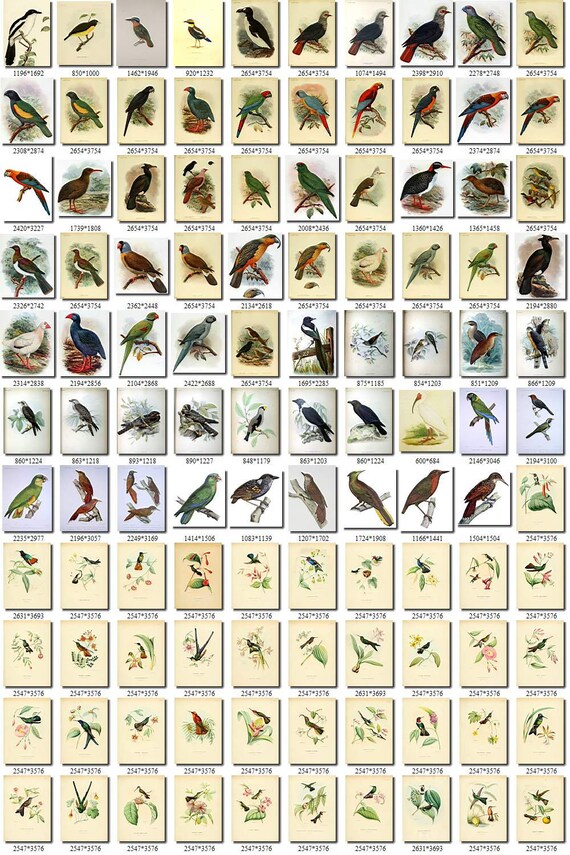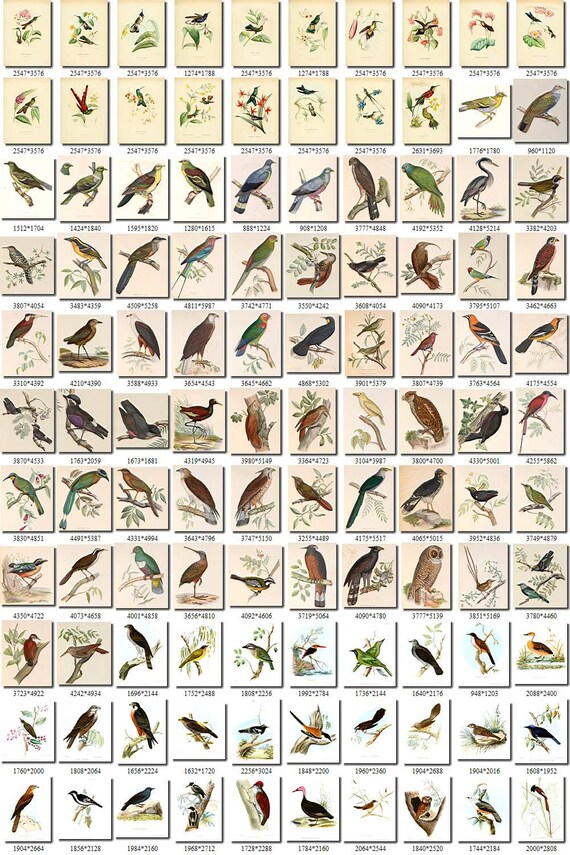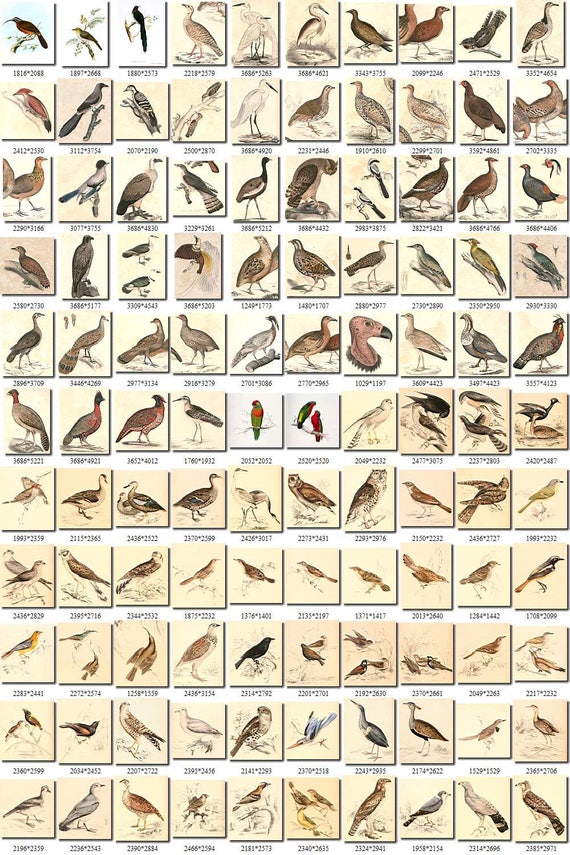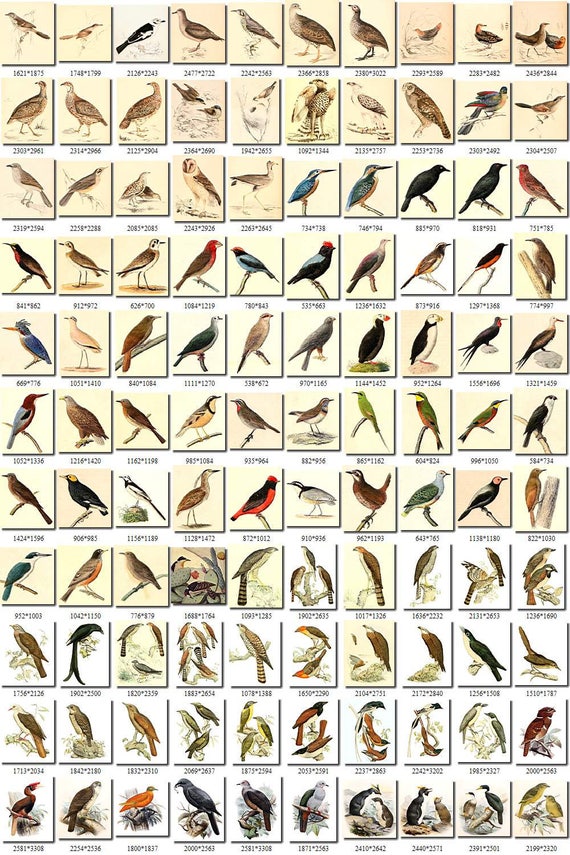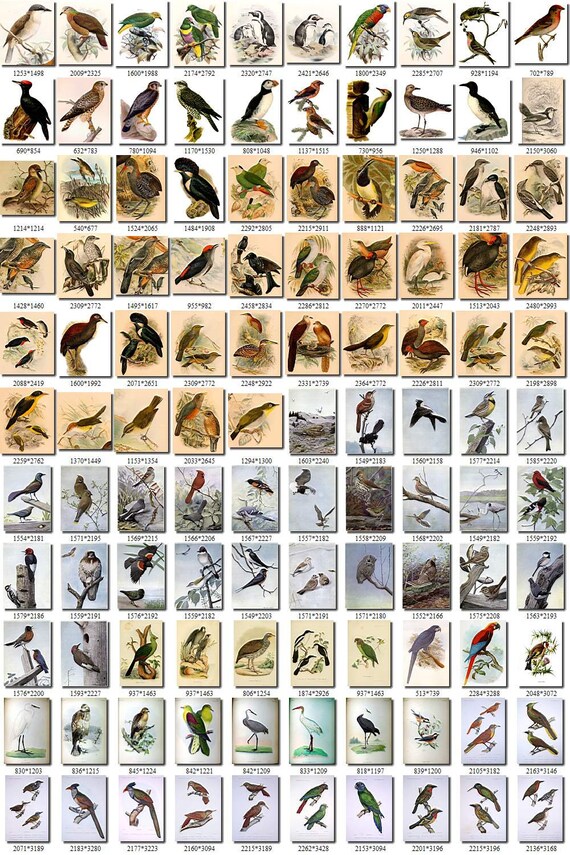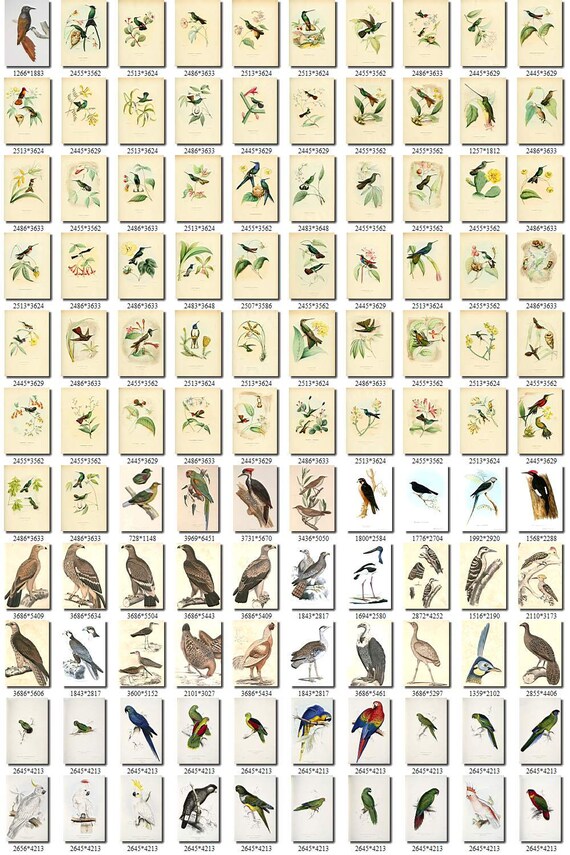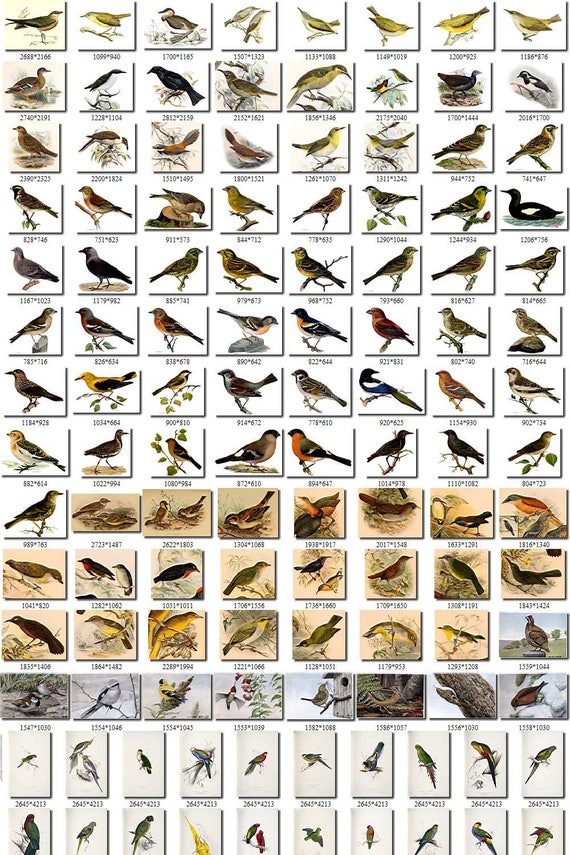 ---
Features
---
Item details
artscult.com - all images from artvintages.com

Instant digital download of 1020 vintage pictures of birds in high resolution (300 dpi, sizes from 800x600 px to 4100x5300 px). Look at pictures to see sizes in pixels (click "Zoom", divide size in pixels on 300 - you'll get size of print in inches with high quality, ex. 2400/300=8''). Total size of the collection is 844 Mb.

Each file has a name of shown bird (ex. "Sedge warbler.jpg"). Names of shown birds are listed below, at the end of description.

All images are in JPG format, separete files. Perfect for use in crafting, decoupage, collage, altered art, prints, etc. Images are in public domain in USA and may be used for any personal or commercial purposes. Information about source books is included.

Look at my other BIRDS collections:
https://www.etsy.com/shop/ArtVintages?section_id=13682371

All-in-one BIRDS collections:
https://www.etsy.com/shop/ArtVintages/search?search_query=all+birds

DISCOUNTS:
Save money - Use coupons shown here:
https://www.etsystudio.com/listing/168468869/

SHIPPING DETAILS:
Digital download (TXT file with link on file in zip format on dropbox and google drive, and gallery view). Before purchase, please, make sure that you are able to download large size files. Download may take long time some cases.

NAMES of shown birds:
Accentor Rubidus, Accipiter Badius Polyzonoides , Accipiter Besra Jerdon, Accipiter Francesiae , Accipiter Francesii Brutus , Accipiter Madagascariensis , Accipiter Melanoleucus Melanoleucus , Accipiter Rufiventris , Accipiter Tachiro Tachiro , Acestura Mulsanti, Acrocephalus Newtoni , Actenoides Lindsayi, Afrotis Afraoides Afraoides , Agapornis Swindernianus (Black-Collared Loverbird) By Edward , Agapornis Taranta -Psittacula Taranta Abyssinian Parrakeet -By Edward , Aglaeactis Pamelae, Aiturus Polytmus, Akialoa Ellisiana, Alauda Arvensis, Alauda Japonica, Alca Impennis, Alcedo Atthis , Alcedo Atthis Ispida , Alectoris Chukar Hardwicke, Alectroenas Nitidissima, Alectroenas Nitidissima-John Gerrard Improved, Alectroenas Nitidissima-John Gerrard, Alectroenas Sganzini , Alectrurus Tricolor , Amadina Erythrocephala , Amaurornis Isabellina , Amazona Martinicana , Amazona Martinicana, Amazona Violacea, Amazona Violaceus, Amblyospiza Albifrons Years Old and Young , Amblyospiza Albifrons , Ammoperdix Griseogularis , Anas Erythrorhyncha , Anas Formosa Female, Anas Formosa Male, Anas Hottentota , Anas Poecilorhyncha Hardwicke, Anashii , Anas Sparsa , Anas Undulata , Anas Wyvilliana, Anodorhynchus i By Edward , Anodorhynchus Purpuracens, Anodorhynchus Purpurascens, Anous Stolidus , Anous Tenuirostris , Anser Cygnoides Ferus, Anthus Arboreus, Anthus Pratensis Japonicus, Anthus Similis Jerdon, Aplonis Corvina , Aplonis Mysolensis Sulaensis , Aplonis Opaca , Aplonis Panayensis , Aprosmictus Erythropterus -Platycercus Erythropterus Crimson-Winged Parrakeet -Male -By Edward , Aprosmictus Erythropterus -Platycercus Erythropterus. Crimson-Winged Parrakeet -By Edward , Apterornis Coerulescens, Apus Affinis Hardwicke, Aquila Clanga Hardwicke, Aquila Heliaca Hardwicke, Aquila Nipalensis Nipalensis Hardwicke, Aquila Rapax Vindhiana Hardwicke, Aquila Rapax Vindhiana Hardwicke, Ara Ararauna -Macrocercus Ararauna Blue & Yellow Maccaw -By Edward , Ara Erythrocephala, Ara Erythrura, Ara Gossei , Ara Gossei, Ara Macao -Painting By Edward , Ara Martinicus, Ara Primoli, Ara Rubrogenys , Ara Tricolor , Ara Tricolor, Aramidopsis Plateni , Aratinga Acuticaudata , Aratinga Nana -Psittacara Nana Dwarf Parrakeet Maccaw -By Edward , Arborophila Orientalis Hardwicke, Arborophila Torqueola Hardwicke, Ardea Alba Modesta & Mesophoyx Intermedia Intermedia Hardwicke, Ardea Egrettoides, Ardea Goisagi, Ardea Melanocephala , Ardeola Grayii Hardwicke, Argusianus Argus Argus Hardwicke, Ariana Sophiae, Arinia Boucardi, Arremon Aurantiirostris , Arremon Devillei, Arremon Flavirostris - De Castelnau, Artamus Cyanopterus , Artamus Leucorynchus , Asio Capensis , Astur Gularis, Augastes Lumachellus, Aurinia Verreauxi, Aviceda Madagascariensis , Avocettinus Eurypterus, Barnardius Zonarius -Platycercus Barnardi Barnard's Parrakeet -By Edward , Barnardius Zonarius -Platycercus Baueri Bauer's Parrakeet -By Edward , Basilornis Galeatus , Batrachostomus Septimus , Bellona Cristata, Bias Musicus, Biophorus Paradisiacus, Black-Naped Fruit Dove, Blue-Faced Rail, Bob White, Bombycilla Phoenicoptera, Boomer The Nighthawk, Brachypus Rubineus Jerdon, Bradornis Infuscatus Infuscatus , Brotogeris Jugularis - Castelnau, Brownie The Thrasher, Bubalornis Niger , Bubbling Bob The Bobolink, Bubo Capensis , Bubo Coromandus Hardwicke, Bucco Viridis Jerdon, Buceros Hydrocorax Mindanensis, Bully The English Sparrow, Butastur Teesa Hardwicke, Butcher The Northern Shrike, Buteo Hemilasius, Buteo Pyrrhogenys, Buteo Solitarius, Buteo Vulgaris Japonicus (Fem Jun), Buteo Vulgaris Japonicus, Cabalus Modestus , Cabalus Modestus, Cacatua Galerita -Plyctolophus Galeritus Greater Sulphur-Crested Cockatoo -By Edward , Cacatua Moluccensis -Plyctolophus Rosaceus Salmon-Crested Cockatoo -By Edward , Cacatua Sulphurea -Plyctolophus Sulphureus Lesser Sulphur-Crested Cockatoo -By Edward , Cacomantis Passerinus Hardwicke, Calcarius Lapponicus F, Calcarius Lapponicus M, Calcedo Bengalensis, Calendulauda Africanoides Africanoides , Calendulauda Albescens Codea , Calendulauda Albescens Guttata , Calendulauda Burra , Calendulauda Sabota , Calicalicus Madagascariensis , Calicalicus Madagascariensis & Leptopterus Chabert , Calligenia Dichroura, Calligenia Osculans, Calliperidia Angelae, Caloenas Nicobarica Hardwicke, Caloperdix Oculeus Hardwicke, Caloperdix Oculeus Hardwicke, Calypta Helenae, Calyptorhynchus Baudinii -Calyptorhynchus Baudinii Baudin's Cockatoo -By Edward , Campephilus Guatemalensis, Campephilus Haematogaster, Campephilus Imperialis, Camptolaemus Labradorius , Camptolaemus Labradorius, Campylopterus Ensipenis, Campylorhynchus Capistratus , Campylorhynchus Megalopterus , Canirallus Kioloides , Capito Auratus , Capito Auratus Female - Castelnau, Caprimulgus Asiaticus Hardwicke, Caprimulgus Fossei, Caprimulgus Indicus Hardwicke, Caprimulgus Jotaka (Fem), Caprimulgus Jotaka (Mas), Caprimulgus Natalensis , Caprimulgus Rufigena , Caprimulgus Tristigma Lentiginosus , Carbo Bicristatus (Jun.), Carbo Bicristatus, Carbo Capillatus (Jun.), Carbo Capillatus, Carbo Perspicillatus, Carduelis Cannabina , Carduelis Carduelis, Carduelis Chloris F, Carduelis Chloris M, Carduelis Flammea , Carduelis Flavirostris , Carduelis Spinus F, Carduelis Spinus M, Carol The Meadow Lark, Carpodacus Erythrinus Erythrinus , Carpodacus Erythrinus, Casiornis Rufus Castelnau, Casiornis Typus, Cassicus Alfredi, Cassicus Devillei, Cassicus Oseryi, Cataponera Turdoides , Cephallepis Delandii, Cepphus Grylle, Certhilauda Curvirostris , Certhilauda Subcoronata , Ceyx Tridactyla Jerdon, Chactocercus Bombillus, Chaetocercus Rosae, Chalcomitra Senegalensis , Chalybura Melanorrhoa, Charadrius Leschenaultii , Charadrius Pecuarius , Charadrius Pluvialis Orientalis, Chatham Fernbird, Chaunoproctus Ferreirostris, Chaunoproctus Ferreorostris , Chaunoproctus Ferreorostris Crop, Chaunoproctus Ferreorostris, Chebec The Least Flycatcher, Chewink The Towhee, Chicoree The Goldfinch, Chippy The Chipping Sparrow, Chiroxiphia Caudata , Chiroxiphia Pareola , Chlamydotis Macqueenii Hardwicke, Chlidonias Hybrida Hybrida Hardwicke, Chlidonias Hybrida Javanicus Hardwicke, Chlorocichla Flaviventris , Chlorophoneus Sulfureopectus Similis , Chloropsis Jerdoni, Chrysobronchus Viridissimus, Chrysoenas Victor, Chrysolampis Chlorolaema, Chrysolampis Mosquitus, Chrysolophus Pictus Hardwicke, Chrysomirus Angustipennis, Chrysomirus Prasinus, Chrysophlegma Miniaceum Hardwicke, Chrysotis Hypochondriacus, Chrysuronia Josephina, Ciconia Australis, Cinclus Pallasii, Cinnyris Coquerellii , Cinnyris Habessinicus , Cinnyris Jugularis , Cinnyris Jugularis Teysmanni , Circe Magica, Circus Macrourus , Circus Macrourus Young Female , Circus Maurus , Ciridops Anna, Cissa Chinensis Hardwicke, Cisticola Aberrans , Cisticola Cherina , Cisticola Chiniana , Cisticola Fulvicapilla , Cisticola Juncidis Terrestris , Cisticola Natalensis , Cisticola Subruficapilla , Cisticola Textrix , Cisticola Tinniens , Clypicterus Oseryi Castelnau, Clytolaema Matthewsi, Coccothraustes Personatus, Coccothraustes Vulgaris Japonicus, Coccyzus Pluvialis , Colinus Leucopogon , Columba (Carpophaga) Janthina, Columba (Turtur) Gelastis, Columba (Vinago) Sieboldii, Columba Elphinstonii Jerdon, Columba Janthina , Columba Oenas , Columba Pollenii , Columba Versicolor , Common Cicadabird, Conopophaga Peruviana Castelnau, Conopophaga Peruviana, Conopophaga Theresae, Conurus Jugularis, Conurus Labati, Conurus Labati-Cropped, Copsychus Albospecularis Pica , Copsychus Luzoniensis , Copsychus Malabaricus , Coracias Caudatus , Coracina Bicolor , Coracina Leucopygia , Coracina Morio Morio , Coracina Morio Salvadorii , Coracina Morio Talautensis , Coracina Personata Pollens, Coracina Tenuirostris Obiensis , Cormobates Leucophaea , Corvus (Monedula) Dauricus (Ad), Corvus (Monedula) Dauricus, Corvus (Pica) Cyanus, Corvus Macrorhynchos Hardwicke, Corvus Macrorhynchus, Corvus Monedula , Corythaix Livingstoni, Corythaixoides Concolor , Corythornis Cristatus , Cossypha Humeralis Humeralis , Cossypha Natalensis , Coturnix Vulgaris Japonica, Crateropus Delesserti Jerdon, Creaker The Purple Grackle, Crimson-Crowned Flowerpecker, Crocopus Viridifrons Bonaparte, Crus Cinerea Longirostris, Crus Leucogeranos (Jun.), Crus Monachus, Cultrides Pucherani, Cursorius Cursor , Cyanolanius Madagascarinus , Cyanoliseus Patagonus -Psittacara Patagonica Patagonian Parrakeet-Maccaw -By Edward , Cyanomitra Veroxii , Cyanomitra Veroxii Female , Cyanomitra Veroxii Male , Cyanomya Microrhyncha, Cyanoramphus Novaezelandiae -Platycercus Pacificus. Pacific Parrakeet -By Edward , Cyanoramphus Unicolor -Platycercus Unicolor Uniform Parrakeet -By Edward , Cyanoramphus Zealandicus , Cynanthus Caelestis, Cypsiurus Balasiensis Hardwicke, Damophila Juliae, Dandy The Cedar Waxwing, Dear Me The Phoebe, Dendrexetastes Rufigula Castelnau, Dendrocincla Turdina , Dendrocitta Formosae Hardwicke, Dendrocitta Vagabunda Hardwicke, Dendrocolaptes Devillei, Dendrocopos Macei Hardwicke - Female, Dendrocopos Macei Hardwicke - Male, Dendrocopos Macei Hardwicke, Dendrocopos Mahrattensis Hardwicke, Dendrocopos Moluccensis Hardwicke, Dendrocygna Major Jerdon, Dendroperdix Sephaena Sephaena , Dendroplex Kienerii Castelnau, Dendroplex Picus , Dendrornis Devillei, Dendrornis Guttatoides, Dendrornis Kienerii, Dendrornis Multiguttatus, Dendrornis Palliatus, Dendrornis Rostripallens, Dendrornis Weddellii, Dialia Adorabilis, Dicaeum Aureolimbatum , Dicaeum Celebicum , Dicaeum Celebicum Sanghirense , Dicaeum Concolor Jerdon, Dicaeum Hypoleucum Mindanense, Dicaeum Nehrkorni , Dicrurus Hottentottus Leucops , Dicrurus Hottentottus Striatus, Dicrurus Ludwigii Ludwigii , Dicrurus Waldenii , Diglossa Brunneiventris , Dinopium Javanense Javanense Hardwicke, Diomedea Brachyura, Diphlogaena Hesperus, Docimastes Ensiferus, Doleromia Fallax, Doleroraya Sordida, Doricha Bryantae, Doricha Evelynae, Doryfera Euphrosinae, Dotty The Tree Sparrow, Downy The Woodpecker, Dromaius Peroni , Dromaius Peroni, Drymotoxeres Pucheranii , Dryocopus Lineatus Erythrops , Dryocopus Martius, Ducula Concinna , Ducula Latrans, Ducula Oceanica , Ducula Pistrinaria Rhodinolaema, Dusky Moorhen, Egretta Eulophotes , Egretta Garzetta Garzetta Hardwicke, Emberiza Aureola , Emberiza Citrinella , Emberiza Citrinella M, Emberiza Hortulana , Emberiza Rustica , Emberiza Schoeniclus, Enicognathus Leptorhynchus -Psittacara Leptorhyncha Long-Billed Parrakeet-Maccaw -By Edward , Eremopterix Australis Australis , Eremopterix Leucotis Leucotis , Eremopterix Verticalis Verticalis , Eriocnemis Dyselia, Eriocnemis Mosquerae, Erythropygia Leucophrys , Erythropygia Paena Paena , Erythrura Gouldiae , Estrilda Astrild , Estrilda Troglodytes , Eucephala Subcaerulea, Euclosia Grayi, Eucnemis Chrysorama, Eudosia Traviesi, Eudyptes Chrysocome, Eudyptes Chrysolophus, Eugenes Fulgens, Eulampis Holosericeus, Eupetomea Macroura, Eupetomena Hirundo, Eupherusa Eximia, Eupherusa Poliocerca, Euplectes Afer Taha , Euplectes Axillaris Axillaris , Eustephanus Fernandensis, Eustephanus Galeritus, Eutoxeres Aquila, Eutoxeres Condamini, Falco Aesalon Female, Falco Aesalon Male, Falco Araea , Falco Araeus , Falco Cherrug Cherrug Hardwicke, Falco Concolor , Falco Concolor & Accipiter Francesii , Falco Concolor Hartlaub, Falco Jugger Hardwicke, Falco Luggur Jerdon, Falco Newtoni , Falco Newtoni, Falco Peregrinator Jerdon, Falco Punctatus , Falco Rupicoloides , Falco Rusticolus F, Falco Shaheen Jerdon, Falco Tinnunculus M, Falco Vespertinus , Falculea Palliata , Forktail The Barn Swallow, Foudia Eminentissima Algondae , Foulehaio Carunculatus Procerior, Foulehaio Carunculatus, Francolinus Cranchi, Francolinus Gularis Hardwicke, Francolinus Kirki Hartlaub, Francolinus Pictus Hardwicke, Francolinus Pictus Pallidus Hardwicke, Fratercula Arctica, Fratercula Cirrhata , Fratercula Corniculata , Fregata Aquila , Fregata Aquila Young , Fregilupus Varius, Fringilla Coelebs F, Fringilla Coelebs M, Fringilla Montifringilla , Fringilla Montifringilla F, Fringilla Montifringilla M, Fulmarus Glacialoides , Galbalcyrhynchus Leucotis , Galbula Cyanicollis - Castelnau, Gallinago Stenura & Philomachus Pugnax Hardwicke, Gallinago Stenura Hardwicke, Gallinula Tenebrosa Frontata , Gallirallus.Pacificus, Galloperdix Lunulata Hardwicke, Galloperdix Spadicea Hardwicke, Galloperdix Spadicea Spadicea Hardwicke, Gallus Gallus G. Lafayetii & G. Varius Hardwicke, Gallus Gallus Hardwicke, Gallus Giganteus Female Hardwicke, Gallus Giganteus Male Hardwicke, Gallus Lafayetii , Gallus Lafayetii Hardwicke, Gallus Varius Hardwicke, Garrulus Glandarius Bispecularis Hardwicke, Garrulus Lanceolatus Hardwicke, Geobiastes Squamiger , Geokichla Guttata , Geotrygon Versicolor , Glareola Ocularis , Glaucidium Capense Capense , Glaucis Antoniae, Glory The Cardinal, Glyphorhynchus Castelnaudii, Glyphorynchus Spirurus Castelnau, Golden Bulbul, Goldie The Baltimore Oriole, Grallaria Quitensis , Greatindianbustardhardwicke, Grey-Sided Flowerpecker, Grypus Aequatorialis, Gubernetes Yetapa , Gymnocrex Rosenbergii , Gyps Bengalensis Hardwicke, Halcyon Senegaloides , Halcyon Smyrnensis , Haliaeetus Albicilla , Haliaeetus Leucoryphus Hardwicke, Haliaeetus Pelagicus , Haliaeetus Vocifer , Haliaeetus Vociferoides (), Haliaeetus Vociferoides , Hapalopsittaca Amazonina , Hapalopsittaca Melanotis , Hawaiian Crake, Hawaiian Spotted Rail, Heliactin Cornuta, Heliangelus Spencei, Heliodoxa Jacula, Heliomastes Constanti, Heliothrix Barroti, Hellopaedica Xanthusi, Helmeted Myna, Hemignathus Ellisianus, Hemiphaga Novaeseelandiae Spadicea, Hemiphaga Spadicea, Herpsilochmus Argentatus, Heteralocha Acutirostris , Heterochnemis Bicolor, Hierococcyx Varius Varius Hardwicke, Hippolais Icterina , Hippolais Olivetorum , Hippolais Polyglotta , Hippolais Polyglotta & Hippolais Icterina , Homophania Insectivora, Houbaropsis Bengalensis Female Hardwicke, Houbaropsis Bengalensis Male Hardwicke, Hummer The Ruby-Throated Hummingbird, Hydrochelidon Albigena, Hydrophasianus Chirurgus Hardwicke, Hylocitrea Bonensis Bonensis , Hylocitrea Bonensis Bonthaina , Hylophylax Naevius Theresae Castelnau, Hylophylax Punctulatus Castelnau, Hypargos Margaritatus , Hypotaenidia Pacifica, Hypsipetes Philippinus , Ibis Nippon, Icterus Gularis , Icterus Pectoralis , Iduna Pallida Elaeica , Iduna Pallida Elaeica & Hippolais Olivetorum , Indicator Xanthonotus Jerdon, Iodopleura Isabellae , Iodopleura Isabellae & Iodopleura Pipra , Iodopleura Pipra , Iolaema Schreibersi, Isabelline Bush-Hen, Ixobrychus Eurhythmus , Ixobrychus Sinensis Hardwicke, Ixobrychus Sturmii , Ixoreus Naevius , Jacamar Chalcocephala, Jacana Spinosa , Jenny Wren, Jerdon Zoothera Wardii, Kaktusspecht Melanerpes Cactorum, Ketupa Zeylonensis Leschenaultii Hardwicke, King Eagle, Kittlitz Nycticorax, Kitty The Catbird, Klais Guimeti, Kosrae Island Starling, Lampornis Calosoma, Lampornis Mango, Lamprolaema Rami, Lampropygia Boliviana, Lamprotornis Australis , Laniarius Bicolor Sticturus, Laniarius Funebris, Laniarius, Lanius Collaris Subcoronatus , Lanius Meridionalis Lahtora Hardwicke, Lanius Nigriceps Jerdon, Lepidocolaptes Lacrymiger , Lepidocolaptes Souleyetii , Lepidolarynx Mesoleucus, Leptocoma Sericea Talautensis , Leptocoma Sperata Juliae, Leptopterus Chabert , Lerwa Lerwa Hardwicke, Lesbia Nuna, Leucocarbo Verrucosus, Leucochloris Albicollis, Leucocirca Albofrontata Jerdon, Leucolia Viridi-Frons, Leucollia Candida, Leucomelaena Norfolciensis Bonaparte, Little Friend The Song Sparrow, Locustella Castanea , Longbill The Woodcock, Longlegs The Great Blue Heron, Lophochroa Leadbeateri -Plyctolophus Leadbeateri Leadbeater's Cockatoo -By Edward , Lophopsittacus Mauritianus, Lophopsittacus, Lophornis Magnificus, Lophornis Stictolophus Bevalet, Lophotis Ruficrista , Lophozosterops Squamiceps , Lophura Erythrophthalma Hardwicke, Lophura Ignita Hardwicke, Lophura Leucomelanos Hamiltoni Hardwicke, Lophura Nycthemera Hardwicke, Loriculus Philippensis Panayensis, Lorius Domicella -Painting By Edward (Approx ), Loxia Curvirostra, Loxia Pytyopsittacus, Lucaria Costea, Lullula Arborea, Luscinia Calliope , Luscinia Svecica , Macropygia Amboinensis Albicapilla , Malacocircus Griseus Jerdon, Malcorus Pectoralis , Malcorus Pectoralis Ocularius , Male, Malia Grata Recondita , Manilia Pulchra, Maracana Luciani, Maracana Weddellii, Mascarinus Mascarinus, Mascarinus, Megalaima Haemacephala Indica , Megapodius Cumingii , Megapodius Eremita, Megascops Choliba Cruciger , Melanerpes Herminieri , Mellisuga Minima, Melody The Wood Thrush, Melopsittacus Undulatus -Nanodes Undulatus Undulated Parrakeet -By Edward , Merganetta Armata , Merganetta Armata Colombiana , Merganetta Armata Female , Merops Bullockoides Bullockoides , Merops Nubicoides , Merops Persicus , Merops Pusillus , Merops Variegatus , Merops Variegatus Lafresnayii , Mesitornis Unicolor , Mesitornis Variegatus , Metallura Jelski, Metallura Smaragdinicollis, Microcarbo Niger Hardwicke, Microcarbo Pygmeus Hardwicke, Microcerculus Marginatus Marginatus - Castelnau, Microchera Albocoronata, Microhierax Erythrogenys Erythrogenys , Microparra Capensis Capensis , Micropogon Amazoninus, Micropogon Aurifrons, Micropternus Brachyurus Hardwicke, Microscelis Amaurotis , Miliaria Calandra, Milvus Migrans Lineatus Hardwicke, Mino Dumontii , Mirafra Africana , Mirafra Cheniana Cheniana , Mirafra Erythroptera Jerdon, Mirafra Gilletti, Mirafra Naevia, Moluccan Starling, Momotus Lessonii , Monarcha Infelix , Morococcyx Erythropygus , Motacilla Alba Lugens , Motacilla Capensis , Mourner The Dove, Muscicapa Albicaudata Jerdon, Muscicapa Cinereola, Muscicapula Sapphira Jerdon, Myza Celebensis Celebensis , Myza Sarasinorum , Myzomela Rubratra , Necropsittacus Borbonicus , Necropsittacus Borbonicus, Nectarinia Erythroceria, Nectarinia Jardinei, Neomixis Tenella , Nesillas Typica Typica , Nesocichla Eremita, Nesoenas Mayeri , Nesospiza Acunhae, Nestor Productus , Nestor Productus, Nettapus Coromandelianus Coromandelianus Hardwicke, Newtonia Brunneicauda , Ninox Superciliaris , Nisaetus Strenuus Jerdon, Notornis Alba, Notornis Hochstetteri, Nucifraga Caryocatactes, Nyctibius Leucopterus Female , Nyctibius Leucopterus Male , Nycticorax Caledonicus Crassirostris, Nycticorax Nycticorax , Nymphicus Hollandicus -Palornis Novae-Hollandiae. New Hollandparrakeet -By Edward , Olive-Flanked Whistler, Oreonympha Nobilis, Oreopyra Calolaema, Oreopyra Cinereicauda, Oreopyra Hemileuca, Oreopyra Leucaspis, Oriolia Bernieri , Oriolus Chinensis Melanisticus , Oriolus Oriolus, Orotrochilus Chimborazo, Oxypogon Guerini, Pachycephala Phaionota, Pachycephala Sulfuriventer , Pachyptila Desolata , Pachyptila Turtur , Pachyptila Vittata , Pachyramphus Viridis , Palaeornis Exsul, Palaeornis Wardi, Paleornis Columboides Jerdon, Panoplites Jardinei, Panterpe Insignis, Panychlora Aliciae, Paphosia Helenae, Paradisaea Minor Hardwicke, Parus Cinctus, Parus Nuchalis Jerdon, Parus Varius, Passer Castanopterus, Passer Domesticus M, Passer Euchlorus Petronia Flavigula Clean, Passer Euchlorus, Passer Montanus , Passer Russatus, Passer Shelleyi, Patagona Gigas, Pavo Muticus Hardwicke, Peliperdix Coqui Coqui , Penelope Pileata , Perdicula Asiatica Hardwicke, Perdicula Erythrorhyncha Hardwicke, Pernis Ptilorhynchus Ruficollis , Pernis Ptilorhynchus Torquatus , Petasophora Cyanotis, Petrocincla Manillensis Jerdon, Petroica Traversi Crop, Petronia Flavigula, Phacellodomus Erythrophthalmus , Phaenicophaeus Diardi , Phaenicophaeus Leschenaultii Sirkee Hardwicke, Phaeolaema Rubinoides, Phaetomis Enrynome, Phaetornis Augusti, Phaetornis Bourcieri, Phalacotreron Crassirostris Bonaparte, Phalacotreron Delalandii Bonaparte, Phalacotreron Nudirostris Bonaparte, Phalacrocorax Perspicillatus, Phalcoboenus Carunculatus , Phapitreron Leucotis Brevirostris, Phasianus Colchicus Torquatus Hardwicke, Phegornis Mitchellii , Philemon Albitorques, Philepitta Castanea , Philepitta Castanea Young , Philepitta Schlegeli , Philetairus Socius , Philomachus Pugnax Hardwicke, Phoenicircus Carnifex , Phoenicurus Auroreus , Phoenicurus Phoenicurus , Phragmacia Substriata , Phrygilus Alaudinus , Phrygilus Fruticeti , Phyllergates Cuculatus Riedeli , Phylloscopus Sarasinorum Sarasinorum , Pica Pica, Picus Canus , Picus Canus Sanguiniceps Hardwicke, Picus Chlorolophus Chlorolophus Hardwicke, Picus Cordatus Jerdon, Picus Hodgsonii Jerdon, Picus Viridanus Hardwicke, Picus Zeylonus Jerdon, Pinicola Enucleator, Pinkheaded Duck Jerdon, Pionias Fuscicapillus, Pionites Leucogaster -Psittacus Badiceps Bay-Headed Parrot -By Edward , Pipilopsis Ruficeps, Pitta Angolensis , Pitta Elegans - La Bonite, Platycercus Adscitus -Platycercus Palliceps. Paleheaded Parrakeet -By Edward , Platycercus Icterotis -Platycercus Stanleyii Stanley Parrakeet -By Edward , Platycercus Icterotis -Platycercus Stanleyii Stanley Parrakeet -Juvenile -By Edward , Platycercus Venustus -Platycercus Brownii Brown's Parrakeet -By Edward , Plectrophenax Nivalis , Plocepasser Mahali , Ploceus Capensis Male , Ploceus Cucullatus Spilonotus Male , Ploceus Ocularis Ocularis , Ploceus Subaureus Subaureus , Ploceus Velatus , Plunger The Osprey, Pluvialis Apricaria , Pluvialis Apricaria, Pluvianus Aegyptius , Polemaetus Bellicosus , Polihierax Semitorquatus , Polyboroides Typus Adult Female , Polyboroides Typus Young , Polyplectron Female Hardwicke, Polyplectron Malacense Hardwicke, Polyplectron Malacense Hardwicke, Polytelis Alexandrae -Palornis Rosaceus Roseate Parrakeet -By Edward , Polytelis Anthopeplus -Palaeornis Melanura Black-Tailed Parrakeet -By Edward , Polytelis Anthopeplus -Palornis Anthopeplus Blossom-Feathered Parrakeet -Female -By Edward , Pomatorhinus Horsfieldii , Porphyrio Albus, Porphyrio Coerulescens, Primnacantha Langsdorffi, Prinia Cursitans Jerdon, Prinia Flavicans , Prinia Maculosa , Prinia Subflava Affinis , Prionops Talacoma Byh, Procellaria Cinerea , Prosopeia Tabuensis -Platycercus Tabuensis Tabuan Parrakeet -By Edward , Psarocolius (Bifasciatus) Yurucares - Castelnau, Psarocolius Angustifrons Alfredi Castelnau, Psittacula Columboides -Palaeornis Columboides. Pigeon Parrakeet -By Edward , Psittacula Eupatria -Palornis Cucullatus Hooded Parrakeet -By Edward , Psittacula Exsul (Extinct) By J.G., Psittacula Krameri -Palaeornis Torquatus. Roseringed Parrakeet. Yellow Variety -By Edward , Psittacula Kuhlii -Painting By Edward , Psittacula Torquata -Collared Parrakeet -Edward Painting, Psittacula.Wardi.Jgk, Psitteuteles Versicolor By Edward (Whole Page), Psitteuteles Versicolor By Edward , Psophocichla Litsitsirupa , Pternistis Afer Cranchii Hardwicke, Pternistis Natalensis Natalensis , Pternistis Swainsonii , Pterocles Burchelli , Pterocles Gutturalis Gutturalis , Pterocles Gutturalis, Pterodroma Macroptera , Pteroptochos Megapodius , Ptilinopus Layardi, Ptilinopus Rivoli , Ptilinopus Roseicapilla , Ptilinopus Solomonensis Johannis, Pucrasia Macrolopha Hardwicke, Punctatus & Araea, Purpureicephalus Spurius -Platycercus Pileatus Red-Capped Parrakeet -By Edward , Purpureicephalus Spurius -Platycercus Pileatus Red-Capped Parrakeet -Male -By Edward , Pycnonotus Flavescens Von Deer Decken, Pycnonotus Leucogenys Leucogenys Hardwicke, Pycnonotus Melanicterus Flaviventris Hardwicke, Pygmornis Adolphi, Pygmornis Idaliae, Pygmornis Longuemareus, Pyrrhula Pyrrhula Female, Pyrrhula Pyrrhula Male, Pyrrhula Pyrrhula, Pyrrophaena Devillei, Querula Purpurata , Rallus Madagascariensis , Ramphomicron Microrhynchus, Ramphomicron Olivaceus, Rattles The Kingfisher, Redcoat The Scarlet Tanager, Redeye The Vireo, Redhead The Woodpecker, Redtail The Hawk, Redwing The Blackbird, Rhabdornis Mystacalis , Rhipidura Dryas, Rhipidura Javanica , Rhipidura Semirubra , Rhizothera Longirostris Hardwicke, Rhopothera Guttata, Riparia Chinensis Hardwicke, Rosebreast The Grosbeak, Sammy Jay, Sapho Phaon, Saracholinus Rufigularis, Sarcogyps Calvus Hardwicke, Sarcops Calvus , Sarothrura Affinis Affinis , Sarothrura Elegans , Sarothrura Rufa Rufa , Saturia Isaacsoni, Scelorchilus Albicollis , Schetba Rufa , Schifformis Major, Schiffornis Major Castelnau, Sclateria Naevia Castelnau, Scleroptila Levaillantii Female , Scleroptila Levaillantoides Female , Scleroptila Levaillantoides Male , Sclerurus Rufigularis Castelnau, Scops Tunia Jerdon, Scrapper The Kingbird, Seep-Seep The Brown Creeper, Selasphorus Ardens, Selasphorus Flammula, Selasphorus Scintilla, Short Tailed Pelta, Sittasomus Amazonus, Sittasomus Griseicapillus , Sittasomus Griseicapillus Castelnau, Skimmer The Tree Swallow, Slaty The Junco, Smithornis Capensis Capensis , Snipper The Crossbill, Snoring Rail, Snowflake The Snow Bunting, Son Nid, Speckles The Starling, Spheniscus Demersus, Spheniscus Magellanicus, Sphenocercus Cantillans Bonaparte, Spindalis Zena , Spizaetus Isidori , Spizaetus Tyrannus Serus , Spooky The Screech Owl, Sporopipes Squamifrons , Steganura Underwoodi, Stephanoaetus Coronatus Adult Male , Stephanoaetus Coronatus, Stephens Island Wren, Sterna Acuticauda Hardwicke, Sterna Aurantia Hardwicke, Strix Ocellata Hardwicke, Strix Rufipes , Strix Woodfordii , Strutter The Ruffed Grouse, Sturnus Blythi Jerdon, Sturnus Vulgaris M, Sturnus Vulgaris, Sulawesi Cicadabird, Sulawesi Leaf Warbler, Sulphur-Vented Whistler, Sunshine The Yellow Warbler, Sweet Voice The Vesper Sparrow, Sylvia Borin, Sylvia Cantillans , Sylvia Ruppeli , Sylviorthorhynchus Desmursii , Symplectes Kersteni, Sypheotides Indicus Hardwicke, Syrmaticus Reevesii Hardwicke, Tachybaptus Pelzelnii, Tangara Chilensis , Tangara Cyanocephala , Tangara Larvata Fanny , Tangara Larvata Fanny & Tangara Nigrocincta Nigrocincta , Tangara Nigrocincta Nigrocincta , Tangara Seledon , Tauraco Porphyreolophus , Tchagra Australis , Teacher The Oven Bird, Teeter The Spotted Sandpiper, Telamon Regulus, Telamon Strictilophus, Tephrodornis Pondicerianus Hardwicke, Terpsiphone Bourbonnensis , Terpsiphone Mutata (), Terpsiphone Mutata , Terpsiphone Paradisi Jerdon, Tetraogallus Himalayensis Himalayensis Hardwicke, Thalurania Columbica, Thalurania Glaucopis, Thalurania Hypochlora, Thalurania Lerchi, Thapsinillas Longirostris Aureus , Thapsinillas Longirostris Platenae , Thaumastura Cora, The Male Cowbird, Tilmatura Duponti, Todiramphus Chloris , Tommy Tit The Chickadee, Tragopan Melanocephalus Adult Male Hardwicke, Tragopan Melanocephalus Female Hardwicke, Tragopan Melanocephalus Male Hardwicke, Tragopan Satyra Hardwicke, Tragopan Satyra Hardwicke, Tragopan Satyra Male Hardwicke, Tragopan Temminckii Hardwicke, Traversia Lyalli, Treron Nepalensis Bonaparte, Trichoglossus Chlorolepidotus -Trichoglossus Matoni Maton's Parrakeet -By Edward , Trichoglossus Haematodus Nigrogularis, Trichoglossus Rubritorquis Scarlet-Collared Parrakeet -By Edward , Tringa Erythropus Hardwicke, Tringa Erythropus Hardwicke, Tringa Glareola Hardwicke, Tringa Ochropus Hardwicke, Tringa Stagnatilis Hardwicke, Trocaza Bouvryi Bonaparte, Trocaza Laurivora Bonaparte, Trochilus Pyra, Turdoides Jardineii Jardineii , Turdoides Malcolmi Hardwicke, Turdus Libonyana Libonyana , Turdus Migratorius , Turdus Obscurus , Turdus Poliocephalus Celebensis , Turdus Viscivorus, Turnix Sylvaticus Lepurana , Tyto Capensis Capensis , Ung, Uraeginthus Bengalus , Uria Aalge, Urosticte Benjamini, Urosticte Ruficrissus, Vanellus Duvaucelii Hardwicke, Vanellus Duvaucelii Hardwicke, Vanellus Senegallus , Veniliornis Callonotus , Vini Kuhlii -Painting By Edward , Wanderer The Horned Lark, Welcome Robin, Winsome Bluebird, Xanthotis Provocator, Xenopirostris Damii , Xiphoramphus Superciliaris Jerdon, Xiphorhynchus Flavigaster Mentalis , Xiphorhynchus Guttatus-Castelnau, Xiphorhynchus Obsoletus - Castelnau, Xiphorhynchus Obsoletus Castelnau, Xiphorhynchus Ocellatus Castelnau, Yank-Yank The White-Breasted Nuthatch, Yellow Wing The Flicker, Yellowthroated Bulbul Jerdon, Zanclostomus Viridirostris Jerdon, Zee-Zee The Redstart, Zonotrichia Capensis , Zosterops Anomalus Anomalus , Zosterops Atrifrons Subatrifrons , Zosterops Borbonicus , Zosterops Chloronothos , Zosterops Cinereus , Zosterops Conspicillatus , Zosterops Everetti Babelo , Zosterops Explorator, Zosterops Lateralis Flaviceps, Zosterops Maderaspatanus , Zosterops Mayottensis , Zosterops Mayottensis Semiflava, Zosterops Meyeni , Zosterops Montanus Obstinatus , Zosterops Nehrkorni , Zosterops Olivaceus
---
---

Great pictures, good value and delivered straight away

Jun 18, 2018 by Valerie Bryden

Wonderful collection! Thank you very much!:)

Oct 13, 2013 by Yuliya
---
More from this seller
---
Digital downloads
---
Payments
PayPal payment only accepted (including payment with a credit card via PayPal without having PayPal account)
---
Returns & exchanges
I gladly accept returns and exchanges
Contact me within:
14 days of delivery
Ship items back within:
30 days of delivery
I don't accept cancellations
But please contact me if you have any problems with your order.
The following items can't be returned or exchanged
Because of the nature of these items, unless they arrive damaged or defective, I can't accept returns for:
Custom or personalized orders
Perishable products (like food or flowers)
Digital downloads
Intimate items (for health/hygiene reasons)
Conditions of return
Buyers are responsible for return shipping costs. If the item is not returned in its original condition, the buyer is responsible for any loss in value.
Additional return information
Full refund available if you are not satisfied with your item. Please feel free to email me. Thanks
---
Additional policies
Images from my collections are in public domain in the US.