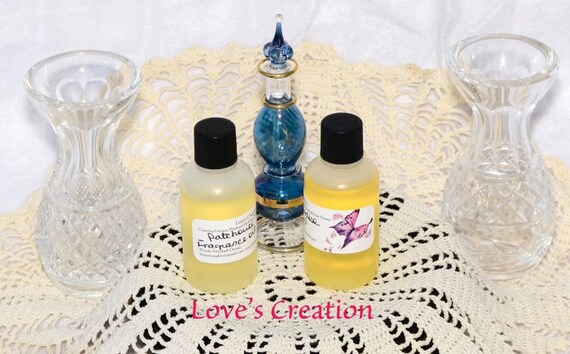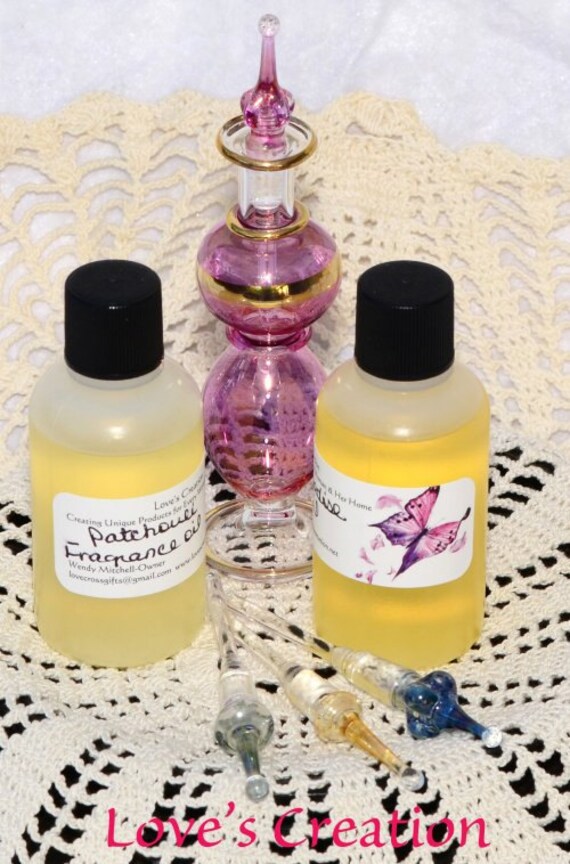 Arrives from the United States
---
Features
Made in Sacramento, California
---
Item details
***Perfume bottle in photo is for display purposes only and not incl in the oil lot. I have a separate listing here on etsy for my perfume bottle and oil sets.***

****note**** please send paypal pymt to lovecrossgifts [!at] yahoo.com, as the email it will send you to I can NO LONGER access. I would have to have you cancel and resend. Trying to get this resolved as we speak. Thank you.***





If you need an item not listed here please email to ask on special orders and requests!



***Shipping disc are as follows:

I charge the regular shipping on the most expensive item or heaviest item-4 oz lots are charged regular and all other lots typically are 1/2 the shipping cost. If you order wax, or any of my kits I will charge that full shipping cost and then everything else will be half so your getting a good deal. Please note that due to the large number of orders I get in every few days I ship only once a week now usually on Fri or Mondays.



This is for a lot of 10-4 oz bottles of fragrance oils. Each is skin safe and candle making/soaping/bath & body making safe. If you have a question as to certain types of candle making/bath & body projects and the use of carrier oils please email BEFORE placing a bid as I will not release a bidder if they decide this lot is not best for their particular candle making/bath & body project. I personally use these for my soy lotion candles as well as my soaps, bath salts etc... and they smell great.

I do use a carrier oil so you do not have to add anything to them to make them skin safe-all the work has been done for you! You may email me the fragrances you want or if no selection is made at time of checkout I will choose 10 fragrances for you. Please email me ASAP your choices as if it has been over 24 hours since I have received your pymt I reserve the right to choose for you as I try to get those out as fast as I get pymt on them. It is best to email me your choices even if you put them in the paypal notes as more times then not it doesnt come thru and then I think you have made no selection. If your choice is not avail a nice substitute will be choosen for you (sometimes a particular scent is out of stock or on back order etc...) Please note you will receive 10 fragrances and not all of the following:

Brand New Fragrances Effective 10/1/15

~Cinnamon & Vanilla~Sandlewood Secrets~Red Ginger Saffron~Whiskey~ Froot Loops~Honeysuckle Rose~Citrus Celebration~Waterfall~Bayberry Mint~Fig~Apple Hard Candy~Orange Vanilla~Holiday Berries~Strawberry Coconut~Fudgesicle~Chocolate Fudge Roll~Vanilla Chai~



***Please note that there are several fragrances that are no longer avail from my suppliers or I have decided not to carry them any longer, so I have had to take them off my list. Some, once my stock is gone I will not re-order. I will try to update this list as frequently as I can. ***

These are all alphabetically added to the list of all the other favorites I always carry along with the previously added fragrances (Chanel #5, Apple Blossom, Bird of Paradise, Georgia Peach etc…)

Amber Noir-Our Amber Noir fragrance oil is a sweet and sultry fusion of creamy vanilla and rich amber with undertones of sandalwood and musk. Complex, intriguing and sensual.

Aruba Coconut (BBW)- Juicy mango and apple are blended together with white nectarine to create a citrus burst at the top of this accord while passion flower and vanilla orchid set the tone for the heart of the fragrance. Coconut cream and Tahitian vanilla blend perfectly with sandalwood to complete this destination fragrance. BBW type.

Amish Harvest-A fragrance that is slightly spicy with delicious dried fruit notes


Angel Type – This signature woman's fragrance is both earthy and angelic. Angel (type) is a heady infusion of bergamot and patchouli.


Apple Blossom - Think of being in an apple orchard at full bloom. A light, fresh floral with tart apple notes


Almond Pastries - Light flaky pastries with a sweet almond filling. Cozy and scrumptious!

Apple Hard Candy Type-Just like the hard candy favorite, sweet, juicy, mouthwatering.

Apples & Evergreen-Fresh juicy apples mixed in a forest of pine


Apple Butter- Apple with Rich Butter Cream and Cinnamon


Apple Harvest-Apple Harvest is a true, ripe apple fragrance combined with bright fruit notes and just a touch of spice.


Amaretto Nog- A holiday warmer of sweet almond and vanilla

Autumn Walk – This delightful fragrance perfectly captures the essence of Fall. The scents of brisk air and crisp leaves join woody notes of rich mountain pine, cedar, and golden aspen while whiffs of forest berries, sage, and clove swirl delicately in the backdrop.


Amber Blush BBW Type-Romance fills the air with this scent. Sweet precious amber blended with the floral aroma of lotus blossoms.
Sensual Amber B&BW Type.

Asian Sandlewood-This outstanding scent is sweet, but not too sweet, with calming woody and peppery notes.


Antique Sandlewood- A woody,musky heart made from sustainably harvested sandalwood and cedarwood essential oils, softened with subtle notes of violet and jasmine


Apple & Clover- Our apple and clover combines the vibrant green floral notes of fresh clover with crisp clean apple resulting in a complex fragrance that is both earthy and invigorating


Apple Jack & Peel- An irresistible scent of apples and oranges blended together with the warm aromatic spices of cinnamon, clove, nutmeg and ginger


Apples & Maple Bourbon- An intoxicating blend of fresh Macintosh apples with woody undertones. This fragrance oil is infused with natural essential oils, including Cinnamon

Black Ice Type - Clean Fresh , aldehyde & citrusy Top Notes with slightly fruity & floral (Jasmine & lily of the valley) Middle Notes enhanced by long lasting woody, musky , mossy & ambergris type
Bottom notes Berrylicious-Ripe, juicy blueberries and raspberries sit on a bed of creamy vanilla icing for this perfect dessert topping.


Bayberry - Bayberry, while not a coniferous plant, has piney, woodsey, and sweet berry notes that collectively characterize the holiday season


Baby Powder- This soft and woody blend makes you feel on top of the clouds. It begins with white cedar and blue violet petals. The heart blends freesia, ylang, heliotrope and cypress. The dry is a woodsy powdery musk. Just like Johnson & Johnson

Buttermint Candies - Rich peppermint candies with subtle hints of butter. Perfect for weddings, showers, and the holidays.


Baked Apple Pie - A down home favorite with slices of juicy apples, covered with brown sugar and cinnamon and embraced in a warm baked crust


Banana Nut Bread -The mouth-watering aroma of oven fresh banana bread. This delicious combination of walnuts, ripe banana, vanilla, and a touch of spice is sure to spark your appetite


Banana Nut Muffin-ripe banana, brown sugar, churned butter, sugar cane, ground cinnamon, clove bud, chopped walnuts, vanilla extract & whipped cream

Black Cherry Fizz- This fun and fruity fragrance blends the scent of sweet black cherries with fizzy cola to excite the senses, and a light splash of vanilla and musk creates a perfectly balanced scent.

Bartlett Pear –Juicy ripe pears freshly picked from the tree



Brandied Pear-A sweet indulgence of ripe, juicy pear and cask aged brandy. A rare balance of natural freshness and mouthwatering sweetness that can be enjoyed in any season


Be Delicious - Donna Karan Type


Beach Dasies - asian lemongrass, dune grass, daisy petals, gardenia bloom, ylang-ylang, clove leaf, blond woods, amber sands & sheer musk.

Beach Linen-Beach Linen truly captures the scent of clothes dried on a line in the beach breeze. It has an airiness that's incredibly fresh and is paired with the herbal, floral, and citrus notes of the best clean cotton.

Bedford Falls - Combination of Woods, greens and earthy notes to conjure up a small town feeling


Black Cherry -Sweet blend of rich vanilla and ripe cherries with a pinch of spicy clove


Black Raspberry & Vanilla - smooth blend of raspberry with a touch of vanilla


Blackberry Cobbler –Ripe blackberries with a homemade butter crust


Blueberry Muffin-smells just like you have a fresh batch in the oven. A very potent fragrance.



Blueberry – Ripe, fresh picked blueberries


Blueberry Cheesecake -Inviting aroma of baked vanilla cheesecake and mouthwatering blueberries


Blueberry Cobbler-Inviting aroma of baked vanilla and mouthwatering blueberries


Brandied Fruit - Warm Brandy with mixed Fruit


Butterfly Meadows - summer dandelion, refreshing verbena, soft heliotrope, spring meadows, lily of the valley, weeping willow, sweet pea blossom & kentucky blue grass.


Butter Cream - Our classic buttercream fragrance oil is just what it ought to be: a rich blend of fresh churned butter, sugar, and all natural vanilla bean


Basil & Herb-The aroma of a lush herb garden ready for harvest! A potent yet soothing union of fresh basil, sage and tomato leaf. A 'true to life' fragrance you must experience

Bayberry Mint-A unique blend of bayberry and mint blended together.


Bird of Paradise-A sweet floral aroma with base notes of fresh fruits and vanilla. This fragrance oil is infused with natural essential oils


Birthday Cake - A special treat for any sweet tooth! Indulge in the aroma of freshly baked cake straight from the oven. Blended with rich vanilla, pure cane sugar, and topped with a smooth and creamy white frosting
Can also be renamed to Wedding Cake or Cupcake Treats


Blackberry Marmalade-Our Cranberry Marmalade has been a best seller since the day it was first offered. We've taken that successful recipe and created a new fragrance - more berry, a bit more tart, but equally delicious!


Black Canyon – A deep musk with light floral notes and a touch of sandalwood and patchouli


Black Amber & Lavender-Deep and sophisticated this fragrance blends rustic Amber with bold Parisian Lavender. Combined with these main scents is a mysterious Black Myrrh, dulcet vanilla Tonka bean, and a splash of Egyptian Musk. We've rounded out the fragrance with a surprising addition of raw Clary Sage resulting in an earthy concoction with hints of sweetness and pleasing floral notes.

Blackberry Sage - An outstanding fragrance with an abundance of sun-ripened blackberries and hints of sage


Blackberry Tea - This fragrance smells just like a refreshing cup of fruity herbal tea with tart, ripened blackberries


Botanical Orchard & Nectar - Succulent, tender and overflowing with the luscious orchard aroma of apple and pear delicately balanced with the freshness of lily, pear blossoms, osmanthus and sweet orchard nectar


Brown Sugar & Fig - A Bath and Body Works type fragrance. Caramelized brown sugar paired with ripened figs, smooth coconut, and a touch of amber. Enticing, cozy, and warm!

Berry Brulee - Smooth Strawberry with yummy creme brulee for a very delicious treat

Breakfast at Tiffany's - Maple, sweet spices, coconut, and vanilla accents on a crisp ozonic base of linen


Buttered Rum-Our buttered rum fragrance oil smells just like the real thing - dark rum, butter, sugar and cloves


Cabernet Grape - Unlike a wine or fermented grape scent, this fragrance is just like juicy, sun-ripened grapes. Sweet and fresh, right off the vine


Cranberry Peach Cider-Juicy sweet cranberries with peaches mulled to a delicious cider


Cantaloupe - Smells unmistakably like fresh, ripe, juicy summer time cantaloupe


Cake-Call it birthday cake, call it wedding cake, maybe call it cupcake; it won't matter. One whiff of this fragrance and you'll be hooked.


Cappuccino Hazelnut - The aroma of fresh brewed espresso capped with steamed milk. Hints of roasted hazelnut make this a delightfully convincing scent


Casaba Mist - Top notes of ozionic green cucumber with subtle notes of sweet mint and citrus. Middle notes include casaba melon, herbal greens, and soft florals with hints of lavender. Bottom notes of vanilla bean and musk complete this fresh fragrance

Cinnamon Apple Cider-Fresh fruit tones of juicy apple blend with rich spices to create this Autumn favorite. Hints of vanilla, warm wood tones and creamy musk add a warm base for the fruit accord.

Cinnamon Chai-Capture the essence of this much loved beverage with notes of black tea, cinnamon and vanilla sweetness. Perfect for creating a warm and inviting feeling during the fall and holiday season.

Candied Apple-A strong and true version of a fall classic, our Candied Apple fragrance oil combines notes of crisp apples, a hint of cinnamon, and a base of caramelized sugar.

Coriander and Tonka-Our Coriander and Tonka Fragrance oil is a rich and sultry fragrance with notes of amber, tobacco, and sweet vanilla. This is truly an unique and captivating fragrance you've got to try!

Cedar - This fresh, woody scent is just like walking through a tall cedar forest during a light autumn breeze


Cinnaberries- Sugared raspberry and damask plum sweetens the tart notes of fresh cranberry and orange to produce a splash of attention-grabbing citrus. Warm cinnamon zest blended with opulent notes of clove create an enticing layer, while a hint of sweet vanilla cream ties the colliding notes altogether.

Cinnamon & Vanilla-Distinctly separate from our other cinnamon fragrances, Cinnamon and Vanilla combines the full bodied scent of spicy cinnamon with the sweet and creamy accords of vanilla. This mouthwatering scent evokes the excitement of the fall and holiday seasons.

Cinnamon & Balsam - Warm cinnamon with hints of balsam fir. A cozy winter blend. A great holiday fragrance

Citrus Celebration-A unique blend of several citrus fruits to make up a tempting combination you will love.

Citronella- This fragrance has the fresh, clean, scent of a ripe citrus lemon, infused with a slightly woodsy smell that's very refreshing


Coconut Banana Blast - This delicious fragrance will make you think you're lying on the beach with a fruity drink full of fresh coconuts and bananas


Cornucopia - Bountiful with crisp apples, pears, plum, grapes, nuts, and hints of caramel, this fragrance is perfect for fall


Country Berry Hotcakes - Just like mouth watering, buttery hotcakes made perfectly with just the right amount of country berries and drizzled with syrup. Yummy


Country Garden - Like a fresh bouquet of flowers right from the garden. Delicate and flowery


Cranberry Apple Marmalade - A festive blend of crisp apples, peaches, oranges, spiced cranberries and cinnamon. Middle notes of black currant, cassis, clove, and vanilla spice add a sense of warmth to this delightful fragrance. Zesty, cozy and warming


Cranberry Citrus - A blend of tart cranberries, juicy red grapefruit, tangy tangerine, sweet orange, and lemon-lime. A delightful fragrance. Nice for the holidays or as a refreshing spa scent


Creamy Praline Pecan - A delicious blend of caramelized brown sugar, buttery vanilla and nutty candied pecans


Cucumber Cantaloupe - This summer-time fragrance captures the sweetness of juicy cantaloupe and crisp green cucumbers


Coconut Milk - This scent is as refreshing as a ripe coconut on a desert island

Chanel no. 5 (type)-for use in candle making or bath and body products.
A popular women's perfume made by Coco Chanel with top notes of ylang ylang and neroli, middle notes of rose and jasmine, and base notes of sandalwood, vetiver and vanilla


Cranberry Marmalade- Luscious blend of tart cranberries spiced apples and fresh California orange peel. This fragrance oil is infused with natural essential oils, including Cinnamon, Clove and Orange


Cake Bake - Fresh out of the oven Cakes

Chocolate Fudge Roll-Rich chocolate with nuances of sweet decadent fudge.


Campfire – Sitting around a campfire fragrance-just like when we were kids!


Candy Cane – Rich peppermint-an all time favorite holiday treat


Candy Corn – Rich honey and sugar, just like Brachs


Caramel –Rich caramel fragrance with a hint of vanilla


Caramel Apple – Juicy tart apples drenched in sweet caramel

Cassia & Amber-Complex and exotic, Cassia and Amber Fragrance Oil combines the woody accords of the asian cinnamon tree called cassia with patchouli, eucalyptus, clove and floral red rose.

Citron & Mandarin-Fresh and zesty! Our Citron and Mandarin Fragrance oil combines orange, grapefruit, and a hint of lemon into a well balanced, sophisticated citrus fragrance that is at home in any high end or natural candle line.

Caramel Apple-Sweet and Salty, our Caramel Popcorn Fragrance Oil is true to the classic American confection. This fragrance has a warm blend of buttery and sweet caramel with middle notes of popcorn, coconut, and candied pecan.


Caramelized Prailines- An irresistible blend of sweet warm vanilla caramel, dark brown sugar and butter-drenched pecans


Caribbean Coconut – Rich coconut with a tropical flair


Cotton Tree-Our Cotton Tree combines classic cotton notes with floral and woody accords to create this distinct fragrance for candles and personal care.


Coconut- A buttery rum top note leading to a sweet creamy vanilla with toasted coconut


Coconut Lime- The ultimate Summer refresher -zesty lime and creamy coconut make this classic scent irresistible


Coconut Lime Verbena- A tantalizing fusion of fresh coconut, lime and invigorating verbena soothed by luscious vanilla. (BBW type)


Cool Citrus Basil- A refreshing blend of citrus & herbs. The top has sweet basil, lime, & wild mint. The heart blends geranium, linden blossom & cyclamen. The dry down is a woody amber


Carrot Cake – Rich cake with cream frosting and carrots


Cherry Amaretto - sweet cherry blended with Amaretto


Chestnuts & Brown Sugar – Crackling chestnuts with the aroma of brown sugar


Chipotle Cracked Pecans - Pecan Halfs, Chili Pepper, Spice Notes and Vanilla


Chocolate Fudge- Outrageously rich bittersweet chocolate
and a touch of cream, blend perfectly in our mouthwatering chocolate fudge


Chocolate Cake - Warm Devils food Chocolate Cake

Chocolate Mint-Rich deep chocolate is surrounded by a hint of mint.

Chocolate Chip Cookies - Decadent chocolate + buttery cookie = indulgent must-have fragrance


Cinnamon & Sandalwood – Rich Cinnamon with darker notes of sandalwood. A great "Guy's" fragrance


Cinnamon Crunch - Cinnamon with a Smooth Creamy Vanilla


Cinnamon Roll with Vanilla Icing – rich smelling cinnamon rolls drenched in warm vanilla icing


Cinnamon Buns- Warm cinnamon buns fresh baked and drizzled with vanilla icing. This fragrance oil is infused with natural essential oils, including Clove


Cinnamon Stix - A full bodied scent of rich spicy cinnamon. This fragrance oil is infused with natural essential oils, including Cinnamon, Clove, Cinnamon Bark and Nutmeg


Cinnamon Toasted Almonds - Fresh Roasted Cinnamon Almonds from the fair


Clean Cotton - Nostalgic aroma of fresh linens dried on a fresh breezy day. The top is bright with lemon, lime, green apple and clean ozone. The middle blends cedar, jasmine, lavender and lily. The base is a soft violet, lavender and musk


Clothes Line - Fresh Linen right off the line


Clove – Dark rich spice


Clover Fields – A field of Fresh clovers


Coffee Cake & Spice – Rich cake with spices of cloves and cinnamon


Coffee Caramel Cream - Fresh Coffee with a Smooth blend of Warn Caramel, and rich Cream


Cotton Candy - Just like fresh cotton candy from a country fair! The sugary strawberry and sweet vanilla notes


Cookie Cottage-Imagine spending the weekend at grandma's cottage while the aroma of her fresh-baked cookies fills your nose. This delicious fragrance combines only the yummiest scents such as crushed ginger, fresh ground cinnamon, and sweet molasses, with just the right touches of vanilla, clove, and a dash of lemon zest.


Country Bumpkin - warm Cinnamon Pumpkin Raisin bread with a hint of ginger, nutmeg & vanilla


Creme Brulee - A traditional base of vanilla custard with a hint of caramelized sugar


Cucumber Melon - A fruity honeydew melon and green cucumber blended with tart apples and watery fresh greens


Cedarwood & Vanilla- Cedarwood has a delightfully earthy tone and a strong woody base. We've blended it with a classic vanilla and a touch of sweetness to create a fragrance that is both warm and sophisticated


Chardonnay- The unmistakable bouquet of a premium white wine. A crisp blend of white grapes, berries and fruit


Day at the Spa-Day at the Spa is a calming and balanced fragrance oil that combines notes of lemongrass and black currant with hints of patchouli and sugar cane. It's a great year-round fragrance that fits well in an aromatherapy line.

Driftwood-Great as a masculine or feminine scent, our Driftwood is a woody, earthy mix of vanilla and sandalwood, warmed with musk and a touch of patchouli for a calming and long lasting fragrance oil.
Note: The patchouli note is dominant when smelled straight out of the bottle, but those notes are tempered to create a fuller fragrance


Dragon's Blood- Dragon's Blood is a potent and earthy fragrance infused with cedarwood, orange and patchouli essential oils. The scent combines sweet and spicy notes to form a sophisticated complex blend.


Drakkar Type- If you're looking for a classic and seductive masculine fragrance, try our new Drakkar (type) fragrance oil. The top begins with a fresh citrus, combined with herbal and woody notes for a perfectly balanced complex scent.


Downy - smells just like the dryer sheets


Eucalyptus (Natural)-Strong Eucalyptus leaves


Eucalyptus Spearmint-This invigorating, but not too strong BBW type will delight your senses with fresh, minty spearmint and relaxing eucalyptus. These notes are delicately balanced by soft musk, amber, bergamot, and citrus


Enchanted Apple-This truly magical fragrance will delight your senses with the scent of heirloom apples surrounded by the sparkling citrus notes of lime and grapefruit. A delicate floral backdrop of apple blossom, jasmine, and white lily rests on a soothing base of vanilla musk and warm spice.


Emerald Pear - This is a very smooth and calming scent, just like a batch of freshly picked pears


English Garden- Bursting with every imaginable floral note, this fragrance brings the beauty and splendor of an 18th century english garden into any home. Notes of lily, lilac, rose and hyacinth stand out in this must-have fragrance for floral lovers


Fireside - This fragrance is like the Yankee type. So warm and cozy, it's perfect for brightening up any chilly or dreary day


French Vanilla & Amber - A sensual scent of creamy vanilla and warm amber mingle with soft wood notes such as cedarwood, oak, sandalwood, and patchouli


Fresh Baked Pie Crust - This enticing scent is rich and buttery, just like a golden-brown pie crust fresh from the bakery


Fresh Brewed Coffee - Wake up with the delicious aroma of freshly brewed coffee with light, chocolaty overtones


Fresh Linen - A fresh, soft, powdery fragrance with delicate floral and citrus notes

Fudge Brownie - Hot fudge brownie coming right up! Smells just like the real thing. Chocolaty and nutty

Fruit Loops - Citrusy, aldehydic, caramelic top notes with Floral and Bergamot middle notes
enhanced with a sugary sweetness of Cotton Candy and Creamy Vanilla with a hint of Sandalwood

Fantasy - Brittany Spears Type


Freesia - soft floral from B&B Works


French Vanilla - rich vanilla with buttery cream


Fresh Orange & Peel – Fresh oranges with the citrus smell to the peel


Fresh Peach - Bright fruity bouquet reminiscent of the scent of fresh cut peaches


Fresh Strawberry - A fruity delight of fresh strawberries sprinkled with sugar


Fruit Blast - sweet and tangy fruit blend all rolled into one!!


Fruit Slices- A mouthwatering array of candied citrus fruits of grapefruit. This fragrance oil is infused with natural essential oils, including Grapefruit and Tangerine

Fig-The enticingly sweet, but subtle fig stands excellently on its own, but blends very well with others, such as citruses, teas, spices and rains giving them more depth and dimension. Great for holiday blends as well!

Fig and Rhubarb-Far too few have experienced the flavor burst of fresh figs - notes of strawberry, melon and berry with a depth and character all its own. We've balanced the sweetness with tart notes of rhubarb to create an unusually sophisticated take on a spring and summer fragrance.

Fig Tree- We've got a couple of fig fragrances, but this is our favorite. It's a little earthy, a little clean, a little sweet - very sophisticated


Frankincense & Myrrh- Enchanting aromatic blend of frankincense and myrrh with balsam, spice, patchouli and sandalwood


Fresh Coffee- Dark, roasted coffee-bean fragrance with a touch of chocolate


Fresh Cut Roses - Imagine your own fresh rose garden

Fudgesicle-deep dark chocolate enriches this wonderful scent. Smells good enough to eat!

Gain "laundry type" -True to the wonderful scented laundry detergent!

Golden Rose- Tired of the same old rose fragrance? Over two dozen unique perfumes can be found in roses. We've chosen a few of the best to create a complex bouquet of sweet rose, lily, fern, and marigold


Gardenia - The exquisite aroma of tropical Gardenia with a top note sweet and green and a floral body intense and rich truly capturing the natural aroma found in this beautiful flower


Gembertaarts - Sweedish Gingerbread cupcake with spices, molasses & buttery notes


Georgia Peach - Peaches, Peaches... This one is popular and for good reason. It smells exactly like a basket of fresh peaches


German Chocolate Cake - Smells just as delicious as the addicting chocolate cake itself with a sweet and nutty coconut frosting


Ginger Passion - This is for those who love ginger. One of our favorites, a wonderful ginger fragrance. A little bit goes a long way


Ginger Peach - A nice blend of juicy peach with a touch of ginger spice


Gingerbread Cookies - Bakery notes, molasses, ginger and other spices. Just like a warm batch of gingerbread cookies waiting to be devoured


Grandma's Swingin' Eggnog - A classic holiday drink that is rich and creamy with eggs, sugar, milk, cream and light rum


Grapefruit & Mangosteen-A true-to-life blend of ripe, tangy grapefruit and mangosteen- an exotic fruit that is citrusy and sweet with a hint of peach.


Green Clover & Aloe - A cool fresh green scent of aloe and green clover. A BBW duplicate


Green Tea - The crisp, rejuvenating scent of green tea is popular in soaps and lotions, but great in candles, too


Gingersnap Cookies –Rich all time favorite cookie


Grandma's Kitchen - warm blend of apple cinnamon and spice, just like grandma's kitchen


Grammy's Zucchini Bread - Piping hot Zucchini Bread with warm spices


Grapefruit – tart, tangy citrus fruit


Green Apple - sweet, tangy & delicious


Green Tea & Lemongrass- This bright and natural smelling citrus begins with a top note of orange Valencia, bergamot tea and plum wine. The heart combines jasmine, violet, lavender and orange flowers. The dry down is a clean citrus musk


Gingerbread - warm holiday gingerbread

Holiday Festival - Tangy citrus leads to the nostalgic accord of rich spice and red berry for holiday appeal. Aged oak enriches the scent with warm tones as creamed musk and hints of persimmon complete this festive fragrance.


Hansel & Gretel's House- Hansel and Gretel's house covered with vanilla frosting, cinnamon sticks, toasted graham crackers and juicy raisins


Hibiscus Flowers- This enchanting floral blend is a fantasy scent meant to mimic the beauty of hibiscus flowers. A green, dewy accord lays a base for jasmine, hyacinth, and freshly blooming lilac, enhanced by sweet, powdery heliotrope and light notes of white musk.


Heather - Like being on a misty hillside surrounded by the delicate scent of heather

Holiday Berries-Ripe raspberry intermingled with orange zest and warm musk.

Hollyberry & Ivy - A fresh green fragrance blended with ivy, red berries, and a touch of holiday sugar and spice


Home for the Holidays - A pleasing blend of spruce, lightly sweetened bakery notes, cinnamon spice, and candied fruits.


Hot cocoa - There's nothing better than a nice cup of hot cocoa to warm up your body and soul. Rich, chocolaty, smooth and delicious


Heavenly – Victoria's Secret Type


Honeysuckle – Rich honeysuckle floral notes


Harvest Moon-Harvest Moon- This warm Autumn scent will put you in the mood for hay rides and Halloween. Spicy cinnamon blends deliciously with orange peel, creamy vanilla, and light fruity tones. Hints of baked apples and oak give life to this multidimensional fragrance, while a warm bottom layer of musk and spices balance it all out.

Hyacinth-A very strong flower that gives wonders to the senses


Hazelnut Coffee- A nostalgic hazelnut coffee blend


Himalayan bamboo- A complex union of bamboo foliage and rich green florals. The subtle character of this fragrance is calming rather than overwhelming, so it is well suited for a high-end or aroma-therapy line - where a room filling, not house filling fragrance is desired


Holly Berry- Soft berry notes combine with the aroma of fir trees to create this lovely scent. Well worth sampling if you'd like something a bit more complex than a traditional pine fragrance


Honeydew Melon-A great fragrance that smells just like honeydew melon. A light, sweet, melon aroma.


Honeysuckle Jasmine-Fragrant Jasmine & Honeysuckle are blended perfectly

Honeysuckle Rose-The sweet fragrance of honeysuckle blended with the delicate aroma of roses yields and uniquely attractive floral reminiscent of an old Victorian garden.


Hydrangea-Hydrangea flowers are particularly common to the Azores Islands near Portugal, our fragrance carries a subtle and sweet aroma with a hint of spice that may remind you of these island's many hills and valleys

Island Coconut-The sun-infused notes of fresh coconut, sweet pineapple, and a hint of creamy vanilla unite in our Island Coconut Fragrance Oil. A bit more fruity, this tropical fragrance is reminiscent of the Hawaiian Tropic tanning lotions that scream summer. Perfect scent for bath and body or tropical candle line.

Island Paradise - (Coconut Honeysuckle & Passionfruit) - a fruity combo of coconut, pineapple & Berry top notes with a floral middle of jasmine, gardenia, honeysuckle & orange blossom on a base of sweet balsamic vanilla.

Island Hibscus- Floral notes of hyacinth, jasmine and gardenia blend with a hint of light musk and amber to round out this intoxicating blend. Infused with natural essential oils, including Orange, Patchouli, Violet Leaves, Jasmine, Neroli, Mimosa and Sandalwood.

Iced Lemon Danish - Mmm… this yummy fragrance is just like a delightful pastry with a sweet and tangy lemon filling, topped with a smooth icing

Japanese Cherry Blossom BBW Type - Fresh watery tones and a hint of fruit open this blend of shimmering blossoms and fresh leafy greens. The lush woody signature is a medley of sandalwood, warm cedar and sheer oak, finished with layers of sensual musk and sweetened with golden amber.

Johnson &Johnson Bedtime Bath (Soothing Lavender) - duplicate of the J&J type soothing lavender baby wash. A very relaxing light Lavender fragrance


Joyeux Noel - a warm inviting bouquet of vanilla beans, cinnamon, coconut and cassia


Juicy Sweet Cherry – Juicy cherries fresh picked full of natural sweetness


Juniper Breeze - Refreshing scent of forest greens, jasmine, green apple and musk. Wonderful in bath and body products. A duplicate of BBW


Jamacia Me Crazy- A refreshing blend of tempting tropical fruits with a twist of citrus and a hint of coconut


Kumquat - fresh tropical kumquat fruit


Key Lime - This citrus scent presents an energizing balance of zesty, tart, and sweet notes that are true to its name


Lemon Pound Cake - This yummy fragrance has sweet bakery scents complimented by sunny lemon notes. So enticing


Leather – Fresh leather coat scent

Lemon Meringue Pie - fresh from the oven


Lemongrass - sweet grass with a hint of lemon-smells like the lemonhead candies


Lilac - fresh lilac in bloom


Love Spell - An instant classic - this fragrance is a luscious fusion of citrus, cherry blossom, hydrangea, apple and peach; with a hint of blondewood. Victoria's Secret type


Lavender (True)- An enchanting meadow fringed with springs of lavender. This fragrance oil is infused with natural essential oils, including Lavender


Lavender Vanilla- A well-balanced blend of herbal lavender and calming vanilla. A great addition to any aromatherapy line


Lavender Sage - italian bergamot, eucalyptus leaves, citrus zests, french lavender, lily of the valley, clary sage, nordic pine, cool camphor & clove buds.
Lavender Sachet-Calming lavender softly mingles with the deep, woodsy smells of sandalwood and patchouli, as well as playful hints of citrus and warm spice. Base notes of sweet vanilla and musk add fullness to this lovely floral scent.

Lemon Chiffon- This fragrance oil is infused with natural essential oils, including Lemon and Clove


Lemon Poppyseed Cake - candied lime savors, lemon syrup, bergamot extract, poppy-seed muffin, brown sugar, marshmellow fluff, vanilla cake batter, clove but & white musk.


Lemon Verbena- Spunky lemon & floral verbena combines in this uplifting delight. The scent begins with tangy lime, grapefruit & lemon. The heart combines lavender, geranium rose & lemongrass. The dry is a soft woody musk


Lime Cooler- This tropical citrus and fruit delight begins with notes of tart lime, refreshing orange and crisp apple. The fruity floral heart is a rose and black currant drying to a sweet vanilla plum.


Mango Peach Salsa-A magnificent blend of fruity freshness that will rattle your senses! Indulge in the bursting aromas of island mango, citrus lime, and fresh peach. Hints of chile and cilantro add pizazz to this delectable salsa. Refreshing, energizing, and invigorating!



Magnolia - duplicate from B&B Works


Mandarin Plum - A sweet blend of fruity plum and citrus


Maple - Warm Fresh Maple


Mulled Cider & chestnuts- This highly scented fragrance begins with spicy orange, nutmeg, and clove notes blended perfectly with rich nutty undertones of vanilla and caramel.


Maple & Brown Sugar - The rich, sweet smell of maple syrup, sugar and cane molasses. A cozy and warm fragrance


Mary Jane - This playful marijuana scent will transport you back to the good ol' 60's. Peace, love, and Mary Jane


Maple Cinnamon Twist - Warm maple with a hint of fresh cinnamon


Meadow- Like a peaceful stroll on a sunny day, our Meadow fragrance oil captures the essence of summer florals and the fresh aroma of freshly cut grass. And with a hint of orange and sandalwood, it's a natural scent you'll love any time of the year.


Melonberry - Sweet juicy watermelon with Strawberry & Blueberry


Mid Summer Night - Yankee candles version of Drakkar Cologne


Mountain Lake - If you are looking for Yankee-type Mountain Lake, this is it. A clean, fresh, masculine scent, yet not overpowering


Mountain Pine - A very familiar scent of coniferous trees in the high country. A strong pine scent


Monkey Farts - tropical Banana with a hint of coconut, grapefruit, & chocolate


Moonlight Path - B&B Works Duplicate, Clean Soft powder with floral hints


Morning Mocha - Mocha with a touch of Hazelnut


Mulberry - A vivacious fruity and berry blend with cherries, apples, peaches, strawberries and tangerines. The dry is a sweet cotton candy vanilla


Mulled Cider – Fresh apples mulled to cider


Muscadine Grape – Rich strong grapes right of the vine


Macintosh Apple- With a classic fragrance like macintosh apple, it's got to be just right.
An incredibly strong fragrance with that "right from the tree" character

Mango Dragon Fruit BBW Type – A sweet, tropical blend of dragon fruit and juicy ripe mango, enhanced by notes of pineapple, melon, and hints of banana.

Mango Papaya- An uplifting blend of sun-kissed mango and papaya. A very popular fragrance oil you're sure to love

Mint Chocolate Chip-Indulge in the luscious scent of mint chocolate chip ice cream; a rich blend of peppermint, dark chocolate chunks, and sweet, buttery cream. It's all topped off with a hint of sugared vanilla bean for the perfect tasty treat.

Mint Mojito-Cool, fresh and invigorating, our Mint Mojito Fragrance oil is a true version of the classic mojito cocktail. This scent fuses notes of freshly muddled mint with tropical undertones of pineapple and sugarcane.


Mimosa & Mandarin- The top sparkles with crisp dew fruit, mandarin oranges, tangerines and sweet berries. The heart combines a medley of pineapple, mimosa blossoms, peaches, plums, fruity jasmine and soft lavender. The base is a beautiful lily and vanilla


Moon Lake Musk- A deep yet balanced musk that is well suited for either masculine or feminine products. Notes of fern and orris add to the musk flower and woody base notes


Nag Champa - Natural Macsuline earth tone fragrance


Night Blooming Jasmine – Fragrant Jasmine in the style of B&BW type

Olde Towne Bake Shoppe-Let your senses take a trip back in time to experience the warm, inviting aromas of an old-fashioned bakery. Top notes of buttery vanilla combine with the irresistable scents of fresh dough and gooey batter, with hints of sugared almonds to complete this heavenly fragrance.

Oatmeal, Milk & Honey - Rich honey, milk & oatmeal in the style of B&BW type


Ocean Mist - Fresh clean Ocean breeze


Ocean Breeze- The scent of a fresh ocean breeze with a top note of fresh, apple, melon, orange and bergamot. The heart blends lavender and bois de rose leading to a base of woody violet and musk

Orange Vanilla-A creamy blend of juicy ripe oranges blended with sweet vanilla. A great blend to tempt your senses.


Orange Chiffon Cake - This scrumptious and tempting fragrance is a tantalizing blend of orange peels, rich vanilla pound cake and sweet buttercream icing. If you're not hungry now, you will be

Orange & Goji Berry-Looking for something new and different? This is it! Our Orange and Goji Berry Fragrance Oil is a true-to-life blend of fresh squeezed orange and the exotic yet pleasing tartness of goji berries.


Orange Blossom-Orange Blossoms, the flowers of orange trees, are attractive and enticingly aromatic. If you've ever been in Florida on a beautiful Spring day, you'll be reminded of the orange blossom scent when you smell our fragrance oil. It's sweet, citrusy, fresh, and romantically pleasant. Orange blossom flowers have long been associated with good fortune and are commonly used in bridal bouquets. Sensual and uplifting.


Orange - Juicy sweet orange slices with a hint of vanilla are perfect for a sun shiny day

Orange & Chili Peppers-Sassy, strong, and bold, Orange and Chili Pepper Fragrance Oil is a fusion of true orange with a spicy kick of chili pepper.


Orange Cantaloupe - fresh orange with a hint of sweet Cantaloupe Melon


Orange Dreamsicle - Vibrant orange citrus and heartwarming vanilla blended together in a sweet scented dream


Oregon Pine Needle-Oregon pine trees with earthy tones

Paris Twilight - An intriguingly romantic scent that captures the essence of an evening in Paris. Top Notes include tart cranberries, strawberries, citrus zest and a splash of white grapefruit. Middle notes include lavender, blueberry, creamy heliotrope, and chamomile. Bottom notes include vanilla sugar, whipped cream, warm amber and red berries

Passion Fruit & Guava - A fun and tantalizing fragrance that explodes with tropical scents! The fruity freshness of crisp lemon zest, Brazilian orange, and grapefruit mingle with sheer guava, sweet granadilla, and peach. The tart, sweet, and soft scent of passion fruit blended with musk and vanilla will awaken your senses


Pikake Flower-Pikake flowers are the traditional blossoms used for making Leis in Hawaii. This fragrance evokes that sweet welcome as you step off the plane and begin a relaxing, fun-filled vacation.

Patchouli – A favorite incense fragrance in a bottle


Peanut butter Cookie - warm peanut butter cookies fresh from the oven


Pearberry - B&B Works duplicate, Crisp pear with fresh berries


Pear Spice - Jazz up your holidays with the aroma of juicy pears, warm brown sugar, vanilla, nutmeg, and a touch of cinnamon spice. A tantalizing holiday treat


Peppermint –Cool fresh peppermint scent


Plumberry-What does Plumberry smell like? We didn't know either, but we're glad we found out! The plum is related to both the peach and the cherry - and you can tell. We've blended it with raspberry, pear, and clove notes to create a fragrance which is both fresh, yet works well for fall.


Purely peppermint - A straight peppermint. Mint, mint, and more mint. Did we say mint? Can also be renamed to Candy Cane during the holiday season


Peppermint Bark-rich chocolate & peppermint candy


Peppermint Kiss - A smooth and minty milk chocolate. Think peppermint patty


Peppermint & Eucalyptus- Invigorating blend with peppermint, patchouli, cedar wood and eucalyptus. This fragrance oil is infused with natural essential oils, including Cedarwood, Eucalyptus, Patchouli and Peppermint


Pecan Pie- Pecan Pie has been a southern favorite for generations. Our fragrance has notes of sweet custard and toasted pecans - a truly decadent fragrance that just might help with cravings for our favorite "you'll regret it tomorrow" dessert


Pineapple –fresh pineapples from the tree


Pineapple Sage-Pineapple Sage is a fragrant garden herb that attracts hummingbirds and butterflies to its edible red blooms. Our scent captures this unexpected and exotic blend with sweet pineapple and aromatic sage


Peach Nectar-The aroma of fresh peach blended perfectly with a hint of the tropics create this rich, sweet, sultry scent. A great choice for both candles and personal care products.


Pina Colada - A delightful blend of sweet pineapple juice, malibu rum, and coconut cream. A popular frozen drink to enjoy on the beach or while relaxing in your favorite sunny spot


Pineapple Coconut- Brazilian pineapple, Hawaiian coconut, and a touch of mango create this delectable tropical fragrance


Pink Lemonade –Tangy tart lemons with a hint of sweetness


Pink Sugar - duplicate from Aqualina


Plumeria - A fantasy bouquet recreating the scent of one of the most beautiful flowering trees of the tropics


Pomegranate - Sweet Tropical fruit also a "Holy Land" fruit


Pumpkin Creme Brulee-You'll find notes of creamy pumpkin puree, ground cinnamon, cardamom, Vermont maple, rum, french vanilla and caramelized sugar.


Pumpkin Honey Chai – This sweet and spicy fragrance blends creamy pumpkin with freshly grated cinnamon, clove, nutmeg, and black chai. Balanced with the smooth notes of vanilla, milk, and honey, and all topped with a hint of chopped nuts to create a perfectly warm, relaxing scent.


Pumpkin & Vanilla - rich pumpkin pie with whipped vanilla topping


Pumpkin Carrot Streusel-Streusel cake with pumpkin & spice

Pumpkin Pecan Waffle - Sweet Maple , Buttery & Pecan top notes with Creamy & Spicy middle notes and just enough sprinkling of Brown Sugar enhanced by along lasting vanilla base

Pumpkin Souffle- A true-to-life fragrance bursting with fresh pumpkin. Mouthwatering notes of butter, sugar, and spices complete this irresistible bakery fragrance


Pumpkin Pie-We've reformulated from the ground up to create a fragrance that smells like pumpkin, spices, and a touch of vanilla whipped cream. It throws great hot and cold, in paraffin and soy. Pumpkin Pie isn't as sweet as our Pumpkin Souffle, but it is incredibly strong and true.


The Great Pumpkin - Pumpkin Pie with Clove, Ginger and Vanilla


Rain Water- The scent begins with a white floral bouquet of carnation, lily and crisp white grapefruit. The heart is a radiant blend of jasmine, tuberose, cyclamen and violet. The base combines vanilla beans, East Indian sandalwood, rose crystals and long lasting sexy musk


Rice Flowers & Shea Butter-In this soul-soothing fragrance, softly scented rice flower blends beautifully with creamy shea butter.

Red Clove - A powerful true clove scent. Use as a mixer or alone

Red Currant - Tart, strong and freshly picked. Makes a great fall and holiday fragrance

Red Velvet Cake-Red Velvet Cake Fragrance Oil is a savory and decadent blend of chocolate cake with sweet cream cheese frosting. Strong and sweet, this is sure to be your new favorite cake scent.

Red Ginger Saffron-This zesty, aromatic fragrance fuses the uniqueness of ginger, freshness of saffron and resinous cardamom and lemongrass to deliver a remarkably crisp and fresh scent. This fresh scent is sure to lift the mood of any room. This fragrance oil is infused with natural essential oils, including ginger, cedarwood, geranium and patchouli.

Rose Bouquet - Absolutely like a bouquet of fresh roses. Highly potent, but not at all sharp. Will make a whole house smell like your local flower shop


Relaxation – A calm & soothing scent. Works well for aromatherapy


Raspberry Truffle - Indulge in the sweet pleasure of chocolate and raspberries! Smooth chocolate truffles filled with delightfully sweet raspberries, raspberry liquer, and whipping cream. Dusted with cocoa powder for a tempting treat! A perfect scent for Valentine's day, or any especially sweet day.


Raspberry Sangria- We start with a pile of juicy red raspberries, add some cherries and grapefruit, lots of sweet red wine poured on top, and a hint of orange as a garnish!

Red Hot Cinnamon- This fragrance oil is infused with natural essential oils, including Cinnamon and Cinnamon Bark. Just like the candies

Sea Salt & Cocoa Bean - Rich tones of cocoa bean are warmed with a hint of buttered caramel and blended with patchouli for this unique twist. Cashmere woods, sugarcane and clear musk add a sweet undertone to the blend.

Sweet Potato Pie-Down home southern dessert


Sage & Citrus - B&B Works Duplicate, Clean sage blended with citrus


Sage & Lemongrass - A strong lemongrass/citrus fragrance with subtle sage notes


Sage & Pomegranate- A vibrant green floral with botanical sage, sweet pomegranate and tropical ferns. This fragrance oil is infused with natural essential oils


Sandalwood - woodsy, masculine fragrance

Sandlewood Secrets-Intriguing fusion of sensual sandalwood and creamy vanilla. Heighten the senses and allow romance to blossom & fill the air with this amorous blend. Contains pure sandalwood essential oil.

Strawberry Rhubarb- We've added the delicious aromas of fresh, succulent strawberries, tart cranberries, scrumptious cassis berries, and sweet loganberries to garden rhubarb, freshly picked. Blended together with a touch of cinnamon, this savory medley is smooth, tart and satisfying. Strawberry Rhubarb has many uses, such as for Strawberry Rhubarb Pie filling or for delicious tart marmalade! Enjoy the invigorating blend that is absolutely refreshing and delightful.


Sweet Mango Delight- This fragrance has a Valencia orange top note which is infused with a red mango accord. The main body of the fragrance continues with red mango enhanced by a casaba melon undertone. These notes are supported by a vanilla musk base with a cotton candy accord.


South Pacific Waters - ocean mist, sea moss, dewy cyclamen petals, geranium flower, water mint, coriander seed, white cedarwood, earthy vetiver.


Sleigh Ride - a warm woodsy bouquet mixed with pine needle, bayleaf & cinnamon

Spearmint Candy- Fresh Spearmint and Peppermint Type Top Notes with slightly fruity middle notes enhanced by long lasting vanilla cotton candy bottom notes

Spiced Apples & Peaches - Warm Apple cider with light peach notes


Spiced Sugar Plums - Warm holiday spice with notes of Sweet plums


Spiced Cranberry - A fragrant blend of fresh, tart cranberry with yummy spice notes


Spring Rain - fresh rain with floral notes


Spruceberry-Spruceberry is an invigorating blend of freshly cut spruce, sun-ripened raspberries, and wild cranberries. Grapefruit, lemon zest, and sprigs of mint intensify the freshness and coolness of this fabulous holiday fragrance. To top it off, light ozonic notes, clove and rosemary add balance to this sparkling scent. A must for the holidays!

Storm Watch - This popular fragrance is difficult to describe. It is a unique, clean fragrance with subtle floral and spice undertones


Starfruit & Mango - sweet mango with notes of tropical starfruit


Stargazer Lily – Wonderful lily scent infused with other floral notes

Strawberry – Coconut-A beautiful blend of strawberry and coconut

Strawberries & Champagne - duplicate from Victoria Secrets


Strawberry Kiwi - A delightful blend of fresh picked summer strawberries and ripened kiwi fruit. Very pleasant

Sugared Peaches-This mouth-watering peach fragrance is enhanced by the sweetness of vanilla cream, orange essence, and maple sugar. Delicate notes of spicy cinnamon, doughy pie crust, and a sprinkling of powdered sugar make this fragrance irresistible!

Sugar Plum Berries - Sugar plums, holiday berries, and a touch of spruce lightly coated with sugar.

Sundrenched Vineyard- Sweet orange and tangy grapefruit peel blend with a juicy fruit accord to create lift in this red grape fragrance. Woody tones support the vineyard theme while lingering undertones of amber create a touch of sweetness.

Strawberry Shortcake - Notes of fresh strawberries, sweetened shortbread, and lots of whipped cream make this classic true to life and irresistible


Sugar Cookies - Fresh baked right from the oven. This fragrance oil is infused with natural essential oils. Duplicate from Yankee Candle


Summer Orange Flower - Blooming petals of orange flower fragrantly embrace this beautiful creation. Summer orange flower is a fresh fragrance reminiscent of sunny summer days. Blended with of hints of neroli, orange blossoms, a splash of grapefruit and sweet summer coconut, this lovely scent just says Summer


Sunflower - This particular floral is light, fresh, and summery. Sweet, but not too sweet


Sugared Cranberries - Tangy cranberries with sweet aftertones


Sugared Spruce - Holiday Spruce with tangy sugar notes


Scotch Pine- A warm earthy scent with mossy green accents. Hints of apple and peach add lift to the woody fir balsam, spruce and cedar heart


Sun Rippened Raspberries - A harmonious fusion of tart raspberry sweetened by the summer sun. (BBW Type)


Sun Washed Linen - Freshly washed clothes hanging in the summer breeze


Sea Mist- Imagine your first breath of ocean air, fresh, clean, soothing yet invigorating


Smoke & Odor Eliminatorr- Wipe out smoke and odors quickly and easily with this invigorating spice fragrance. It really works well!This fragrance oil is infused with natural essential oils, including Orange, Grapefruit and Cinnamon


Strudel & Spice- Vanilla sprinkled with cinnamon sugar


Sweet Honey Dew - sweet ripe honey dew melon


Sweet Pumpkin Spice - A warm blend of molasses, ginger, cinnamon, allspice, nutmeg, ground cloves and pumpkin


Sweet Pea An English garden that captures the very essence of sweet and floral elegance- B&B Works Duplicate, fresh & Clean


Tall Grass - This fantastic summertime scent is exactly like the familiar fragrance of freshly cut grass


Toasted Hazelnut - duplicate from Yankee Candle


Tropical Islands - sweet floral blend of Honeysuckle and hibiscus

Tropical Fruit- With layers of the most exotic fruit notes, including star fruit, lychee, and dragon fruit balanced on a base of mango, papaya, and hints of lime, this sweet yet tart fragrance is not your typical fruit scent.


Tropical Tuberose - A floral bouquet of orange blossom, ylang ylang & jasmine underlined by magnolia, lilies, coconut & cinnamon enhanced by a touch of wintergreen & vanilla

Tropical White Musk-Warm and mysterious blend of musk, lily, ylang ylang and amber that come together with peach, oakmoss and a bit of the tropics.

Tuscan Lace-Beautiful, feminine fragrance that is awesome in body products and a power house in candles. You'll fall inlove the moment the bottle hits your nose. A soft amber with musk and touch of sweet earthy notes at the base.

Twisted Peppermint - B&BW type - Cool refreshing peppermint with a twist

Twilight Woods-A sweet, romantic Bath & Body Works type. This fragrance combines the scent of ripe forest berries and soft sensual musk, with middle notes of sweet mimosa flowers and apricots, along with subtle hints of oak and juniper.


Tuscan Nights - Top notes of fresh green vine, citrus & rosemary. Middle notes of ripened melon and an ozonic base with bottom notes of wood/patchouli & lavender


Vicks Vapor Rub - great for a stopped up head!


Violet Lime- The sensual and luxurious aroma of violet blends with crisp, clean lime to produce this sophisticated fragrance


Vanilla & Fresh Berries - rich creamy vanilla with fresh strawberry


Vanilla Crunch - rich creamy vanilla with a touch of Caramel


Vanilla Bean Nectar-Vanilla Bean Nectarine is sure to lift your spirits as you inhale the delicate floral notes that are the perfect backdrop for tangy oranges and nectarines, balanced by smooth vanilla and creamy coconut. Soothing and scrumptious!


Vanilla Mint - Buttery french vanilla and subtle hints of cool peppermint

Vanilla Chai- The perfect accompaniment to "me" time, this is a supremely satisfyingly rich and spicy recipe of ginger, cinnamon and vanilla.

Vanilla Passion - A sweet creamy vanilla that hints at light floral and sweet musk undertones


Vanilla Hazelnut- A mouthwatering blend of toasted hazelnuts and creamy vanilla


Very Vanilla- Year after year vanilla reigns supreme as the best selling candle fragrance. With its intense vanilla aroma, subtle touch of cream


Vineyard - A light grape fragrance

Vermont Honey Apple-Vermont Honey Apple BBW Type - Hints of citrus add sparkle to this lush apple scent. The fruity signature is laced with green notes and warm wood tones and finished with sugared vanilla and musk.


Warm Vanilla Sugar - B&B Works duplicate rich warm vanilla with sweet sugar notes


Watermelon - Too many watermelon fragrances are super-sweet and smell like kid's bubble gum. Ours has the traditional watermelon notes

Waterfall-Escape to a tropical paradise with this fresh, clean scent.


White Lily & Amber - A soft background of white amber and musk provide a comfortable backdrop for crisp top notes of dewy cyclamen and smooth mimosa with middle notes of white lily

Whispers of Love-Sweet, exotic, precious wood scent blended with ozone and rosewood, then gently infused with musky sandalwood, teakwood and vanilla.

White Tea & Ginger - B&BW Type


White Tea- indulged in white tea. It is only fired and dried, leaving its silver buds and select leaves fully intact - along with its delicately sweet yet herbal taste. Our fragrance adds a touch of jasmine to create a truly luxurious aroma


Whiskey-Though there are many different styles and origins, the essential aroma of whiskey is unmistakable. Also known as the "water of life," our Whiskey fragrance oil is an intoxicating blend of potent alcohol notes, rich oak and smoked peat. This fragrance oil is infused with natural essential oils, including patchouli and birch tar oil

White Tea & Berries- A tantalizing tincture of herbal tea and dew covered raspberries, blackberries, and elderberries


Wild Berry Musk - A fresh tart fragrance with ripe blackberries, wild strawberries, wild currants, with accents of freesia and musk

Winter Orange Spice – Sweet orange and spicy clove form the base of this delicious scent, with hints of tangerine, bergamot, and orange zest, and enhanced by notes of ginger, anise, and cardamom.


Wild Cherry - This fragrance is both tart and sweet like a big bowl of wild cherries


Wild Mountain Honey - An awesome honey fragrance abundant with a mixed bouquet of wildflowers



Wild Raspberry - These raspberries are sun-ripened and sweet


Winter Wonderland-A true winter season scent. Imagine freshly fallen snow atop a winter forest of pine with a hint of spice.



Please allow 1-2 weeks for delivery. I do ship fast but depending on the number of orders ahead of you it could take the 1-2 weeks to ship. Please do not leave negative feedback without contacting me 1st. I strive to have great customer service and want to resolve any complaints before any negative feedback is left on either side. Thank you and happy bidding!
---
---
All of the scents I ordered smell so amazing! Defiantly will be repurchasing.
Jan 12, 2016 by Olivia Bowling
Thank you. Fast shipping and great customer service
Nov 12, 2014 by Miranda Picadio
Love the service speeding delivery and love the sents!
Feb 18, 2014 by Natacha Giles
---
More from this seller
---
Shipping & policies
Arrives from the United States
Estimated Shipping
I ship most itmes priority mail and my shipping is a set amt. I do offer disc if you buy more than one item. If you want it insured you have to add it on as it isnt added automatically.
---
Payments
Payment must be completed within 7 days of the transaction ending. My prefered method of pymt is paypal but I allso accept credit cards, money order and checks. Checks will need to clear the bank before I ship out products. If you pay by money order I MUST have it by the 8th day after a sale is completed or else I will have to file for non pymt.
---
Returns & exchanges
I do not give refunds but a store credit will be issued for future purchases. I do not give credit on shipping fees.
---
Additional policies
I also offer wholesale prices and can do a special order listing. Please contact me for further consideration of these.