The Gold Fairy - Coloring Page - Printable - Faery - Faerie Big Eye - Digi Stamp - Instant Digital Stamp Download - Ronne Barton Art
(1)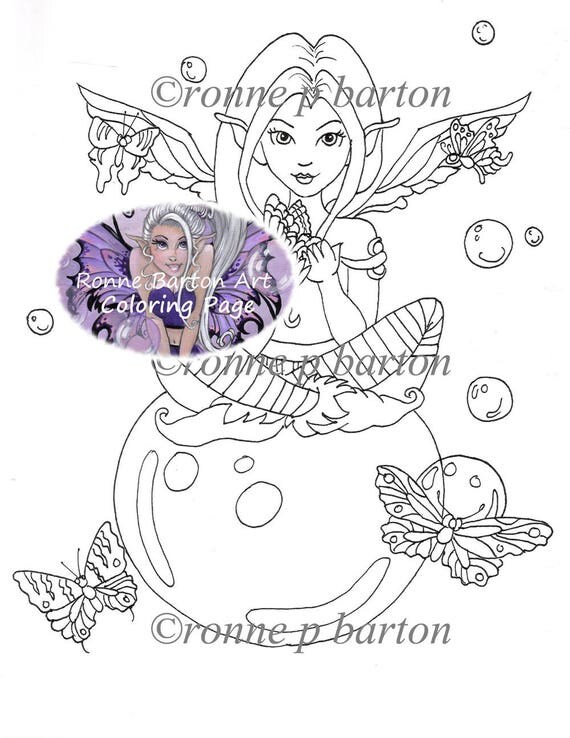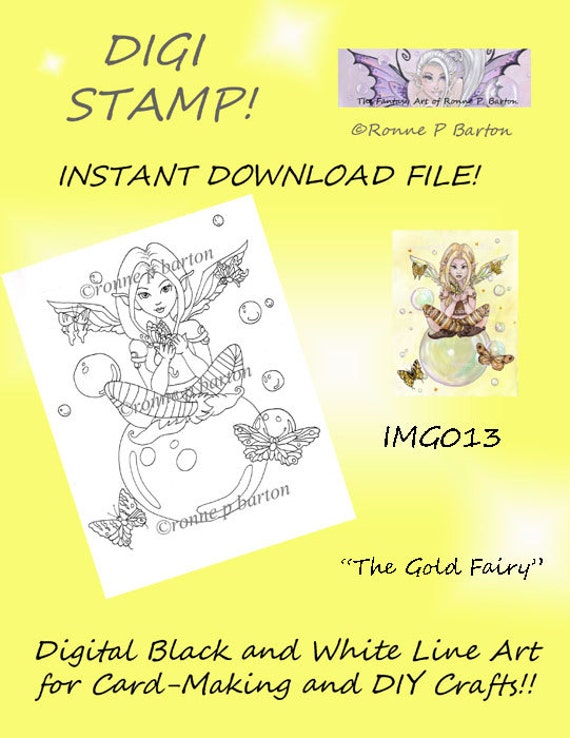 ---
Features
Made in Murphy, North Carolina
---
Item details
Level of Difficulty: Easy (8x10 size). Please note that the smaller you resize this coloring page, the level of difficulty might increase for you.

This is the line art I used for "The Gold Fairy" from my Butterflies and Bubbles series. Please note this is the base image that I used and may vary slightly from the original creation.

This line art digital stamp would be great for card-making enthusiasts and is perfect for making a greeting card, notecard or postcard, and using for making scrapbooking supplies, making your own stickers, or even your own stationery!! You could use this line art digital stamp for any craft project…you are only limited by your own imagination! (Please note the instant download digital stamp does NOT have my copyright watermark. This is for listing purposes only).

This line art digital stamp is in jpeg format and is approximately 8x10 to 8.5 x 11 inches. Remember after purchase, the digital stamp should become available to instantly download right here on etsy. Nothing physical will be mailed. THIS IS FOR THE BLACK AND WHITE LINE ART IMAGE ONLY! Colored picture is NOT included.

**Conditions of Purchase and My Restrictions**

--First and foremost, ALL instant download digital line art images and precolored images are ©Ronne P. Barton. You are NOT purchasing rights in any form or fashion to the artwork.

--I, Ronne P. Barton, own ALL images as shown in my shop-www.etsy.com/shop/ronnebarton. The purchaser is NOT allowed to share the file in any form or fashion, or resell the actual file. That is NOT allowed. My images are NOT to be used for commercial purposes such as commercial graphic design or personal websites. You must NEVER use my images and claim them as your own. Remember, these are copyrighted images and I am merely a lone self-representing artist who is trying to pursue a career in the art world and I am trying to make a living from selling my art.

--You are NOT allowed to resell my any of my digital line art images, precolored images, or image you have altered/colored/painted in your own way on CafePress, Zazzle, Shutterfly, or any other online mass-producing or merchandising company. This is prohibited.

--You are NOT allowed to resell my digital stamps, line art, colored, or uncolored, or any designs you have "repainted" or "recreated" that are made from my designs as prints of any size, including ACEO size. This is prohibited.

--NO returns are allowed for digital stamps as this is an instant download product.

--With the above being said, I do want you to know that you can print the line art digital stamp as many times as you like!

--I DO allow, and encourage, you to create and sell your paper crafts or painted goods online or elsewhere, but items MUST be 100% handmade, handcrafted or colored by you, and of course, you are required to give me credit for the original line art/precolored image by referencing my etsy shop, www.etsy.com/shop/ronnebarton, because ALL of my digital stamp designs are etsy exclusive. I do NOT sell my digital stamps through my website, ebay, or other avenues, so ALWAYS give me credit by referencing my etsy shop.

--If you DO use my line art image for "crafty projects" or "painted goods" and are going to resell them online or elsewhere in your own shop, to family and friends, you MUST remember to give me credit in the actual listing (if selling online), as well as, reference me on the "creation" somewhere if that is possible (I understand not being able to put my name on like hairbows, very small items like bottlecap pendants, etc., but you should put a small little card or something of that nature with the small item referencing my etsy shop as listed above.)

So to crafters, card-makers, and fan artists, I have listed my restrictions and allowances above, and as long as they are followed, I really have no issues. If you are unsure of a "project" or an "idea" you have that you would like to do with my images, and you do not see an allowance for it above or a restriction and aren't sure, please don't hesitate to ask me. Thank you for an interest in my art and, of course, supporting a self-representing artist!!

**This product is available for Instant Download. Please note that if you have problems with the download, I will be glad to send you the image via email.**


Ronne P. Barton, Artisan
---
---
Beautiful work! Great fun to play with!
Nov 11, 2014 by Allyssa Sinkler
---
More from this seller
---
Digital downloads
---
Payments
I accept and actually prefer PayPal, BUT I know not everybody uses PayPal and I will also gladly accept a personal check or a money order. Items paid for by a personal check will not be mailed though until check has cleared. Sometimes this can take up to 4 to 6 weeks too, so keep that in mind. :O)

International buyers (outside United States) are always welcome in my etsy store; however, PayPal is the ONLY accepted payment from you folks. :O)

You can also use a credit card through PayPal without having to sign up for an account. I only accept credit cards through PayPal though and do NOT accept them through any other route.

If you are choosing to use a check or money order, you can ask me for my address and I will gladly give it to you.
---
Returns & exchanges
I always want my customers to be satisfied. If you purchase something from me and you are not quite happy with it or it is simply not what you expected, I will offer you a refund or exchange if the item is returned to me in the same condition it arrived. The buyer will have to pay return shipping fees though. If refund is given, only the amount of the item will be refunded, not shipping fees.

Now on original paintings, my refund policy is this.....whether it is a commission piece or an original that I placed up for sell, I retain all rights to it. A refund will not be given on an original piece if it does not return to me in the exact same condition in which you received it. As I said, I take extra special care in packaging my products and even more so on an original painting. Only once in a blue moon have my packages been damaged and I, of course, worked with my client until an agreement was met. If it is a commission piece and you decide you want a refund, I retain ALL rights and can re-sell it if I choose to or put it on auction.
---
Additional policies
Regarding commissions or a custom piece of artwork:

I do accept these on a limited basis; however, please look at my artwork. I'm just a big ole kid at heart and I prefer to paint in a cartoony fashion. My favorite genre to paint in is fairies and fantasy art work. I usually work with acrylic paint on masonite or canvas.

Now don't get me wrong, I will accept commissions on realistic-looking paintings like portraits, landscapes, animals, etc, BUT I only do those in acrylic or oils and nothing else. These will tend to be more expensive because they will take longer due to being more complex than what I can accomplish with a cartoony piece and watercolor, ink and markers. I also with the mixed media like watercolor, ink, and markers use smooth Bristol art paper only. I also like to "chock these full of things" :O)

Right now with the mixed media artwork, I only offer 9x12 and 11x14 sizes. These are the set prices----$50.00 for 9x12 and $75.00 for an 11x14. This is the price regardless of how much or how little you want in the picture. I only use mixed media for these and that is watercolor, markers, ink, etc. This is NOT for realistic-looking portraits, if that's what your looking for, please go to the acrylic and oil section.

CUSTOM PRICE LIST FOR ACRYLIC AND OILS:
9x12 = $110.00
11x14 = $150.00
12X16 = $200.00
16X20 = $300.00
18X24 = $400.00

Now, if you are still in doubt of which you one would be right for you, convo me and just kinda let me know if you want it realistic looking or whimsical like my cartoon look and what all you want in it and hopefully I could help you decide the best listing.

Remember, time is always a constraint for me, but once you ask me and we come to an agreement, I will list your private custom piece on etsy and I will begin. I do not require money up front due to actually not knowing how long the piece will take. I can give you an approximate time of completion once you tell me what you're looking for.

Once I do the initial sketch for you, I will either send you a picture through email or give you a password to my youtube channel where you can actually view it in reality and have your own private viewing I guess is what you would call it. I also would periodically film myself painting your commission and post it for your viewing pleasure only. :O)

I will by no means paint a commission that looks like another artists' artwork, so please do not even ask me to do that. :O)

Your commission is yours. I generally also do NOT like to make prints of a commission I have done for someone. I want them to have a one-of-a-kind piece of art that no one will have which truly makes it special. :O)

Too, the above charges DOES NOT include S/H fees. I will ONLY mail commission artwork PRIORITY and with INSURANCE. Buyer would have to pay that as well.