BIRDS-8 Collection of 203 vintage pictures Parrots Species Eagles Lory lories wood digital download printable clipart animals illustrations
(4)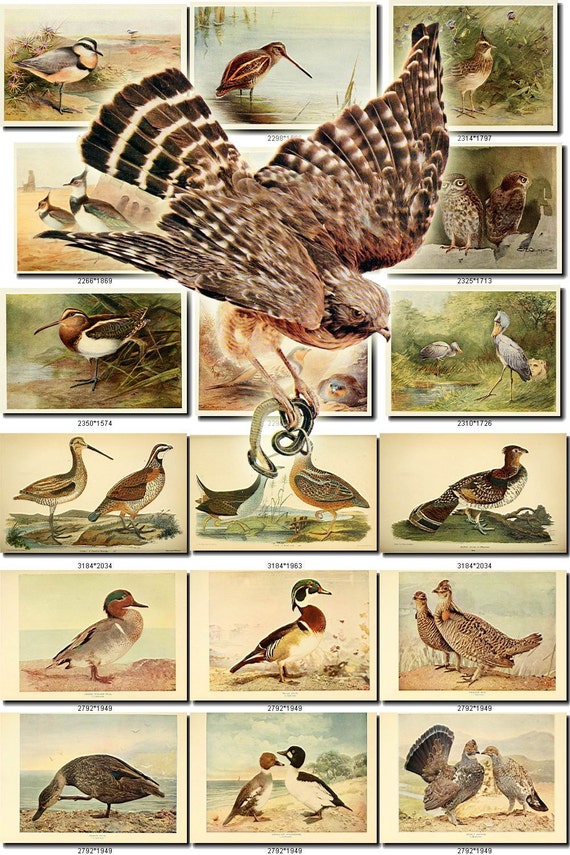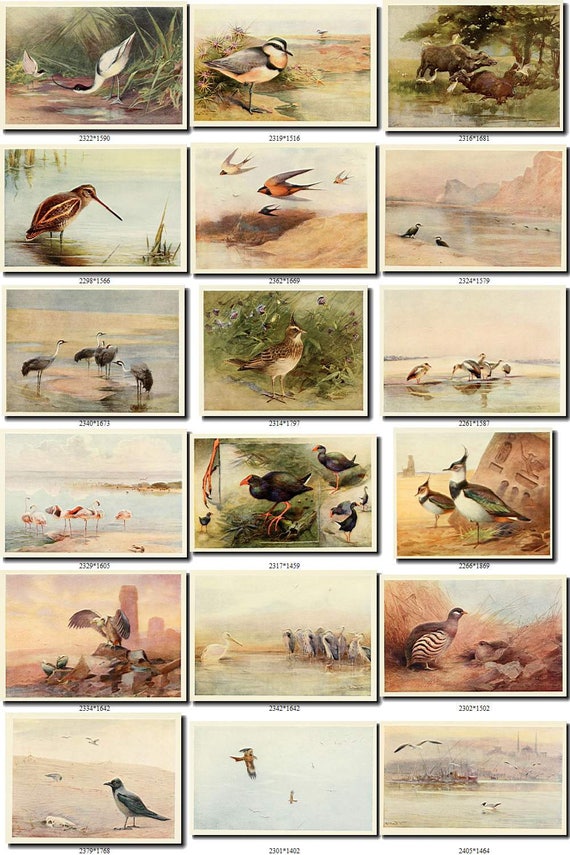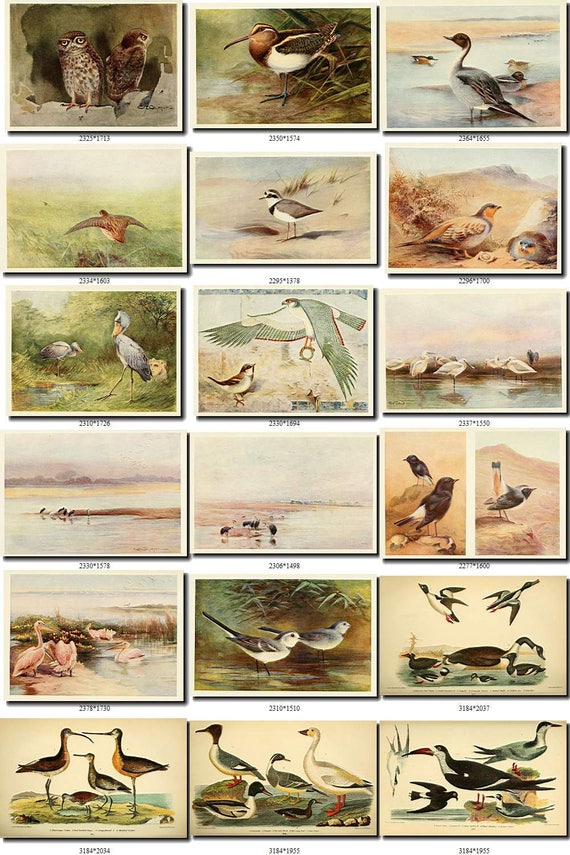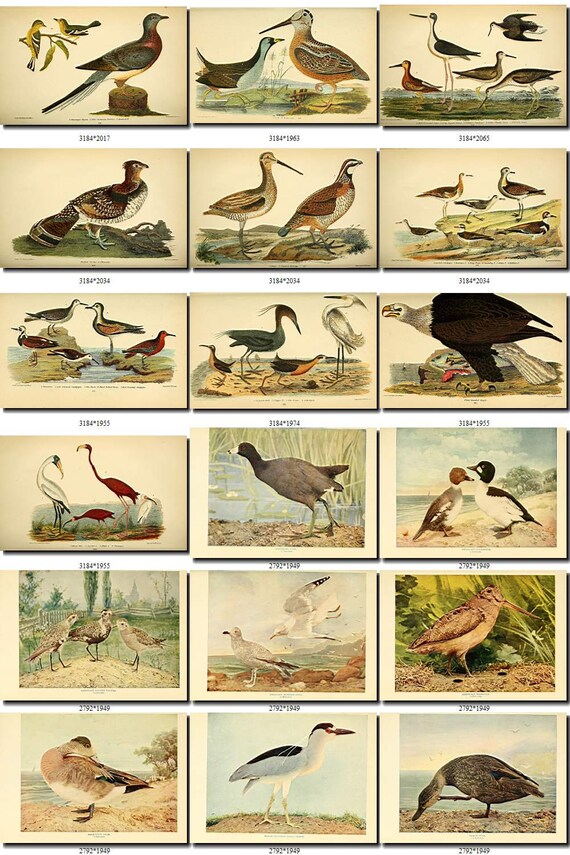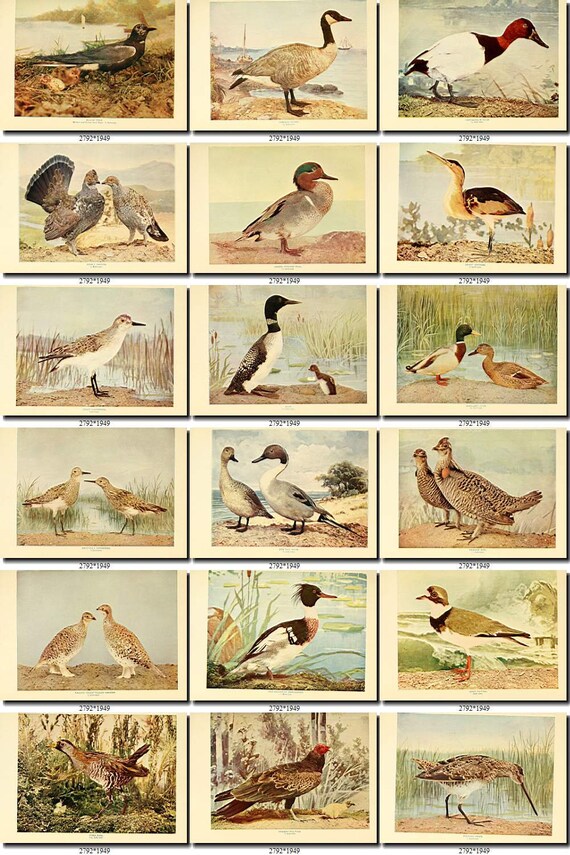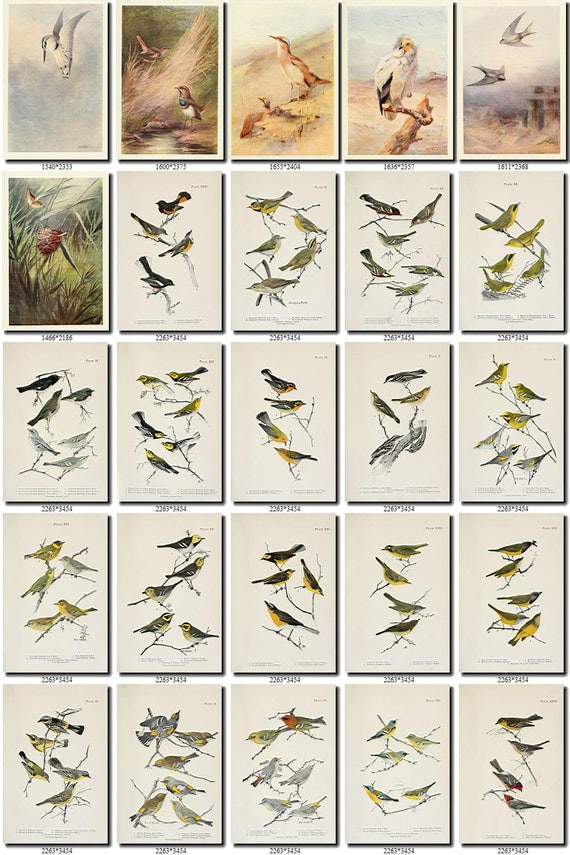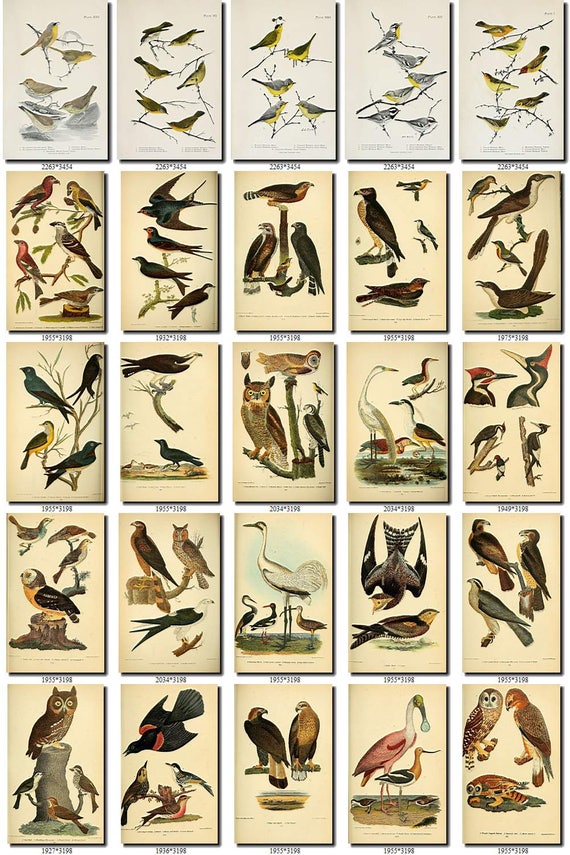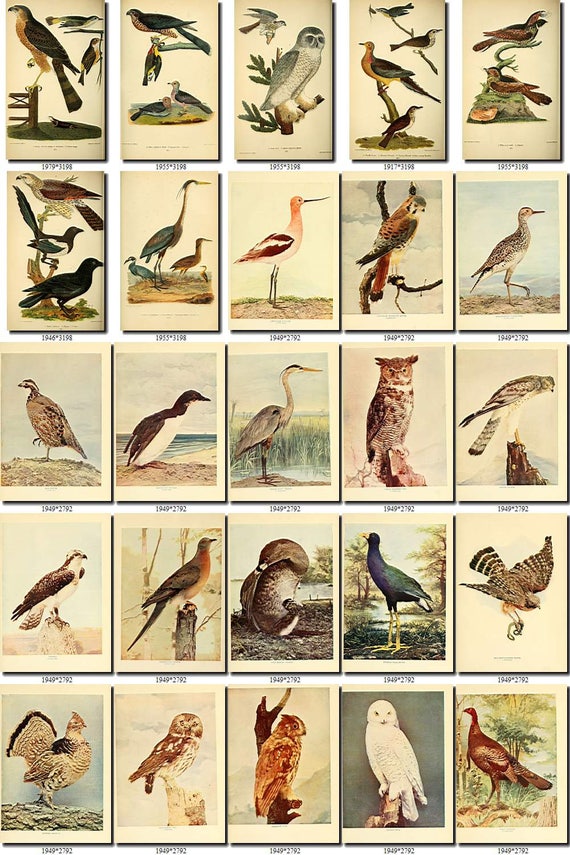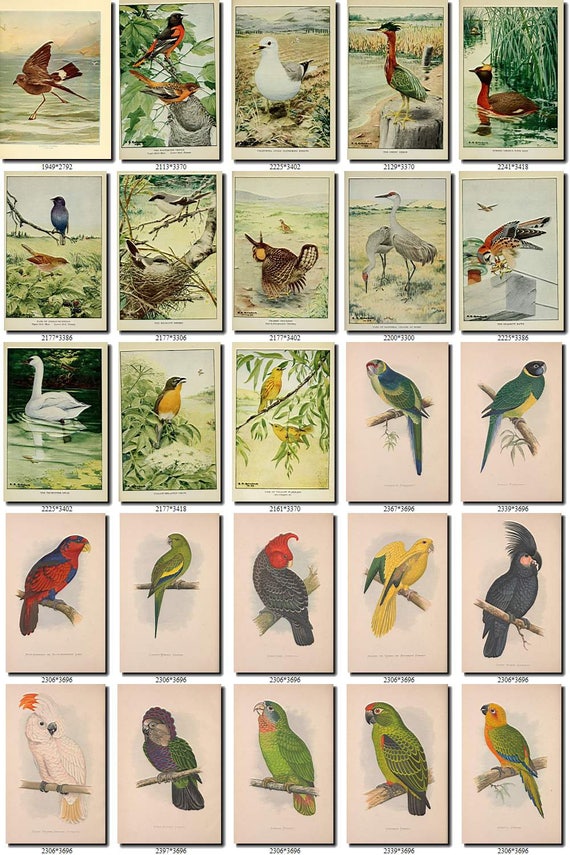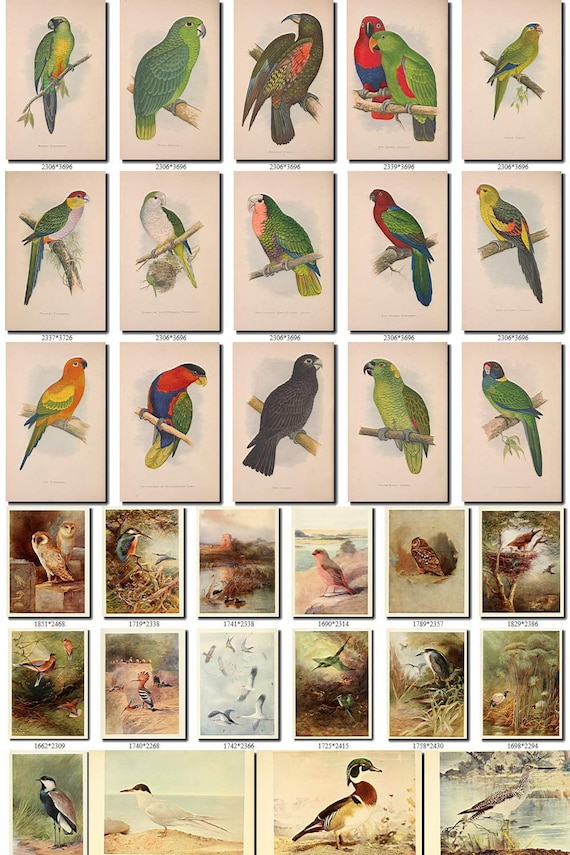 ---
Features
---
Item details
artscult.com - all images from artvintages.com

Instant digital download of 203 vintage pictures of birds in high resolution (300 dpi, sizes from 1400x2100 px to 2300x3700 px). Look at pictures to see sizes in pixels (click "Zoom", divide size in pixels on 300 - you'll get size of print in inches with high quality, ex. 2400/300=8''). Total size of the collection is 253 Mb.

Each file has a name of shown bird (ex. "Sedge warbler.jpg"). Names of shown birds are listed below, at the end of description.

All images are in JPG format, separate files. Perfect for use in crafting, decoupage, collage, altered art, prints, etc. Images are in public domain in USA and may be used for any personal or commercial purposes. Information about source books is included.

Look at my other BIRDS collections:
https://www.etsy.com/shop/ArtVintages?section_id=13682371

All-in-one BIRDS collections:
https://www.etsy.com/shop/ArtVintages/search?search_query=all+birds

DISCOUNTS:
Save money - Use coupons shown here:
https://www.etsystudio.com/listing/168468869/

SHIPPING DETAILS:
Digital download (TXT file with link on file in zip format on dropbox and google drive, and gallery view). Before purchase, please, make sure that you are able to download large size files. Download may take long time some cases.

NAMES of shown birds:
American Avocet, American Bittern, American Buzzard, American Coot, American Crossbill, American Golden Plover, American Goldeneye, American Herring Gull, American Redstart, American Sparrow Hawk, American Woodcock, Ash Coloured Sandpiper, Ash-Coloured Hawk, Audubon's Warbler, Bachman's Warbler, Bald-Pate Duck, Baltimore Oriole, Bank Swallow, Barn Owl, Barn Swallow, Barnard's Parrakeet, Barred Owl, Bartrani's Sandpiper, Bauer's Parrakeet, Bay-Breasted Warbler, Bay-Winged Bunting, Belding's Yellow-Throat, Black Bellied Plover, Black Duck, Black Hawk, Black Skimmer, Black Tern, Black and White Kingfisher, Black and White Warbler, Black or Surf Duck, Black-Billed Cuckoo, Black-Cap Warbler, Black-Crowned Night Heron, Black-Headed Plover, Black-Poll Warbler, Black-Throated Blue Warbler, Black-Throated Gray Warbler, Black-Throated Green Warbler, Blackburnian Warbler, Blackpoll Warbler, Blue Crane, Blue Wing Teal, Blue Yellow-Backed Warbler, Blue-Crowned or Blue-Breasted Lory, Blue-Mountain Warbler, Blue-Throated Warbler, Blue-Winged Warbler, Bob-White, Brewster's Warbler, Broad-Winged Hawk, Brown Lark, Brunnichs Murre, Buff-Backed Heron, Buffet-Headed Duck, California Gull, Canada Goose, Canadian Warbler, Canary-Winged Conure, Canvasback Duck, Cape-May Warbler, Carolina Cuckoo, Cerulean Warbler, Chestnut-Sided Warbler, Chimney Swallow, Chuck-Wills-Widow, Clapper Rail, Common Kingfisher, Common Snipe, Common Swallow, Connecticut Warbler, Coot, Cormorants, Cranes, Cream-Coloured Courser, Crested Lark, Desert Bullfinch or Trumpeter Finch, Dusky Grouse, Egyptian Eagle Owl, Egyptian Geese, Egyptian Kite, Egyptian Palm Doves, Egyptian Swallow, Egyptian Vulture, Esquimaux Carlew, Fish-Crow, Fish-Hawk, Flamingo, Gallinule, Gang-Gang Cockatoo, Golden Plover, Golden or Queen of Bavaria's Parrot, Golden-Cheeked Warbler, Golden-Eye, Golden-Winged Warbler, Goosander, Grace's Warbler, Great Black Cockatoo, Great Blue Heron, Great Heron, Great Horned Owl, Great Salmon-Crested Cockatoo, Great Tern, Great White Heron, Green Heron, Green Plover or Lapwing, Green-Winged Teal, Griffon Vulture, Ground Dove, Hawk Owl, Hawk-Headed Parrot, Hemlock Warbler, Hermit Thrush, Hermit Warbler, Heron, Hey's Sand-Partridge, Hooded Crow, Hooded Warbler, Hooping Crane, Hoopoe, Horned Grebe, Indigo Bunting, Ivory-Billed Woodpecker, Jamaica Parrot, Jardine's Parrot, Jendaya Conure, Kentucky Warbler, Kestrel or Windhover, Killkeer Plover, Kirtland's Warbler, Kite, Lawrence's Warbler, Least Bittern, Least Sandpiper, Least Snipe, Lesser Black-Backed Gull and Black-Headed Gull, Lesser Red Poll Warbler, Lesser Tern, Little Egret, Little Green Bee-Eater, Little Owl, Long Billed Curlew, Long-Eared Owl, Long-Legged Avoset, Loon, Louisiana Heron, Louisiana Water-Thrush, Lucy's Warbler, Maggillivray's Warbler, Magnolia Warbler, Magpie Crow, Mallard Duck, Mangrove Warbler, Marbled Godwit, Marsh Hawk, Maryland Yellow-Throat, Masked Parrakeet, Mealy Amazon, Migrant Shrike, Mountain Parrot, Mourning Warbler, Myrtle Warbler, Nashville Warbler, New Guinea Eclectus, Night Hawk, Night Heron, Northern Water-Thrush, Olive Warbler, Orange-Crowned Warbler, Osprey, Ovenbird, Painted Redstart, Painted Snipe, Pale Crag Swallow, Palm Warbler, Parula Warbler, Passenger Pigeon, Pectoral Sandpiper, Peregrine Falcon, Petz's Conure, Pied Billed Grebe, Pied Oyster-Catcher, Pileated Parrakeet, Pileated Woodpecker, Pin-Tail Duck, Pine Warbler, Pine-Swamp Warbler, Pintail, Prairie Chickens, Prairie Hen, Prairie Sharp-Tailed Grouse, Prairie Warbler, Prothonotary Warbler, Pueple Martin, Purple Finch, Purple Gallinule, Purre, Quail or Partridge, Quaker or Grey-Breasted Parrakeet, Rail, Red Backed Snipe, Red Breasted Sandpiper, Red Owl, Red Shining Parrakeet, Red Shouldered Hawk, Red Winged Starling, Red-Breasted Merganser, Red-Breasted Snipe, Red-Faced Warbler, Red-Headed Woodpecker, Red-Shouldered Hawk, Red-Tailed Hawk, Red-Throated White-Fronted Amazon, Redstart, Reed Warrler, Ring Plover, Ring Plver, Ring-Tail Eagle, Ringed-Plover, Rio Grande Yellow-Throat, Rock Pepler Parrakeet, Roseate Spoonbill, Rosy Chat, Rough-Legged Falcon, Ruddy Plover, Ruffed Grouse or Pheasant, Sacred Ibis and Papyrus, Sanderling Plover, Sandgrouse, Sandhill Crane, Savannah Finch, Saw-Whet Owl, Scarlet Ibis, Screech Owl, Sea Eagle, Sea-Sided Finch, Semipalmated Sandpiper, Semipalmated Snipe, Sennett's Warbler, Sharp Tailed Finch, Sharp-Shinn'd Hawk, Shoebill Stork, Short Eared Owl, Short-Tailed Tern, Shoveller Duck, Slate Coloured Hawk, Small-Headed Flycatcher, Snipe, Snow Goose, Snowy Owl, Solitary Sandpiper, Sora Rail, Sparrow, Sparrow Hawk, Spoonbills, Spotted Sandpiper, Spur-Winged Plover, Stork, Stormy Petrel, Sun Parrakeet, Swainson's Warbler, Swallow-Tailed Hawk, Tawney Thrush, Teal, Tell-Tale Snipe, Tennessee Warbler, Towhee Bunting, Townsend's Warbler, Tri-Coloured or Black-Capped Lory, Trumpeter Swan, Tufted Duck, Turkey Vulture, Turnstone, Turtle Dove, Virginia's Warbler, Virginian Rail, Warbling Flycatcher, Whip-Poor-Will, White Ibis, White Pelicans, White Wagtail, White-Bellied Swallow, White-Crowned Bunting, White-Headed Eagle, White-Rumped Chat, White-Winged Crossbill, Wild Turkey, Wilson's Warbler, Wilsons Petrel, Wilsons Snipe, Wilsons Tern, Winter Falcon, Wood Duck, Wood Ibis, Wood-Cock, Worm-Eating Warbler, Yasa Parrot, Yellow Legs, Yellow Red-Poll Warbler, Yellow Warbler, Yellow-Breasted Chat, Yellow-Crowned Heron, Yellow-Naped Amazon, Yellow-Naped Parrakeet, Yellow-Rump, Yellow-Shanks Snipe, Yellow-Throated Warbler.
---
---
prompt service, love the images!
Jan 4, 2014 by blackhills1
great item was easy to use
Oct 28, 2013 by Jessalyn Schwarz
easy transaction, download available immediately.
Oct 22, 2013 by Chez Mac
Wonderful collection! Thank you very much!:)
Oct 3, 2013 by Yuliya
---
More from this seller
---
Digital downloads
---
Payments
PayPal payment only accepted (including payment with a credit card via PayPal without having PayPal account)
---
Returns & exchanges
I gladly accept returns and exchanges
Contact me within:
14 days of delivery
Ship items back within:
30 days of delivery
I don't accept cancellations
But please contact me if you have any problems with your order.
The following items can't be returned or exchanged
Because of the nature of these items, unless they arrive damaged or defective, I can't accept returns for:
Custom or personalized orders
Perishable products (like food or flowers)
Digital downloads
Intimate items (for health/hygiene reasons)
Conditions of return
Buyers are responsible for return shipping costs. If the item is not returned in its original condition, the buyer is responsible for any loss in value.
Additional return information
Full refund available if you are not satisfied with your item. Please feel free to email me. Thanks
---
Additional policies
Images from my collections are in public domain in the US.