Vintage Rosary Style Bead Strand, 6 foot Total length, marbleized cream lucite beads, 1960s vintage jewelry supply jewellery making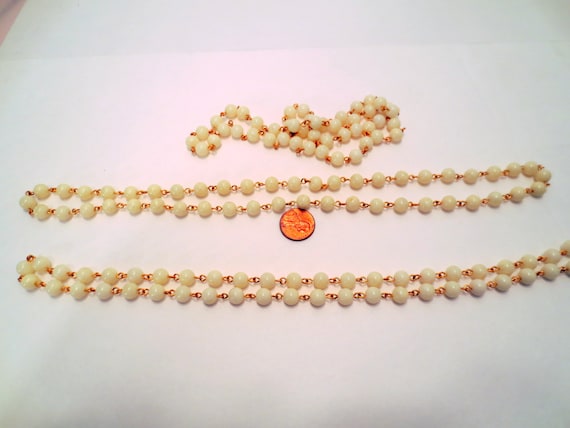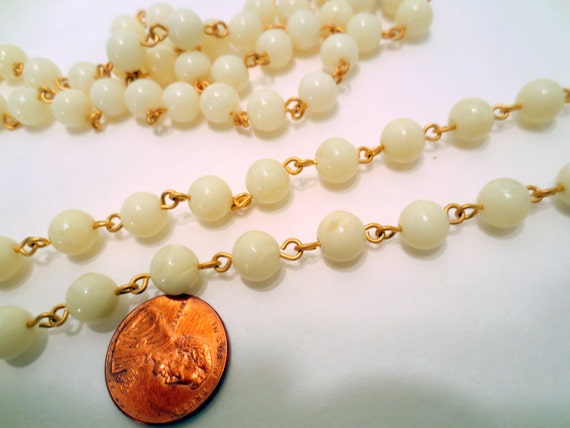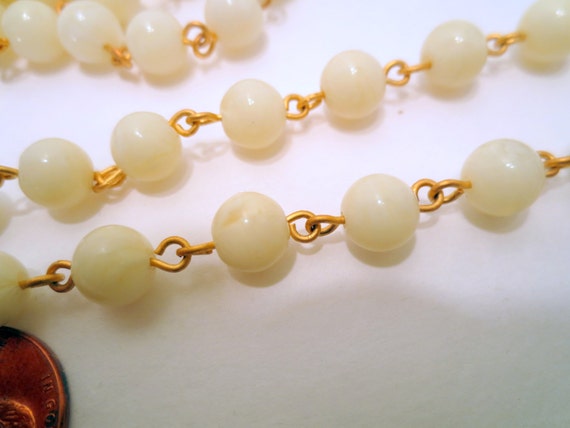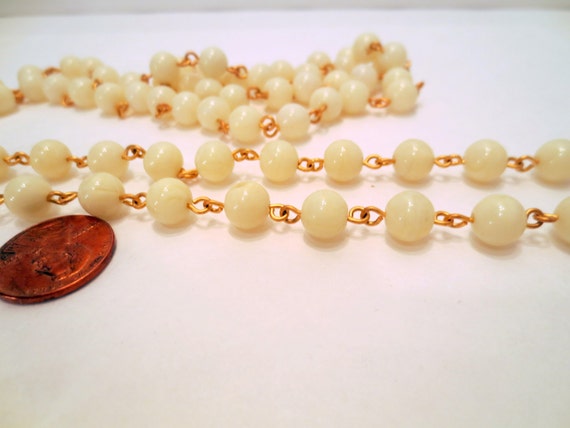 ---
Features
---
Item details
50% OFF ESTATE SALE!


I am thrilled to announce a special estate sale, on now. This week, I was fortunate to acquire the estate of a long time antiques dealer and picker. This lady collected and kept everything! There are tons of saleable items and lots of supplies and odds and ends, mostly old. In addition, I have also acquired the inventory of an Etsy customer who has become a friend. She is closing due to her health and I will be selling off her remaining inventory including many items she had not yet listed. She was branching out and so there are many surprises in her boxes.
However, with the good news, comes the bad, at least for me! My storage is full and the house is overrun with stuff. Yesterday, we briefly lost the cat. After we found him, asleep in a box, my wife suggested a serious sale, well she kind of insisted. Apparantely, at worst I am a closet hoarder and at best, I have no self control and cannot say no to a deal. So, my loss is your game. Effective immediately, all of my shops are having a drastic sale. I don't know how long it will go on, probably until I can see the floor in most of the house. All items, existing and new, will be included. I will be adding items to all of my shops regularly, I kid you not when I say there are THOUSANDS of items to add. Please check back regularly and have fun while I list as fast as I can!

MY ETSY SHOPS ARE:

https://www.etsy.com/shop/Millvintagerunway ( *************75% OFF vintage clothing, shoes, purses, belts and other accessories)

https://www.etsy.com/shop/millpondvintage?ref=hdr_shop_menu (************50% off vintage prints, posters and housewares)

https://www.etsy.com/ca/shop/millpondsupplies?ref=hdr_shop_menu (*************50% off jewelry and other supplies, wholesale jewelry lots, etc.)

https://www.etsy.com/shop/millpondjewelry?ref=hdr_shop_menu (************50% off vintage jewelry.)

***************************************************************

50% OFF ESTATE SALE!


I am thrilled to announce a special estate sale, on now. This week, I was fortunate to acquire the estate of a long time antiques dealer and picker. This lady collected and kept everything! There are tons of saleable items and lots of supplies and odds and ends, mostly old. In addition, I have also acquired the inventory of an Etsy customer who has become a friend. She is closing due to her health and I will be selling off her remaining inventory including many items she had not yet listed. She was branching out and so there are many surprises in her boxes.
However, with the good news, comes the bad, at least for me! My storage is full and the house is overrun with stuff. Yesterday, we briefly lost the cat. After we found him, asleep in a box, my wife suggested a serious sale, well she kind of insisted. Apparantely, at worst I am a closet hoarder and at best, I have no self control and cannot say no to a deal. So, my loss is your game. Effective immediately, all of my shops are having a drastic sale. I don't know how long it will go on, probably until I can see the floor in most of the house. All items, existing and new, will be included. I will be adding items to all of my shops regularly, I kid you not when I say there are THOUSANDS of items to add. Please check back regularly and have fun while I list as fast as I can!

MY ETSY SHOPS ARE:

https://www.etsy.com/shop/Millvintagerunway ( *************75% OFF vintage clothing, shoes, purses, belts and other accessories)

https://www.etsy.com/shop/millpondvintage?ref=hdr_shop_menu (************50% off vintage prints, posters and housewares)

https://www.etsy.com/ca/shop/millpondsupplies?ref=hdr_shop_menu (*************50% off jewelry and other supplies, wholesale jewelry lots, etc.)

https://www.etsy.com/shop/millpondjewelry?ref=hdr_shop_menu (************50% off vintage jewelry.)

*************************************************************** Vintage Rosary Style Bead Strand, 6 foot Total length, marbleized cream lucite beads, 1960s vintage jewelry supply jewellery making
These vintage bead strands are new old stock from the 1960s. They are in very good condition and are unused. The beads are linked, rosary style. There are 3 strands, each measuring 2 feet in length, for a total of 6 feet. These are cream colored marbleized lucite beads, linked rosary style. There are approx. 22 beads per foot. The beads measure 8mm. These are good quality, shiny beads.
item 045
---
---
More from this seller
---
Shipping & policies
Estimated Shipping
Items are shipped within 3 business days. Most of the time, shipping is same or next day.
Most orders are shipped airmail insured. Most exceptions will be noted. If you have any special requirements, do not hesitate to ask.
---
Payments
We are happy to accept credit card payments and echecks through paypal. Our paypal email is millpondjewelrysupplies@gmail.com.
---
Returns & exchanges
We accept returns. Please contact us prior so that we can work out the logistical details together.
---
Additional policies
Please note that customs duties or taxes imposed by an international buyer's country are the responsibility of the buyer.