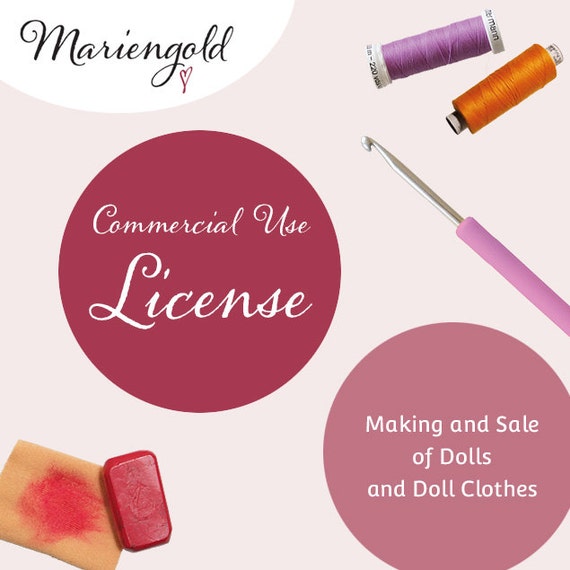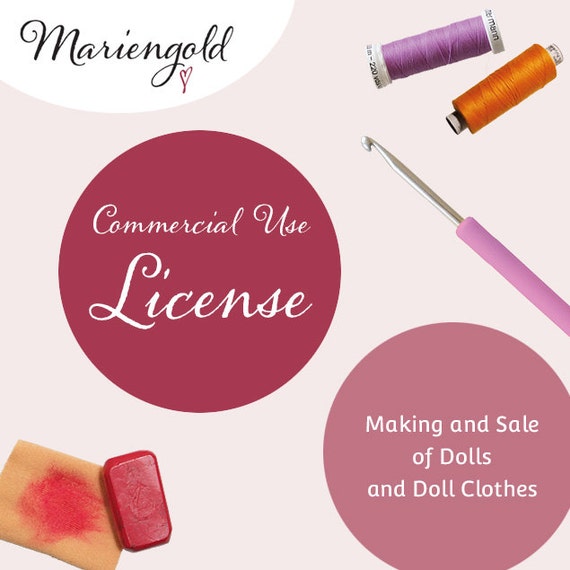 ---
Features
---
Item details
**Mariengold and Copyright**

Mariengold e-books with directions for the making of dolls and doll clothes and included patterns are protected by copyright, and may be used for private purposes only.

If you want to create dolls and doll clothes according to Mariengold designs for the commercial distribution, you are allowed to do so with the following user license.

**License for the Making and Sale of Dolls and Doll Clothing**

With the purchase of this license you get the permission to sell up to 50 dolls and 50 pieces of each and every single piece of doll clothing respectively that you create with the Mariengold e-book Mitzi, Baby Twink, Pip or Kulla and Oh Girl!, Oh Boy! or Oh Baby! respectively.

It is allowed to make the dolls and doll clothes with alterations. The impression of the original should, however, be thereby maintained.

Besides the identification of your own label on the dolls and the doll clothes, you commit yourself to referring to Mariengold as the author of the design with the note "Based on Design Mariengold, Maria Ribbeck" later when you offer the dolls and doll clothes for sale in your webshop. If pictures of the dolls are published on social media channels like Facebook, Instagram and Twitter, the authorship is labeled by using the hashtag #BasedOnDesignMariengold.

The creation of your dolls and doll clothes occurs under your own responsibility.

Please note that the distribution and placing on the market of dolls and doll clothes as toys is/can be subject to inspection and accurate labelling. For the required measures you are responsible on your own. Mariengold does not take any responsibility.

All rights for the e-books and included patterns are furthermore reserved by Mariengold.

*How to get Your License*

After your payment and the exchange of the required information you get your individual license for your records.

To create your license I need the following information:

- the name of the e-book that you want to purchase the license for (Mitzi, Baby Twink or Pip and Oh Girl!, Oh Boy! or Oh Baby! respectively)

- the name of the label under which you will sell the dolls as well as the address of your website and your webshop (if present)

- the e-mail address for the delivery of your license

After payment is complete, your license will be sent to your personal e-mail address. Please note that orders on weekends are processed only on Monday mornings.

To open and read a pfd file, you need the program Adobe Reader. You can download it here for free: http://www.adobe.com/de/products/reader/.

DEUTSCHE BESCHREIBUNG

**Mariengold und Copyright**

Die Mariengold E-Books mit Anleitungen und Schnittmustern zur Herstellung von Puppen und Puppenkleidung sind urheberrechtlich geschützt und dürfen nur für private Zwecke verwendet werden.

Wenn ihr Puppen und Puppenkleidung nach Mariengold-Entwürfen für den gewerblichen Vertrieb herstellen möchtet, könnt ihr das ganz offiziell und rechtlich abgesichert mit der folgenden Nutzungsgestattung tun.

**Lizenz für die Herstellung und den Verkauf von Puppen und Puppenkleidung**

Mit dem Kauf dieser Lizenz erhältet ihr die Erlaubnis, bis zu 50 Puppen bzw. je 50 Stücke jedes einzelnen Puppenkleidungsteils zu verkaufen, die ihr mit den E-Book Mitzi, Baby Twink, Pip oder Kulla bzw. Oh Girl!, Oh Boy! oder Oh Baby! anfertigt.

Es ist gestattet, die Puppen und Puppenkleidung verändert herzustellen. Die Anmutung der Originale soll dabei aber gewahrt bleiben.

Neben der Kenntlichmachung eures Labels auf den Puppen und der Puppenkleidung verpflichtet ihr euch auch zum Hinweis auf die Urheberschaft des Designs durch die Kennzeichnung "Based on Design Mariengold, Maria Ribbeck" später in euren Angebotstexten für den Verkauf, gleich ob analog oder digital. Bei Veröffentlichung von Bildern der Puppen auf den Social Media Kanälen Facebook, Instagram und Twitter wird der Hashtag #BasedOnDesignMariengold verwendet.

Die Herstellung der Puppen und Puppenkleidung erfolgt in eigener Verantwortung.

Zudem weise ich ausdrücklich darauf hin, dass der Vertrieb und das Inverkehrbringen von Puppen und Puppenkleidung als Spielzeug prüf-/und kennzeichnungspflichtig ist. Für die erforderlichen Maßnahmen seid allein ihr verantwortlich. Mariengold übernimmt keine Gewähr.

Die Erlaubnis zur Weitergabe von Vervielfältigungsstücken der Entwürfe oder Anleitungen aus den E-Books, gleich ob analog oder digital, ist mit dieser Lizenz nicht verbunden.

**Abwicklung**

Nach Abschluss der Zahlung und Austausch aller Informationen erhältet ihr eine individuelle Lizenz für eure Unterlagen.

Für die Lizenzerstellung benötige ich folgende Informationen:

- der Name des E-Books, für das ihr die Lizenz erwerben möchtet (Mitzi, Baby Twink oder Pip bzw. Oh Girl!, Oh Boy! oder Oh Baby!)

- der Name des Labels, unter dem ihr die Puppen verkaufen werdet, sowie die Adresse eurer Internetseite und eures Webshops, wenn vorhanden

- eure E-Mail-Adresse für den Versand der Lizenz

Nach Zahlungseingang bekommt ihr eure Lizenz an eure persönliche E-Mail-Adresse geschickt. Bitte beachtet, dass Bestellungen vom Wochenende erst Montag Morgen bearbeitet werden.

Zum Öffnen und Lesen der PDF Datei wird das Programm Adobe Reader benötigt, das kostenlos hier heruntergeladen werden kann: http://www.adobe.com/de/products/reader/.
---
---
Nov 22, 2017 by Ilva Seraina Malaer
Dec 30, 2016 by Sarah Berry
Dec 30, 2016 by Sarah Berry
May 29, 2016 by Katherine and Kitty Sanders
Many thanks to Maria for permission to use the dear doll and clothing patterns!
Dec 4, 2015 by Shawn Hamilton
---
More from this seller
---
Shipping & policies
Estimated Shipping
siehe Allgemeine Vertragsbedingungen


---
Payments
siehe Allgemeine Vertragsbedingungen
---
Returns & exchanges
siehe Allgemeine Vertragsbedingungen
---
Additional policies
LANGUAGE INFORMATION FOR INTERNATIONAL CUSTOMERS

Since Mariengold is based in Germany, the business language is German.

I do speak English and interact in this language with my international customers. But I write my bills in German. Also my general terms and conditions are in German. If you have any questions, don't hesitate to ask – I will gladly inform you about my terms and conditions in English.

hello@mariengold.net