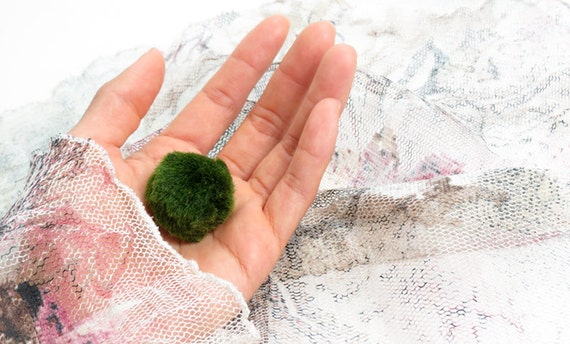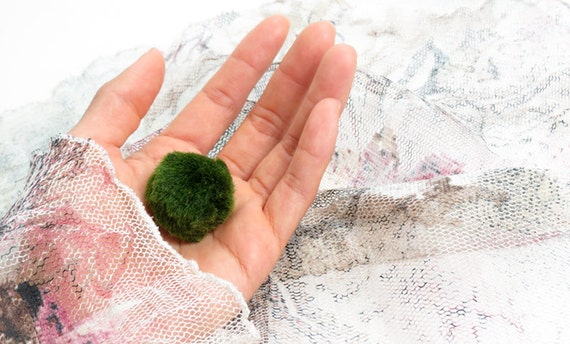 Preparation takes 1-3 business days
Arrives from the United States
---
Item details
If you already have a glass container you like at home, all you need is a Marimo (or a family of them) to give the decor some life! ;) What is a Marimo? Please read on...

I am a Marimo Ball! My ancestors lived in the Akan Lake in Japan, and they relied on the water current to push them around. People commonly refer to us as Moss Balls, and scientists refer to us as Cladophora Aegagropila. We're made of algae, and we're fuzzy green balls.

Ever since the discovery of my species, Japanese have brought our kind to their offices and homes as pets and for good luck. Best of all, we don't require much care -- just place us anywhere with artificial light, or in non direct sunlight, and change out the water every now and then. Oh! And don't forget to poke at me sometimes to turn me around then I will be happy.

You can also learn more about Marimos from my videos:
http://youtu.be/tk4KgGBzwlE
http://youtu.be/pIdWEaXfHWE
http://youtu.be/uaaBtJZjieo
http://youtu.be/bO--WOGo4o4

***This listing is for 1 Marimo by itself. The Marimo you receive will be approx 1" diameter. Once in water it will magnify and look bigger than it is!

*********** I GUARANTEE your precious Marimos will arrive safe and sound with my special way of packaging. :) *************

*************TO MY CANADIAN FRIENDS***********
Please allow up to 2 weeks for your Marimos to arrive due to customs. Thank You!


•:*¨¨*:•..•:*¨¨*:•..•:*¨¨*:•..•:*¨¨*:•..•:*¨¨*:•..•:*¨¨*:• .•:*¨¨*:•.•:*¨¨*:•

See what my lovely customers say about their Marimos!

Madrigallia says:
"My marimo shipped incredibly fast, and was packaged amazingly! There's no way anything could happen to it in transit :) Very happy with my healthy marimo."

Kate Doonan (margreymatter) says:
"I am extremely pleased with this purchase. At first I was worried because the shipping was taking a little bit long and I did not want the marimo to arrive dead. The packaging was excellent though, keeping the marimo nice and moist and preventing it from getting crushed. The package was marked fragile, so maybe that accounts for the slower shipping time. Well worth it! It is very healthy and I would definitely recommend this seller if you would like a marimo."

Masterreana says:
"Just got this little one in the mail today. It's so cute I could almost die of it, and very easy to manage so far. I love the casual playfulness of walking past it's little bowl and then shuffling back to stir it around a bit and give it a pet. So far, it's managed to charm my nieces, both of my parents, my sister, and slowly it is cracking the hardened exterior of my brother-in-law. :D Shipping was fast, communicating w/ Wendi is super smooth, and the resulting companion is more than perfect."

Kelly Tor (Dashieldog) says:
"Wendi has the coolest products!! My kids and I love our Marimo Aquarium. A + seller. I would not hesitate to make another purchase."

Keri Brown (kerisluckycharms) says:
"My sister loved this! I bought it as a birthday gift for her. She was so excited! It is very unique!!!! Everything arrived in perfect condition. I gave my browsed around on youtube for links on Marimo and found your shop! I am pleased over all with my experience and would recommend you to friends! Thank you so much for the speedy delivery too! Keri"

Marissa Dembkoski (metromarissa) says:
"I bought this for my mother who has a pretty stressful job. At first she thought it was the weirdest thing for me to buy her but she loves playing around with it and is a huge conversation piece with her coworkers! She named it Memo, after Nemo but put a M in instead since it's a Marimo!"

Susan (jeffandsuz) says:
"Wendi is incredible to communicate with and I just love, love, love my Marimos! Thank you for everything Wendi! I have no doubt that I will be visiting your store again very soon."

Isabela Rougeux (isabelarougeux) says:
"The Marimo was exactly how I pictured it. It came speedy and with extra care to protect it from the cold weather. So great."

Rew (thevagabondtrust) says:
"coolest buy I've ever had on etsy...meticulously packed, great seller. Would come back any day! :)"

Susan Yeargin (susanyeargin) says:
"We LOVE them. They arrived in perfect condition. THANKS WENDI!"

motherlandjewels says:
"I'm so happy I discovered Wendi's shop because Marimo is a great addition to my life! For a seemingly-inanimate object it really does brighten my day! Upkeep is minimal (great for me because I'm not so good with plants...) and I can't wait to grow my collection. I highly recommend Wendi's shop - great products and she's wonderful at answering questions or giving advice :)"
---
---
Apr 6, 2018 by Dylon Williams
"Joey" is doing wonderful and is a great companion to "Billie" our mama Marimo and Sailor Moon our betta.
Apr 4, 2018 by Jacquie M
Feb 3, 2018 by Christine Mckeown
Almost forgot to leave a review. Marino ball shipped quickly, well packed. Named it Bubba.
Dec 12, 2017 by fatluck33
---
More from this seller
---
Shipping & policies
Preparation takes 1-3 business days
Arrives from the United States
Estimated Shipping
I ship through USPS First Class and Priority Mail. Upon request, I am willing to ship through USPS for Express guaranteed delivery, or 1 day arrival.

Generally, after payment has processed, packages are shipped within 3-4 business days, and will arrive within a week about a week. Items that are more sensitive during rough weather will only be shipped on Mondays and Tuesdays. It usually takes 2-3 business days for Priority packages to arrive, and 2-4 business days for First Class packages to arrive.

***Please let me know if you would like your package sooner. If your order is a gift (going to someone else' place) please let me know if you would like to exclude the invoice. I will be more than happy to meet your needs! :)
---
Payments
I accept payments from Paypal and Etsy direct checkout. If payment is not received within 3 days I will send out a convo to follow-up. If I do not receive a response within 2 days I will have to cancel your order.
---
Returns & exchanges
If anything is damaged, or broken upon arrival, please let me know and I will be happy to replace. I always do my best to make my customers happy so don't be shy to convo me for anything. If I am a bit delay on replying, forgive me. It can get hectic to be a one person store, but I promise to reply at my earliest convenience!
---
Additional policies
PLEASE READ
Since I work with live plants I cannot guarantee the exact replica of the terrariums in my store. My plants will vary a bit in shape, size, and color. If there is anything specific that you need, please let me know and I will do my best to meet your needs.
_________________________

PRODUCTS:

Plants
I take the time to pick out the best plants for you. However, if for any reasons your plant arrives unhappy in any ways I would be glad to send you a replacement.

Glassware
My glassware are handblown, and the naturally occurring bubbles and others are from the blowing process. I only choose the best pieces from my supplier for you to enjoy.

_________________________

QUICK PLANT BREAKDOWNS

Air Plants AKA "Tillandsias"
Generally they require a few misting once or twice a week, or soaking in filtered water once every two weeks. The pink tips on the air plants are caused by brighter indirect sunlight (when placed by a window).

Succulents
They are the funny little plants with thick, juicy leaves. The conserve a lot of water to withstand the drought. That's why minimal watering would still keep them looking healthy.

Cactus AKA "Cactaceae"
Their leaves have evolved into spines. Similar to succulents -- cactuses store water in their bodies to withstand drought.

________________________

LIGHT REQUIREMENTS
Each plant has its own amount of light requirements. If you are hesitant whether which plant will perform best in your space, browse through my "Shop Sections" on the left column for some suggestions. The sections are categorized by the amount of light each plant/decor requires. If you still have questions after browsing through the sections, or if I'm not being clear in any way, convo me! :)

No Light Tolerance
Decors in this section requires no light and maintenance since these decors are dried. They are perfect for spaces that get very minimal or no light. And did I mention that these decors will be perfect for the busy bees!

Low to High Light
Decors in this section can perform in low light to high light levels. Low light is a space that gets minimal lighting such as a room with no windows, or soft lighting. Plants in this section may perform in natural light and fluorescent light perfect for office spaces, cubicles, tables on the corners far away from the windows.

Medium to High Light
Decors in this section can perform in medium light to high light levels. Medium light is a space with window(s) that can provide good light, but are away from the window. I usually don't recommend putting plants on window sill if it faces south/west since the afternoon sun is the hottest thus can burn the plant. Plants look best when they are in bright, but indirect light. If you are planning to place your decor on the window sill, let me know so I can suggest plants that work for your location.

________________________

A LITTLE KNOWLEDGE ON PLANT BENEFITS

Why should we have plants in our homes?
Plants not only provide our living and working environment with abundance of warmth and color, but they also bring some health benefits to us.

As we know the air inside our homes have more pollutants in the air than the outside. Plants naturally have a filter system that can help purify the air by converting carbon dioxide to oxygen bringing us fresher air in our homes!

Plants absorb many toxins that's in the air such as mold, bacteria, fungi, pollen, dust, etc. Having plants in our homes not only make us feel happier, but can help fight allergies.

Why place a cactus in your workspace?
Cactuses can help absorb EMF (Electro Magnetic Field) radiation that electronic devices such as computers, televisions, DVD players, and others output. EMF radiation can cause minor headaches and stress causing you to work unease. The spines on the cactus attract charged ions in the air, and change the conversion of ion levels in a room.