BIRDS-13-bw Collection of 203 black-and-white vintage pictures digital download printable animal illustrations nuthatch dipper pipit shrike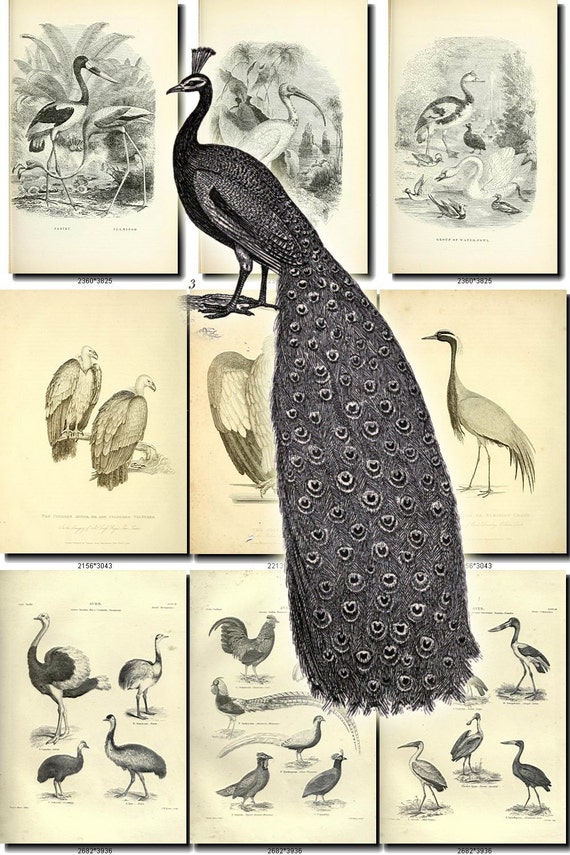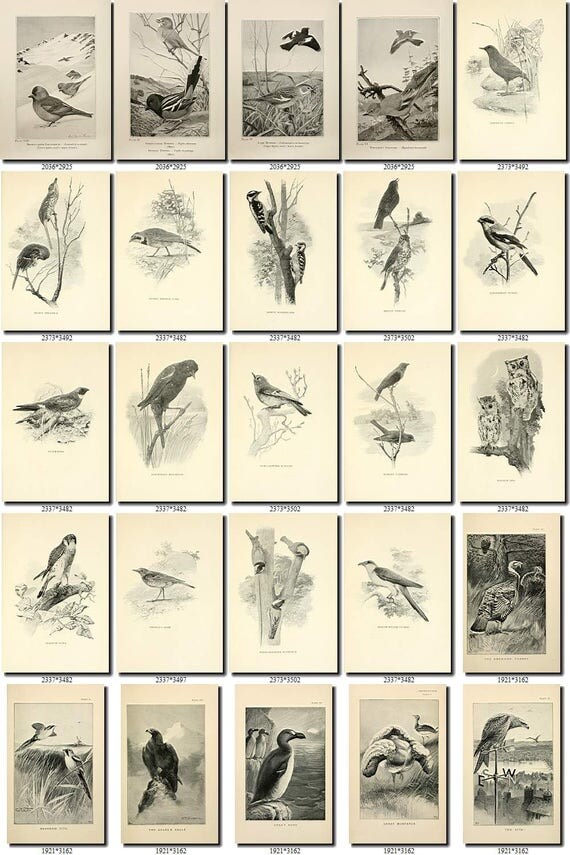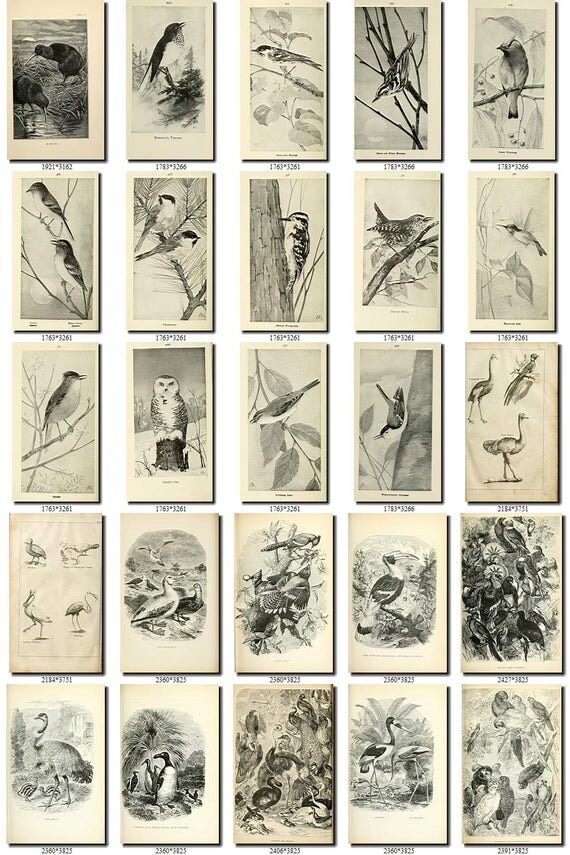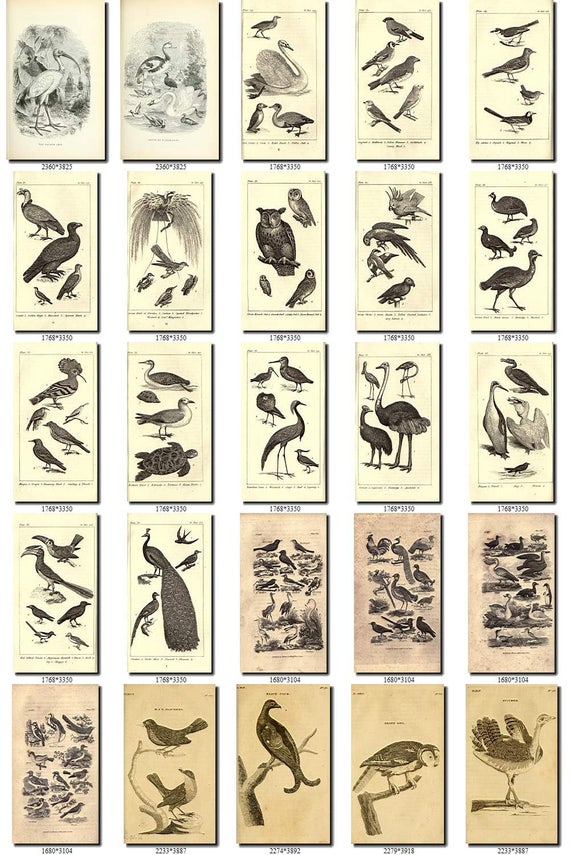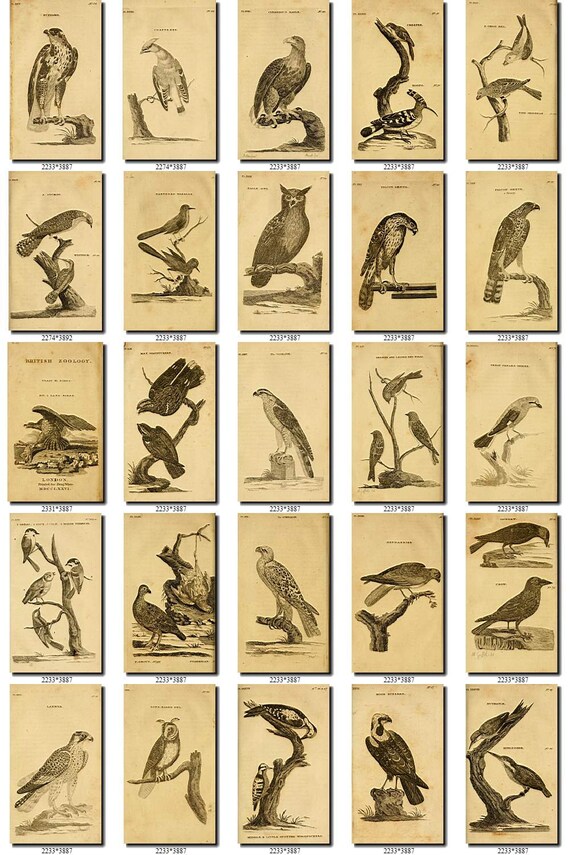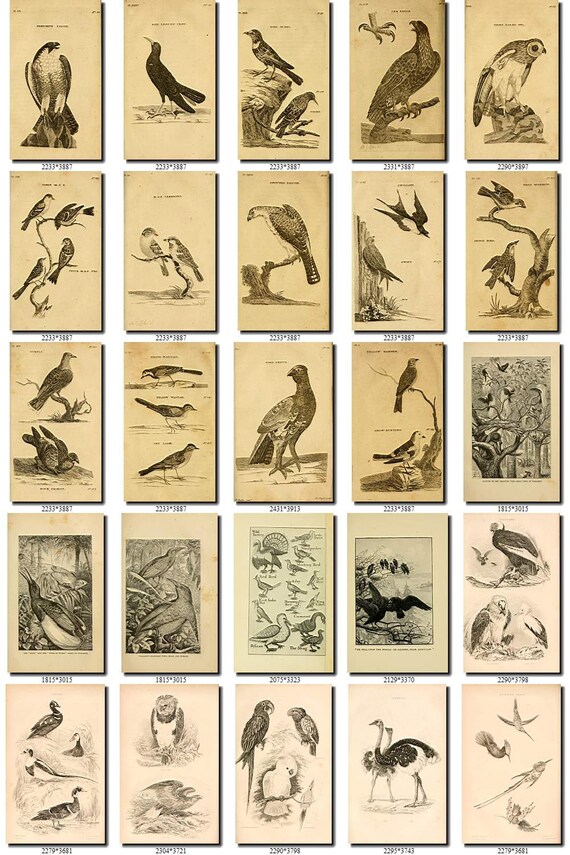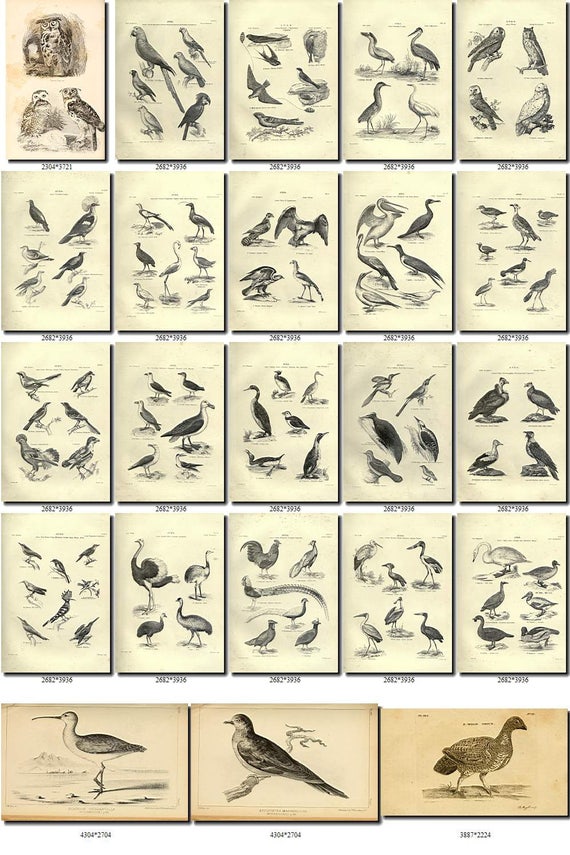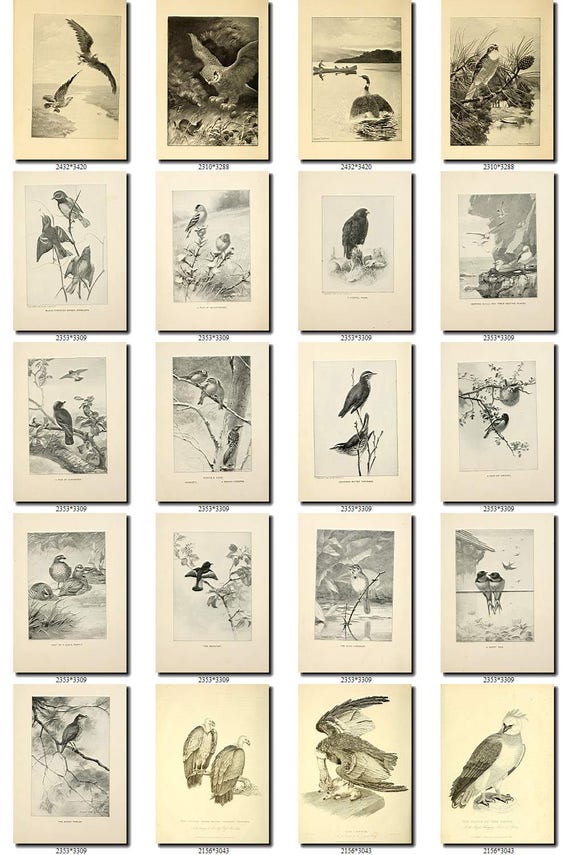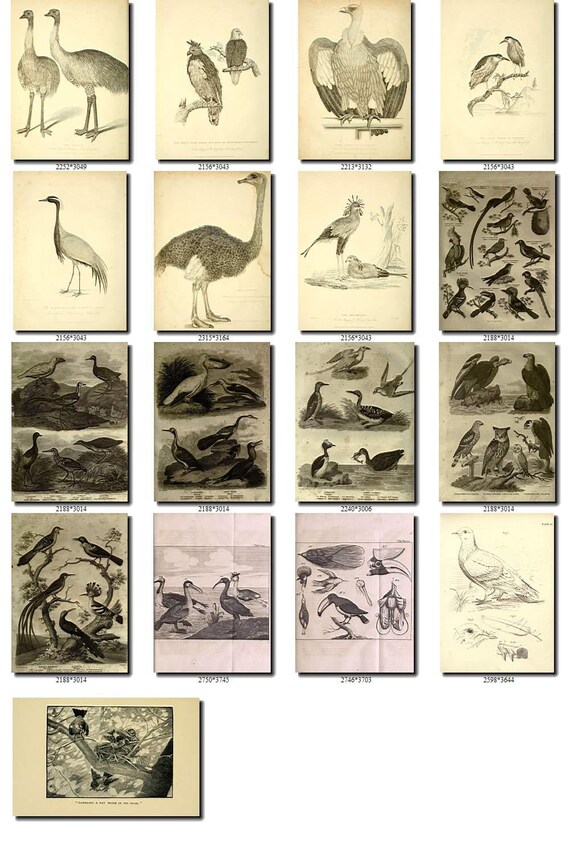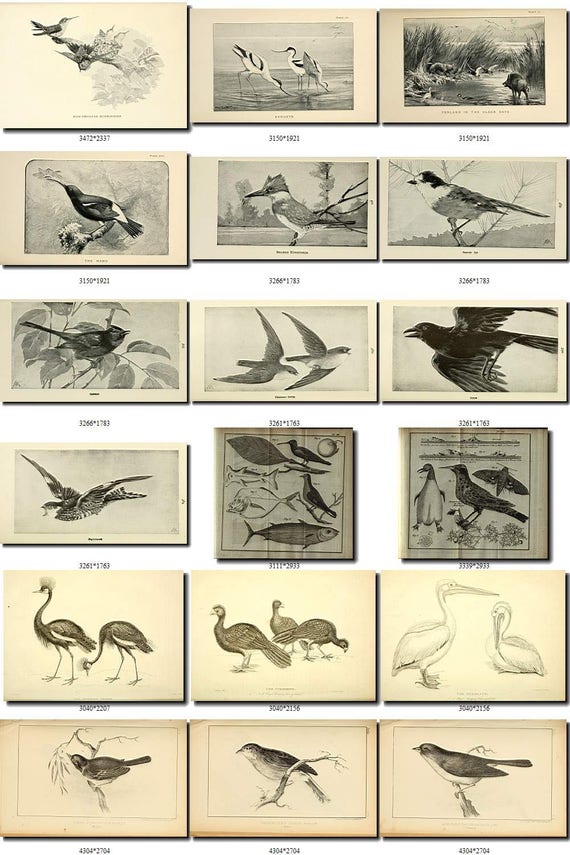 ---
Features
---
Item details
artscult.com - all images from artvintages.com

Instant digital download of 203 black-and-white vintage pictures of birds in high resolution (300dpi, sizes from 1600x3100 px to 4300x2700 px). Look at pictures to see sizes in pixels (click "Zoom", divide size in pixels on 300 - you'll get size of print in inches with high quality, ex. 2400/300=8''). Total size of the collection is 395 Mb.

Each file has a name of shown bird (ex. "Sedge warbler.jpg"). Names of shown birds are listed below, at the end of description.

All images are in JPG format, separate files. Perfect for use in crafting, decoupage, collage, altered art, prints, etc. Images are in public domain in USA and may be used for any personal or commercial purposes. Information about source books is included.

Look at my other black-and-white BIRDS collections:
https://www.etsy.com/shop/ArtVintages/search?search_query=black-and-white+birds
or color BIRDS collections:
https://www.etsy.com/shop/ArtVintages?section_id=13682371

All-in-one BIRDS collections:
https://www.etsy.com/shop/ArtVintages/search?search_query=all+birds

DISCOUNTS:
Save money - Use coupons shown here:
https://www.etsystudio.com/listing/168468869/

SHIPPING DETAILS:
Digital download (TXT file with link on file in zip format on dropbox and google drive, and gallery view). Before purchase, please, make sure that you are able to download large size files. Download may take long time some cases.

NAMES of shown birds:
Abyssinian Pigeon, Albatrosses, Alexandrine Parrakeet, American Dipper, American Turkey, Amherst's Pheasant, Angola Yellow Parrakett, Antillean Crested Hummingbird, Arrowhead Piculet, Ash Coloured Vultures, Avocets, Bald Fronted Pigeon, Bald or Whtie-Headed Sea-Eagle, Baltimore Oriole, Banded Broadbill, Banded Tanager, Barards Haladrome, Bearded Tits, Bearded Vulture, Bee-Eater, Belted Kingfisher, Bicknell's Thrush, Bird of Paradise, Bittern Great Egret, Black and White Warbler, Black Bellied Darter, Black Cock, Black Grouse, Black Skimmer, Black Swift, Black Throated Grebe, Blackbacked Gull, Blackbird, Black-Capped Vireo, Black-Poll Warbler, Black-Throated Green Warblers, Blue Jays, Blue Titmouse, Boat Bill, Booby Pelican, Booted Buzzard, Borad Crested Cockatoo, Brazen Winged Courser, Broadbilled Prion, Brown Creeper, Brown Owl, Brown Thrasher, Brown-Capped Leucosticte, Bullfinch, Bustard, Buzzard, Canada Jay, Canary Bird, Cape Bee Eater, Carunculated Pigeon, Cassins Finch, Cassowary, Catbird, Cedar Waxwing, Chatterer, Chebec, Chesnut Jacana, Chickadees, Chimney Swallow, Chimney Swifts, Chinese Diver, Chinese Jacana, Cinereous Eagle, Cock, Cockatoo, Cole Titmouse, Collared Pratincole, Common Falcon, Common Heron, Common Hoopoe, Common Kingfisher, Common Pelican, Common Thick Knee, Common Tropic Bird, Concave Hornbill, Condor of Magellan, Condor, Coot, Cormorant, Corn Craike, Coromanded Erody, Crane, Creeper, Crested Cock, Crested Parrakeet, Crossbill, Crow, Crowned Cranes, Crowned Cryptonix, Crowned Pigeon, Cuckoo, Curassows, Dark-Eyed Junco (Gray-Headed), Dartford Warbler, Delalande's Hummingbird, Desert Horned Lark, Dove, Downy Woodpecker, Duck, Eagle of The Andes, Eagle Owl, East India Bat, Egyptian Vulture, Eider Duck, Emeu, Esculent Swallow, European Goat Sucker, Falcon Gentil, Fish-Hawk, Flamingo, Flycatcher, Freycinets Mankirio, Frigat Pelican, Garnett, Giant Kingfisher, Goatsucker, Gold Breasted Trumpeter, Golden Crested Wren, Golden Eagle, Golden Oriole, Golden Plover, Goldfinch, Goosander, Goose, Goshawk, Great Auk, Great Bird of Paradise, Great Black Woodpecker, Great Bustard, Great Cinereous Shrike, Great Frigate-Bird, Great Happy Eagle, Great Horned Owl, Great Jacamar, Great Northern Diver or Loon, Great Shrike, Great Titmouse, Greated and Lesser Red Polls, Green Macaw, Green Toucan, Green-Tailed Towhee, Grey Parrot, Grey Sandpiper, Grey Small-Tongued Parrot, Griffin Vulture, Grouse, Guinea Fowl, Gull, Gyrfalcon, Harlequin Duck, Harpy Eagle, Hartie's Petrel, Hawk, Henharrier, Hermit Thrush, Heron, Herring Gulls, Hobby, Honey-Eater, Hoopoe, Horned Grebe, Horned Owl, Horned Screamer, House Martin, House Wren, Hummingbird, Imperial Parrot, Indian Pave, Indian Sparrow, Jabiru, Jackdow, Jay, Killdeer, King Bird of Paradise, King Vulture, Kingbirds, Kingfisher, Kinglets, Kite, Kittiwake, Kiwis, Knorhaan, Land Rail, Lanner, Lapwing, Lark Bunting, Le Vaillants Darter, Least Humming Bird, Linnet, Little Owl, Lobated Duck, Loggerhead Shrike, Long Eared Owl, Long-Billed Curlew (Northern), Long-Eared Owl, Long-Nosed Cockatoo, Long-Tailed Dove, Long-Tailed Duck, Long-Tailed Jacamar, Louisiana Water Thrushes, Magpie, Mamo, Marbled Diver, Marcarave's Cariama, Marsh Titmouse, Middle and Little Spotted Woodpeckers, Milky Tantalus, Mocking Bird, Mocking-Bird, Monk Vulture, Moor Buzzard, Nandu, Nepaul Horned Pheasant, New Holland Pigoen Goose, New Zealand Bee Eater, Night Heron of Tartary, Nighthawk, Nightingale, Northern Diver, Numidian Crane, Nuthatch, Orange Rock Cock, Orioles, Ostrich, Parrot, Parrots, Partridge, Patagonian Penguin, Peacock, Pelican, Penduline Titmouse, Penguin, Peregrine Falcon, Peruvian Sheartail, Petrel, Pheasant, Phoebe, Pied Oyster Catcher, Pigeon, Pileated Parrot, Pine Grosbeak, Prince Maximilian's Macaw, Ptarmigan, Puffin Auk, Puffin, Purple-Throated Carib, Quail, Raven, Razor-Bills, Red Bellied Toucanm Abyssinian Hornbill, Red Billed Hoopoe, Red Bird, Red Flamingo, Red Legged Crow, Redbreast, Reddish Hermit, Redstart, Red-Tailed Tropic Bird, Red-Tailed Tropic-Bird, Red-Winged Blackbird, Ring Ouzel, Rock Pigeon, Rook, Roseate Spoonbill, Rough Billed Pelican, Ruby-Crowned Kinglet, Ruby-Throated Hummingbird, Ruff, Sacred Ibis, Scarlet Maccaw, Scarlet Tanager, Screech Owl, Sea Eagle, Secretary, Sedge Bird, Senegal Coot-Grebe, Senegal Jabiru, Shag, Short Eared Owl, Short Horned Owl, Shoveller, Siskin, Skylark, Small Owl, Snake Eater, Snipe, Snowy Owl, Song Sparrow, Sonnerats Cock, Southern Three-Toed Woodpecker, Sparrow Hawk, Sparrow, Spoonbill, Spotted Falcon, Spotted Flycatcher, Spotted Shag, Spotted Woodpecker, Sprague's Pipit, Stark, Starling, Stock-Dove, Stork, Streaked Xenops, Sultana-Bird, Summer Duck, Swallow, Swan, Swift, Thrush, Towhen Bunting, Townsend's Solitaire, Tree Sparrow, Tufted Umbre, Turkey, Turtle Dove, Twelve Wired Bird of Paradise, Twite, Ural Duck, Variegated Rail, Virginian Eagle Owl, Wagtail, Wallace's Standard Wng, Wallcreeper, Warbling Vireo, Water Hen, Water-Fowl, Wattled Bee Eater, Whidaw Bunting, White Gannet, White Owl, White Sheath Bill, White Sheathbill, White Stork, White Wagtail, White-Breasted Nuthatch, Whiteheaded Pigeon, White-Throated Sparrow, Whtie-Breasted Nuthatch, Wild Goose, Wild Swan, Wild Turkey, Wondering Albatross, Wood Grouse, Wood Pewee, Wood Thrush, Woodcock, Woodpecker, Wren, Wryneck, Yellow Crested Cockatoo, Yellow Hammer, Yellow Wagtail, Yellow-Billed Cuckoo.
---
---
More from this seller
---
Digital downloads
---
Payments
PayPal payment only accepted (including payment with a credit card via PayPal without having PayPal account)
---
Returns & exchanges
I gladly accept returns and exchanges
Contact me within:
14 days of delivery
Ship items back within:
30 days of delivery
I don't accept cancellations
But please contact me if you have any problems with your order.
The following items can't be returned or exchanged
Because of the nature of these items, unless they arrive damaged or defective, I can't accept returns for:
Custom or personalized orders
Perishable products (like food or flowers)
Digital downloads
Intimate items (for health/hygiene reasons)
Conditions of return
Buyers are responsible for return shipping costs. If the item is not returned in its original condition, the buyer is responsible for any loss in value.
Additional return information
Full refund available if you are not satisfied with your item. Please feel free to email me. Thanks
---
Additional policies
Images from my collections are in public domain in the US.