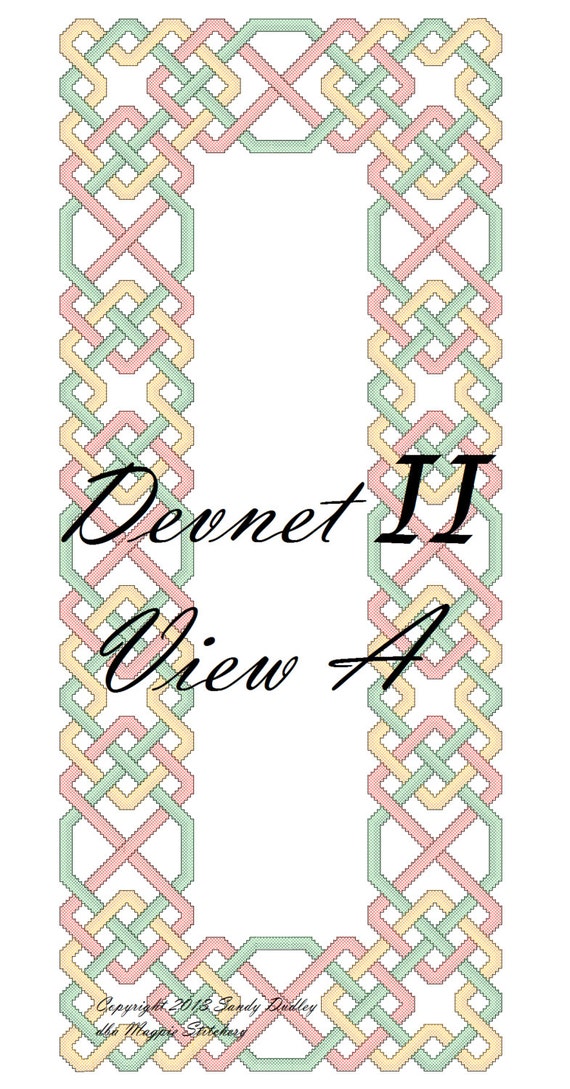 ---
Features
---
Item details
Devnet II View A

Pattern for a 6-ribbon interlaced "Celtic Knotwork" band, drafted as a table runner. Instructions for lengthening are included in the pattern. Easily adaptable as a tablecloth by using the corner and longest side 4 times.

Also contains 'bonus' page of three ends, for use with a single band of interlace, and shading suggestions for the individual "ribbons" of the interlace.

One-quarter of the pattern prints on 8-1/2x11" (or size A4) paper; there are Right and Left halves of the end and center sections. To see the whole pattern, print out 2 each, Right and Left quarter of your chosen page, trim or fold one of each on the centerline, and tape together. Patterns are hand-drafted and transferred to a computer program for neatness. The designs are shown with and without a pale-gray background grid (2 separate downloadable files) to indicate each individual stitch, and I include marked, color-cued basting lines for aid in counting stitches.

SAMPLE PATTERN: The second picture is a free sample pattern. If you'd like to see how my format works for you before you purchase anything, right-click and print or save it to your computer.

Outside Dimensions: View A: 142 x 338 stitches. The 'band' is a total of 43 stitches wide, woven of six 'ribbons,' each 4 stitches wide. NOTE: This is the same design as "Devnet I" (also available from my store here), only drafted on a larger scale; the individual ribbons for "Devnet I" are 3 stitches wide, for a total band width of 31 stitches. The corners and interlace segments for Devnet II can be interchanged between views, but will *not* interchange with the corners and segments from Devnet I.

Note on the name: The pattern names don't have anything to do with the design. This series will eventually run to a dozen or so patterns, and I need a way to easily tell which one a customer is talking about, so I chose "Devnet" from a list of Irish- and Scots-Gaelic names people had given their dogs and cats.
---
---
More from this seller
---
Digital downloads
---
Returns & exchanges
Digital Patterns: No refunds; no returns, because how do you "return" a digital document?

Printed Patterns: Tell me what's wrong with it; you already have my intellectual property and the product of my work, so I'd prefer to send you a re-print rather than a refund.

Existing Physical Objects:
---
Additional policies
Copyright and Permission-to-Use:

The finished indvidual handmade product(s) may be displayed (including electronically), used, sold, given away, raffled off, and/or entered in competitions. There is no time limit on your use of any pattern you have purchased from me, nor on the number of times you may use it, or the number of items you may make from it.

Patterns and instructions are copyright Sandy Dudley dba Magpie Stitchery, 2010-present. You may not re-sell, post, re-publish or otherwise transfer these patterns. Exception: If you have purchased a pattern as a gift, of course you may transfer it, electronically or printed out, to the person to whom you're making the gift. You may not keep a copy, unless you've purchased 2 copies. (I've put a lot of work into them.)

Use in a class or group project: I want to keep track of this kind of use; contact me for permission, or for a special group price if you're charging for the class.

Custom Orders:

It doesn't hurt to ask, and e-mail is free. If it's beyond my capabilities, I'll tell you!

Your Finished Work:

I'm always happy to see what people have done with my patterns (and proud that somebody has felt my pattern is worth stitching!). I respect your privacy - I will not repost your photos, and will only post a link to your work, on your blog/website, if you specifically give me permission.