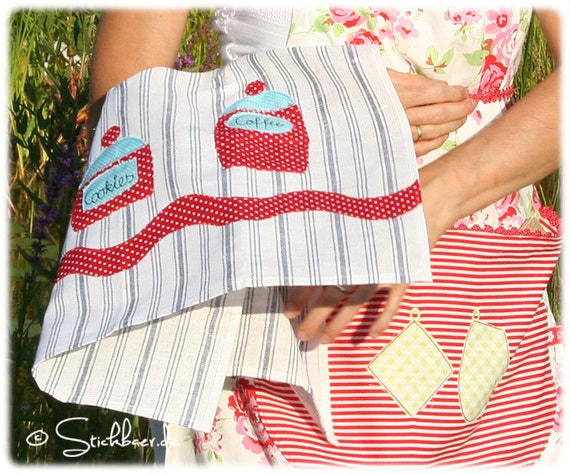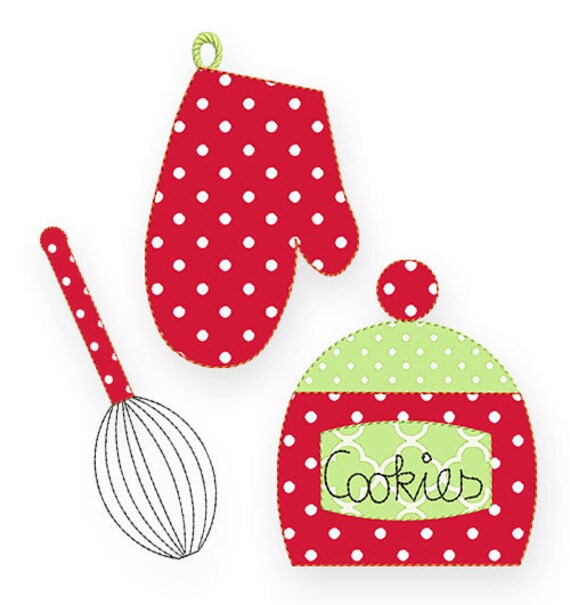 ---
Features
Made in Nuremberg, Germany
---
Item details
In our shop you will find unique and high quality embroidery files.

The instant download will be activated after the payment has cleared.

In the ZIP folder you will find the following formats: ART, pes, jef, vp3 and hus. Should you need another format, please convo me.

Many more embroidery files and in the hoop projects can be found on our website: www.stickbaer.de
Click on the flag on the top right corner to change the language (in case that the website opens in German).

----------------------------------------------

Vintage Kitchen 5x7"

You will love these appliques. They are just made for nostalgic decorations in a vintage style kitchen, for oven gloves, pinny, dish towel, curtains, ...

And they are embroidered fast and easy. So you wish you would embroider them all. They are done without selvedge. Let them look frayed, this emphasizes the vintage style.
---
---
More from this seller
---
Digital downloads
---
Payments
AGB - Allgemeine Geschäftsbedingungen

1. Allgemeines
Nachstehende Allgemeine Geschäftsbedingungen gelten für alle Verträge, Lieferungen und sonstige Leistungen. Abweichenden Vorschriften des Vertragspartners widersprechen wir hiermit ausdrücklich. Alle Nebenabreden bedürfen der schriftlichen Bestätigung unsererseits.
Die Geschäftsführung ist jederzeit berechtigt, diese Allgemeinen Geschäftsbedingungen einschließlich aller eventuellen Anlagen mit einer angemessenen Kündigungsfrist zu ändern oder zu ergänzen. Vorher eingehende Aufträge werden nach den dann noch gültigen alten Allgemeinen Geschäftsbedingungen bearbeitet.

2. Angebot
Unsere Angebote sind unverbindlich und gelten nur solange der Vorrat reicht. Kleine Abweichungen und technische Änderungen gegenüber unseren Abbildungen oder Beschreibungen sind möglich.

3. Bestellung
Sie können bestellen per:
a. per E-Mail an: shop@stickbaer.de
b. Brief an: Jörg Hobrlant, Am Burgstall 21, 90602 Pyrbaum-Pruppach
c. mit der Abgabe des Höchstgebotes auf einen angebotenen Artikel bei eBay
d. telefonisch unter 09180-909813

4. Lieferung und Zahlung
Bestellte Ware ist im Voraus zu bezahlen. Bei Auftragsarbeiten ist die komplette Summe ebenfalls im Voraus zu entrichten.
Es wird nicht per Nachnahme versendet. Es gibt keinen Mindestbestellwert.

Für Stickdateien und Ebooks, die als ZIP-File per Email bzw. Download versendet werden, fallen KEINE Versandkosten an

5. Rechnung und Preise
Mit jeder Bestellung erhalten Sie eine Rechnung mit ausgewiesener Mehrwertsteuer.

Es gelten die Preise zum Zeitpunkt der Bestellung, wie sie auf den Internetseiten dargestellt wurden.
Die Preise verstehen sich inklusive Mehrwertsteuer ohne Kosten für Verpackung und Versand.

6. Lieferzeiten
Ware, welche verfügbar ist, wird grundsätzlich innerhalb von 2 Werktagen nach Erhalt der Bestellung, bzw. bei Vorkasse innerhalb von 2 Werktagen nach Zahlungseingang, versandt. Wird die Ware erst angefertigt, bekommen Sie vor der verbindlichen Bestellung einen Lieferzeitpunkt genannt.

7. Rückgaberecht
Wir garantieren für nicht benutzte Ware ein Rückgaberecht innerhalb von 1 Monat. Die Rückgabefrist wird gewahrt durch das fristgerechte Absenden der Ware (Rechnungsdatum). Ausgenommen sind auf speziellen Kundenwunsch angefertigte Artikel und Stickdateien.

8. Gefahrübergang
Die Gefahr geht mit Ankunft beim Käufer auf diesen über.

9. Gewährleistung
Die gesetzliche Gewährleistungsfrist beträgt 2 Jahre und beginnt mit der Waren-Übergabe. In dieser Zeit werden alle Mängel, die der gesetzlichen Gewährleistungspflicht unterliegen, völlig kostenlos behoben. Ihre Gewährleistungsansprüche sind zunächst auf Nacherfüllung beschränkt. Bei Fehlschlagen der Nacherfüllung haben Sie nach Ihrer Wahl einen Anspruch auf Minderung des Kaufpreises oder Rücktritt vom Kaufvertrag.

Im Gewährleistungsfall wenden Sie sich bitte schriftlich an
shop@stickbaer.de
Oder schriftlich an: Jörg Hobrlant, Am Burgstall 21, 90602 Pyrbaum-Pruppach

Ausgenommen von der Gewährleistung sind Schäden, die auf natürlichen Verschleiß, auf unsachgemäßen Gebrauch und auf mangelnde oder falsche Pflege zurückzuführen sind.

Sollten gelieferte Artikel offensichtliche Material- oder Herstellungsfehler aufweisen, wozu auch Transportschäden zählen, so reklamieren Sie bitte solche Fehler sofort gegenüber uns oder dem Mitarbeiter von Hermes, der Post, DPD, Spedition etc., der die Artikel anliefert.

10. Eigentumsvorbehalt
Bis zur vollständigen Bezahlung bleibt die Ware unser Eigentum.

11. Datenspeicherung
Gemäß § 28 des Bundesdatenschutzgesetzes (BDSG) machen wir darauf aufmerksam, dass die im Rahmen der Geschäftsabwicklung notwendigen Daten mittels einer EDV-Anlage gemäß § 33 (BDSG) verarbeitet und gespeichert werden. Persönliche Daten werden selbstverständlich vertraulich behandelt.
---
Returns & exchanges
Widerrufsbelehrung für den Verbraucher

Widerrufsrecht

Sie können Ihre Vertragserklärung innerhalb von 14 Tagen ohne Angabe von Gründen in Textform (z. B. Brief, Fax, E-Mail) oder - wenn Ihnen die Sache vor Fristablauf überlassen wird - durch Rücksendung der Sache widerrufen. Die Frist beginnt nach Erhalt dieser Belehrung in Textform, jedoch nicht vor Eingang der Ware beim Empfänger (bei der wiederkehrenden Lieferung gleichartiger Waren nicht vor dem Eingang der ersten Teillieferung) und auch nicht vor Erfüllung unserer Informationspflichten gemäß Artikel 246 § 2 in Verbindung mit § 1 Abs. 1 und 2 EGBGB sowie unserer Pflichten gemäß § 312e Abs. 1 Satz 1 BGB in Verbindung mit Artikel 246 § 3 EGBGB. Zur Wahrung der Widerrufsfrist genügt die rechtzeitige Absendung des Widerrufs oder der Sache.

Der Widerruf ist zu richten an:

Stickbär
Jörg Hobrlant
Am Burgstall 21
90602 Pyrbaum
Fax: 09180-909814
Emial: shop@stickbaer.de

Widerrufsfolgen

Im Falle eines wirksamen Widerrufs sind die beiderseits empfangenen Leistungen zurückzugewähren und ggf. gezogene Nutzungen (z. B. Zinsen) herauszugeben. Können Sie uns die empfangene Leistung ganz oder teilweise nicht oder nur in verschlechtertem Zustand zurückgewähren, müssen Sie uns insoweit ggf. Wertersatz leisten. Bei der Überlassung von Sachen gilt dies nicht, wenn die Verschlechterung der Sache ausschließlich auf deren Prüfung - wie sie Ihnen etwa im Ladengeschäft möglich gewesen wäre - zurückzuführen ist. Im Übrigen können Sie die Pflicht zum Wertersatz für eine durch die bestimmungsgemäße Ingebrauchnahme der Sache entstandene Verschlechterung vermeiden, indem Sie die Sache nicht wie Ihr Eigentum in Gebrauch nehmen und alles unterlassen, was deren Wert beeinträchtigt. Paketversandfähige Sachen sind auf unsere Gefahr zurückzusenden. Sie haben die Kosten der Rücksendung zu tragen, wenn die gelieferte Ware der bestellten entspricht und wenn der Preis der zurückzusendenden Sache einen Betrag von 40 Euro nicht übersteigt oder wenn Sie bei einem höheren Preis der Sache zum Zeitpunkt des Widerrufs noch nicht die Gegenleistung oder eine vertraglich vereinbarte Teilzahlung erbracht haben. Anderenfalls ist die Rücksendung für Sie kostenfrei. Nicht paketversandfähige Sachen werden bei Ihnen abgeholt. Verpflichtungen zur Erstattung von Zahlungen müssen innerhalb von 30 Tagen erfüllt werden. Die Frist beginnt für Sie mit der Absendung Ihrer Widerrufserklärung oder der Sache, für uns mit deren Empfang.

Ausschluss des Widerrufsrechts

Das Widerrufsrecht besteht

nicht bei Fernabsatzverträgen zur Lieferung von Audio- oder Videoaufzeichnungen oder von Software, sofern die gelieferten Datenträger von Ihnen entsiegelt worden sind.

Ende der Widerrufsbelehrung
---
Additional policies
Terms of use

You are allowed

• to sell items embroidered with my designs and files (also for commercial purpose)
• to sell items embroidered after my ebooks
• to give away for free such items
• if you like to sell your items I would ask you for a short notice if it is more then 10 pieces (most probably I will grant this)
• to resize the designs; please adopt the stitch density and keep in mind that I can guarantee my high quality only for the original files

In all above cases when you are selling by internet I kindly ask you to place a note saying "Design by Stickbaer.de".

You are not allowed

• to sell my designs and files, even partly
• to make copies for giving away my designs for free
• to make changes to my designs and mark them as your own work.

The content of this web site including all images and text is also protected.

All designs are digitized by ourselves. Der Stickbaer have the full copyright on every piece sold here. Der Stickbaer is a registered text and image mark.