Telephone Glass Insulators Painting Patterns collection of 13 different patterns instant download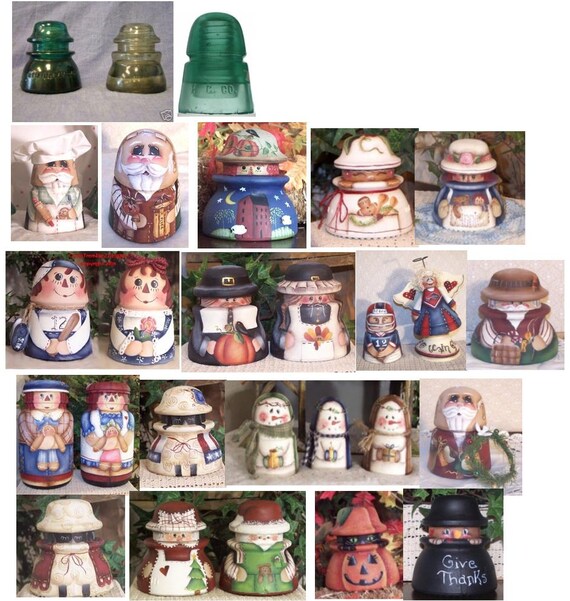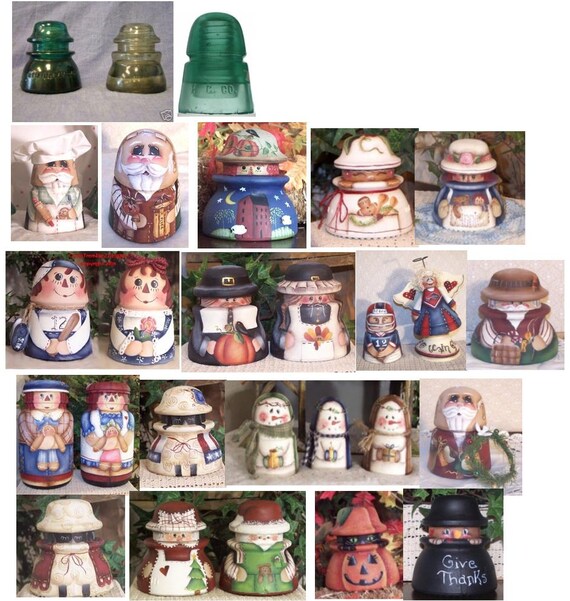 ---
Features
---
Item details
This Collection of patterns is full of cute insulator patterns. There are 15 patterns in all.
and a total of 18 different designs.
In the files are close-up pictures of each insulator pattern.
I also have given you a couple of patterns that are not on insulators.
Two are on jars and the other pattern is a wooden wobble angel. The pattern
does give you the place where you can order her to paint on.

Instructions for all designs shown and some not shown.
The instructions are in PDF format, so all you have to do is click on them to open them,
find the print button at the top and print them all out.

The pattern drawings are included right in the pattern instructions.
This is not a video- just lots and lots of pattern instructions on here and pictures.
You can print them out as you use them and still always have a copy of them if you lose the instructions.

Here are the titles of the patterns
1. Thanks giving Pilgirm Insulators
2.Mrs. and Mrs. Santa Clause Insulators
3.Santa Baker Insulator
4 Fishing man Santa Insulator
5. Gingerbread Insulator
6. Annie Insulator 1 and 2
7. Cat in the Pumpkin
8. Sheep insulators 1 and 2
9.Baseball Ann and Andy Insulators
10. Football Insulator
11.The Three Wise snowmen Insulators
12.Father Christmas Insulator
13. Give Thanks Turkey Insulator, in with the Pilgrim couple Insulator Pattern.

Extra patterns
Ann and Andy Jars
Cheerleader Wobble Angel

I am often asked where you can find these glass insulators.
You can find them for sale on ebay and also at garage sales and antique shops.
The ones I used for these patterns are the inexpensive insulators, not the expensive
collectable insulators

The zip folder will be available for download as soon as your payment is received.