Special Buy 50 Of My Best Machine Embroidery Font Sets for the Crazy Low Price of 9.99 in PES
(705)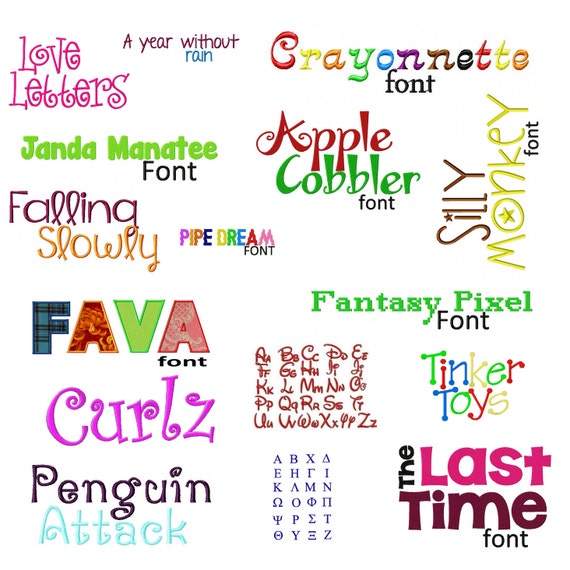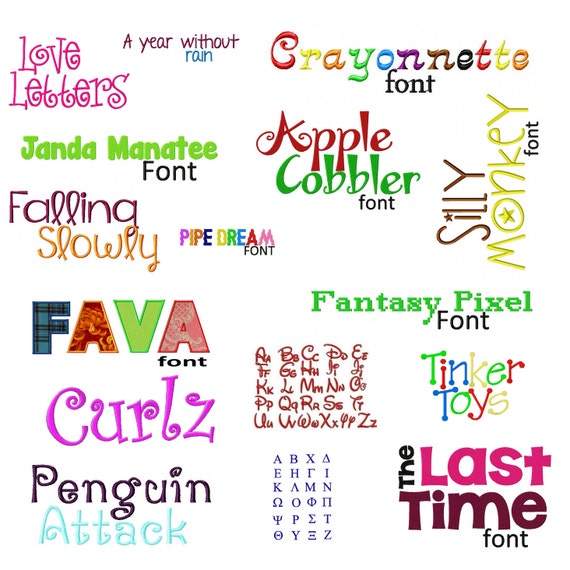 ---
Features
---
Item details
This listing is for the Designs in PES. If you need a different format check my store for listings for other formats.

Instant Download!!

This is one incredible deal that anyone who owns an embroidery machine will not want to miss!!

For A VERY Limited Time Get 50 Amazing Fonts for One Insanely Low Price!!

If you bought these fonts at the normal already low price of $2.99 all them together would cost $149.50. Today you can get All 50 for ONLY 9.99

Save time, money and hassle by purchasing this all in one monogramming font bundle! Never before has there been a collection of machine embroidery fonts that include so many styles, sizes and characters. This bundle is special limited time special offer that includes 8 different applique fonts! Having an amazing assortment of fonts at your disposal is a great way to create customized sayings as well as personalized monograming. However you utilize your embroidery machine; making gifts, personal use or a home business, 50 different fonts in your arsenal is a way to super charge any library. Buy this amazing set today!

Act Today! Purchase Now and Get Immediate Access to All 50 Fonts Listed Below!!

**files sent via electronic delivery. you will receive an email link after purchase. You may also create an account during check and login after payment to download.

You will receive an email from Etsy with download links. If you do not receive the email or can not find it you can log into your Etsy account and go to "Your Account" and then "Purchase" to find download links.

Please know you are buying a digital file for use in embroidery machines and machine embroidery software. If you are unsure what you are buying please ask me.

1. A Year Without Rain Sizes: .5" 1" & 2" Includes Uppercase Lowercase Numbers & Punctuation
2 Apple Cobbler Sizes: 1", 2" & 3" Includes Uppercase Lowercase Numbers & Punctuation
3. Applique Block City Sizes: 3", 4" & 5" Includes Uppercase & Numbers
4. Big Sis Sizes: 1", 1.5" & 2" Includes Uppercase Lowercase Numbers & Punctuation
5. Blue Kids on Scooters Sizes: .5", 1" & 2" Includes Uppercase Lowercase Numbers &Punctuation
6. Comic College Applique Sizes: 3", 4" & 5" Uppercase & Numbers
7. Crayonnette Sizes: 1", 2" & 3" Includes Uppercase Lowercase Numbers & Punctuation
8. Curly Girl Sizes: 1", 2" & 3" Includes Uppercase Lowercase Numbers & Punctuation
9. Curly Girl Dots Sizes: 2", 2.5" & 3" Includes Uppercase
10. Curlz Sizes 1", 1.5" & 2" Includes Uppercase Lowercase Numbers & Punctuation
11. Curlz Applique Sizes 4" Includes Uppercase
12. Disney Font Sizes: 1", 2", 3" & 4" Includes Uppercase Lowercase Numbers & Punctuation
13. Falling Slowly Sizes: 1", 2" & 3" Includes Uppercase Lowercase Numbers & Punctuation
14. Fantasy Pixel Sizes: 1", 2" & 3" Includes Uppercase Lowercase Numbers & Punctuation
15. Fat Dolphin Applique Sizes: 3", 4" & 5" Includes Uppercase & Numbers
16. Fava Applique Sizes: 3", 4" & 5" Includes Uppercase & Numbers
17. Fishtail Sizes: 1", 2" & 3" Includes Uppercase Numbers & Punctuation
18. Flower Font Applique Sizes: 3", 4" & 5" Includes Uppercase & Numbers
19. Forever N Ever Sizes: .75", 1" & 1.5" Includes Uppercase Lowercase Numbers & Punctuation
20. Glamour Script Sizes: .5", 1" & 2" Includes Uppercase Lowercase & Numbers
21. Gold Plated Sizes: 1", 2" & 3" Includes Uppercase Numbers & Punctuation
22. Greek Letters Sizes: .5", 1" & 2" Includes Uppercase & Lowercase
23. Halloween Ooze Sizes: 1", 2" & 3" Includes Uppercase & Numbers
24. Happy Day Sizes: 1", 2" & 3" Includes Uppercase Lowercase Numbers & Punctuation
25. Janda Manatee Sizes: 1", 2" & 3" Includes Uppercase Lowercase Numbers & Punctuation
26. Jane Austin Sizes: .5", 1", 2" & 3" Includes Uppercase Lowercase Numbers & Punctuation
27. Junebug Applique Sizes: 3", 4" & 5" Includes Uppercase & Numbers
28. Kiss the Frog Sizes: .75", 1" & 1.5" Includes Uppercase Numbers & Punctuation
29. The Last Time Applique Sizes: 3", 4" & 5" Includes Uppercase Lowercase Numbers & Punctuation
30. Love Letters Sizes: 1", 2" & 3" Includes Uppercase Lowercase & Numbers
31. Magic Wand Sizes: .5", 1", 2" & 3" Includes Uppercase Lowercase Numbers & Punctuation
32. Manatee Deco Applique Sizes: 3", 4" & 5" Includes Uppercase & Numbers
33. Old English Sizes: 1", 2" & 3" Includes Uppercase Lowercase Numbers & Punctuation
34. Pacifico Sizes: .5", 1" & 2" Includes Uppercase Lowercase Numbers & Punctuation
35. Paul Bunyan Sizes: 1", 2" & 3" Includes Uppercase Numbers & Punctuation
36. Penguin Attack Sizes: 1", 2" & 3" Includes Uppercase Lowercase Numbers & Punctuation
37. Pessoas Lindas Sizes: 1", 2" & 3" Includes Uppercase Lowercase Numbers & Punctuation
38. Pipe Dream Sizes: 1", 2" & 3" Includes Uppercase Punctuation
39. Potter Font Sizes: 1", 2" & 3" Includes Uppercase Lowercase Numbers & Punctuation
40. Quirky Girl Sizes: 1", 2" & 3" Includes Uppercase Lowercase Numbers & Punctuation
41. Retro Bold Sizes: 1", 2" & 3" Includes Uppercase & Lowercase
42. Silly Monkey Sizes: 1", 2" & 3" Includes Uppercase Lowercase Numbers & Punctuation
43. Sky Belt Applique Sizes: 3", 4" & 5" Includes Uppercase Lowercase & Numbers
44. Star Wars Font Sizes: .5", 1" & 2" Includes Uppercase Lowercase & Numbers
45. Super Mario Font Sizes: 1", 1.5" & 2" Includes Uppercase
46. The Frog Sizes: .75", 1", 1.5" & 2" Includes Uppercase Lowercase Numbers & Punctuation
47. The Last time Sizes: 1", 2" & 3" Includes Uppercase Lowercase Numbers & Punctuation
48. Tinker Toy Sizes: 1", 2" & 3" Includes Uppercase Lowercase & Numbers
49. Typewriter Sizes: 1", 2" & 3" Includes Uppercase Lowercase Numbers & Punctuation
50. Veggie Burger Sizes: 1", 2" & 3" Includes Uppercase Lowercase Numbers & Punctuation
---
---
Lots of great fonts. I wish there was a PDF of the names so I could print it out since I don't have a great program to view images. Maybe there is one included and I just didn't see it? There are a lot of cute girly fonts for applique, which I can't wait to make. Thanks!
May 1, 2018 by lisaclown
This is a great value. I used it for the first time with the Curlz Applique and it stitched out perfectly.
Mar 10, 2018 by ann harris
Feb 27, 2018 by Johnna Smith
Sep 4, 2017 by Tracy Culwell
The quality of some are not perfect but it was a great deal.
Aug 21, 2017 by Gina DeMoura
---
More from this seller