Funny Socks - for winter, spring, summer and fall - a collection of four sock patterns by Anita Grahn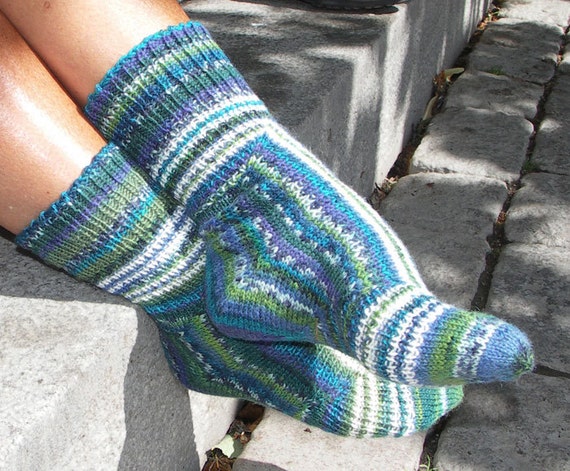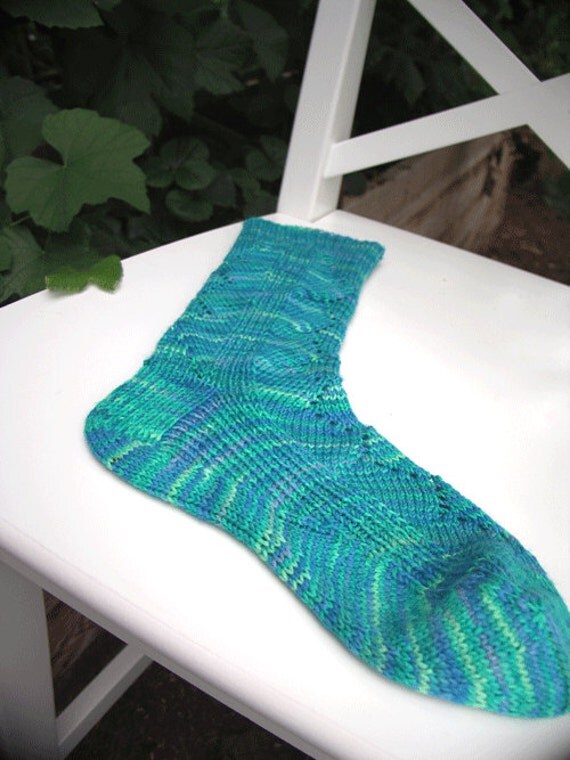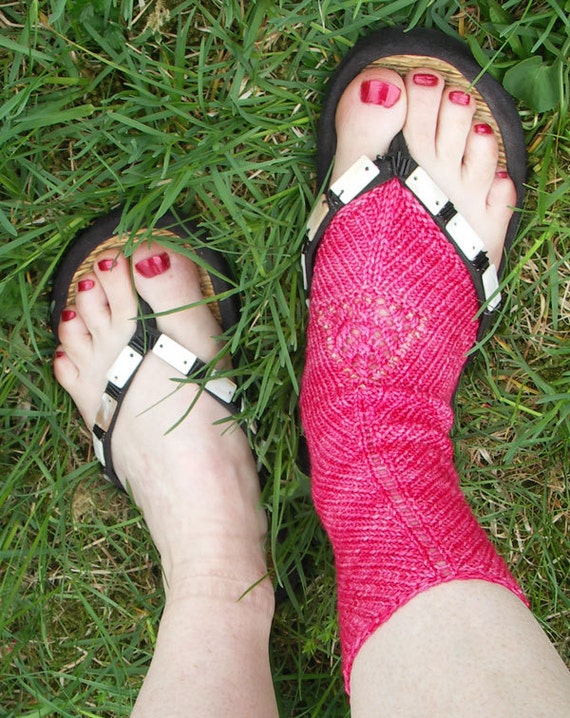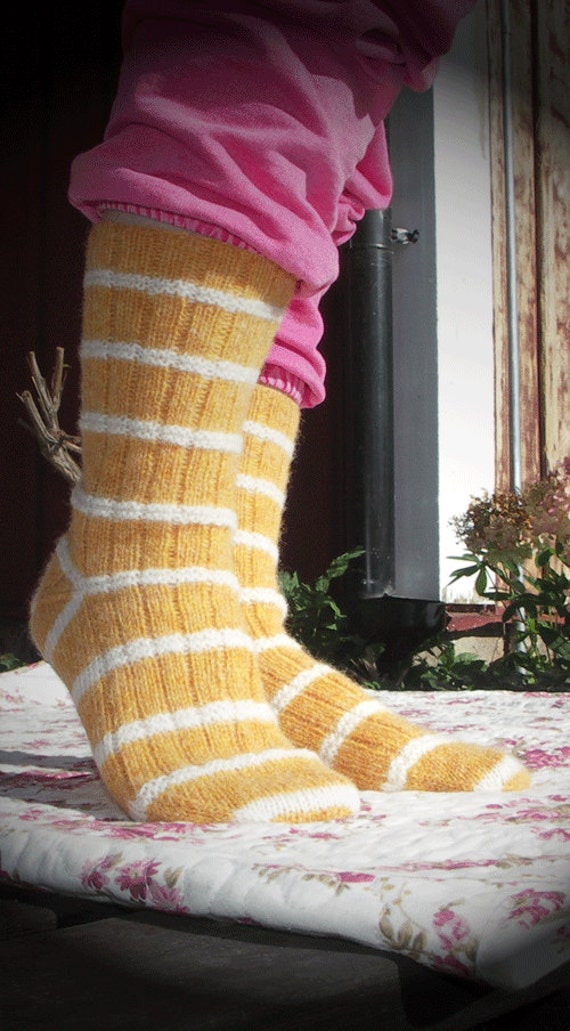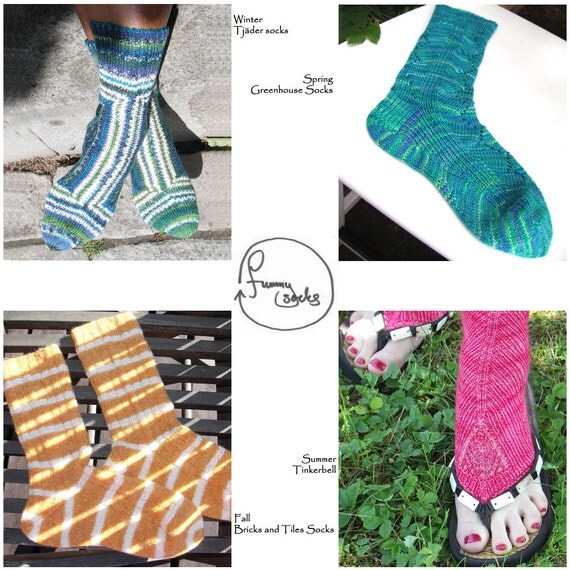 ---
Features
---
Item details
"Funny Socks for winter, spring, summer and fall" a collection of four sock patterns by Anita Grahn
Available as instant download file in English or Swedish

I call these socks funny because they all have an unusual technique for either heel, toe, or… the whole sock! I had a lot of fun creating these, and I hope you will have fun knitting them!

A presentation of the included sock patterns:

Tjäder Socks - The sock is knitted from the heel on upwards and sideways, joining the instep as you go. The toe and leg are worked from either end. This construction is accentuated by the contrast stripes. The rib hugs the foot and ankle at just the right spots and the contrast stripes in the rib add elegance. When my first sock was done, my reaction was that it looked like some kind of bird, rather funny for a sock, but when I put it on, it was oh, so comfy! To honour the sort of birdy first impression, I have called them Tjäder Socks. Tjäder (pronounced 'Chad-er') (Tetrao urogallus) being the Swedish name for Capercaillie, Eurasian Wood Grouse.

Greenhouse Socks- With a simple diamond motif in front and back, and a ribbed panel on each side, this sock features a deceptively simple but yet sophisticated technical solution, and aims for a comfortable fit. It starts out as a straight forward cuff down sock, but with a twist to the sole shaping and the toe finish. The sole starts out narrow, to leave as much of the sides ribbed as possible for a good fit. It then grows into a toe hugging arch. The toe is knitted in shape beforehand, so when the full length is reached, all the stitches can be cast off in one sweep.

Tinkerbell Socks - For warm summer nights when in sandals or flip-flops these socks are a bliss! The toe and heel are open to keep that summer feel, but they will still protect from that slight chill in the evening. Most of the sock is worked in rib, and it is embellished with a small beaded diamond motif on the top of foot.

Bricks and Tiles Socks - This sock is a simple and fast knit but still has an interesting construction. It is knit from the cuff down in an elastic pattern, inserting a scrap yarn for the heel to be knit later. The asymmetrical afterthought heel provides a fit similar to that of a regular heel flap sock with gusset, while keeping the benefit of the body of the sock knitted in one single stretch. The socks' ribbed pattern with contrasting horizontal garter stripes resembles construction works, therefore I have named them the Bricks and Tiles Socks.

They are all knitted from sockyarn, and come in sizes Ladies' XS, S, M and L
The individual patterns - and more - are available on Raverly
All my patterns have been thoroughly test knitted by several persons.


Swedish:
"Vilda sockor för hela året" av Anita Grahn, för direkt nerladdning på svenska eller engelska

Jag kallar de här sockorna vilda, för att de har alla oväntade lösningar för antingen häl, tå … eller hela konstruktionen. Jag har haft roligt när jag hittat på dem, och jag hoppas du kommer att ha roligt när du stickar dem!

De är alla stickade i sockgarn, och finns i storlekarna Dam XS, S, M och L

De här mönstren - och fler - går att köpa var för sig på Raverly
Alla mina mönster är teststickade av flera personer.
---
---
More from this seller
---
Digital downloads
---
Returns & exchanges
If you for some reason should not be satisfied with your purchased product, please contact me, and I am sure we can agree on a satisfactory solution. I will be generous when it comes to returning a product which was not as expected.