Mechanical pencil Pentel Sharplet-2 A127, retro office supplies automatic pencils, back to school gifts for kids, graphic artists, designers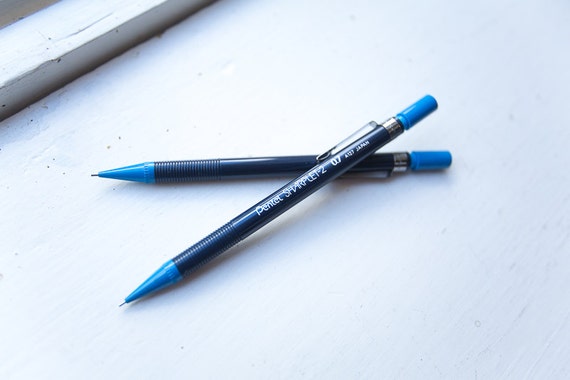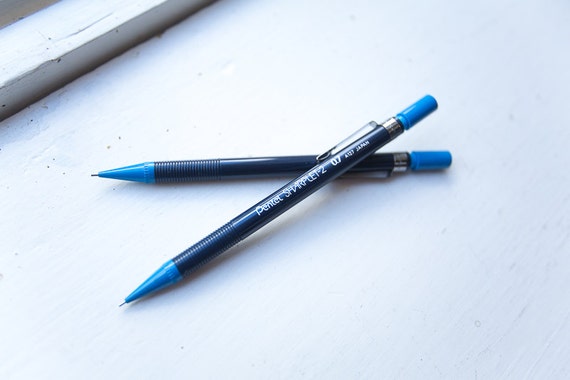 Preparation takes 1-2 business days
---
Features
---
Item details
Something for you 1980s and 1990s kids!

I have 2 Pentel Sharplet-2 A127 mechanical pencils in dark blue. This listing is for one pencil.

These are old new stock extremely lightweight pencils which were Made in Japan back in the early 1980s.

Designed for draftsmen and graphic artists or art students in mind.

They take a 0.7 lead which make them great writing pencils as well!



Up to 5 pencils can be sent without incurring any extra charges! Please let us know if you plan on purchasing multiple pencils (you can mix and match!) or some leads etc. and we shall combine shipping! :)



---------------------------------------------------------------
Once upon a time, my Mimaw was a draftsman - or draftswoman, I should say. So, she had a whole bunch of mechanical pencils for drafting and she would work from home while looking after us brats and we would steal her pencils tous les jours because they were so cool and clicky and magical. Then we would probably eat them because that's what wee kids do.

By the time we were old enough to go to boarding school, Mimaw had stopped drafting but still had quite a few boxes of pencils left. Before I left, she gave me a box of the super fine A123s, thicker A127s and of course the standard A125s with the 0.5 leads.

Well, I was so darn precious with my pencils and barely used them. Some got borrowed and never returned and others given away to sworn best friends for life. The rest were jealously guarded and taken out once in a while to look at wistfully as if they were jeans that no longer fit. Even then, I was a rat of pack.

After high school, I didn`t have graphics classes anymore. So, the pencils followed me across Australasia, all over North America, back to regular Asia and then some, then around Europe.

They've certainly been around! True story, fo shizzle. Want one or lots? :D (Actually, in this case, just two!)
---------------------------------------------------------------


Photography by: Francesco Formisano
www.francescoformisano.com
http://www.etsy.com/shop/wildnisphotography

Come hang out with us here where we can post more pictures of each item:
https://www.facebook.com/TheMysteryOfTheDecapitatedPenguin
---
Shipping & policies
Preparation takes 1-2 business days
Estimated Shipping
Items will be packed and shipped as soon as payment has been confirmed. Goods from France will be sent via La Poste while goods from Borneo will be sent out via Pos Malaysia. We will always send you an email letting you know when your item has been sent, it`s tracking number (if applicable) and advise on shipping duration.

WE CAN ONLY SHIP TO YOUR PAYPAL/CREDIT CARD ADDRESS - PLEASE MAKE SURE BOTH ADDRESSES MATCH. If your PayPal address does not match your Etsy address, shipping may be delayed as we will need to get in touch to confirm your payment address.

CUSTOMERS ARE RESPONSIBLE FOR PROVIDING CORRECT AND UPDATED ADDRESSES - if you have given us the wrong address, please understand that we will take no liability for any items lost or miscommunication due to any incorrect information provided. We can only refund once the item has been returned to us (returned to sender). Refund will NOT include cost of shipping or any damages incurred in return.

--------------------------------------------------------------------------------------------------

Shipping duration is advised for:
Almost Everywhere: 11 - 21 working days from airport to airport (this means not including public holidays, weekends, and any time spent in customs)
Israel (via France): 28 - 49 working days


HOWEVER, we are noticing these more realistic times below:

● Singapore, Hong Kong, Japan, Korea (Normally 1 - 2 weeks)
● France (Normally 2- 3 weeks)
● Germany, Brazil, Italy, Greece, South Africa (VERY, VERY DIFFICULT TO SAY - delivery heavily depends on time spent in customs checks. Final delivery may be very slow if parcels are held by customs or in the case of South Africa, the SAPO. We have experienced anywhere from 2 - 6 weeks, up to 3.5 months!!! PLEASE do note that such delays can happen for items going to these countries, before committing to your purchase. For customers from these countries, we recommend purchasing EXPEDITED SHIPPING.
● Australia, UK, Canada except to Vancouver or via Vancouver (Normally 2 - 4 weeks) PLEASE NOTE:
---->>> Tracking will NOT be picked up by Australia Post after items leave Malaysia
---->>> Tracking to the UK is only partial. Items will be marked as "Delivered" when received by buyer, but they will not be tracked all the way by Royal Mail after leaving Malaysia.
---->>> As of 2016, Tracking will NO LONGER be picked up by Canada Post after items leave Malaysia.
● Canada VANCOUVER, or going VIA VANCOUVER (Normally 4 - 8 weeks ***PLEASE EXPECT DELAYS***)
As of April 2014, Items going to or through Vancouver (specifically the Vancouver Pacific Processing Centre) are HEAVILY DELAYED. Any deliveries going through the Vancouver PPC first, seems to take AT LEAST 2-6 weeks longer than if they are sent out through to the rest of Canada.
● Israel - Pos Malaysia offers no shipping to Israel. As such, we will ship purchases to France first, and then onwards to Israel. Shipping duration to your address will be around 4-8 weeks since the item needs to travel in a most roundabout manner. We are sorry for the additional shipping cost incurred in order to process this, but we have absorbed around 30% of the cost in our best efforts to offer the same, fair shipping to customers everywhere :)


WE ARE VERY SORRY FOR ANY DELAYS DUE TO POSTAL/CUSTOMS ISSUES. Unfortunately, we need to rely on global postal networks and items WILL need to be held in customs for a varying amount of time depending on each respective country entered. This is COMPLETELY and UTTERLY out of our control. We can offer you estimated delivery times but in the end, patience is key :)

--------------------------------------------------------------------------------------------------


*****NEW AND IMPORTANT SHIPPING INFORMATION for USA, PLEASE READ, SORRY FOR YELLING BUT THIS IS REALLY IMPORTANT!!!!*****

--->>>> As of 1st October 2015, USPS no longer tracks Registered international parcels coming into the USA due to a policy change. Items will be tracked until they leave Malaysia. Don't worry though, you'll still get your parcel if you are home to sign for it. If no one can sign for it at your residence, you should receive a peach colored USPS notice for pick-up/re-delivery.

IN THE EVENT you have waited 3-4 weeks and have yet to receive a knock on the door or a pick-up notice:

1) PLEASE, PLEASE, PLEASE call your local post office to see if it is waiting for you there. Postmen are only human and may forget or bypass your residence if they are busy or forgetful. Quite often, packages are sitting in your local post office collecting dust. We STRONGLY ADVISE calling because parcels will be rerouted back to sender if unclaimed within 15 days.

2) If the item is not in your local post office, PLEASE do call USPS to see if they can get a handle on it (quite often the item is still at least partially tracked because USPS is still obliged to provide a signature for registered items upon paid request, but just not publicly visible). Please call:


USPS® Customer Service

Call 1-800-ASK-USPS® (1-800-275-8777)
Hours of Operation

Monday - Friday 8 AM - 8:30 PM ET
Saturday 8 AM - 6 PM ET


To speak to a real person:

i) After first automated prompt say: DELIVERY ASSISTANCE

ii) Wait for more options then say: OTHER DELIVERY QUESTIONS

iii) You will be told that "All of our representatives are assisting other callers". Opt for a call-back by pressing "1" and leave your contact details.


You won't have to wait on hold for 40 minutes and USPS will call you back and help you track your item so you'll know where it is in the country and how much longer you will need to wait.



-------------------------------------------------------------------------------------------


Need something in a hurry? Well, it's possible but pricy. We'll use Fedex, EMS, or DHL - whichever is cheapest at the time, which is an ouchy $35 - $57 per 500grams (may go up or down depending on fuel surplus and rates of the moment). Let us know and we'll check the rates and arrange it for you.

Packing is no frills - weight is money out of your pocket! We musn't!



International buyers are responsible for any and all charges related to delivery, including, but not limited to, clearance and/or customs fees, duties and/or taxes, and any brokerage fees that may be charged by the shipper. Please be familiar with the laws of your country. We are however, happy to split up shipments if that helps. Just send us a message.
---
Payments
HOW SHIPPING GENERALLY WORKS:
Light packages <250g are $9
Medium packages <500g are $15
Heavy (or bulky) packages <750g are $21
Heavier Items <1kg are around $25 and up, depending on volumetric weight as well
Big, bulky, or very heavy items <2kg - variable depending on packaging required.

Courier for very delicate or high value items are $40 for the first 500g.


***IMPORTANT*** MALAYSIAN SHIPPING CHANGE: As of 1st October 2015, USPS no longer tracks Registered international parcels coming into the USA due to a policy change. Items will be tracked until they leave Malaysia. Don't worry though, you'll still get your parcel if you are home to sign for it. If no one can sign for it at your residence, you should receive a peach colored USPS notice for pick-up/re-delivery. --->> Please Read More Below in "Shipping Policy"


***IMPORTANT*** FRENCH SHIPPING CHANGE: As of 1st January 2015, La Poste France has changed their shipping prices by eliminating the "petit pacquet (small packet)" option. As such, all items leaving France which are over 3cm in thickness including packaging MUST go as $30 courier packages. We apologize profusely for this somewhat pricier inconvenience :( :(


Shipping prices are set by the respective national post offices. Please note that if an item is delicate, awkwardly shaped, requires insurance, or bulky, we will charge accordingly for packing and handling.

We do combine shipping however! Feel free to send us a message for custom orders to mix and match items so you can get the most out of your shipping dollar. Please ask us if you would like us to hold the items you want under your name (we will retitle the item "RESERVED FOR ...", and readjust shipping for you:))


We accept Paypal. If you would like an item placed on hold, we can do so for up to 48 hours only before it goes back on public sale.
---
Returns & exchanges
What you see is what you get - because of the nature of antique and vintage items, we do ask that you read through the listings thoroughly and ask any questions that you might have or request additional pictures before making a purchase. The pictures in our listings are not doctored to hide any scratches, years of wear, or the like. Every item in this shop is photographed in natural light without any brightening via software to give you a true idea of what you are buying.

Any natural defects occurring through time will be openly pictured and described in the listings.

Items will be checked, rechecked and meticulously packed to ensure it arrives in good condition.

IMPORTANT - PLEASE READ BEFORE PURCHASING:
All vintage items are sold as is. They are not new and often previously used. Even if labeled as "never been used", Please DO expect to see flaws / discoloration / general signs of wear and tear due to age unless item is labeled as "pristine".

We DO NOT upcycle, refurbish, or attempt to cover any flaws. Any flaws will be clearly noted and transparently stated to the best of our ability.

Etsy defines vintage as "Vintage items must be at least 20 years old".

PLEASE PLEASE PLEASE do read our listing details and policies carefully so you know exactly what you are getting. Shipping an item back for exchanges or refunds due to not reading listings carefully or a change of heart, can be very costly for buyers and must be avoided. Also, please do visit our Facebook page for more pictures before purchasing. You are also more than welcome to send us messages to request for more pictures or ask as many questions as you like to your satisfaction before parting with hard earned $$ :)

Refunds, store credit or replacements will be dealt with on a case by case basis and awarded based on reasonable and standard good will practice.

GENERALLY, if you are unhappy with your purchase because you have e.g. misread something or got confused with the measurements (these things do sometimes happen with international listings!) - do send us a message within 48 hours of receipt and we will happily refund or replace the item after it has been sent back and received in the same good condition (Buyer to pay for any shipping costs incurred).

If an item is not in the same condition as it was when we sent it off, then we may need to deduct the refund accordingly, or the refund may be void it if the item is damaged.