18cm 'tanebasami' scissors in a paulownia presentation gift box. Hand-forged in Japan by master craftsmen using traditional techniques.
(1)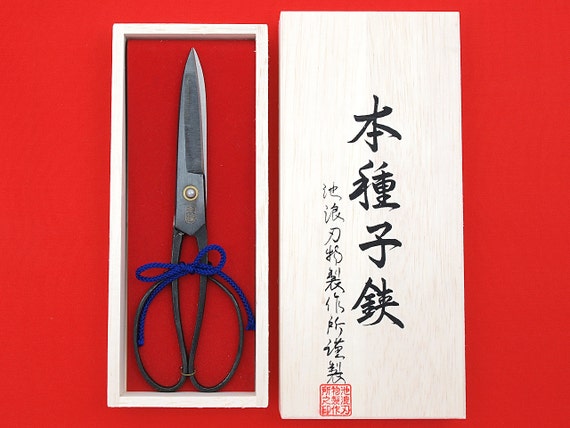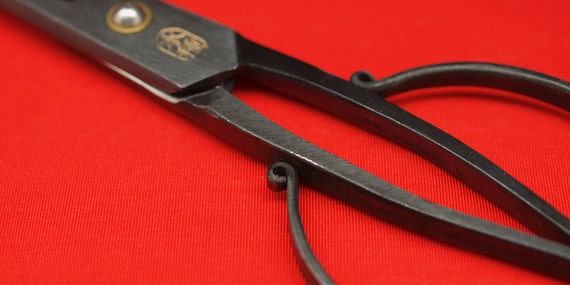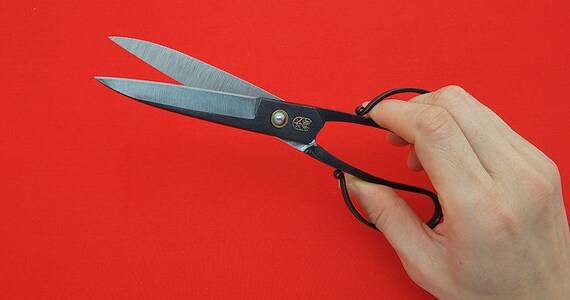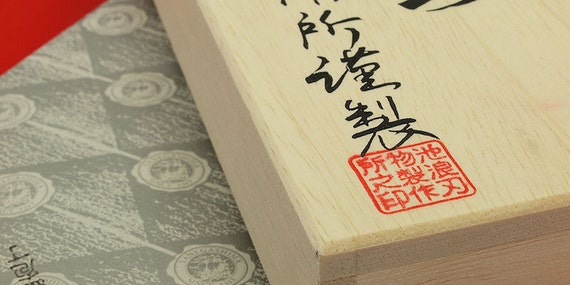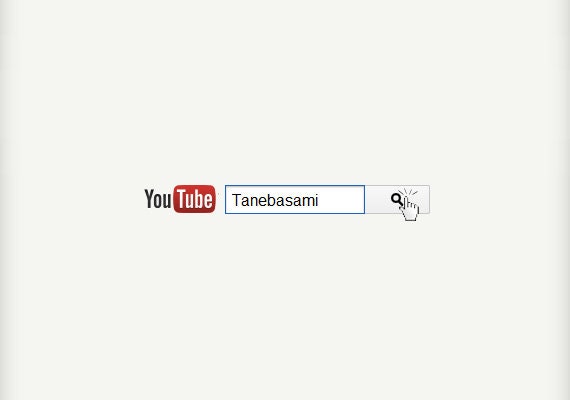 Preparation takes 1-3 business days
---
Item details
'6-sun' Tanebasami Scissors
Overall length: 18.18 cm (a little over 7")
The best blade length for all-purpose scissors (edge length 65mm)
Weight in hand: 85g
Paulownia presentation gift box, gift-wrapped in Tanegashima-themed paper.
Free worldwide shipping.

Tanebasami scissors have been produced on the island of Tanegashima since 1543. They are available in four sizes, these are the next to largest and they are an excellent length for general use around the home, office or workshop. They allow the user to cut with confidence right to the very tip of the blades.

Tanebasami scissors can be used and appreciated for many years. They make a stylish, thoughtful and practical gift! In Japan Tanebasami are given on all sorts of occasions - gift-giving is a much-loved Japanese custom after all - but perhaps most surprisingly they are thought of as a traditional bridal present.

Here as in many other parts of the world we usually don't give a bride a 'cutting' gift like a knife, one that might 'cut' the ties of marriage. Tanebasami are viewed differently. The reasoning is that each Tanebasami blade must be matched with its perfect partner, the two blades each representing half of a whole. They are inseparable, working in harmony in a lifelong partnership, symbolising the perfect marriage. We think that's kind of nice.

They're not just for weddings of course. Tanebasami craft and fabric scissors make a lovely coming-of-age gift for young ladies, and a unique and practical birthday gift for anyone engaged in creative pastimes. Retirement, house-warming, celebrating a new hobby - all ages, many occasions!

Tanebasami gift boxes are crafted from beautiful paulownia. Paulownia is a remarkably light, sustainable wood often used for kimono chests and presentation boxes for masks, tea ceremony cups and utensils, scrolls and so on. It has a lovely grain and ages very nicely. Tanebasami gift boxes are heirloom quality and are printed with the Japanese kanji characters for 'hontanebasami', meaning 'genuine Tanegashima scissors'. The kanji looks to be handwritten, but as all the boxes are identical we can tell you with some confidence that it is not.

Here's what some of our customers say about tanebasami:

"I am delighted with them. These scissors are truly amazing. I was expecting them to cut as well as they do, (which is perfectly), but not with such little effort. I also love the seemingly opposite traits of being hand wrought and rough in an organic sense, and flawless on the cutting edge. Hard to believe the precision and matching of the blades. It took a little while to get used to the metal handle, since I was coming from a moulded plastic pair, but the change is much better. Also nice to have something that will outlast me in this throw-away society. They really are very special..."
Christopher

"When I use these scissors I can really tell such care and skill has gone into making them. With such high quality material and forging they can only be made by a real craftsman. No doubt."
Seiichi

"I want the whole world to know about these! These scissors are a world away from mass-produced stationery. When I cut with them it's like a new feeling - more than just sharp, I'd say 'moist'. Being all steel I imagined them to feel cold but they're quite the opposite - from when I first tried them they felt lovely and warm and light and my hand just adapted to them straight away..."
Kaoru

"After using them, I get it!
They really do cut beautifully. You can cut crisply right to the very tip.
Personally I really like the retro look v(^v^)"
Mayuko

Tanebasami are certified as "dentou kougei" by the Kagoshima Prefectural Government. This certification guarantees that an item is hand-made and of cultural and historical significance, produced with skills passed down through generations of craftspeople.
---
---
Beautiful scissors I have hidden them so nobody but me can use them
Jun 10, 2015 by AMANDA WOOD
---
More from this seller
---
Shipping & policies
Preparation takes 1-3 business days
Estimated Shipping
We ship all purchases by Japan Post EMS, which is very quick and efficient.

All shipped items are insured and a tracking number will be supplied. Some countries apply customs duty to imports and these duties are the responsibility of the buyer. All parcels are accurately marked as 'merchandise' and a product value listed for customs purposes.

We keep many items in stock in Hiroshima, but some orders we will bring up from Tanegashima. In those cases products are usually shipped on the third day from order, or sometimes the next day - it depends a bit on the time of order and the island ferry.

On receipt of your order we will write to let you know the status of your order and an expected shipping day and time.
---
Payments
We accept all major credit cards through our PayPal credit-card payment facility. PayPal members may also choose to pay with their PayPal account balance. Payment data is secure, private and is not shared with the owners of this Etsy store.
---
Returns & exchanges
We have a generous returns policy.

If things don't work out, any item may be returned in unused condition for any reason. We request the return of your purchased item within thirty days of initial dispatch, which gives you ample time to send it back to us.

You have to remember though that if you cut anything with your purchase it is yours to keep. This is very important!

We cannot and do not accept the return of items that have been used or 'tried'. By all means hold the product in your hand to feel the balance and heft, but please understand that cutting with it is the point of no return.