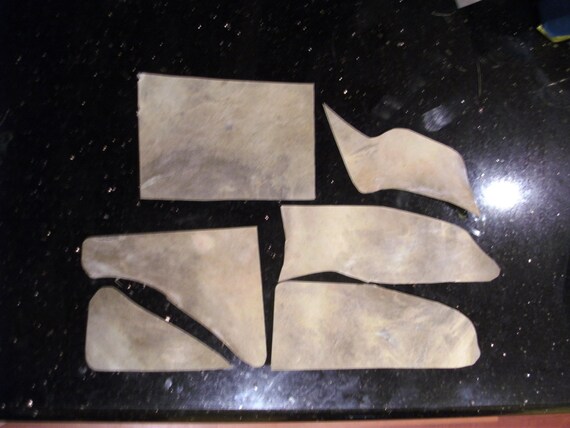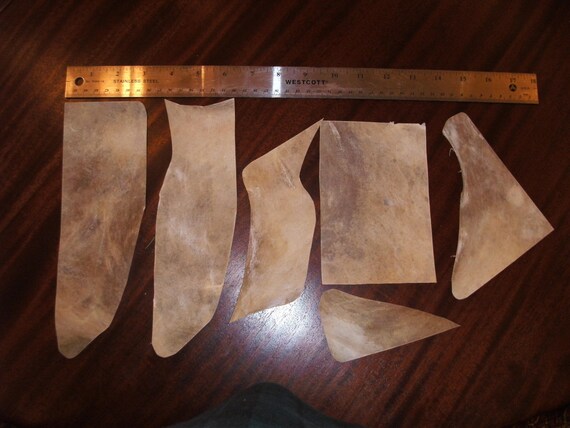 Preparation takes 1-3 business days
Arrives from the United States
---
Features
---
Item details
This item contains approximately 6 random shaped and sized pieces of parchment that are off-cuts from when we produce the standard size pieces of parchment offered in our other listing. These pieces are similar overall quality to the rest of our products but sometimes have defects (holes, thicker areas, pigmentation) that would be less than appropriate for full sheets of select grade parchment. Each and every pack is different and the pieces are all randomly bookmark or small card sized. Though each pack is different, most have at least a full square foot of parchment in pieces, making the cost about 50% off our normal price.

We are offering these as a great way to try out parchment (pergamum) for people who have an interest, but are tentative due to the cost of larger sized pieces. These are a great way to test ideas and methods at a very reasonable price. And they serve as a great base to make illuminated bookmarks as gifts for your family and friends.

Each piece of parchment above we are offering is a scribal or manuscript quality piece of artists material. It will have been prepared from premium hides.

The methods used for preparation are:
- We procure only premium hides that would normally be wasted or discarded due to lack of market
- We encourage our livestock producers to use humane livestock treatment standards durin the animals' lives and during slaughter.
- All hides are prepared by hand, use of no automated machinery
- Using medieval methods of scraping, preparation, preservation, and finishing
- Our staff are historical re-enactment organization affiliated (SCA), Kingdom of Antir, Shire of Myrtleholt

It should be noted:
- These products are all natural, and therefore are subject to defects and blemishes inherent in natural materials
- We strive to provide a high quality scribal product and can provide SCA Laurel level references upon request.
- Small defects in processing may exist and there will be variance from item to item as a result of using only period methods.
- Variations in humidity and other factors will result in warping of this product, as is normal for real skin parchment.
- Variations of thickness in this product are inherent from both age of animal and location in the hide from which the piece has been cut. Should there be specific needs/desires you have in this regard, please don't hesitate to specify those either before or during purchase of the product. We will do our best to meet your needs in this regard.
- Parchment produced from sheepskin is thinner than those from goat, and likewise goat less thinner than calfskin.
- The term vellum in our listing above is mostly due to marketplace confusion due to modern paper products marketed under the term "parchment" and "vellum". Vellum is classically (etymologically circa 14th century) defined as "uterine calf-skin", or veal skin. We are currently in no way able to procure such skins so any calf-skin used by our artisans is still subject to our preference for humane livestock treatment and we prefer to avoid unreasonably youthfully terminated livestock unless said termination has been as a result of natural causes or predator attack. Approximately 95% of our products are non-bovine, and if religious reasons require a non-bovine product, please don't hesitate to ask as we are happy to oblige.
- These products are not specifically kosher, though we respect jewish doctrine in the slaughter of our animals, but they are not sanctified. From a preparation perspective, we would categorize these product as "non-kosher gevil" and not "klaf" nor "dukhstusos". In other words, our parchment/vellum is not split between hair and flesh sides.
- It should be noted that we are currently using "modern" preservation methods (versus pre-medieval middle-eastern or asiatic methods) in preservation. However, we are in the process of researching full talmudic kosher preparation methods and if you have a need/desire for such product, we would be thrilled for you to contact us. As we have considerable control over all aspects of this product from birth to product, we can and like to be most accommodating.
---
---
Wonderful, exactly what I needed to practice with, I'm really impressed at how vibrant gouache looks on the surface. Will be back!
Mar 10, 2018 by kitvv
Great quality but the sizes were a little smaller than I would have hoped. But was using them for practicing calligraphy on parchment so it all worked out.
Mar 5, 2018 by carolinedavid88
Let me tell you, fellow Etsyans, this seller did something even my own mother wouldn't do: he went to battle with the Post Office for me. I had filed two conflicting forwarding orders, and this parchment got caught in the confusion. The seller went down to the post office, talked with the local official, and got the package re-sent with no extra charge. I thought he was a parchmentier, but apparently he's also a magician. Oh, and also he offered to answer any questions I had about using the parchment; he learns from his customers how this material can be used and puts the knowledge in his mental library. I am awestruck by how seriously he takes his job of preserving facts about how to use parchment, and how much time he spends making sure his customers are happy. I am truly grateful, David; thank you so much.
Jan 26, 2018 by tapirfrog
Parchment scraps, useful for stuff :-)
Jun 7, 2016 by colddrake
Item Just as advertised,sent quickly,thanks.
Oct 21, 2015 by Frances Quinn
---
More from this seller
---
Shipping & policies
Preparation takes 1-3 business days
Arrives from the United States
Estimated Shipping