150 skeins DMC embroidery kit cross stitch 6-Strand Cotton Floss Thread - NO FAKES - Custom orders or seller's choice
(12)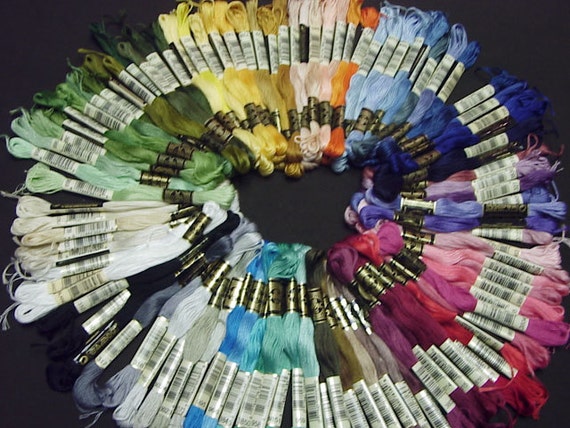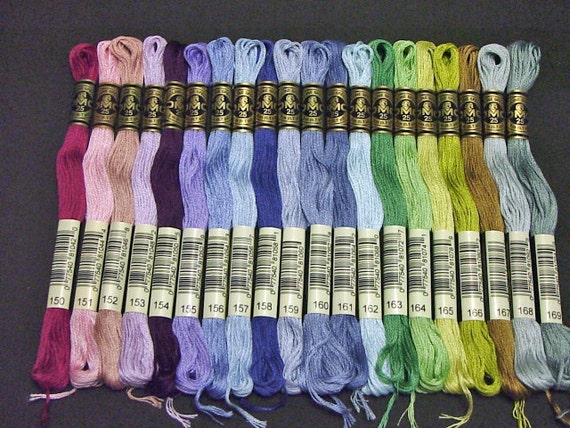 Preparation takes 1-2 business days
---
Item details
Over the years, there have been imitations of the original DMC brand. Imitations often use the same color numbers and similar labels. They lack the strength, luster and quality of the genuine item. All of my threads are made in France and are stored in a smoke-free, dust-free, temperature-controlled and dark environment.

This listing is for 150 skeins of any combination of colors from the list below.

You choose from 454 solid colors or you can tell me what color families you would like and I can put together a selection for you. Please send me your list after you make your purchase. Each skein is 8m (8.7 yards).

DMC Color Number List (Variegated colors are at the end of the list)

White, Ecru, B5200 –Bright white
150, 152, 153, 154, 155, 156, 157, 158, 159, 160, 161, 162, 163, 164, 165, 166, 167, 168, 169

208, 209, 210, 211, 221, 223, 224, 225

300, 301, 304, 307, 309, 310 (Black), 311, 312, 315, 316, 317, 318, 319, 320, 321, 322, 326, 327, 333, 334, 335, 336, 340, 341, 347, 349, 350, 351, 352, 353, 355, 356, 367, 368, 369, 370, 371, 372

400, 402, 407, 413, 414, 415, 420, 422, 433, 434, 435, 436, 437, 444, 445, 451, 452, 453, 469, 470, 471, 472, 498

500, 501, 502, 503, 504, 505, 517, 518, 519, 520, 522, 523, 524, 535, 543, 550, 552, 553, 554, 561, 562, 563, 564, 580, 581, 597, 598

600, 601, 602, 603, 604, 605, 606, 608, 610, 611, 612, 613, 632, 640, 642, 644, 645, 646, 647, 648, 666, 676, 677, 680, 699

700, 701, 702, 703, 704, 712, 718, 720, 721, 722, 725, 726, 727, 728, 729, 730, 731, 732, 733, 734, 738, 739, 740, 741, 742, 743, 744, 745, 746, 747, 754, 758, 760, 761, 762, 772, 775, 776, 777, 778, 779, 780, 781, 782, 783, 791, 792, 793, 794, 796, 797, 798, 799

800, 801, 803, 806, 807, 809, 813, 814, 815, 816, 817, 818, 819, 820, 822, 823, 824, 825, 826, 827, 828, 829, 930, 831, 832, 833, 834, 838, 839, 840, 841, 842, 844, 869, 890, 891, 892, 893, 894, 895, 898, 899

900, 902, 904, 905, 906, 907, 909, 910, 911, 912, 913, 915, 917, 918, 919, 920, 921, 922, 924, 926, 927, 928, 930, 931, 932, 934, 935, 936, 937, 938, 939, 943, 945, 946, 947, 948, 950, 951, 954, 955, 956, 957, 958, 959, 961, 962, 963, 964, 966, 967, 970, 971, 972, 973, 975, 976, 977, 986, 987, 988, 989, 991, 992, 993, 995, 996

3011, 3012, 3013, 3021, 3022, 3023, 3024, 3031, 3032, 3033, 3041, 3042, 3045, 3046, 3047, 3051, 3052, 3053, 3064, 3072, 3078

3325, 3326, 3328, 3340, 3341, 3345, 3346, 3347, 3348, 3350, 3354, 3362, 3363, 3364, 3371

3607, 3608, 3609, 3685, 3687, 3688, 3689

3705, 3706, 3708, 3712, 3713, 3716, 3721, 3722, 3726, 3727, 3731, 3733, 3740, 3743, 3746, 3747, 3750, 3752, 3753, 3755, 3756, 3760, 3761, 3765, 3766, 3768, 3770, 3771, 3772, 3773, 3774, 3776, 3777, 3778, 3779, 3781, 3782, 3787, 3790, 3799

3801, 3802, 3804, 3805, 3806, 3807, 3808, 3809, 3810, 3811, 3812, 3813, 3814, 3815, 3816, 3817, 3818, 3819, 3820, 3821, 3822, 3823, 3824, 3825, 3826, 3827, 3828, 3829, 3830, 3831, 3832, 3833, 3834, 3835, 3836, 3837, 3838, 3839, 3840, 3741, 3842, 3843, 3844, 3845, 3846, 3847, 3848, 3849, 3850, 3851, 3852, 3853, 3854, 3855, 3856, 3857, 3858, 3859, 3860, 3861, 3862, 3863, 3864, 3865, 3866
---
---
I am very happy with the product. Just as described and shipment was pretty fast.
Oct 17, 2017 by nachnaabichhoo
Skeins arrived in great shape. Order was complete and floss arrived quickly.
Mar 2, 2017 by Anita Mount
I am very happy with my selection!
Jul 24, 2016 by Lotte
Perfect for the tapestry I'm working on!
Jun 12, 2016 by Amber Dawn
Arrived fantastically quickly (to the UK) and was packaged well. Would recommend!
Jun 11, 2016 by Sarah Gorman
---
More from this seller
---
Shipping & policies
Preparation takes 1-2 business days
Estimated Shipping
I do not mark an item as a gift on the customs form.