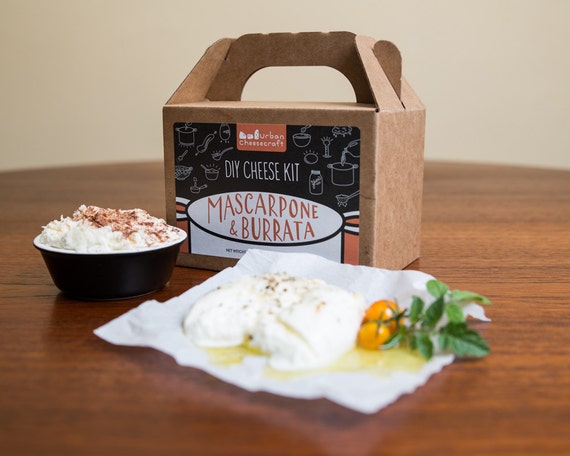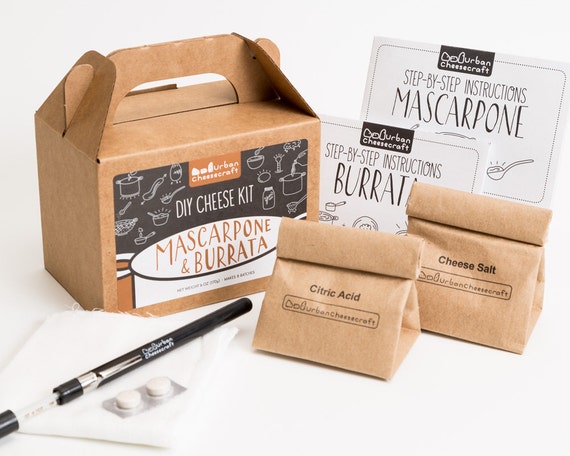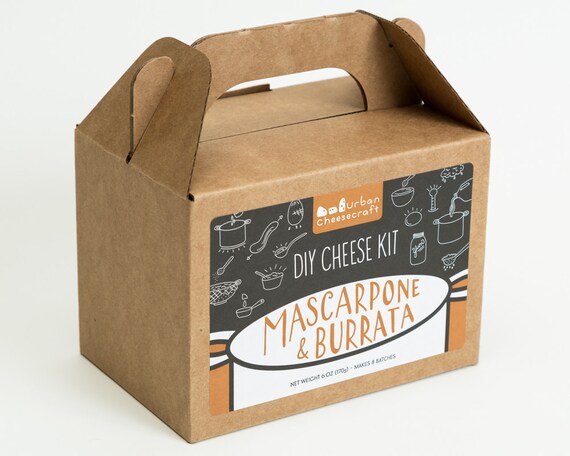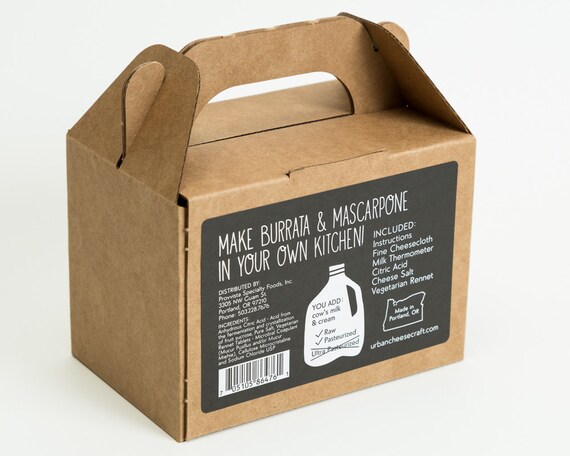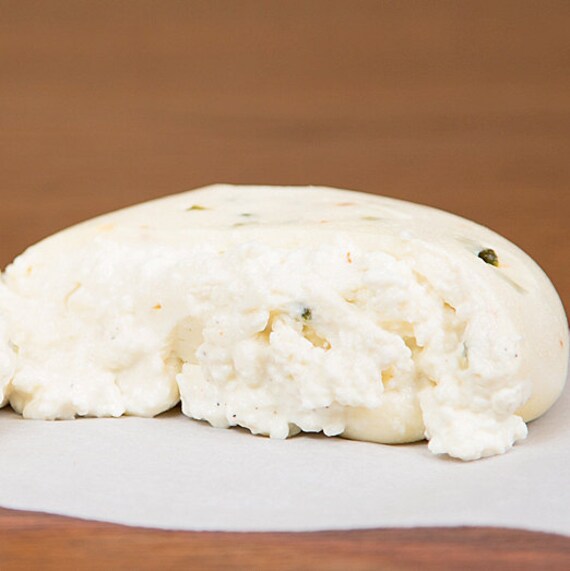 Preparation takes 1-2 business days
Arrives from the United States
---
Item details
These delicious Italian cheeses are favorites among both cheese lovers and cooks. Burrata is a tender pouch of mozzarella-like cheese filled with a creamy curd. Mascarpone is the decadent cream cheese made famous by the dessert Tiramisu. You can also make a simple and delicious fruit or cookie dip with just a bit of maple syrup and cocoa.

KIT INCLUDES:
- Instructions with tips and variations
- Unlimited Email Support as needed
- Fine Mesh, 100% Cotton Cheesecloth also known as Butter Muslin
- Thermometer - Glass Dairy Thermometer or Metal Probe Thermometer
- Gluten-free, Vegetarian Rennet Tablets
- Gluten-free, Non-GMO Citric Acid
- Pure, Non-Iodized Flake Salt also known as Cheese Salt

WHAT YOU NEED:
Simply add milk and cream and you will be eating and sharing homemade, all-natural Burrata & Mascarpone! Pasteurized store-bought or raw farm-fresh milk both work. Make sure your store bought milk is not ultra-pasteurized or UHT, ultra-heat pasteurized.

DIETARY GUIDELINES:
The Mascarpone & Burrata Cheese Kit is gluten-free, Non-GMO and vegetarian friendly.

QUANTITY:
The Mascarpone & Burrata Cheese Kit makes 8 batches of cheese. A batch is about 8 oz - 1.5 lb depending on which cheese, so you'll have plenty of supplies to experiment with different herbs, shapes and recipes.

GOOD TO KNOW:
Burrata is ready to eat in about an hour and Mascarpone is prepared in 15 minutes but requires a few hours in the fridge to set. Both are worth the effort and a great second step if you've mastered our simple Mozzarella & Ricotta Kit.

FOOD SAFETY AND HANDLING:
The kits and supplies are hand-poured, hand-folded and assembled in a food-safe, fully-licensed facilities that strictly follow the Department of Agriculture cleaning guidelines. The food items are all gluten-free but packaged in a room that may come in contact with wheat, soy, corn, nuts and other food allergens.

SHELF LIFE for the Mascarpone & Burrata Cheese Kit is 2 years with an additional 3 years when rennet tablets are stored in a freezer after purchase.

For more information visit www.urbancheesecraft.com
---
---

Mar 14, 2018 by Nicole LaFace

Jan 30, 2018 by Vonda Love

Jan 29, 2018 by Heather Goldfarb

I got this for my cousin for Hanukkah. She's a foodie and loves cheese. She was super excited about trying this kit out. I can't wait to taste the fruits of her labor :)

Jan 2, 2018 by Natasha
---
More from this seller
---
Shipping & policies
Preparation takes 1-2 business days
Arrives from the United States
Estimated Shipping
Please be clear about your shipping address. It will cause a delay if the address is outdated or incorrect according to the postal service.

We ship out on Mon-Fri excluding US postal holidays.

Shipping cost for a multiple item order is now calculated on the cart page.

If you'd like a custom shipping option, it doesn't hurt to ask us.

If something is damaged in transport, just send a message so we can fix it and finally, please keep an eye on tracking and watch the post for your package.

GIFT NOTES
We do our best to copy short notes from the message to seller (at check out) to our pack slips. Do send your recipients a separate note just to make sure they know you were the genius who sent them the best gift ever.
---
Payments
Credit card and Paypal accepted (credit card or bank account- up to you), payment required at time of purchase. Items will be shipped upon clearance of payment.
---
Returns & exchanges
My goal is that every single one of my customers is happy, comes back for more and tells their friends to visit. I always want to hear about anything arriving in less that perfect condition.

I do ask for reasonable fairness as far as the expectations once you start making cheese however; cheesemaking is an art and science and if you use Ultra Pasteurized or Ultra Heat Pasteurized milk, or heat the milk too much, not enough (i.e. if you don't follow the recipe exactly), or if you leave your rennet in the sun etc., your cheese might flop through no fault of Urban Cheesecraft.

Do not get discouraged, always email me for advice so we can figure out what happened but do try to make cheese at least twice before you give up. You can also visit my site for common adventures in cheesemaking, www.urbancheesecraft.com.

I will happily replace your supplies when it is clear that they are not adequate, arrived broken etc.
---
Additional policies
GIFT GIVING FAQs

*Why is International shipping insanely expensive?
It really is, check it out on the www.usps.com site. Enter 1lb and 3lb to see the costs. Wish we had another option.

*Where is my kit?
We enter tracking for every order. Check your Etsy account. Our fast shipment may arrive before we even get a chance to enter this during the busiest days but U.S. orders ship 2-3 day Priority so they're fast. Allow a little extra time during the holidays though!

*Are the kits perishable- how long are they "good?"
The ones without rennet tablets are good indefinitely as long as you keep the salt and citric acid dry. The kits that include rennet are good for 1 year minimum at room temp, and at least 2 more years if you keep the rennet in the freezer! So don't put off your shopping. Avoid the rush and shop ahead.

*Can you please leave out the invoice so my recipient doesn't see what a deal your kits are?
We NEVER include paper invoices! Yay! You get one by email so we're covered.

*Can you include a gift note?
Absolutely! That we can manage and we love to read them, ha ha! Just type it word for word into the "message to seller" at checkout. Try to get the note in at time of order since an email may not make it in time for our fast shipping.

*Can you take a sharpie and black out Urban Cheesecraft from your printed label so my mom, sister etc. doesn't have a clue what I got for them?
Awww sweet! But no, sorry. May we suggest that you send it to yourself first for maximum surprise power?

*Can you gift wrap?
Nope again, so sorry. Our full focus is on getting these kits made and shipped for you promptly.

*Can my vegan friend use almond milk etc. with your dairy kits?
No, sadly the science just doesn't work in the same way. I do have vegan kits though! Yay! They call for nuts, seeds, veggies and even beans.

*Which kit is best for beginners?
They are all meant for beginners BUT some are easier than others. The Paneer and Queso Blanco kit is super easy and yummy! Great for kids too, just call it farmer's cheese or cottage cheese :).

*What would make an amazing gift for a cook who has not made cheese yet, but is likely to be very interested?
Glad you asked that very detailed question. ;) A Deluxe kit and my new book One Hour Cheese as a combo is perfect. You can also choose a Mozzarella/Ricotta kit and book if you're on a budget. Both kits allow you to make every cheese in the book and the combo practically enrolls you in cheese school!

CHEESEMAKING FAQs

*Do you need raw milk?
You do not need raw milk to make cheese although it works great with these kits. You can use regular pasteurized milk from the grocery store as long as it is not ultra pasteurized or ultra-heat pasteurized. Even some of the large organic brands now do this to milk. Its only benefit is a long shelf life. Find a milk that you like and works, then stick with it.

*Do you need an aging cave, a press or other fussy stuff?
Nope! All of our cheeses are easily made in a regular kitchen and other than the Feta and Mascarpone, they are eaten as soon as you make them. Feta salt cures in your fridge for 6 days and Mascarpone drains for 8-12 hours. Still easy!

*Is it safe to make cheese at home?
Just as safe as making soup or pie in your kitchen! Keep everything clean, use good practices and you'll be just fine.

GENERAL FAQs

*Do you sell wholesale?
Sure do! Email office@urbancheesecraft.com to get started.

*What makes yours the best DIY cheese kits out there?

I'll toot my own horn for a minute because I worked and continue to work hard to make my kits the best, so here goes...

An Experience- When you give a kit, you give an experience not just a thing that will be tossed, broken or forgotten. We hear so much that people make cheese with their children, grannies, workmates or partners. We love that and do it too! In a world of disposable junk and obligation gifts, we hope you see the difference here.

My Commitment and Experience- I take your success in making cheese very seriously and because I do this full-time- I mean business! I test and fine-tune recipes and each kit repeatedly for 1-2 years before I launch anything (I ask family and friends to help test too :). I have taught classes for years and get to see lots of students learn and arrive at cheese in all sorts of ways- so I am well-prepared for most questions and can troubleshoot with you any time you need.

History- I opened my shop on Etsy in January 2009 and I'm always improving and simplifying for your success! I was lucky enough to get a short film made about my business by Etsy. It's so well-done, check it out! https://blog.etsy.com/en/2011/urban-cheesecraft/

Environment- I strive to avoid trash so the kits are made with items that are re-usable, recycled/recyclable, refillable, and compostable (sorry about the bubble wrap around the glass thermometers- they come to me that way but you can continue to use the wrap as padding). Similarly, because of perishable foods I had to use some plastic zipper bags. You can refill the items that run out in my shop!

Food Quality- In addition, the kits are vegetarian and in some cases vegan, I have high standards for food, am conscious of food allergies and keep everything gluten free..

Good Design- The kits have to make me smile so I take design and packaging as seriously as the contents themselves. I work with artist friends Julz Nally and Amy Ruppel on design. Check out their work, https://www.etsy.com/shop/handmadejulz https://www.etsy.com/shop/aruppel.
We get lots of compliments so I'm glad other people notice those details too!

Email Support- As if that all weren't enough, I include free cheesemaking support for life with each kit! My email is in every single kit.

Tested and Consistent- Have you read my shop reviews? https://www.etsy.com/your/shops/UrbanCheesecraft/reviews?ref=shop_info
I was lucky enough to be the only cheesemaker selling kits on Etsy for over 3 years! That gave me quite a head start and makes my kits the tried and true kits for success. In fact, Williams Sonoma tested and chose my kits so I partnered with them after their test kitchen rigorously compared mine to newer competitors.

Human Touch and Food Safety- I painstakingly test my recipes and engineer every aspect of these kits. The kits and supplies are hand-poured, hand-folded and packaged in a food-safe, fully-licensed space. Do note that although the food items are all gluten-free, they're packaged in a room that comes in contact with wheat, soy, corn, nuts and other food allergens (with serious Dept of Agriculture guided cleanings in between of course).

Super Customer Service- I'm nuts about good companies that know how to treat a valued customer so I want us to be one of them. We get to do what we do because of you, in return we strive to make each one of you a repeat customer! We aim to impress! Really.

I wrote the book on DIY Cheese- Literally. I wrote a book called One Hour Cheese! I show you how to make the cheeses in my shop and many more with step-by-step photos; a rarity in cheesemaking books. You can order a book here on our site or you can get the book at most major book stores in the U.S. and Canada, www.powells.com, www.indiebound.org and of course, Amazon.

I know this is a lot of info. but I get a lot of questions! ;) Got more?
Convo me or see my website:
http://www.urbancheesecraft.com.