5) 10mm 8 Pc KUMIHIMO Finding Sets ANTIQUE SILVER, Glu On End Caps, Viking Knit, Lobster Clasp Set w End Caps & Heart Charm w Extension Ch.
(9)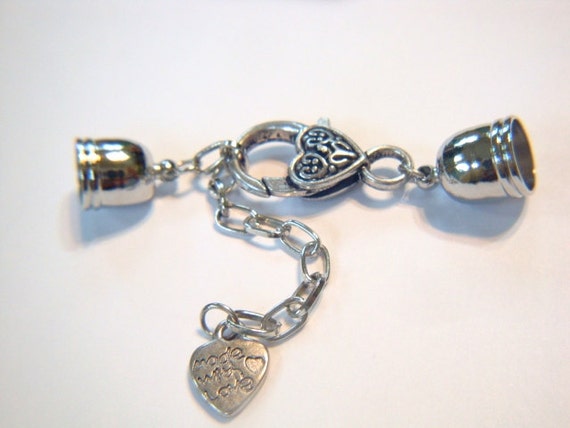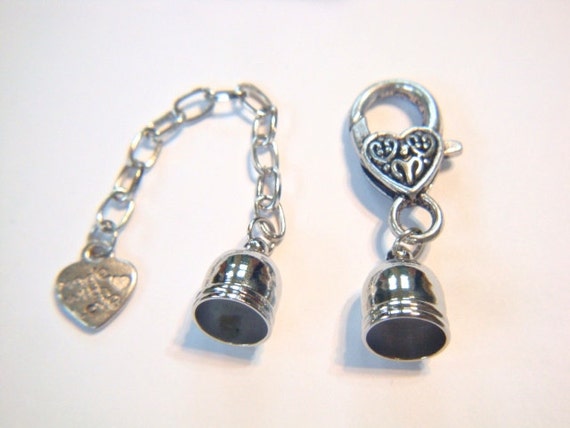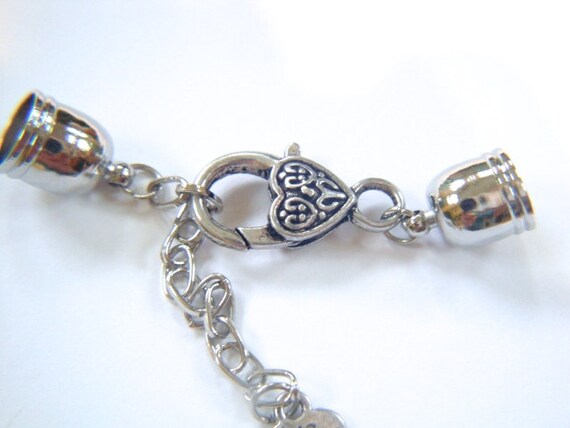 Arrives from the United States
---
Item details
5) 10mm 8 Pc KUMIHIMO Finding Sets ANTIQUE SILVER, Glu On End Caps, Viking Knit, Lobster Clasp Set w End Caps & Heart Charm w Extension Chains - the chain links are 4x6mm - Shipping includes Tracking / Insurance

This kit has a very nice Tibetan Style Lobster Claw Clasp.

The Antique Silver plating is an excellent quality plated finish.

NO TOOLS REQUIRED!!! You get 5 completely assembled sets - just glue in your kumihimo braid ends into each end cap and allow to cure according to the instructions on your glue.

Each set includes:

2 end caps - Antique Silver plated brass - INSIDE DIAMETER is about 9mm;
1 extension chain - Antique Silver plated iron twist chain;
1 lobster claw clasp - Antique Silver plated alloy [13mmx20mm (including the ring is 25mm)];
1 heart charm - Antique Silver plated alloy;
3 jump rings - Antique Silver plated brass

Walls of end caps are .5mm / inside dimension is about 9mm.

Just finish your Kumihimo Braid, wrap the ends tightly with the beading thread you normally use [Super-Lon, Silimide, Nymo, Tuff Cord, etc] and use a strong permanent glue to glue the ends into these lovely end caps. This set is already assembled! Just glue your braid into the end caps to finish off your necklace, bracelet or belt! Allow the glue to dry for complete curing time according to the instructions supplied with your adhesive.

FINDINGS:

http://www.etsy.com/shop/ArtJewelryBeadsNMore?section_id=11906250

Find 1mm, 1.5mm and 2mm rattail here:

https://www.etsy.com/shop/ArtJewelryBeadsNMore?section_id=11792216

I ship within 24 hours of receipt of confirmation of payment.

Thank you for shopping ArtJewelryBeadsNMore
---
---

Received item just as pictured. Cute finding for my crocheted tubular bracelets. Happy with the product.

Sep 12, 2017 by jillybean60

Fast shipping and work perfect with 2mm satin 8 strand Kumihimo bracelet.

Sep 5, 2015 by pickitfreshfarm

Worked perfectly for my project! Thank you.

Aug 30, 2015 by pickitfreshfarm

Very cute. No problems with this terrific seller . Thanks

Jun 4, 2015 by Barb Brock

Thank you! Fast shipping and product as described.

Mar 18, 2015 by Irina
---
More from this seller
---
Shipping & policies
Arrives from the United States
Estimated Shipping
Special - Purchase any 2 or more design stamp listings to receive a useful GIFT!

All Packages include TRACKING / INSURANCE - we combine shipping with few exceptions [breakable items].

Shipping Methods - we only ship USPS / period.

We do not ship via FEDEX /overnight mail and no longer offer *EXPRESS MAIL unless it is specifically requested via convo, orders must be able to fit into flat rate padded envelope.

*EXPRESS MAIL only shaves 1 Day off delivery time - it is NOT an overnight service.

PRIORITY MAIL

Orders weighing 1 pound MUST be shipped Priority Mail / Tracking/Insurance

Secondary pricing is set up to reach Domestic Priority Mail when a total of 6.95 shipping has been accrued. LETTER SETS, 1# Hammers and heavier items are set up to ship via Priority mail.

Because our TURNAROUND TIME IS FAST - Please make sure your ADDRESS is CURRENT and Correct - if we have to inquire about a shipping address it delays our ability to ship your order.

Incorrect addresses may DELAY DELIVERY by up to 3 weeks.

Go to your Etsy account - select 'addresses', delete all OLD addresses prior to checking out to ensure your package isn't accidentally shipped to your previous address.

ADDRESS INFORMATION required:

Full Name - first and last; c/o Company Name if sending to workplace
Street / house number / apt number
City, State, Zip code + last 4 digits for fastest delivery

Please - NO SHIPPING PRICE QUOTE REQUESTS because everything has to be packed for shipment in order to quote a price.

GET POSTAL SCANNING UPDATES AUTOMATICALLY!!

Go to: https://www.usps.com - enter your tracking number - then add your email address on the webpage to request USPS send you an update each time your package is scanned to keep track of it.


POSTAL INSURANCE / DELIVERY ISSUES

Package has been marked DELIVERED and you do not have it follow these instructions:

1. Contact your postmaster immediately with your tracking #. Tracking numbers are scanned at the time of delivery and include GPS locator information. If your post office stonewalls you, please contact us immediately.

2. Ask your neighbors if they received it by mistake - new / substitute drivers often make this mistake;

If USPS has mis-delivered or lost your package and complaints filed with USPS have not produced it, we will also file a complaint. USPS requires us to allow them to attempt to find and deliver packages.

INSURANCE CLAIMS:
USPS requires 20 days to allow them to locate/deliver packages - If they fail, an insurance claim will be filed. Insurance claims REQUIRE an AFFIDAVIT to be filled out by the customer attesting as to not having received the package - No Exceptions - if you do not wish to fill out an affidavit, we will not be able to file a claim for you, therefore your item will not be able to be replaced. Upon approval of the insurance claim we will Re-ship the item, we do not issue refunds.

SHIPPING DAMAGES:

USPS DAMAGE to product - If the contents of your package have been damaged during shipping, please contact us with photographic evidence of the damage including the package. Do not dispose of the package or contents. USPS requires the package and contents to be available if they require it. Shipsurance requires photographic evidence and a Customer AFFIDAVIT, if the customer is unwilling to provide an affidavit we will not be able to file an insurance claim.


INTERNATIONAL SHIPPING INFORMATION

Information we MUST HAVE [in English] to obtain a USPS label:

Your Full Name
Street name House No / apartment No
City
State/Province or Region
Zip Code / Country

For no nonsense delivery / please include your phone number

VAT FEES / DUTIES TAXES are a responsibility of the buyer - as you are importing into your country. Please google: import duties and fees/ 'your country' to locate your costs prior to purchase to check import and duties regulations to see if VAT fees apply to your purchase, or something you'd like to purchase is not allowable.

INTERNATIONAL - RE 'GIFT' questions - We CANNOT write 'GIFT' on the customs forms. We use USPS - The United States Postal Service is a Federal Postal service bound by US Federal laws which govern all customs forms. Falsifying a customs form is punishable by fines, loss of shipping privileges and or jail time. So, no, we cannot falsely state a purchase is a 'gift'.

All International packages must be INSURED** if we cannot purchase insurance we will have to cancel your order. We cannot purchase insurance for the following countries therefore -

EUROPEAN UNION RESTRICTION*

We DO NOT ship LETTER SETS/ PUNCTUATION SETS or NUMBER SETS to EU listed countries because they are NOT returnable - see Exceptions*:

Austria, Belgium, Bulgaria, Croatia, Republic of Cyprus, Czech Republic, Denmark, Estonia, Finland, France, Germany, Greece, Hungary, Ireland, Italy, Latvia, Lithuania, Luxembourg, Malta, Netherlands, Poland, Portugal, Romania, Slovakia, Slovenia, Spain, Sweden and the UK.

*EXCEPTIONS - if you are willing to acknowledge in writing that you KNOW and agree all Letter sets / punctuation sets and number sets are a FINAL SALE item as as they are NOT RETURNABLE we will make an exception.

**WE CANNOT SHIP TO THESE COUNTRIES

Because we are restricted by the US Federal government/USPS and we cannot purchase insurance we cannot ship to these countries:

Afghanistan, Angola, Bolivia, Brazil, Burma, Congo, Cuba, Iran, Iraq, Ivory Coast (Cote d'Ivoire), Liberia, Nigeria, North Korea, Paraguay, Sierra Leone, Somalia, Sudan, Syria, Venezuela. Any location that would be in violation of any U.S. economic or trade sanctions including OFAC Restricted Countries. For shipments to Russian and other Commonwealth of Independent States countries (includes Armenia, Azerbaijan, Belarus, Georgia, Kazakhstan, Kyrgyzstan, Moldova, Russia, Russian Federation, Tajikistan, Turkmenistan, Ukraine, and Uzbekistan)

TRACK YOUR PACKAGE - INTERNATIONAL

Contact USPS 1 800) 222-1811, the tracking software link:https://www.usps.com Once you've entered your tracking number, you can also enter your email address and USPS will send you an update each time your package is scanned if your country has a working relationship with the United Postal Union :)

TRACKING NUMBERS - a blue link appears in the upper right hand corner of your invoice go to my account > 'purchases' open the invoice.

Thank you for shopping ArtJewelryBeadsNMore
---
Payments
PAYMENT OPTIONS ACCEPTED

* PAYPAL - is available through Direct Checkout

* ETSY GIFT CARDS

* DIRECT CHECKOUT

* Credit Cards / Debit Cards are accepted when using Direct Checkout

COMBINED SHIPPING - all shipping has primary and secondary costs for the added volume / weight. Secondary costs are calculated to reach USPS Priority mail pricing. USPS requires Priority mail shipping on packages weighing more than 15 ounces.

We sincerely appreciate our customers and strive to offer the fastest Monday thru Saturday turn around time and daily shipping within 24 hours of receipt of confirmation of payment. USPS picks up at 9AM EST.

Please follow through with check out via Direct Checkout, Etsy GIFT CARDS and/or Paypal at the time of purchase to ensure fastest turnaround time.
---
Returns & exchanges
I don't accept returns, exchanges, or cancellations
But please contact me if you have any problems with your order.
Additional return information
We require photocopy of business licenses for shipments to FLORIDA - if business license is not provided you may be required to pay FL USE TAXES on IRS reports.

CANCELLATION REQUESTS - I'm sorry we can no longer accept CANCELLATION requests because CVS Records have shown us Etsy has NOT been refunding the service charges.

RETURNS/EXCHANGES - SOME of the items we sell are NOT eligible for Return or Exchange. Therefore we had no choice other than to select the 'blanket' no returns or exchanges selection.


Please review our RETURNS / EXCHANGES POLICY

NO RETURNS or EXCHANGES on *LETTER SETS/PUNCTUATION/NUMBERS, Cord/Chain/Leather/ Soldering Paste

To be fair to everyone this is a No exceptions policy. LETTER SETS/NUMBER SETS/ and PUNCTUATION sets are NOT eligible for return or exchange / in Fairness to All - there are NO exceptions to this policy - Please review the Font and the SIZE CHART AVAILABLE within each listing prior to purchase to avoid making a mistake. If you are unsure of the size you need, please contact me for help with your selection prior to ordering : D

*WHY? - As with all other Etsy sellers due to the weight of these tools, in addition to previously encountered bad experiences [missing parts and damaged product upon return] we cannot offer exchanges or refunds for letter sets. As you would not want to receive a returned set upon receipt, All of our other customers do not want a returned set either.

This policy on letter sets has been in place and appears on the policies page in clear view cautioning customers to be careful in choosing the STYLE font and font sizes as they are not returnable or exchangeable for the numerous reasons stated above. The chart will help you choose the correct size font. When in doubt we urge our customers to contact us prior to purchase. It is only fair that we apply this standard to every letter set we sell with no exceptions - again, this policy is standard policy for all sellers of letter sets, and we sincerely appreciate and thank you for your understanding.

RETURNS / EXCHANGES Etc - Contn'd

CORD/ CHAIN/ LEATHER/SOLDERING PASTE/ WIRE are NOT returnable [unfortunately, missing quantities upon return receipt have caused the need to institute this policy].

RE WIRE: Please read the descriptions carefully, wire is NOT returnable.

All other products we carry are based upon individual circumstances - please contact us within 14 days of receipt to request RA.

Customer pays the return postage, tracking is required. If insurance is not purchased and USPS loses the package if it was not insured, as we have not received it, there will be no refund.

Shipping paid at checkout is not refundable as it was paid to USPS for third party delivery service and USPS will not refund it.


EZ BRACELET / NECKLACE MANDRELS: Please read the listings carefully, the listing clearly states these are flexible ROLLER Vinyl, due to the difficulty and care required in shipping them, they are not returnable.

Return Shipping instructions for merchandise [excluding letter sets, blanks, cord, chain and wire ] must be returned un-opened, un-damaged and in the original manufacturer's packaging, *returns must be insured and include tracking to protect yourself. Return shipping is paid by the BUYER - we repeat - shipping paid at checkout is NON-REFUNDABLE as USPS has provided the delivery service to you. *if the merchandise is lost, stolen or miss delivered by USPS it is not considered 'returned' as we will not have received it and there will be no refund. We apologize, as all policies are in effect due to previous consumer fraud issues and thank you kindly for your understanding.

OOPS! - is an EXCEPTION TO RETURNS - if WE made a mistake :/ - accidentally sent you the wrong item [a rare occurrence] please contact us immediately so we can correct the error. We will send a pick up label to you to retrieve the item.

APPROVED EXCHANGES

[Exclusions - letter sets, punctuation, numbers, wire, blanks, used items, cord, chain and wire]. Returns / exchanges must receive prior authorization. If an exchange is approved, due to previous 'issues' encountered, the exchange purchase must be completed upfront prior to authorization of the exchange at which time the RA and return address will be being given for the exchange. If a package does not have an RA# it will be refused.

Approved exchanges must be received by us in original condition and include all parts and undamaged manufacturers packaging. Return shipping is paid by the buyer. Returns for exchange must include tracking and insurance. If the item is not tracked or insured and we do not receive it, we cannot exchange it. To clarify, shipping for the exchanged item is also paid by the buyer.

SHIPPING IS NOT REFUNDABLE

We repeat - USPS was paid to USPS to deliver your package, therefore, shipping charges paid at the time of checkout are non-refundable under any circumstances as the service paid to USPS has been provided by USPS.


COMPLAINTS / CLAIMS

For ALL complaints and claims - please include a clear Photo with your complaint in your initial contact to help us help you more quickly.

We try our best to make sure our customers are happy with their shopping experience at ArtJewelryBeadsNMore. We realize it is a fact of life that we may not be able to make all people happy all of the time, but please treat us with respect and courtesy and we will return respect and courtesy in kind :)

PHOTOS Please - Our suppliers / manufacturers require Photos to accompany all complaints / claims showing the issue at hand. PHOTOS included in your convo will help us process your complaint for WARRANTY REPLACEMENTS and/or correction of 'Errors' more quickly and avoid us from having to request additional photos. See *Damages below for more information.

INSPECTIONS / WARRANTY REPLACEMENTS

At ArtJewelryBeadsNMore we INSPECT products prior to shipping, this means your package may have to be opened for complete inspection or warranty adjustments.

WARRANTY CLAIMS - ArtJewelryBeadsNMore and our Manufacturers / Suppliers STAND BEHIND our products. All items we sell are under Warranty, therefore, the Manufacturer will ship a replacement to You Free of Charge.

If we overlooked something during inspection - please include photos showing the issue in your initial contact so we can help you more efficiently because Photographic documentation is required by all of our Manufacturers.

The manufacturers will ship a Replacement or parts at NO cost to You, the photos help us obtain warranty approval more quickly and efficiently.

Our manufacturers Know they are duly responsible for all Warrantees and Replacements. We will submit the warranty claim, we merely ask for courteous patience while we work to obtain the replacement for you. We are a Retailer of numerous supplies and tools we do not manufacture and again emphasize that Our Manufacturers Stand behind their products.

IF the customer Refuses a Warranty Replacement - at that time the Customer will become responsible for the Postage to Return the item with all parts, packaging and any enclosed 'gifts' for purchase, TRACKING and INSURANCE is required. Note if the item is not insured and USPS loses or miss-delivers the package, we will not have received it and will not be able to refund the purchase price of the item. Shipping paid at the time of checkout is not refundable as USPS delivered your order to you and they will not refund for the service they performed.

Please review postal Damages below.

MISTAKES - Mistakes are RARE however, as we are human and subject to fatigue an occasional mistake can happen. Please submit photos with initial convo - we understand you may be upset, but please don't Yell at us [refrain from using CAPS and EXCLAMATION POINTS because it's upsetting and sets a bad tone]- please treat us with respect and courtesy and we will return in kind.

USPS DAMAGES

We INSPECT and package everything securely, however if damage has occurred during shipment please let us know immediately. Shipsurance requires photos of the packaging and damaged product and an *Affidavit from the Customer . Please hold onto all packaging until the insurance claim is fully resolved.

Note - An *AFFIDAVIT is a requirement for all insurance claims. If the customer refuses to fill out the affidavit we will not be able to process an insurance claim.


WHAT DOES 'AS IS' MEAN:

Items Sold 'AS IS' - these items were reduced for sale and sold 'AS IS' that means we did not take extra time to inspect it prior to shipping. However - the items are under warranty by the manufacturer and we WILL intervene to have manufacturing errors CORRECTED by the manufacturer. Please send photos to help us help you obtain warranty replacements ;)

CUSTOMER DAMAGE / ABUSE / MISUSE:

Customer Damage and abuse / misuse of tools or other products, or tools pushed past their limit are obviously NOT covered by the Warranty and are Not Returnable, Replaceable or Refundable used products and tools are not returnable or refundable.

RE COLOR: As internet sales is not 'new' everyone knows monitors can and do show colors inaccurately if the receiving monitor was not calibrated. We are not responsible for computer monitors not showing our colors accurately regardless of the product line we sell. We do our best to make sure OUR iMac computer monitor matches the colors that we are holding in our hand and verbally describe colors whenever we can.

All Information in the Information and Appearances and Policy pages are hereby incorporated in their entirety as the Policies of ArtJewelryBeadsNMore whether or not the were repeated herein.

Thank you choosing to shop with ArtJewelryBeadsNMore - your support and patronage is greatly appreciated.
---
Additional policies
INSPECTIONS / LETTER SETS ETC

We ONLY sell NEW TOOLS and Letter Sets. All Tools are Inspected prior to shipment for your convenience unless they are sold 'AS IS'. Upon finding 'issues' in a Letter Set we WILL OPEN the letter set to remove / replace Duplicate / Defective letters. Some sets MUST be opened in order to inspect them. All of this takes a lot of time for us to do but it is purely for our Customer's convenience.

PRIVACY POLICY

Please insert an active / monitored email address. We will only contact you about your order in regard to shipping or matters regarding order fulfillment.

NO MAILING LISTS - hurray! We Promise - we do not collect or maintain a list of email addresses and we do not send newsletters - so we won't bug you - ever!

**STAINLESS STEEL / FLATWARE STAMPING / & MACHINE STAMPING

The only letter sets recommended specifically for Stainless Steel and Flatware or 'Silverware' stamping is made by Impressart. The Fonts are the ImpressArt PREMIUM NEWSPRINT and PREMIUM BRIDGETTE sets. These sets are ROC 62 and are the most reasonably priced Stainless Steel stamping tools.

Can I use my stamp set on stainless? The gauge of the stainless steel and whether or not it has been tempered [hardened] will determine if it can be stamped with something less than ROC 62.

Flatware and some blanks are tempered [hardened]. You will know when your blanks are harder than your stamps if you get 'bounce back', the stamp will not make an impression, you get 'ghosting' [double strike] or you have to use a lot of force to make an impression. If you have to use a lot of force, you will ruin your stamps.

The 18G stainless steel blanks being sold really 'sound' great, but 18G stainless is really too hard for the majority of the metal design stamps on the market. They may cut the metal, but over time I've been informed the stamps will begin to mushroom out losing definition of design = ruined stamps.

So the answer this question it really depends upon the gauge /temper of the stainless as to whether or not ROC 53-56 stamps in the marketplace will cut it* To avoid stamping problems and ruining your stamps we recommend staying away from 18G stainless blanks and Silverware / Flatware [tempered] because these products are too hard.

Brand tool hardness [ROC]:

*EUROTOOL stamps are ROC 55-56

*METAL COMPLEX and BEADSMITH stamps are ROC 52-53

*ROC 52 - 56 are only hard enough to stamp thin stainless steel 22-24G and thin untempered stainless plate.

IMPRESSART basic and regular stamps are about ROC 55-56 - please bare in mind, using them on stainless voids the warranty on these stamps. Please be mindful that we cannot 'recommend' and are not 'advising' this brand be used on stainless due to the limitations under the warranty.


IMPRESSART BASIC SETS vs IA REGULAR LETTER SETS:

The difference between the Basic sets and the other impressart sets:

1 - ImpressArt the bonus letters in the new cases ARE nickel plated. BASIC letter sets are NOT nickel plated, can and will show surface rust, occasionally will arrive with surface rust. However, this is easily removed using sandpaper, sanding sponge, steel brush, steel wool or emory board - store in climate controlled area to help prevent sweating. As above, they are not returnable for rust, as this is why they are so 'inexpensive'.

2 - Regular sets include 6 Bonus design or punctuation stamps - the basic sets are the alphabet stamps with ampersand [upper] or question mark [lower] only.

3 - New Larger cases for Bonus sets - each letter / design stamp is separate and labeled, the basic sets are housed in a plain U-case. Note as the newer cases are much larger [and breakable] they require BOXING for shipment.

4 - NO mistakes - the shank of the 'Bonus' sets are Labeled with the design / letter and logo on the side to avoid mistakes - basic sets are Plain, Un-labeled

The ROC hardness of the stamps is the same.

STAMPING MACHINES / METAL SHANK SIZES

The brand of letter sets that we carry that fit into stamping machines is our ImpressArt 2.5 and 3mm size letters and the ImpressArt 3mm size design stamps.

The BLACK Eurotool Elite 5mm design stamps are 1/4" square.

The 2 and 3mm Metal Complex, Eurotool and Beadsmith LETTER set stamps do NOT fit - they are all the same diameter across these brands - the 2mm sets are 1mm smaller than 1/4", the 3mm sets are 1mm larger than 1/4".

All 4mm and 6mm design stamps and letter sets are TOO LARGE. To use these stamps in your jewelry the stamps must be hand held to stamped. If you are using a machine - stamp your words and then go back to stamp the larger design stamps by hand OR Hand stamp the designs - then go back and stamp the words / names etc afterward with your machine.

SEED BEAD WEIGHT VS BEAD COUNT

NO SHORT SHIPPING - EVER! We use a Scientific Laboratory grade scale to ensure you receive what you have paid for.

Why are loose seed beads sold by weight and not by the count?

Czech seed beads are a rocaille bead, created from long glass rods. The beads are not pressed or molded glass therefore they are not 'exactly uniform' in size. That is the reason they have been loved and used by Native Americans to create Circles and Mandalas as the wider and conversely, thinner, beads allow creation of perfect circles.

Metallic beads, metal vapor coated, silver, copper and brass lined beads weigh more per bead than the transparent glass or matte finished beads and some colors of glass have metals in them, such as the red, yellow and orange colors. Because there are thousands different sizes, colors and finishes of seed beads, it's just not possible to count or estimate the number of beads per 30-34 gram pack in each color and finish we offer for sale.

DYED and METALLIC BEADS - TIPS
KEEPING THE FINISH LIKE NEW ON METALLIC AND DYED SEED BEADS

*Coat your beads with clear acrylic spray paint before working with them. If you're working with seed beads, one way to do this is to pour them into a plastic zip bag, spray a bit of paint into the bag, shake the bag to coat the beads, and pour them onto plastic sheeting to dry. (Please, only do this technique outside or in a well-ventilated area and promptly dispose of the plastic bag after you finish.

*Future clear acrylic floor wax is used by many artisans to strengthen the stitched thread in finished seed-bead work, but it also works well for protecting unstable beads. It works best to dip the finished work in a dish filled with the floor wax and then air-dry it on paper towels.

*You can use light coats of a product like Renaissance Wax, DesignaSeal, Mod Podge, or Diamond Glaze to seal larger beads with unstable finishes. Keep in mind that these sealers may change the look of your beads by creating a high gloss.

OOPS!! ...... RE - VARIATIONS LISTING ERRORS

Please contact us so we can correct the listing prior to purchase.

Explanation - Due to recent changes within the listings manager, some of our listings with variations were altered dropping the variations listing selections. Most of the affected listings have been corrected. We have recently found where this has occurred again.

Please be note any listing wherein the variations regarding size or quantity if the variations selections have dropped off the listing the smaller size or *lowest quantity is the default - ie the smaller size item; the least expensive single item or the lowest quantity of the listed item.

If a purchase has been made fwe will contact the customer requesting confirmation and approval for the default item. However if no response is received the default item will be shipped. Alternatively, we may cancel the order and notify the customer the listing has been corrected so they can repurchase.

*Examples: listings were there are options to purchase for example 5-25 quantity of any item, the default price showing in the customers cart will be the lowest quantity of 5.

For listings were there are size variations for example size 4x5 or 5x6 the default size is the lower priced item, or the 4x5 sized item.

In listings where the item is seed beads in loose or hank form, the default is for LOOSE seed beads.

In listings were there were multiple choices of multiple items, such as, one letter set, 2 letter sets, or letter sets and numbers the lowest priced, single item is the default item which was charged for and thus purchased by the lower default pricing structure.


USPS PRICE INCREASE

USPS recently instituted Domestic and International price increases - the changes have been difficult to get a handle on. Although we have worked to adjust the prices for all merchandise, it has been a daunting task. If the shipping charges collected are insufficient we only have a few options available to us - we may cancel part of the order to comply with the shipping weight paid, cancel the entire order if it's not possible to ship at all, or we may contact you to request the shortage be sent to our account.