70% OFF BLACK FRIDAY Woodland Animals Cli art, Animal Vectors, Cute deer, Clip Art racoon, Clip art Rabbit, Fox and Squirrel graphics. Backg
(7)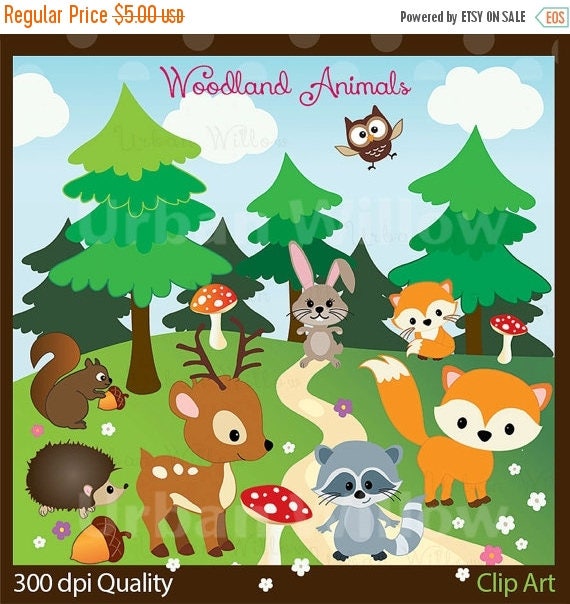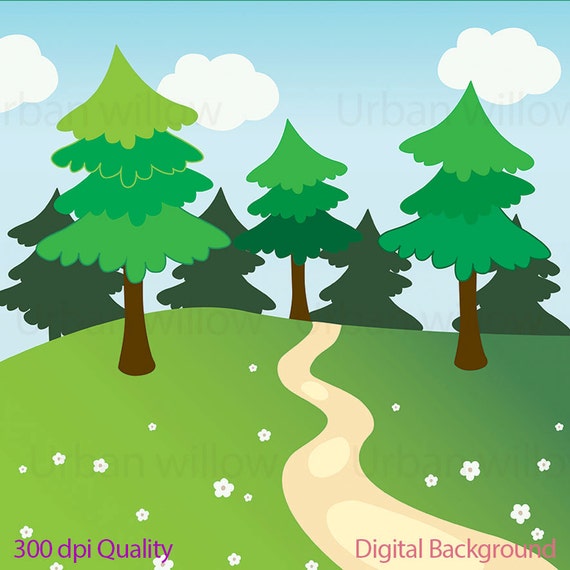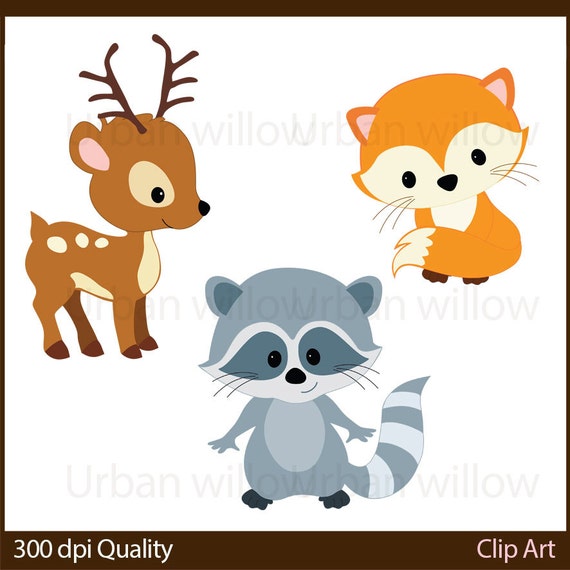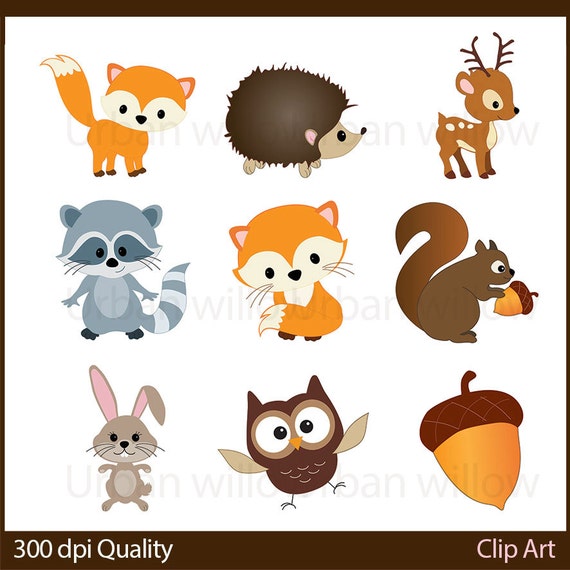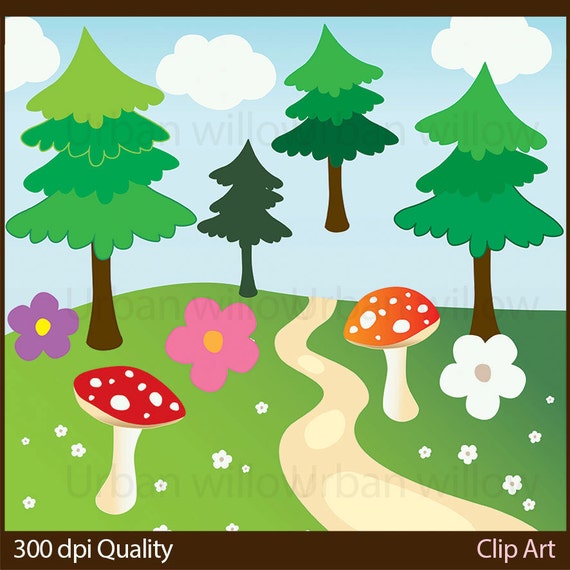 ---
Features
---
Item details
******INSTANT DOWNLOAD********

Png & Vector clip art for commercial* and personal use. Please read store policies before purchasing.

***********************************************************************
WOODLAND ANIMALS - 20 piece clip art set in high resolution, Png & Illustrator (Vector) files.

Clip art image sizes are approx. 6" wide/ or high and can easily be reduced to gift tag size to suit your project. Each clip art image is saved as a separate png image that can be used with almost any desktop publishing or graphics program, including Microsoft Word.

Illustrator files are also supplied to allow you to easily edit colors, sizes and add type. So easy!

You will receive:
1. 19 x clip art images displayed above in both Png, Adobe Illustrator & Eps format.
2. 1 x digital background (12" x 12" Jpeg file). Also supplied in Illustrator & Eps format.

Clip art Images as separate png files are listed below:

1. Winding path.
2. Cloud.
3. Fox 1.
4. Fox 2.
5. Acorn.
6. Raccoon.
7. Mushroom 1.
8. Mushroom 2.
9. Hedgehog.
10. Rabbit.
11. Owl.
12. Squirrel with acorn.
13 - 16. 4 x Fir trees.
17. White flower.
18. Purple flower.
18. Pink flower.
19. Reindeer.

Png images have a transparent background.

This set is available for instant download.

*************************************************************************
*Please read our store policies before purchasing.
PLEASE NOTE: These images carry an embedded digital fingerprint. You are not permitted to modify the images to resell as clip art or downloadable characters. Thank you! :)
---
---
exactly what I was looking for!
Jan 3, 2018 by Kait
Adorable clip art! Easy to download and use.
Jan 9, 2017 by L Sanchez
So cute! Exactly what I was looking for. Thank you!
Aug 16, 2016 by Justine Mann
Loved the product! We had fun making a baby shower invite! Simple to use!
Aug 9, 2016 by joyful1964
Fantastic graphics! Great seller! I will be back!
Aug 7, 2014 by Patricia Garcia
---
More from this seller
---
Digital downloads
---
Returns & exchanges
Like all digital stores, due to the nature of the product refunds and exchanges can obviously not be provided.
As Etsy has no graphics regulations, we adhere to international standards.
You can trust that all our products are represented accurately, exactly and correctly in our product pictures. As is the nature of artwork, some images are stylized or abstract but you can always trust that 'what you see is what you get'. If you are hopeful that there are more images included in the set than you can see in our product pictures, or that an image is somehow different to what you can see in the pictures we have provided, please contact us PRIOR TO PURCHASE, to clarify.

CUSTOM ORDERS
A custom design fee on digital invitations or party printables pays for the time spent creating artwork or personalizing the design for you. Refunds cannot obviously be given once time has been spent producing a custom design for you, but we will always work with you to ensure that the design meets your original specifications and is just how you like it!
---
Additional policies
WELCOME TO LITTLE PUMPKIN PIX & URBAN WILLOW!

IMPORTANT INFORMATION FOR INSTANT DOWNLOAD IMAGES:
As Etsy has no graphics regulations, we adhere to international standards.
You can trust that all our products are represented accurately, exactly and correctly in our product pictures. As is the nature of artwork, some images are stylized or abstract but you can always trust that 'what you see is what you get'. If you are hopeful that there are more images included in the set than you can see in our product pictures, or that an image is somehow different to what you can see in the pictures we have provided, please contact us PRIOR TO PURCHASE, to clarify.

WHAT DOES YOUR GRAPHICS LICENSE ALLOW?
................................................................................................
New terms as of JUNE 4, 2014

▬▬▬▬▬▬▬▬▬▬▬▬▬▬▬▬▬▬▬▬▬▬▬▬▬▬▬▬▬▬▬
♥ ACCEPTABLE PRINTED USES ♥
▬▬▬▬▬▬▬▬▬▬▬▬▬▬▬▬▬▬▬▬▬▬▬▬▬▬▬▬▬▬▬

A small commercial use* license is automatically granted with each item clip art, digital paper and digital frame purchased from Urban Willow.
We do require that credit is given to Urban Willow wherever you sell, display or advertise products that include Urban Willow images. Please also include a url link back to Urban Willow: (www.urbanwillow.net). No credit licenses are available ($25 USD per clip art set).
HOW TO GIVE CREDIT: Credit can include a statement such as "Graphics by Urban Willow", "Illustrations by Urban Willow" or "Characters by Urban Willow" etc. Plus a url link.
*The small commercial license permits the use for small craft business to create up to 1,000 'tangible', PRINTED ITEMS (up to 12" in size), some examples are listed below:
PLEASE NOTE: (These production limits include our images up to 12" in size. To use our extra large images or to reproduce our images over 12" in size, or if you are creating large prints or wall vinyls requires an extended license).
For example, if you are creating a 15" wall print with our images an extended license will be required. Licenses are very affordable ($10 USD per clip art set). If you don't wish to give credit to Urban Willow, an additional No Credit license is required.
For more license information: https://www.etsy.com/listing/174340836/extended-commercial-license-for-large

ACCEPTABLE PRINTED USE EXAMPLES
♥ Printed or hand made cards
♥ Tags
♥ Invitations and announcements
♥ Pendants
♥ Buttons and badges
♥ Printed cupcake toppers
♥ Bookmarks
♥ Posters or prints (Images or prints under 12" in size)
♥ Place cards
♥ Coffee mugs, plates
♥ Embroidered hats, pillows, t-shirts
♥ Rubber stamps
♥ Water bottle labels
♥ Candy wrappers
♥ T- shirt transfers
♥ Embroidered fabric products
♥ Business cards, logos
♥ Clothing labels & tags
♥ Product packaging
♥ Stickers & lables
♥ Decoupaged crafts
♥ Children's play blocks
♥ School teachers aids (such as work sheets, games or signs).
♥ Flyers or promotional materials.
♥ Not for profit wall vinyls (eg. hospitals, schools).
♥ *Digital product design (please read ACCEPTABLE DIGITAL USES criteria below).
♥You may use our images for your own business logo design for display on business cards, printed promotional stationery and related business stationery.
ADDITIONAL ACCEPTED USES
♥ Face book timeline (please give credit to Urban Willow, thank you).
♥ Personal blogs (please link back to our store, thank you).
♥ Etsy shop banners (please give credit to Urban Willow, thank you).
♥ Digitalised Embroidery Design
(Please see 'Digitalised Embroidery Design' section below for details).
♥ Teachers Pay Teachers (Please see "Teachers Pay Teachers" section below).
♥ Zazzle (Please see "Zazzle" section below).
♥ Personalised digital INVITATIONS ONLY (Please see "Personalised Digital Invitations" section below).

You may produce up to 1,000 PRINTED, handmade items from the images that you have purchased (this includes images up to 12" in size).
Such items can be printed or created and sold on Etsy, in craft markets, home business and small business web sites.
Credit to Urban Willow, or Little Pumpkins pix IS REQUIRED (see above), thank you.

▬▬▬▬▬▬▬▬▬▬▬▬▬▬▬▬▬▬▬▬▬▬▬▬▬▬▬▬▬▬▬
♥ LARGE SCALE PRINT PRODUCTION ♥
▬▬▬▬▬▬▬▬▬▬▬▬▬▬▬▬▬▬▬▬▬▬▬▬▬▬▬▬▬▬▬

If you would like to produce over 1,000 items, a license is required. Large scale print production licenses are around $25.00 - $45.00 for most clip art sets. Please contact us to obtain a license or follow this link to view our basic extended license:
https://www.etsy.com/listing/202615254/extended-commercial-license-for-large?ref=shop_home_active_10

▬▬▬▬▬▬▬▬▬▬▬▬▬▬▬▬▬▬▬▬▬▬▬▬▬▬▬▬▬▬▬
♥ ACCEPTABLE DIGITAL USES ♥ - New terms as of JUNE 4, 2014
▬▬▬▬▬▬▬▬▬▬▬▬▬▬▬▬▬▬▬▬▬▬▬▬▬▬▬▬▬▬▬

♥ Face book timeline (please give credit to Urban Willow, thank you).
♥ Personal blogs (please link back to our store, thank you).
♥ Etsy shop banners (please give credit to Urban Willow, thank you).
♥ Digitalised Embroidery Design
(Please see 'Digitalised Embroidery Design' section below for details).
♥ Teachers Pay Teachers (Please see "Teachers Pay Teachers" section below).
♥ Zazzle (Please see "Zazzle" section below).
♥ Personalised digital INVITATIONS ONLY (Please see "Personalised Digital Invitations" section below).
(You are allowed to create flattened invitations that are personalised for your customer). Please combine our images with other artists images, frames and/ or backgrounds to create your own original designs that differ significantly from Little Pumpkins Pix invitation designs.

▬▬▬▬▬▬▬▬▬▬▬▬▬▬▬▬▬▬▬▬▬▬▬▬▬▬▬▬▬▬▬
♥ PERSONALISED DIGITAL INVITATIONS ♥
▬▬▬▬▬▬▬▬▬▬▬▬▬▬▬▬▬▬▬▬▬▬▬▬▬▬▬▬▬▬▬

1. Please don't display images directly on a white background (combine/ layer with colored borders or backgrounds).
2. Please honour us by giving credit & a link to Urban Willow where possible (on a face book page/ blog or web site).
3. Please be creative! Combine our images with other artists graphics, borders, design elements, clip art characters and colored backgrounds to produce your own unique composition. Our images are to be used as 'design resource' elements only. Our images are not to re-sold 'as is', where our illustrations form the major 'point of sale' for your products. They should be used to 'enhance' and embellish your original designs.
4. PLEASE NOTE: Urban Willow designs are NOT permitted to be used for Instant Download digital party printables such as toppers, party hats and table cards as this conflicts with our own party printable range, thank you :)

▬▬▬▬▬▬▬▬▬▬▬▬▬▬▬▬▬▬▬▬▬▬▬▬▬▬▬▬▬▬▬
♥ DIGITAL SCRAPBOOK KITS ♥
(Scrapbook kits are for your customers to create their own, personal use 'scrapbook' memory pages).
▬▬▬▬▬▬▬▬▬▬▬▬▬▬▬▬▬▬▬▬▬▬▬▬▬▬▬▬▬▬▬

1. Our images may be used for the content of up to 20% of a kit. Each image used must be combined with other backgrounds and images to create unique creations.
For eg. You can create .png embellishments as long as Little Pumpkins Pix or Urban Willow graphics are combined with other graphics/ patterned backgrounds on each file/ embellishment that you create. You may not use our graphics as a 'stand alone' feature of an embellishment. Our digital use guidelines apply to each and every element created. For eg. you might place our image in front of a rainbow, with a bird and a flower. Please be the creative soul that we know you are!
2. Little Pumpkins Pix or Urban Willow graphics must not form the major point of sale for the scrapbook kit. Our graphics are to be used as 'design tools' to enhance your creative work. They are not to be used as re-sale graphics.
3. Scrapbook kits may only be sold to a third party for their PERSONAL USE.

♥ Allowed digital products must include credit to Little Pumpkins Pix or Urban Willow on the actual product, or included with the products packaging. "Includes Graphics by Urban Willow" is an acceptable phrase, or on your web site or Etsy listing page. Please honour us in this way and we will continue to create wonderful, digital use graphics for you! :0)

▬▬▬▬▬▬▬▬▬▬▬▬▬▬▬▬▬▬▬▬▬▬▬▬▬▬▬▬▬▬▬
♥ WEB SITE USAGE ♥
▬▬▬▬▬▬▬▬▬▬▬▬▬▬▬▬▬▬▬▬▬▬▬▬▬▬▬▬▬▬▬

You may use our images for:
♥ Personal blogs,
♥ Face book time lines
♥ Etsy store banners
Please only display our images at a low resolution (72 dpi). Images must not be put on the web at their full size (300 dpi), thank you.
An extended commercial license must be purchased to use Little Pumpkins Pix or Urban Willow images for your COMMERCIAL WEB SITE DESIGN. Licenses are very affordable.
Please contact us for more information.

CAN I CHANGE THE IMAGE COLORS MYSELF?

Yes, you can change the colors of the designs that you purchase yourself.
Please note that Urban Willow retains the copyrights even if you modify the colors, thank you.

WHAT HAPPENS IF I LOSE IMAGES THAT I PURCHASE?

Computers do crash unfortunately!
You are able to request a copy of your images for up to two months from the date of your purchase.
Urban Willow recommends that you always make a back up copy of all the files on your computer and store it somewhere safe. Technical glitches, storms and power surges can all affect your computer. Urban Willow takes no responsibility for lost files but will gladly send you new ones within the two month period if we still have copies!

▬▬▬▬▬▬▬▬▬▬▬▬▬▬▬▬▬▬▬▬▬▬▬▬▬▬▬▬▬▬▬
♥ DIGITALISED EMBROIDERY DESIGNS ♥
▬▬▬▬▬▬▬▬▬▬▬▬▬▬▬▬▬▬▬▬▬▬▬▬▬▬▬▬▬▬▬

You are permitted to use our images for digitalised embroidery design.
Please follow the directions below:

1. PLEASE PROVIDE CREDIT TO LITTLE PUMKINS PIX or URBAN WILLOW where you advertise your designs, AND a link back to the Etsy, Urban Willow store.
2. Please only display your own digitalized version of the original image on your web site - not the original graphic file that you purchased (eg. You will be displaying the Urban Willow design, but in your own 'digitalized for embroidery' format.
3. Style or color modifications to the actual artwork - eg. changes to the style and color and artistic elements are permitted, but this does not grant you the copyrights. Urban Willow still retains the copyright for any image that you modify, and a credit and link back to the Urban Willow store is still required, thank you.
4. You ARE encouraged to COMBINE clip art elements to create YOUR OWN MONTAGE of images. (eg. Place a flower next to a bird, with a rainbow). This is strongly encouraged and allows you to express your creativity! It will also lend your products a style that is uniquely yours. Digitalizing and selling just one Urban Willow clip art image on it's own, or 'as is' is not encouraged. You are encouraged to create your own unique montage.
5. Please DO NOT claim Little Pumpkins Pix or Urban willow designs as your own.
6. Your digitalized embroidery designs can only be sold to personal crafters or small businesses that are producing under 100 embroidered items (per image) to be sold.
You are NOT PERMITTED to issue any extended licensing of Little Pumpkins Pix or Urban Willow images to a third party. (ie. You cannot issue an extended license for a company to produce 500 embroidered t-shirts). Urban Willow retains the copyrights of all images. Producers can approach Urban Willow for an extended license at any time.
7. You are NOT PERMITTED to supply or sell images to ANY third party that wishes to mass produce products (over 1,000 items per image file) from your digitalized embroidery files.
8. Urban Willow reserves the rights to change these policies at any time.

▬▬▬▬▬▬▬▬▬▬▬▬▬▬▬▬▬▬▬▬▬▬▬▬▬▬▬▬▬▬▬
♥ TEACHERS PAY TEACHERS ♥
▬▬▬▬▬▬▬▬▬▬▬▬▬▬▬▬▬▬▬▬▬▬▬▬▬▬▬▬▬▬▬

Yes, use of Urban Willow or Little Pumpkins Pix graphics is fine for the creation of worksheets for sale on the site Teachers Pay Teachers.

Please be mindful of the following terms:

1. Please don't display images directly on a white background (combine/ layer with colored borders or backgrounds).
2. Please honour us by giving credit & a link to Urban Willow where possible (on a face book page/ blog or web site).
3. Please be creative! Combine our images with other artists graphics, borders, design elements, clip art characters and colored backgrounds to produce your own unique composition. Our images are to be used as 'design resource' elements only. Our images are not to re-sold 'as is', where our illustrations form the major 'point of sale' for your products. They should be used to 'enhance' and embellish your original designs.

▬▬▬▬▬▬▬▬▬▬▬▬▬▬▬▬▬▬▬▬▬▬▬▬▬▬▬▬▬▬▬
♥ ZAZZLE ♥
▬▬▬▬▬▬▬▬▬▬▬▬▬▬▬▬▬▬▬▬▬▬▬▬▬▬▬▬▬▬▬

Yes, use of Urban Willow or Little Pumpkins Pix graphics is fine for the creation of customised digital invitations and printed prodcuts for sale on the site, Zazzle.
Please be mindful of the following terms:

1. Please don't display images directly on a white background (combine/ layer with colored borders or backgrounds).
2. Please honour us by giving credit & a link to Urban Willow where possible (on a face book page/ blog or web site).
3. Please be creative! Combine our images with other artists graphics, borders, design elements, clip art characters and colored backgrounds to produce your own unique composition. Our images are to be used as 'design resource' elements only. Our images are not to re-sold 'as is', where our illustrations form the major 'point of sale' for your products. They should be used to 'enhance' and embellish your original designs. Please do not copy Urban Willow or Little Pumpkins Pix party printable or invitation designs.

▬▬▬▬▬▬▬▬▬▬▬▬▬▬▬▬▬▬▬▬▬▬▬▬▬▬▬▬▬▬▬
♥ INFO. FOR PARTY PLANNERS ♥
▬▬▬▬▬▬▬▬▬▬▬▬▬▬▬▬▬▬▬▬▬▬▬▬▬▬▬▬▬▬▬
Party printable sets and digital invitations that have been designed by Urban Willow & Little Pumpkins pix are for personal use, but may be used by small business party planners to decorate for parties.
The party printable sets are not direct for re-sale as printed or digital items to shoppers.

These images are copyright URBAN WILLOW & LITTLE PUMPKINS PIX. Please don't claim them as your own designs.

****************************************************************************************