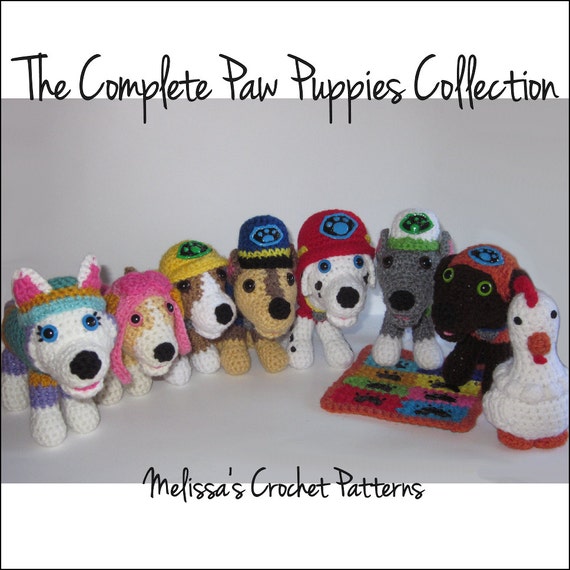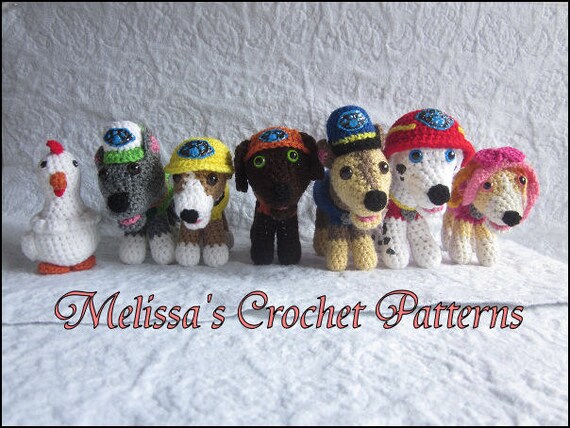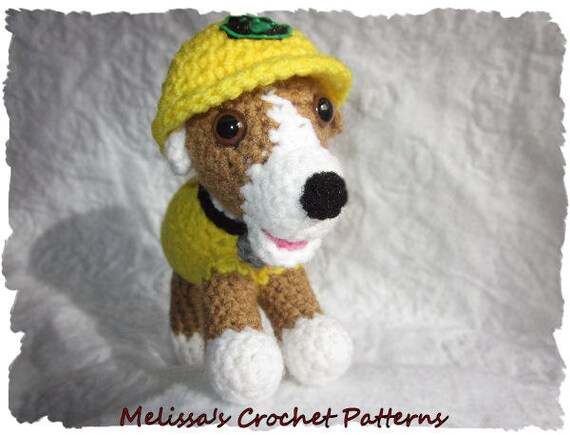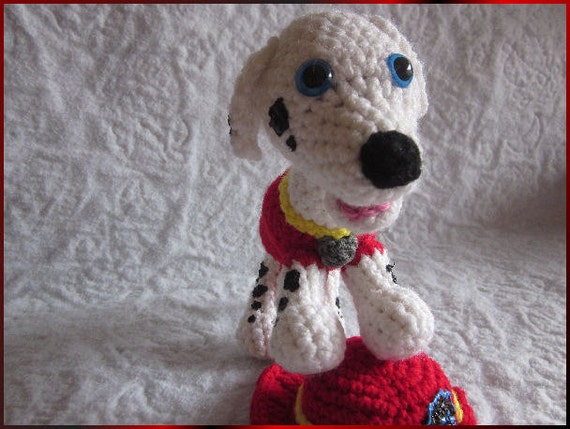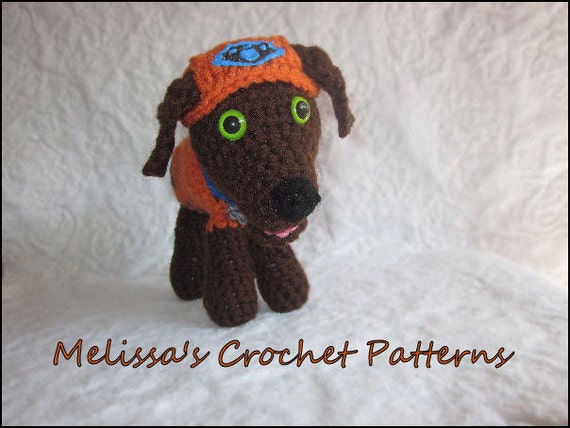 ---
Features
Made in San Jose, California
---
Item details
*****THIS LISTING IS FOR AN IMMEDIATE DIGITAL DOWNLOAD CROCHET PATTERN, NOT THE ACTUAL STUFFED ANIMALS****** There are no refunds given for instant download purchases.

This is a collection of 9 crochet patterns which include Marshall, Rubble, Zuma, Rocky, Chase, Skye, Everest, Pup Pup Boogie Mat, and Chickaletta. Each puppy measures approx. 7 inches long and 5 1/2 inches tall.

Also included is a 19 page pdf photo tutorial of how to sew the puppies together, however there is a 5 pdf file limit on Etsy listings, the photo tutorial, Chase, Everest, Pup Pup Boogie Mat and Chickaletta crochet patterns will be emailed to you with the email address on the Etsy invoice unless otherwise specified.

All have of my patterns have been tested before publishing.

All patterns are also offered individually.

For Marshall you will need...
All yarns used are Red Heart Super Saver Solids
Yarn Color MC (White)
Yarn Color A (Cherry Red)
Yarn Color B (Bright Yellow)
Small amount of black yarn for nose
Small amount of pink for tongue
Small amount of grey for tag on collar
12mm safety eyes
3.25mm crochet hook (Size D)
Black Fabric Paint for spots (I used Tulip Puffy Paint)
Light Blue Fabric Paint for fire hat (or desired color)
Fiberfill Stuffing
Yarn Needle
Sewing Pins to hold pieces in place before sewing (optional)
Stitch Markers

For Rocky you will need...
All yarns used are Red Heart Super Saver Solids
Grey yarn
Spring green yarn
White yarn
Small amount of carrot for collar
Small amount of delft blue for shirt
Small amount of black yarn for nose
Small amount of pink for tongue and ears
Small amount of dark green for tag on collar
12mm safety eyes
3.25mm crochet hook (Size D)
Black Fabric Paint for hat (I used Tulip Puffy Paint)
Green Fabric Paint for hat (or desired color)
Fiberfill Stuffing
Yarn Needle
Sewing Pins to hold pieces in place before sewing (optional)
Stitch Markers

For Zuma you will need…
All yarns used are Red Heart Super Saver Solids
Coffee
Carrot
Small amount of blue for collar and part of shirt
Small amount of black yarn for nose
Small amount of pink for tongue
Small amount of grey for tag on collar
12mm safety eyes
3.25mm crochet hook (Size D)
Black Fabric Paint for hat (I used Tulip Puffy Paint)
Light Blue Fabric Paint for hat (or desired color)
Fiberfill Stuffing
Yarn Needle
Sewing Pins to hold pieces in place before sewing (optional)
Stitch Markers

For Skye you will need…
All yarns used are Red Heart Super Saver Solids
Aran
Cornmeal
Gold
Perfect Pink
Shocking Pink
Small amount of black yarn for nose and collar
Small amount of pink for tongue
Small amount of grey for tag on collar
12mm safety eyes
3.25mm crochet hook (Size D)
Fiberfill Stuffing
Yarn Needle
Sewing Pins to hold pieces in place before sewing (optional)
Stitch Markers

For Rubble you will need…
All yarns used are Red Heart Super Saver Solids
Warm Brown
White
Bright Yellow
Small amount of black yarn for nose and collar
Small amount of pink for tongue
Small amount of grey for tag on collar
12mm safety eyes
3.25mm crochet hook (Size D)
Black Fabric Paint for spots (I used Tulip Puffy Paint)
Light Blue Fabric Paint for fire hat (or desired color)
Fiberfill Stuffing
Yarn Needle
Sewing Pins to hold pieces in place before sewing (optional)
Stitch Markers

For Chase you will need...
All yarns used are Red Heart Super Saver Solids
Cornmeal
Cafe Latte
Blue
Small amount of black yarn for nose and collar
Small amount of pink for tongue and ears
Small amount of grey for tag on collar
Small amount of bright yellow for hat
12mm safety eyes
3.25mm crochet hook (Size D)
Black Fabric Paint for spots (I used Tulip Puffy Paint)
Light Blue Fabric Paint for hat (or desired color)
Fiberfill Stuffing
Yarn Needle
Sewing Pins to hold pieces in place before sewing (optional)
Stitch Markers

Stitches and Abbreviations used…
Ch - chain
Sl - slip stitch
Sc - single crochet
Hdc - half double crochet
Dc - double crochet
Trb - treble crochet
St - stitch
Sts - stitches
Rpt - repeat
Inc - increase, 2 sc in the same space
Dec - decrease or sc2tog (single crochet 2 together)

For Everest you will need...
All yarns used are Red Heart Super Saver Solids unless otherwise stated
Soft White
Amethyst (Hobby Lobby's I love this yarn)
Aruba Sea
Gold
Jade
Small amount of black yarn for nose and eyelashes
Small amount of pink for tongue and ears
Small amount of light blue for tag on collar
12mm blue safety eyes
3.25mm crochet hook (Size D)
Fiberfill Stuffing
Yarn Needle
Sewing Pins (optional to hold pieces in place before sewing)
Stitch Markers

Stitches and Abbreviations used…
Ch - chain
Sl - slip stitch
Sc - single crochet
Hdc - half double crochet
St - stitch
Sts - stitches
Rpt - repeat
Inc - increase, 2 sc in the same space
Dec - decrease or sc2tog (single crochet 2 together)

For Chickaletta you will need...
All yarns used are Red Heart Super Saver Solids
White
Carrot
Cherry Red
Black Fabric Paint for eyes or small safety eyes
3.25mm crochet hook (Size D) or desired size hook
Fiberfill Stuffing
Yarn Needle
Sewing Pins to hold pieces in place before sewing (optional)
Stitch Markers

Stitches and Abbreviations used…
Ch - chain
Sl - slip stitch
Sc - single crochet
Hdc - half double crochet
St - stitch
Sts - stitches
Rpt - repeat
Inc - increase, 2 sc in the same space
Dec - decrease or sc2tog (single crochet 2 together)

For the Pup Pup Boogie Mat you will need...
All yarns used are Red Heart Super Saver Solids
Carrot
Delft Blue
Dark Orchid
Gold
Bright Yellow
Spring Green
Shocking Pink
Cherry Red
Aruba Sea
5.50mm crochet hook (Size I)
Yarn Needle
Stitch Markers
Black puffy fabric paint to make paw prints
Fabric stiffener (optional)

Stitches and Abbreviations used…
Ch - chain
Sc - single crochet
Rpt - repeat
Inc - increase with 2 single crochet
---
---
Aug 2, 2016 by ckjensen25
Wonderful contact. Easy to follow patterns. Thanks so much!! I'm going to have one happy nephew.
Jul 28, 2016 by sasha overman
Very helpful and very friendly in accommodating my needs. The patterns were delivered very fast and are easy to follow.
Aug 31, 2015 by Catherine
Got the pattern super quick and she answered my questions even faster! Thanks so much!
Mar 22, 2014 by Brooke
Wonderful patterns, easy to read, well illustrated, immediate delivery. Thanks very much!
Feb 21, 2014 by crocheter4life
---
More from this seller