4" by 1" Orgone Pipe Magnetized 3-Pack of Authentic Sherry Shriner Style Orgone: Tactical (+)Orgone Generating Dimensional Weapons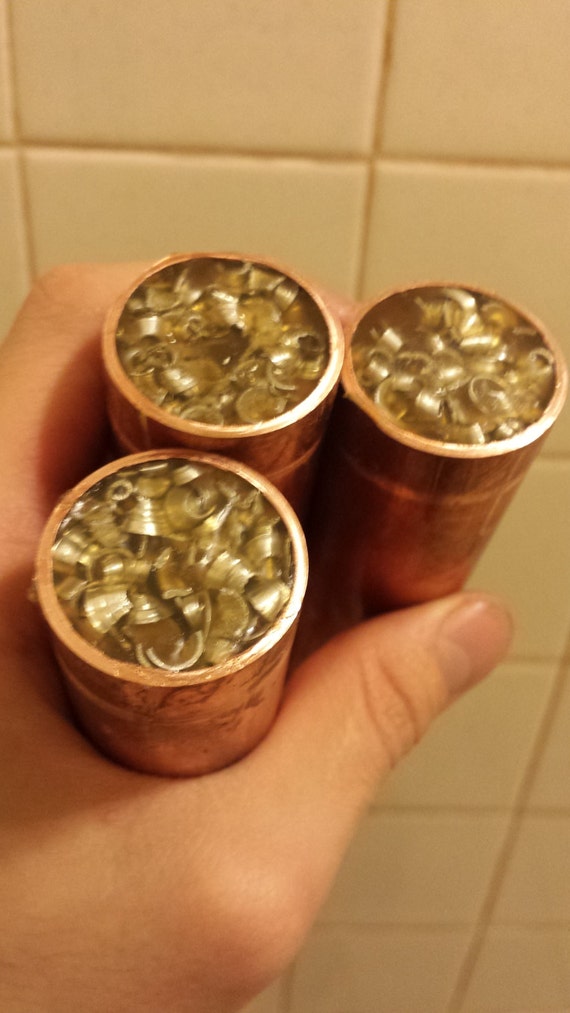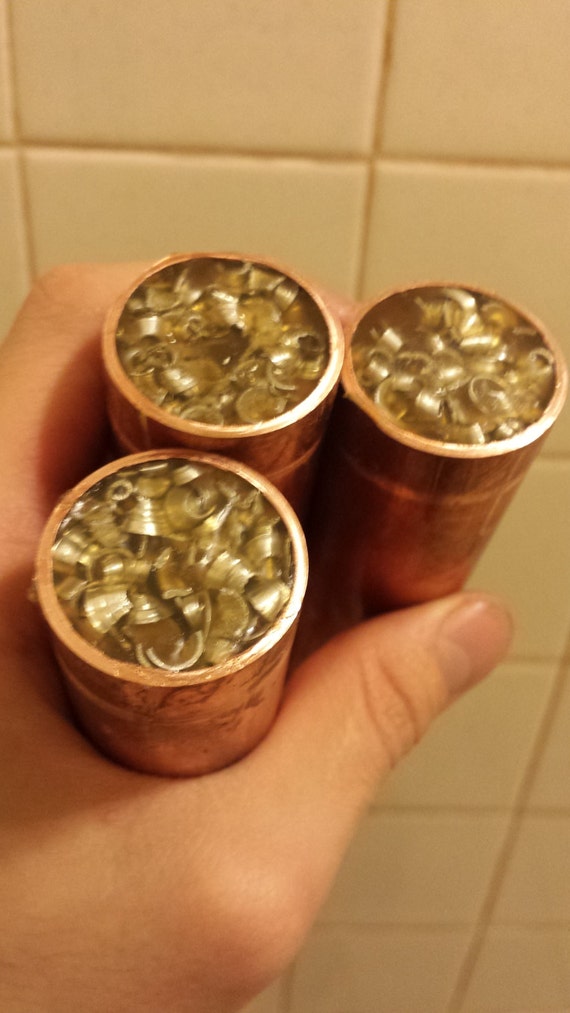 Preparation takes 3-5 business days
Arrives from the United States
---
Features
Made in Chicago, Illinois
---
Item details
These little pipes are great to use for water sources.

Get any ponds, rivers, lakes, and other bodies of water around you so that this water will not be just any old water, but it will become orgone water.

What is orgone water good for? Well, bodies of water with orgone thrown in it will not EVER see a drought according to Sherry Shriner. Orgone water is akin to holy water, being charged with the quintessence that being the BREATH of YAH HIMSELF from His orgone, and so this holy water the orgone water is used to cleanse the home and alien/demonic intruders will NOT be able to stand it ! One key thing about orgone water is that according to Sherry Shriner, it will put an undead, flesh eating monster in its place; orgone water acts as acid to these beings and when it is sprayed on them it will melt them completely !!! They won't stand a chance !

The reason I'm here today getting it out is because I decided years ago to make this orgone to disprove it. In a weird turn of events I decided to make this orgone at the exact same time that two close friends of mine decided to confide in me that they were being pestered by what they both were calling "shadow people." The very first pours of mine went to my friends, and not even THEY believed that the orgone would do anything, but what happened next was simply astounding; the day that the orgone was introduced, the shadow people got VERY upset and I was told that the anger and hate they had towards the orgone was made clear to them. After a fit of rage that the orgone was introduced into the environment the "shadow people" would leave the orgoned areas to be somewhere they could thrive without all the LIVING BREATH OF YAH in the area. One friend let me know that she could tell the shadow entity/entities were STILL stalking her but only at a distance because of the orgone she carried on her. Believe it or not, both of these people are/were HOMOSEXUAL, and Yah used this orgone to show them His power, whether or not they could comprehend this or not. Sherry has told us that Yah will crank up or lower the orgone all around the world it's been placed AS HE SEES FIT so NO HOMOSEXUAL, NO SATANIST, PRECISELY NO ONE can attempt to CHEAT YAH and make or purchase HIS ORGONE in an attempt to PROTECT THEMSELVES AGAINST THE PLAGUES, DEMONS, NIGHTMARE CREATURES, and UTTER HORROR HE will inflict on ALL of the WICKED. He will MAKE that orgone ATTRACT these beings TO ALL who think they will USE HIS ORGONE to PROTECT THEMSELVES AGAINST HIS RIGHTEOUS JUDGEMENTS AND CLEANSING. Yah will protect HIS PEOPLE and ALL who HE chooses to protect. If YOU happen to find yourself in an ORGONED SAFE ZONE, you had BETTER THANK YAH (GOD) and YAHUSHUAH (JESUS) for the ORGONE WARRIOR IN YOUR LIFE who SATURATED THAT AREA and TURNED IT INTO A BLUE ZONE that the GIANTS ("LOCUSTS" of Revelation 9) and NIGHTMARE CREATURES will NOT BE ABLE TO COME NEAR. YOU'RE WELCOME !

With that being said, I FULLY believe it is wrong to dismiss orgone water being instant zombie-killer based on the premise that we haven't seen it happen yet. Think about this for a moment; you're in a world full of zombies that just ate your neighbors, yet you've got orgone water! You've got a SECRET WEAPON ! How many other people do you think also have orgone water ? Of ALL the people who are interested in orgone and what it is and what it can do, YOU came to THIS page and are reading THESE words, and you've read that this orgone charged water WILL kill zombies in a flash; you're already THAT much more ahead of the game than the VAST majority of people in this world who wouldn't be prepared for ANY of the crap headed our way, much less the alien and zombie aspect of it! So few people know about orgone and even less know or even trust Sherry Shriner Style Orgone, yet it is THIS SAME ORGONE that ALL these negative entities HATE and CANNOT STAND! It is TEARING DOWN THEIR STRONGHOLDS !

Preparation for a zombie outbreak is not something I devote my time to, however I can see very clearly that the "undead flesh-eaters" scenario is pushed mighty heavily by MSM, Hollywood, other entertainment and media outlets, and this government. There is a Click-it or Ticket commercial depicting the main character in an undead nightmare world where he has just saved his life because of his seat belt. There is a Red Bull commercial depicting the character running away from his car to his death by the mouth of a zombie, after he drinks his Red Bull. There is a Sprint commercial depicting a zombie character attempting to buy a phone. How many other commercials like this exist?? The CDC says every American should prepare for disasters as if they were preparing for the undead to rise.

What's even more shocking is that the Federal Emergency Management Agency conducted an exercise on April 27th of 2013 called the, "ZOMBIE UFO CRASH DISASTER FULL-SCALE EXERCISE." It was quickly pulled down from their site but luckily for us it was screen-capped. You can read more about it here,http://nevadagovernor2014.com/zombie-ufo-crash-disaster-full-scale-exercise-nevada-governor-2014-david-lory-vanderbeek/

What it really comes down to is total trust and faith based on experiential knowledge; I have no proof or hands-on experience that orgone water will kill any zombie, yet I've got a long-established record in the POWER of this orgone recipe as given to us by Sherry Shriner coming from Yah Himself; I've got my experiences and others have written back to me telling me and SHOWING ME what it's done FOR THEM in this world, how much of a HUGE difference that it has made. Suffice to say it's quite difficult for me to believe that our orgone WOULDN'T kill the very zombies which we know we've already been programmed and readied to accept as a "REALITY" one day, along with an ALIEN INVASION/HOSTILE UFO TAKEOVER.

You can make orgone water by putting any piece of orgone in water and leaving it there for a few days to saturate the water. The specialty of the pipe orgone is that it is meant for water missions. Keep the water in the container like a bucket and stir it every day, and bottle up the orgone water. You can bottle it and even keep the bottles in the bucket, and just fill it back up with fresh water and store it there. Purchase your water guns @ RETRO PLANET type in WATER GUN and get the ones which look like real handguns, they fire really well and you can line the plastic with CLEAR NAIL POLISH to seal all cracks so the water doesn't leak out.

The orgone pipes are layered with Bondo resin, aluminum, and clear quartz crystals wrapped in MAGNETIC COPPER WIRE. There are 3 2mmx10mm NEODYMIUM MAGNETS in each pipe, one at the bottom, one in the middle and one at the top. You could end up shutting down an underwater portal, who knows what's under our feet under these waters. If you know where one is, and you want to target it, this listing's for you.

There is also the non-magnetic variety for $45.00

GET THEM WHILE YOU STILL CAN
---
---
More from this seller
---
Shipping & policies
Preparation takes 3-5 business days
Arrives from the United States
Estimated Shipping
I do my best to get your +OGDWs shipped as quickly as possible. I hate waiting for stuff too. When it gets cold things really slow to a crawl.
---
Returns & exchanges
I don't accept returns, exchanges, or cancellations
But please contact me if you have any problems with your order.
Additional return information
All sales are final