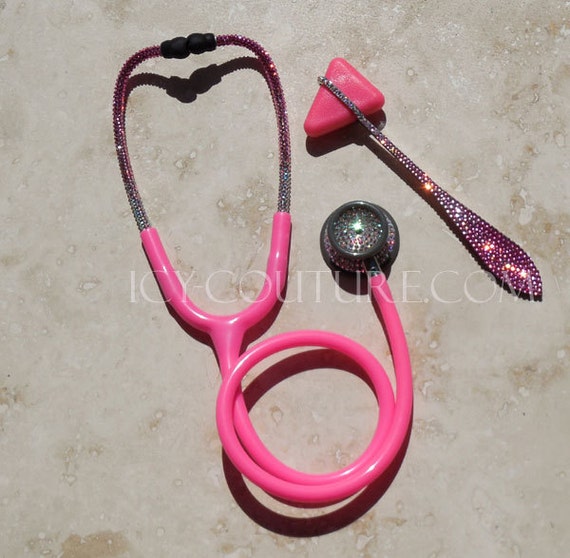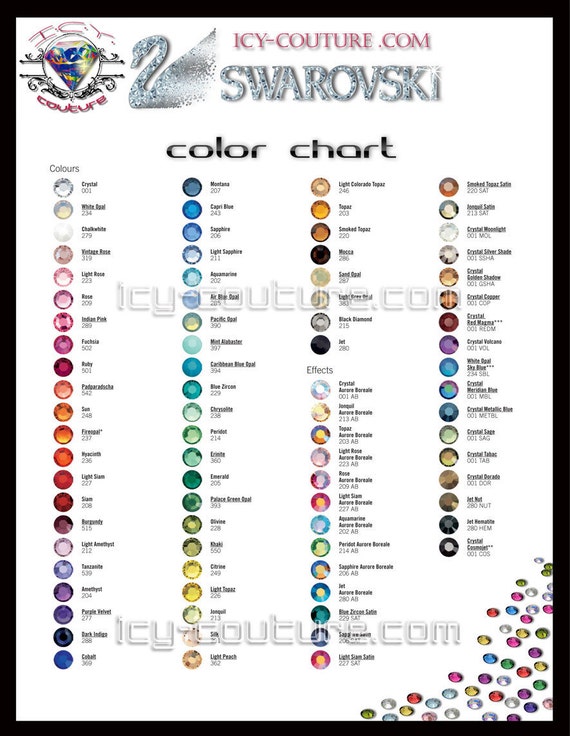 Preparation takes 1-2 weeks
Arrives from the United States
---
Features
---
Item details
Custom Littmann Cardiology, or other brand, ICY Couture Swarovski Crystal stethoscope. Add Initial, select Your Brand and Crystal Color. Work in style with this gorgeous ICY Couture Stethoscope. Lifetime Warranty on our work. Ships Worldwide from Los Angeles, Ca. Medical Hammer is not included. Colors used here: Rose, Light Rose, Crystal AB. Whats Your colors?

Please visit this page to purchase Medical Hammer separate:
https://www.etsystudio.com/listing/185436373/pink-bling-medical-hammer-with-swarovski
---
---
Feb 8, 2017 by Elisa Mora
It is more beautiful in person. My daughter loved it. I highly recommend this product.
Jun 2, 2015 by sporty14god
Good quality sturdy greT craftsmenship
Oct 7, 2014 by Corne Cloete
---
More from this seller
---
Shipping & policies
Preparation takes 1-2 weeks
Arrives from the United States
Estimated Shipping
SHIPPING:

When you request us to order you a phone cover, car emblem, or other item, we will place that order for you from a third party company and will wait for your blank item to arrive, so we can than customize it in your favorite Swarovski crystal color, or design. Usually we get items within 2-5 business days, but if your item is a special order, it may take little longer for us to receive it. Once we have your item on hand, it takes only 24-48 hours to crystallize it and send it on its way to you.

Keep in mind, when you pay for faster delivery method with a shipping company of your choice, THIS PAYMENT DOES NOT GO TO US as a faster service charge. You select actual shipping time for your package to be shipped with that method AFTER your item is custom created! We can not make custom hand made items in rush, as we design items in the order we received it. We highly advise you to prepare for Holidays seasons few months in advance to make sure you get it in time and to avoid longer waiting time!

Disclaimer: Packages left at the destination location due to no one being available to receive them and are subsequently lost or damage, are deemed delivered and then borne by the customer if a "Signature Required Request" was not made at the time of shipping. (i.e lost packages from carrier leaving them outside of your location, because no one is available to accept, are customer's responsibility!

INTERNATIONAL SHIPPING:
ICY Couture is a well known brand name company which ships packages to most countries every day. To make sure our clients dont get charged customs for buying from an other country, we usually send items marked as a gift. Sometimes customs may call you and ask what you are expecting. Depending on your answer they may determine to charge you taxes or not.

If the charges are unavoidable , it is the buyers responsibility to pay customs duties and taxes.

The price for shipping vary from country to country, it is calculated at the checkout when you type in your address.

Disclaimer: WE ARE IN NO WAY RESPONSIBLE FOR LOST/BROKEN PACKAGES DURING SHIPPING PROCESS. PLEASE MAKE SURE TO INCLUDE INSURANCE FOR FULL AMOUNT OF YOUR ORDER IN CASE THAT HAPPENS TO COVER YOUR LOSES.
We lovingly package all our items and ship orders in secure boxes with lots of peanuts and bubble wrapping with "fragile" stickers/tape on boxes. If a product is damaged in shipping, it is a customer's responsibility to file a damage claim with that carrier for a full amount package was insured.

---
Payments
PAYMENT METHODS:
You may place your order over the phone 877-707-0429, email sales@icy-couture.com , or online. Currently ICY COUTURE accepts AmericanExpress, Visa, MasterCard, Discover and PayPal. ICY COUTURE is Google's Secure Checkout preferred customer.

TAXES:
ICY COUTURE is required by law to charge California state residents 9% sales tax on all products. Sales tax will be automatically added to orders shipped within the state of CA. All orders shipped outside of CA are not taxable.

It is an international customer's responsibility to pay custom's taxes/duties that may occur.

PRIVACY:
Your personal information is not shared, rented, or sold to any other party. We only request your information we need to process your order.

FRAUDULENT CREDIT CARD CHARGES:
All fraudulent credit card charges are investigated by our Legal and Technical departments. Please note that we record all computer IP addresses during transactions and any fraudulent action shall be reported to authorities immediately for investigation.
---
Returns & exchanges
RETURNS & REFUNDS:
We are trying our best to make you happy and your shopping experience with us as pleasant as possible providing you with higher-end quality product.
If you found a blemish in our work, please return your item to our secure studio (you can find return address in the original invoice which was sent with your package)

Returns are accepted within 5 (five!) days from the time you received your item. Your returned item must be sent to us in the same perfectly new condition as you have received it, or we can not accept it. Our Return Center will process your return for items no later than 10 days from our receiving your item. Before sending your package, please call to 877-707-0429 or email customerservice@icy-couture.com and let us know what seems to be the problem. If you prefer to email, we will make every effort to respond to all customer service inquiries within 1 business day.

Please keep in mind that since your ICY item is CUSTOM MADE PER YOUR REQUEST, THERE WILL BE NO MONEY REFUNDS, EXCHANGES ONLY!

We advise you to THINK TWICE about design/colors of your choice as ICY COUTURE IS NOT LIABLE FOR THE CHOICES YOU MAKE. There will be no exchanges from one design/color combinations to an other!

When placing your order, please make sure to select correct model of your phone as we are not responsible for your mistakes. When you place your order online, within few minutes, you will be emailed order confirmation. Please check your email inbox (or spam/bulk folder), and go over your order, making sure all is correct. If you did found a mistake in your shipping address, phone model etc, please notify ICY COUTURE immediately and no later 12 (twelve) hours after your order has been placed, so we could edit your order before your item has been created. We regret to inform you that we can not exchange already made product, as we already have spent our money, time, and effort to create the peace of crystal art per your special request . Exchanges will be made only if it was our fault and we didnt follow exact details of your order.

Our items must come back in the same condition it was sent to you. In no event we accept returns to instances where our design was damaged through uses for which it was not intended: misuse, mishandling, neglect, design modification or tampering etc.

All sales on discounted, Make-an-Offer product, Crystals and other marked items are final. There is no refunds, returns, nor exchanges on those items accepted.

CANCELLATIONS/ REFUNDS:
If you changed your mind after you already placed your order, please contact us immediately by phone 877-707-0429 and no later then 12 (twelve) hours after your order have been placed and we'll issue a refund. Since your custom item is made per your request and especially for you, cancellations are not accepted after your item has been already made, or started to get made.
---
Additional policies
AUTHENTICITY:
ICY Couture is a trademarked, internationally and nationally well known Brand Name. Your fancy custom gift, made with Swarovski crystals, will have ICY logo as a prove of genuine ICY Couture made product, which is not to be removed or tampered with. All ICY phone covers, bedazzled license plate frames, and other gifts, come with this cute 3D diamond-shape logo. On dark backgrounds we add Black Logo with silver Brand Name; on light backgrounds we use Silver Logo with red Brand Name. Look for this logo to avoid cheap Made-in-China imitations of ICY Couture, which will fall apart in a month.

*Disclaimer:
Car emblems dont come with our logo. We do not manufacture auto parts, we just beautifully decorate Authentic parts with Swarovski crystals. All trademarked Auto Logos belong to their respected owners.

LIFETIME WARRANTY:
Only ICY COUTURE gives Lifetime Guarantee on all our custom work on ALL Swarovski items! If something happens and you loose crystals after dropping your item, or simply with wear and tear, just send it back to our studio, and we'll fix your design for you for free for as long as you own your item, even years later. Repairs time may very and can be up 1-4 weeks, depending on time of the year and our availability.

It is always best to call 877-707-0429 or email to let us know that you'll be shipping your ICY item to get it fixed, so we know to expect it. With your package, please include a note your name and phone number and $10 for ground shipping charges back to you in form of check/money order made payable to Icy Couture. Or, if you prefer, you can send pre-paid label with your favorite shipping method addressed back to you.

Repair service is Free, we will never ask you to pay for our time to fix it, or for crystals used in repair work.

We highly recommend to get tracking number and insurance for your package, going both ways, as we are not responsible if it was lost or broken while not in our possession.

DO NOT send your fancy ICY item in an envelope, or in a box where its not securely wrapped! If it comes broken on the way to us, we will send it back!
WE ARE NOT RESPONSIBLE FOR YOUR, OR POSTAL SERVICE NEGLIGENCE!

Keep in mind that we dont save envelopes and boxes, ICY COUTURE does not assume responsibility for items which come without a notice, name, or a phone number inside of your package and is not claimed within 30 (thirty) days from the day we have received it.

** Auto Icing is covered by lifetime warranty from wear & tear only. We do not repair Auto Icing items after accidents or reckless driving.

CRYSTAL DESIGN REPAIR:
Every ICY item crystallized with Swarovski comes to you with extra crystals in every size and color used in that design. It will help if you save them, in case you want to put a crystal back, if one pops-out. One could find that easier instead of sending their beautiful crystal case. In that case, you can get a special gem glue here. If you run off extra crystals we sent, you can request us to send you more.

DO NOT use crazy glue, or a glue that is not meant to be used on crystals! You will not only ruin your crystals but also the case itself. We will not repair designs that were ruined with crazy glue, or other glue of that nature. Also, we WILL NOT REPAIR designs in instances where our design was damaged through uses for which it was not intended, misused, mishandled, neglected, modified or tampered with.

LIMITED WARRANTY:
Since we do not manufacture items such cases, computer mouse, pen, cameras etc, we can not give any guarantees to the product that was made by a third party. We warranty defect in Workmanship Only and DO NOT cover physical abuse, misuse, accident, manufacture defect, or normal wear & tear of items that was not made by us.

PORTRAITS:
Portraits show creativity and talent of the artist and are subject to an artist's vision which is not to be disputed.
Portrait is any highly detailed design of reproduction of a person, or pet, which has the signature look exclusive only to ICY COUTURE. When you place your order for a Portrait, you agree that you reviewed examples of portraits on our website and you accept the style of the recreation. Before we send it, the artist did absolute best to make re-creation as close to the original photo as possible. There will be absolutely no refunds for a custom order. Depending on difficulty of a design, please allow extra time for an artist to create your timeless piece of art with Swarovski crystals.

DISCLAIMER:

THIS WEBSITE IS PROVIDED BY ICY COUTURE ON AN "AS IS" BASIS. ICY COUTURE MAKES NO REPRESENTATIONS OR WARRANTIES OF ANY KIND, EXPRESS OR IMPLIED, AS TO THE OPERATION OF THE SITE OR THE INFORMATION, CONTENT, MATERIALS, OR PRODUCTS INCLUDED ON THIS SITE. TO THE FULL EXTENT PERMISSIBLE BY APPLICABLE LAW, ICY COUTURE DISCLAIMS ALL WARRANTIES, EXPRESS OR IMPLIED, INCLUDING, BUT NOT LIMITED TO, IMPLIED WARRANTIES OF MERCHANT-ABILITY AND FITNESS FOR A PARTICULAR PURPOSE. ICY COUTURE WILL NOT BE LIABLE FOR ANY DAMAGES OF ANY KIND ARISING FROM THE USE OF THIS SITE, INCLUDING, BUT NOT LIMITED TO DIRECT, PUNITIVE, INDIRECT, INCIDENTAL, AND CONSEQUENTIAL DAMAGES.