Digital Image - Twelvetrees Kiddie (5) - Cute Kiddie giving Puppy a Bath - for your Creative Ideas & Crafts - Immediate Download!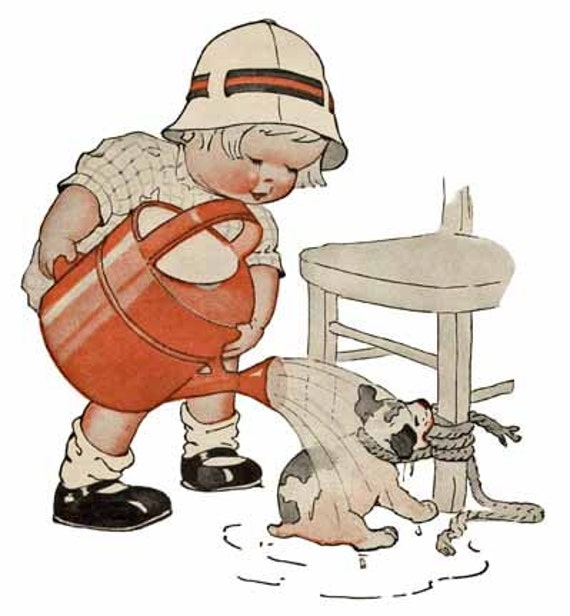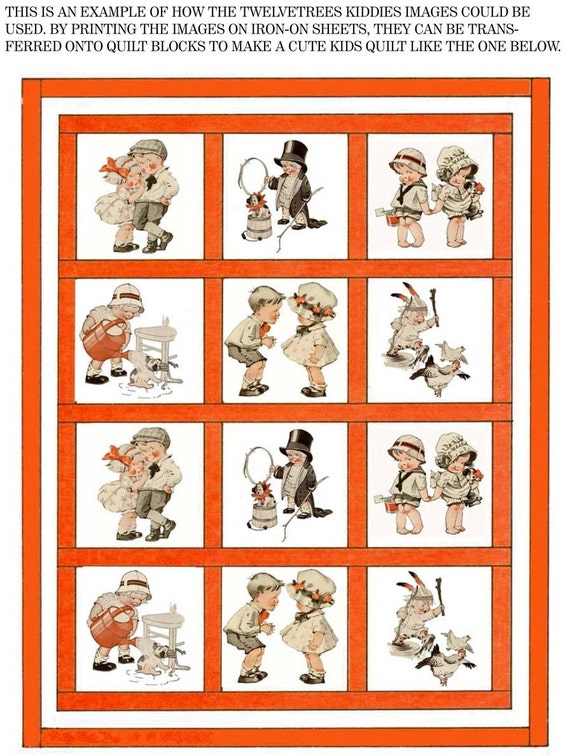 ---
Features
---
Item details
THIS IS A DIGITAL IMAGE THAT IS AVAILABLE FOR IMMEDIATE DOWNLOAD AT TIME OF PURCHASE.

THE SECOND IMAGE IN THE PHOTOS ABOVE SHOWS ONE POSSIBLE USE OF THE TWELVETREES KIDDIES IMAGES. HOWEVER, ONLY THE ONE IMAGE (KIDDIE GIVING PUPPY A BATH) IS INCLUDED IN THIS PURCHASE.

IMAGE TITLE: Twelvetrees Kiddie (5) - Cute Kiddie giving Puppy a Bath with a Watering Can.
SUBJECT: Cute Twelvetrees Kiddies Cartoon Art from the early 1900's. Those Kiddies are getting into mischief again! A great embellishment for many different kind of arts & crafts. (Would make super cute quilt blocks!)
ARTIST: Charles H. Twelvetrees (1888 - 1948), known for his babies, young children and puppy drawings.
DATE: 1910's.
IMAGE SIZE: 1712 x 1848 pixels; 2.14 MB (.jpg); 3.81 MB (.png); 300 dpi
FILE  TYPE: Both .jpg and .png formats are available for download (transparent background with .png file).
(Please Note: The downloadable file is much higher resolution than the sample picture above. The quality of the image will also depend upon its source: a news print illustration will be much less detailed and sharp than a slick (or glossy) paper source.)

IMAGE SOURCES: The images offered in this store come from personal Vintage Paper Archives. They originate from vintage to antique items such as illustrations from advertisements, books, cards, newspapers, magazines and the like which have been verified to be in public domain. The images have been digitally restored (some taking many hours of digital restoration) and then are presented here in a ready-to-use format for you to incorporate into any of your creative endeavors.

DIGITAL IMAGE USES: Uses are only limited by the imagination. Here are just a few ideas:

HOT IRON TRANSFERS: Use them to embellish t-shirts and other clothing, tote bags & handbags, or make quilt blocks with them. The small, single images (like the Twelvetrees Kids) are especially good for creating unique and super cute kids quilts. They can also be transferred and embellished with your own embroidery to make them even more beautiful and special.

PRINT THE IMAGES: Frame the images for unique and extremely inexpensive room decor. Print a pair of fairy tale illustrations for the kids' rooms; or print a vintage 50's advertising design for the kitchen or laundry room: or how about an old movie ad or vintage casino photo for the game room. Many of the larger designs can be enlarged as posters. Digital images can be taken into printing shops like Staples or Office Max to have them enlarged and printed quite inexpensively. They also make wonderful gifts! Just match the subject with your recipient, add your own creative magic and you have the perfect gift idea.

INTEGRATE THEM INTO YOUR OWN CREATIONS: Use them in your craft designs for personal use or for commercial use. You are free to use them in products you sell. Some ideas for items to sell using digital images include: refrigerator magnets; decals; bumper stickers; t-shirt transfers; sewing embellishments; stickers & tags; note cards; and the list goes on, and on, and on!
********************************
USE AGREEMENT: The use agreement is very liberal and can easily be summed up in one sentence: You can do anything you want with your purchased image except resell it in its digital form or in a collection such as a collage sheet or CD.
---
---
More from this seller
---
Digital downloads
---
Payments
We accept credit cards, debit cards, and e-checks through Paypal.
---
Returns & exchanges
Since Digital Items can't really be "returned" our Refund Policy will have to be a little different than a store with physical items. But since our goal is your happiness, you can be assured that we will do whatever it takes to make you happy!