Lipton Accent 11 - Instant Email Delivery Download Machine embroidery design
(1)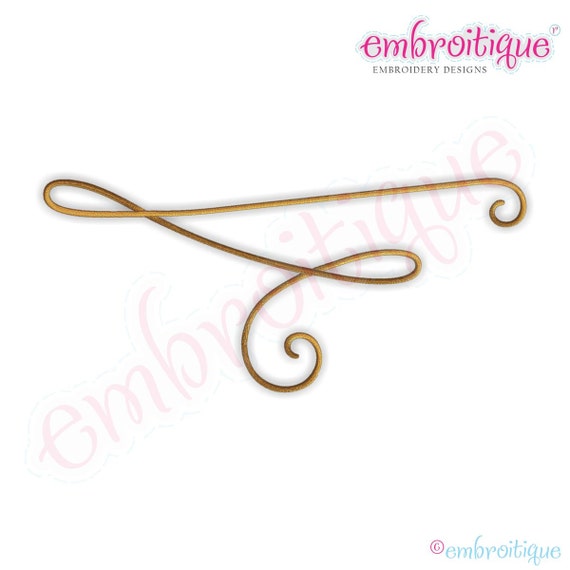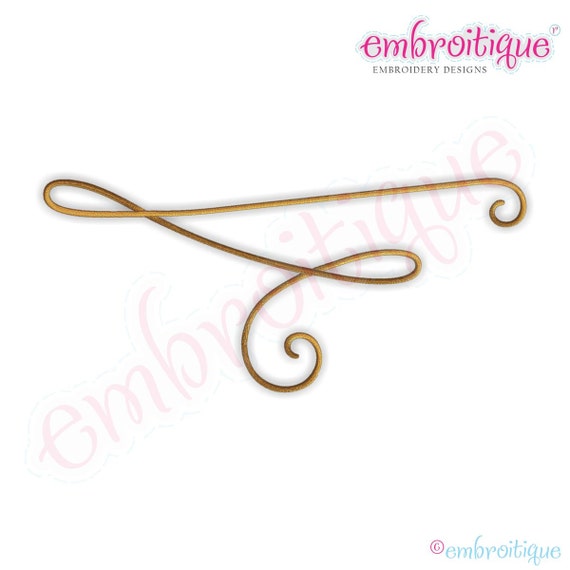 ---
Features
---
Item details
We just love these accents! They are so versatile and come in tons of sizes! Use them alone or pair them with names, monograms or other designs and accents!

Sizes Included: 2", 2.5", 3", 3.5", 4", 5", 6", 7", 8", 9"
Design Dimensions: (2.01" x 0.89"), (2.5" x 1.11"), (3.01" x 1.34"), (3.5" x 1.56"), (3.98" x 1.77"), (5.02" x 2.23"), (6.02" x 2.67"), (7.02" x 3.12"), (8.02" x 3.57"), (9.02" x 4.01")
Stitch Count: 894, 904, 1179, 1454, 1624, 2178, 2763, 5671, 6683, 7642

SHIPPING:

We have a program that will email you the most current files from our main server within a minute of receiving cleared payment. Each design in your order will be sent in a separate email. We use the email address provided in your Etsy profile. Please make sure this is current. If you do not see the files in your email – check your junk or spam folder. If you STILL do not see our emails – send us a convo and we will work on getting the files over to you. Currently, we do not have a way to automate the super sets where you pick "x" amount of sets. Those files will usually be emailed to you within 24 hours – unless it is a weekend order. Our working hours on the weekend are limited due to spending time with our family. If you need IMMEDIATE instant download, you can order from our main website – www.embroitique.com .

FORMATS:

DST - EXP - JEF - HUS - PES - SEW - SHV - VIP - VP3 - XXX. These are a few of the most popular formats. If you are unsure of the file type needed, or do not see the type for your machine listed please contact us BEFORE purchasing your items. The license for the design you are purchasing is for ONE format for use one ONE machine. If you selected the wrong format by accident – no worries, we will help you get the proper format. Again, if you have questions – just ask! Here is a helpful guide for the type of format needed for some of the machines on the market:

BabyLock PES

Bernina ART for Artista 440 and below; EXP for Artista 630 and up, and Deco 340. EXP or ART for Artista 730; ART or PES for Deco 330.

***please note****

We are in the process of recreating our design portfolio into .art format. In most cases, you can convert exp files into .art format. However, there are problems that can occur when converting some fill stitch designs. If you or your machine is converting from exp to .art – please be sure to check the files before stitching. We have several years of designs to convert – so this will take some time. If you have questions – or a would like a specific design, just ask!

Brother PES (Innovis, ULT, and PR-600 models also take DST)

Husqvarna Viking VIP for Platinum and SE; HUS for Rose, Iris, and Designer II; VIP, HUS, or DST for Diamond. SHV for Designer I; VP3 for Topaz.

Janome JEF for 12000, 11000, 10001, 10000, 9700, 9500, 350, 300. JEF or DST for MB4.

SEW for 9000 and below.

Pfaff PCS for older machines, VIP for newer machines such as the Creative Vision

Singer XXX for most models

SIZING:

For monogram sets, the size of the set is based off of the Capital A in the alphabet. Each letter is sized proportionately to that letter, and will often times be larger than the size of the alphabet. For instance, a cursive capital Y have a tail that falls below the baseline of the letter, and would be larger than the capital A. Single design size label is based on height OR width of the design – but will be consistent for each specific design (example, for tall/narrow designs we will base the sizing off of the height of each design. For designs that are wider, we will size according to width. If you have questions, just ask! That is what we are here for!

CD'S:

We no longer offer CD's. We simply do not have the bandwidth to create CD's at this time..
Please note – these are digitized embroidery designs and monogram fonts. They are not patches that you sew on. You must have an embroidery machine to work with these files and a way to transfer the files from your computer to your embroidery machine - (usb, memory card, cd, etc.). With the monogram alphabets/fonts each letter is a separate design and you must layer or merge the designs together to create names or words. If the software that you are working with doesn't allow you to merge multiple designs together – you may need additional software to utilize these sets. We are happy to recommend software to use if needed. We DO NOT support files that have been saved into a format that is not offered and we cannot test. Designs that have been re-sized will not be supported. Re-sizing a file MAY compromise the integrity of the design.

REFUNDS:

Due to the digital nature of our business, we do not offer refunds for designs received. All sales are final. If you have questions or concerns, please feel free to email us and we will work together to resolve any issues. We are the designers and manufacturers of the machine embroidery designs that we sell. All of our designs have been files with the US Copyright Office and are protected by copyright law. They may not be copied, traded, edited, shared or resold without written consent. Designs may be stitched on items for use or items for sale in limited quantities (75 items or less), however the actual designs files may not edited or be resold for profit. Detailed information is included with your order.

TERMS OF USE:

YOU MAY:

- use these products to create your own 3-DIMENSIONAL projects, crafts, clothing, cards, wall art and

gifts to sell online, in stores or at craft shows THAT YOU MANAGE (i.e. No Third Party sites).

- copy these files a CD/DVD or external hard drive that is owned and used expressly by you for back-up or

archival purposes.

- submit your creations using these products for publication provided proper credit is given to

Embroitique.

YOU MAY NOT:

- Share, loan, trade, resell, or distribute these products.

- Upload these products to any file sharing websites for any purpose.

- Alter or modify these products and claim them as your own designs.

- Use any part of these designs to create other digital embroidery files.

- Create products for mass production or large commercial use.

- Sell products on third party sites without the appropriate license, written consent, and credit (Contact

Us for more information).

- Make copies of these products other than for personal back-up or archival purposes.

CREDITING THE DESIGNER:

Where appropriate, please be sure to credit Embroitique when using our designs.

COPYRIGHT POLICY:

Copyrights to all images and graphics are retained by Embroitique with all rights reserved.



UNAUTHORIZED USE:

It is illegal to reproduce or distribute copyrighted material without the permission of the copyright owner.

This license is nontransferable.

Designs are copyrighted by Embroitique.com.
---
---
This stitched out just great!
Apr 15, 2015 by Melissa
---
More from this seller
---
Digital downloads
---
Payments
We accept paypal. Please contact us if you wish to pay via a different method.
---
Returns & exchanges
I don't accept returns, exchanges, or cancellations
But please contact me if you have any problems with your order.
Additional return information
Due to the electronic nature of this item, we have a STRICT NO REFUND POLICY. We will work with you to the best of our abilities to make sure that you are satisfied with your purchase.
---
Additional policies
SHIPPING:
Most of our designs are instant download. There are a few sets that are not available as instant download. Those files will usually be emailed to you within 24 hours – unless it is a weekend order. My working hours on the weekend are limited due to spending time with my family.

FORMATS:
DST - EXP - JEF - HUS - PES - SEW - SHV - VIP - VP3 - XXX. These are a few of the most popular formats. If you are unsure of the file type needed, or do not see the type for your machine listed please contact us BEFORE purchasing your items. The license for the design you are purchasing is for ONE format for use one ONE machine. If you selected the wrong format by accident – no worries, we will help you get the proper format. Again, if you have questions – just ask! Here is a helpful guide for the type of format needed for some of the machines on the market:


BabyLock PES
Bernina ART for Artista 440 and below; EXP for Artista 630 and up, and Deco 340. EXP or
ART for Artista 730; ART or PES for Deco 330.
***please note****
Embroitique does not offer designs in ART format, however we have had conversations with Bernina representatives, and they suggest using EXP. However, we cannot support the Integrity of designs converted and/or altered with software that we do not support.

Brother PES (Innovis, ULT, and PR-600 models also take DST)
Husqvarna Viking VIP for Platinum and SE; HUS for Rose, Iris, and Designer II; VIP, HUS, or DST for
Diamond. SHV for Designer I; VP3 for Topaz.
Janome JEF for 12000, 11000, 10001, 10000, 9700, 9500, 350, 300. JEF or DST for MB4.
SEW for 9000 and below.
Pfaff PCS for older machines, VIP for newer machines such as the Creative Vision
Singer XXX for most models

SIZING:
For monogram sets, the size of the set is based off of the Capital A in the alphabet. Each letter is sized proportionately to that letter, and will often times be larger than the size of the alphabet. For instance, a cursive capital Y have a tail that falls below the baseline of the letter, and would be larger than the capital A. Single design size label is based on height OR width of the design – but will be consistent for each specific design (example, for tall/narrow designs we will base the sizing off of the height of each design. For designs that are wider, we will size according to width. If you have questions, just ask! That is what we are here for!

CD'S:
We no longer offer CD's. We simply do not have the bandwidth to create CD's at this time..

Please note – these are digitized embroidery designs and monogram fonts. They are not patches that you sew on. You must have an embroidery machine to work with these files and a way to transfer the files from your computer to your embroidery machine - (usb, memory card, cd, etc.). With the monogram alphabets/fonts each letter is a separate design and you must layer or merge the designs together to create names or words. If the software that you are working with doesn't allow you to merge multiple designs together – you may need additional software to utilize these sets. We are happy to recommend software to use if needed. We DO NOT support files that have been saved into a format that is not offered and we cannot test. Designs that have been re-sized will not be supported. Re-sizing a file MAY compromise the integrity of the design.

REFUNDS:
Due to the digital nature of our business, we do not offer refunds for designs received. All sales are final. If you have questions or concerns, please feel free to email us and we will work together to resolve any issues. We are the designers and manufacturers of the machine embroidery designs that we sell. All of our designs have been files with the US Copyright Office and are protected by copyright law. They may not be copied, traded, edited, shared or resold without written consent. Designs may be stitched on items for personal use or items for sale in limited quantities (75 items or less), however the actual designs files may not edited or be resold for profit. Detailed information is included with your order.

TERMS OF USE:

YOU MAY:
- use these products to create your own 3-DIMENSIONAL projects, crafts, clothing, cards, wall art and gifts to sell online, in stores or at craft shows THAT YOU MANAGE (i.e. No Third Party sites).
- copy these files a CD/DVD or external hard drive that is owned and used expressly by you for back-up or archival purposes.
- submit your creations using these products for publication provided proper credit is given to Embroitique.

YOU MAY NOT:
- Share, loan, trade, resell, or distribute these products.
- Upload these products to any file sharing websites for any purpose.
- Alter or modify these products and claim them as your own designs.
- Use any part of these designs to create other digital embroidery files.
- Create products for mass production or large commercial use.
- Sell products on third party sites without the appropriate license, written consent, and credit (Contact Us for more information).
- Make copies of these products other than for personal back-up or archival purposes.

CREDITING THE DESIGNER:
Where appropriate, please be sure to credit Embroitique when using our designs.

COPYRIGHT POLICY:
Copyrights to all images and graphics are retained by Embroitique with all rights reserved.

UNAUTHORIZED USE:
It is illegal to reproduce or distribute copyrighted material without the permission of the copyright owner.
This license is nontransferable.


Designs are copyrighted by Embroitique.com.