Live Plant Necklace - Needle Cactus - Live Cacti Plant Necklace. Terrarium Flower Necklace - Miniature Plant Capsule -Boo-Boo Plant -
(4)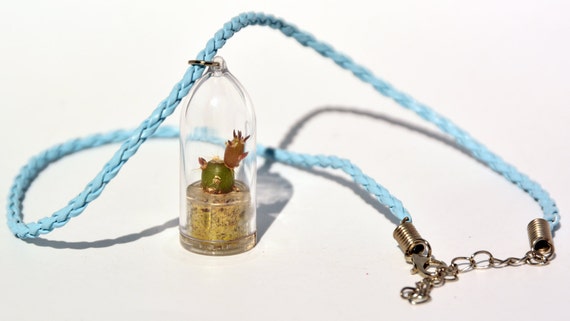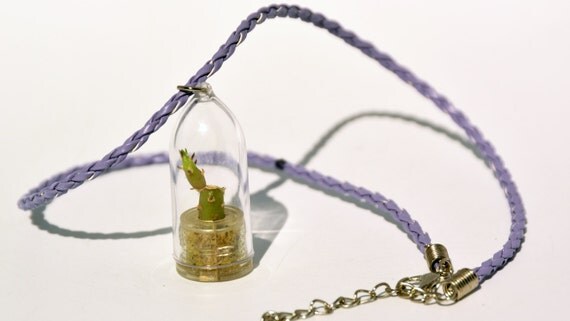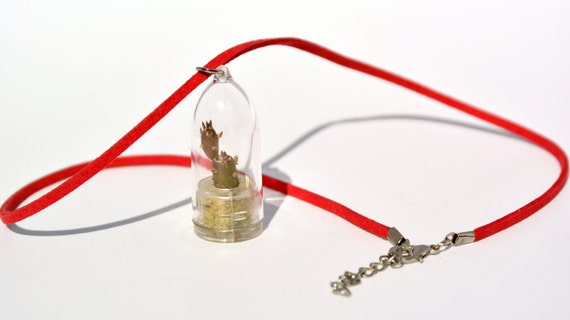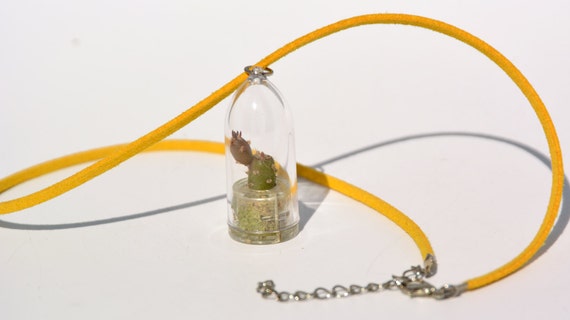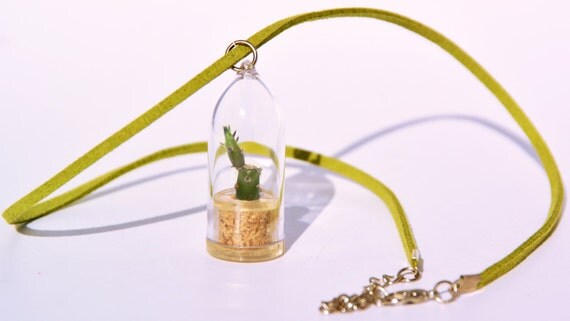 ---
Features
Made in Chicago, Illinois
---
Item details
Boo-Boo Plant Miniature Living Terrarium Plant.

Living Plant You can Wear, Grow and Transplant.

Easy to water, care instruction included with your order.

Can Live in Terrarium for over 3 months without special care.

Included Plant, Terrarium and 18" necklace of your choice.

1st image : Plant with terrarium on Blue Woven Necklace
2nd image : Plant with terrarium on Violet Woven Necklace
3rd image : Plant with terrarium on Red Suede necklace
4th image: Plant with terrarium on Yellow Suede necklace
5th image: Plant with terrarium on Green Suede necklace

Each Boo-Boo Plant is a miniature live plant in a small transparent terrarium. Like every other living thing each Boo-Boo Plant needs care and attention. You don't need to be an experienced gardener but don't forget that every plant requires watering and sunlight. Boo-Boo Plant is a perfect accessory for your key-chain, cell phone, backpack, rear view mirror or any other place where you desire a bit of freshness. You can also remove the top capsule from the base and build yourself a miniature desktop garden. Boo-Boo Plant is the ultimate idea for corporate gifts or wedding favors, for more information please contact us. Your Boo-Boo Plant could live within the capsule from 3 to 6 months without special care. It all depends on the plant type and the amount of sunlight and water provided. Boo-Boo Plant does not require much watering and it only takes about a minute or two. Simply put the base of your Boo-Boo into a small container with water as often as your plant requires; to find out your plant needs read the instructions provided with your order or visit our site. After applying water your Boo-Boo shouldn't move for the next 30-40 minutes to avoid dislocation from the soil. If you notice that condensation has formed inside the capsule, separate the capsule top from its base and let it air out, although its not dangerous for the plant. Once your Boo-Boo fills out his miniature terrarium home, you can remove the top of the capsule, than disassemble the already split base and free your beloved plant. Here are the capsule measurements: Height - 1.5" (4 cm) Width - 0.23" (17 mm) Boo-Boo Plant is as small as it could possibly be, this way you can carry it with ease wherever you go.
Plant specific information available on manufacturer website https://www.BooBooPlant.com
---
---
Jan 10, 2017 by squidladytoo
Excellent seller and fast shipping!
Aug 9, 2016 by makena141
Love my cactus. Looks healthy. I have had several before. They are planted now
May 2, 2016 by Judy Bruner
It looks good, but it's definitely not as full as in the original picture. It kinda looks thin and weird. Still cute, though!
Dec 17, 2015 by Gabbie Amity
---
More from this seller
---
Shipping & policies
Arrives from the United States
Estimated Shipping