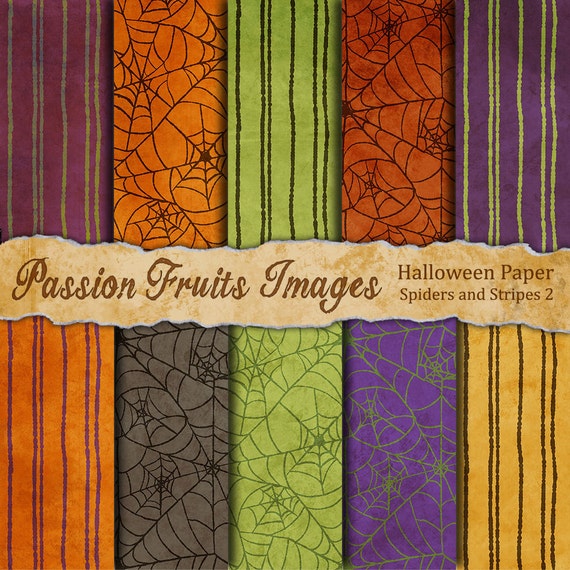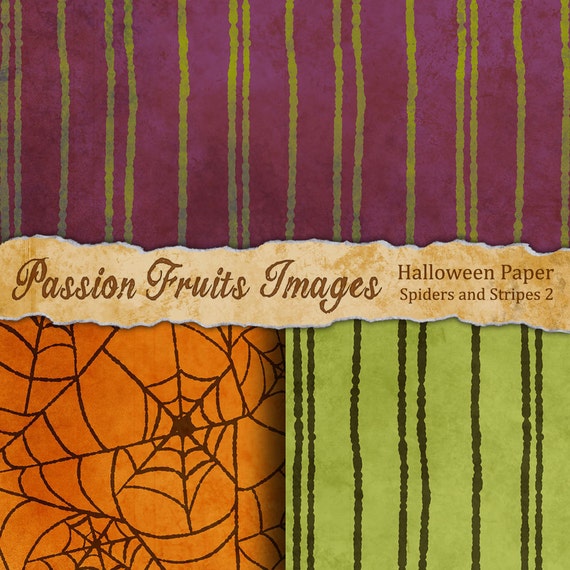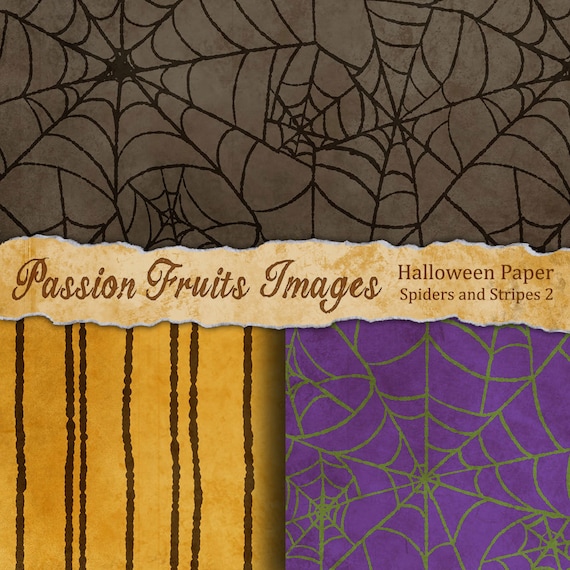 ---
Features
Made in Detroit, Michigan
---
Item details
10 beautiful distressed papers in vibrant traditional Halloween colors. Richly textured papers in Bold Bold Halloween colors coordinate with our Essential Halloween Paper Pack, Pinstripe Halloween Papers, and Sick Circus papers. Each paper features either hand drawn wide pinstripes or interlocking spider webs.

Each paper is a unique and delicate gem based on vintage scans heavily altered with layers of hand applied texture.

Each page prints at 12"x12" at 300dpi.

Passion Fruits Images are licensed for limited commercial use, including scrap for hire. Please review my store policies for complete licensing information.
---
---
More from this seller
---
Digital downloads
---
Additional policies
The hard core nitty-gritty...

TERMS OF USE



All Passion Fruits Images products are created, produced and published by Rena Hopkins DBA Passion Fruits Images under U.S. and international law. Individual images may also be protected by copyright due to creative alterations made to the originals which remove them from the public domain. All Passion Fruits images are subject to the terms of this license agreement (unless an additional license is purchased).

Purchase of a Passion Fruits digital file or image is the purchase of a non-exclusive, non-transferable right to use the digital files in accordance with the terms of this agreement and does not transfer ownership of the digital images themselves or any intellectual property rights. All rights not expressly granted are reserved. By using any Passion Fruits Images collection, collage sheet or image you (the licensee) are consenting to be bound by this agreement and are becoming a party to this agreement.

PERMITTED USES:

· Personal Non-commercial Use: You may print unlimited copies of images or collage sheets for your own personal NON-COMMERCIAL or educational use. You may alter images to print for your own non-commercial use. Permission applies to purchaser (licensee) only; images may not be shared, redistributed or forwarded to others.

· Art: You may incorporate images into unique collage art, fabric art or mixed media art projects, which may be sold. If your work is displayed online or published (Congratulations!) please credit Passion Fruits Images for the image(s) used.


· Web: You may use up to 10 Passion Fruits Images on your personal website without the need for an additional license. You may post Passion Fruits Images to your blog so long as you link back to Passion Fruits Images and do not post the Full Size version. Commercial websites, banner or other work for hire requires an additional commercial license.

· Handmade Items for Sale:
You may use Passion Fruits Images to make multiple items in batches of NO MORE than 50 identical pieces.

PROHIBITED USES:

· Passion Fruits images and digital files may not be copied, shared, redistributed or resold, in whole or in part, in any printed or digital format. Individual images may not be resold or distributed alone or as part of any other compilation or design resource (including, but not limited to, prints, CD, DVD, downloads, e-cards, templates, scrapbook kits, digital scrapbooking kits).

· Passion Fruits images may not be used to create any supplies or design elements for sale (including, but not limited to, sale of collage sheets, stickers, "tubes," photo charms, fabric squares, etc.) Images may not be used for sale of items on "print-on-demand" sites.

· Images may not be stored on any public server or network accessible by anyone other than the licensee and may not be uploaded to image sharing sites. Permissions herein apply only to individual licensee.

· No image may be used as a trademark or service mark. No image may be used for any unlawful purpose or use.

Most commercial or professional use require purchase of an additional license. For commercial printing, graphic design, advertising or marketing, or sale of items in large numbers we offer royalty-free commercial licensing. For use in media production or sale of greeting cards or prints we offer rights-managed licensing. Inquire at Rena@PassionFruitsImages.com

It is the full and final responsibility of the buyer to make a legal determination regarding the suitability of any specific image for any specific purpose, commercial or otherwise. Except for any liability which cannot by law be limited or excluded, The Divine Iguana disclaims all warranties, express or implied, including but not limited to implied warranties of merchantability or fitness for any particular purpose. Passion Fruits Images, The Divine Iguana, and the owners and agents thereof will not be held liable for any claims, damages, costs or expenses that may arise from any use of any image in our compilations or the media itself. This includes, but is not limited to, direct, indirect, consequential or compensatory damages, loss of or damage to data, property, profit or income, and claims of third parties. Our liability will be limited to product purchase price.

The permissions contained herein may be revoked at any time, in whole or in part, by The Divine Iguana, without prior notice. Failure to comply with any term or condition herein will result in automatic revocation of all permissions contained herein and termination of this license agreement.

ACCEPTANCE OF TERMS:
Use of any Passion Fruits Images digital file or image in any form from any source constitutes agreement to these Terms of Use.

Please Note: Passion Fruits Images files include some significantly and creatively altered images which are no longer in the public domain. INDIVIDUAL IMAGES MAY BE PROTECTED BY COPYRIGHT AND ALL IMAGES ARE PROTECTED BY THIS BINDING LICENSE AGREEMENT. Individual images may not be resold or distributed alone or as part of any other compilation or design resource, in either printed or digital form.

Different and/or additional terms may apply to images under commercial use or professional use licensure.

If you have made a purchase which has not yet shipped, and these Terms of Use are not acceptable to you, please contact us to discuss cancellation of your purchase.