Shungite for Water Applications: 150 Grams - Raw Unpolished Shungite from Karelia, Russia.
(4)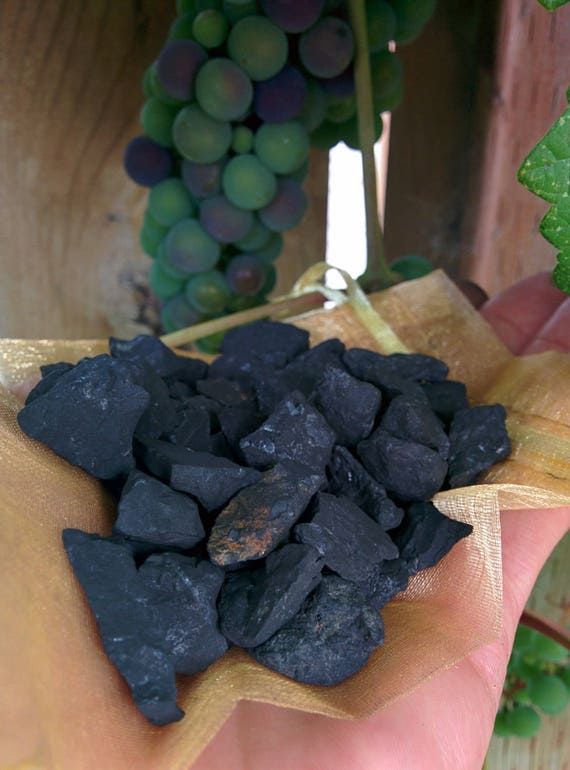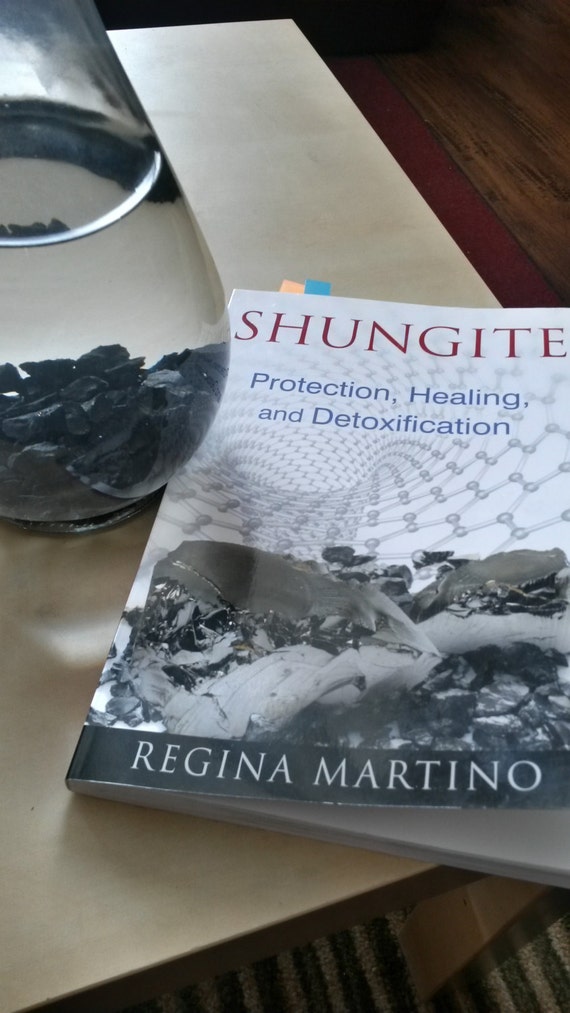 Preparation takes 1-3 business days
---
Features
---
Item details
⚠ IMPORTANT INFORMATION PLEASE READ ENTIRELY ⚠
-----------------------------------------------------------------------------

Shungite is a stone with very unique properties, it contains nearly the full periodic table and is composed on average of 30% carbon and up to 98% carbon depending on the grade or type of shungite. It is the only natural and reliable source of the very powerful anti-oxidant molecule known as the fullerene. Shungite is electro-conductive and this is one way to ensure you have legitimate shungite. Use of shungite water goes back many centuries in the Karelian region of Russia where shungite deposits and natural springs are found. The local villages situated near Lake Onega in Karelia have been bathing in, drinking and cooking with the waters of the shungite springs, lakes, and rivers for a long time, and have boasted for many years the benefits gained from the water. Used to treat a wide variety of illness and disease, and purify water of hazardous contaminants and compounds, Peter the Great - Tsar of Russia (18th century) ordered his soldiers to carry shungite in their water canteens during battle. There are accounts of this action being responsible for staving off dysentery while their enemies succumbed to it. Peter was also responsible for opening the first formal spa & healing center in Russia - Martial Waters - which was built directly over sources of shungite deposits and natural springs. All this before shungite had even formally received a name; it currently receives its title from Shun'ga village which is in the area of one of the first discovered deposits. Though the original spa resort has gone in and out of use over the centuries, application of shungite water is increasingly common in many spas, treatment facilities, hospitals, and healing centers in Russia and Europe today. Consuming shungite water is the only known safe method to ingest the fullerene molecules for their anti-oxidant capacity, cellular regeneration, and other benefits. Many places apply shungite for purposes beyond water infusions as well. Pastes and cosmetics are prepared for the purpose of treating skin or muscle-skeletal conditions. Rooms are created from and accented with shungite materials to promote healing spaces. It is widely used for protection from the harmful negative energy produced by electromagnetic fields, microwaves and wireless radiation emitting from devices such as WiFi Routers, computers, cell phones, laptops, electrical and gas meters, TVs and cordless phones and their bases etc. Shungite also promotes improved vitality and enhanced growth in plants, remediation and bolstering of soil, and a general positive well-being in animals and humans.

The fullerene is a unique molecule that is only naturally and reliably found within shungite. Others sources discovered to contain the fullerene include meteorites and lightning fulgurites. The main attraction and value of the fullerene is in its ability to serve as the most powerful and longest acting anti-oxidant on Earth. When it comes to dealing with free radical molecules within the system, which are widely considered to be one of the driving causes of both diseases like cancer, and the aging process, currently it is believed that beta-carotene, vitamin C, and vitamin E and other flavonoids are some of the best anti-oxidants. They are obtained primarily from fruits and vegetables in addition to supplemental form. Research has since proven that the fullerene, received chiefly by consuming water that has been infused with shungite, surpasses the effects of these other anti-oxidants by many fold. The reason for this is because when typical anti-oxidants are dealing with free radicals, it is a mutual trade, in that, one anti-oxidant will negate one free radical. So you need to supply additional anti-oxidants on a regular basis to continue combating free radicals. When it comes to the fullerene, the free radicals actually stick to the surface of the molecule (adsorption) while the fullerene still maintains itself as a functioning independent molecule. The result is quite simply this, one single fullerene molecule can attract and negate exponentially more free radical molecules, for a far longer period than other traditional anti-oxidants ever could. In addition, the fullerene is also believed to be responsible for the amazing electromagnetic radiation protection provided by shungite. The implications of this have scientists around the world pursuing fullerene research with intensity, and since the 90's they have been able to the create synthetic fullerenes using polar solvents in a laboratory setting, but with adverse and dangerous side effects which do not exist in natural shungite fullerenes, such as toxicity in sunlight. However naturally composed fullerenes derived from shungite have been found to slow the progression of the AIDS virus, cancer tumor growths, and other degenerative diseases. To date, the synthetic fullerenes created in a lab have never been tested on humans and the only people known to have received fullerenes in their system are those drinking shungite water. Natural fullerenes have been cited to normalize cells, stimulate tissue regeneration, possess anti-inflammatory properties, and promote the exchange of neurotransmitters. Shungite has documented anti-histamine effects. Natural fullerenes also neutralize toxins and can reduce liver toxicity levels. Burns, bites, and cuts show improved resistance to becoming necrotic and are spurred to faster recovery. Of most importance is a study done at The Ukrainian Academy of Medical Sciences; cancer patients had undergone radiation therapy and received detailed blood analysis before, during, and after the treatment. Divided into two groups, one consuming shungite water and the other not, the doctors found that the group who had consumed shungite water had normalized blood levels within 2 weeks of the procedure. The group who did not consume shungite water took an average of three to four months to reach normalization.


❃PRACTICAL APPLICATIONS❃

The shungite is coated with a natural carbon dust. To remove dust, place shungite in a strainer and run under fast flowing, preferably warm water. Do not use soap. Toss the shungite around while rinsing under water, then wipe down with a cloth for thorough removal. Skin and fabric will become sooty, but does not stain permanently. The removal of this dust is not necessary for placement upon electrical and wireless devices, but is recommended if using the stones to prepare water for drinking, as it is commonly "off-putting" to have black particles floating within, and may contain foreign residues from the shipping process. Place the rinsed and cleaned shungite 100 grams per 1 liter of otherwise treated or safe to consume water, such as from a tap or a clean stream. See more on this below. Allow a minimum of 24 hours for the shungite to cleanse the water, and up to 72 hours, then transfer water to another vessel for drinking. Taste is improved, contaminants such as heavy metals, dioxides, bacteria, chlorine, pesticides and pharmaceutical residues, are purified and neutralized. Fullerenes are present in the solution. It is recommended, in order to sanitize any accumulation of physical contaminants, to allow the stones direct outdoor sunlight for 24 hours every 4-6 months. After preparing the water for the desired time period, you can use it as a mouth wash, to cook with, drink, wash the face and hair, water plants, allow pets to drink, use in home remedies, etc. All of these applications will bring varying benefits depending on the individual and their state of being. Shungite water is known to improve the elasticity and condition of the skin, especially if used in a shungite paste (powder and water mixed together). Anti-histamine effects have been experienced regularly. It is also of course the primary means of consuming/receiving the fullerene molecule as well. To simply ENERGIZE water and bring fullerenes into the solution, the 100 grams / liter ratio does not need to be followed, nor does the 1-3 days resting rule. This will still produce a beneficial healing water, but will not purify water to the same extent. In the case of taking a bath, the bag can simply be immersed in the tub for the duration of soaking, and will follow the same principle of energizing and bringing fullerenes into the water, while only doing a marginal job of purifying contaminants (due to the brief interaction time, and the much wider ratio of stones to volume of water).

***Shungite is NOT INTENDED to purify or treat water sources which are heavily contaminated and are not previously safe to be consumed by humans. It is often applied as the LAST STEP in a standard filtration process whether for home drinking water or remediation of lakes rivers and streams. In this fashion, the shungite has a much longer life for the application, and can successfully clean up any trace amounts of remaining contaminants where other media fail to capture and remove them. Shungite achieves this cleaning through a catalytic effect in addition to using adsorption, absorption, and desorption. Shungite may still be used in a traditional carbon-filtration method, replacing the charcoal or other carbon with shungite, and conjoining with other screening materials, such as sand or zeolite, to sift various micron sizes. This use will expire the shungite stones much faster than as a last step addition. When the water is no longer coming out visibly clear, the shungite has certainly expired for use in this application, but would still be fine for jewelry, personal balancing, or EMF protection. Testing of water samples should be done when working with water of an untreated or significantly contaminated nature to ensure your filtration methods are adequate.***


✯SIDE EFFECTS✯

Shungite water is THERAPEUTIC and not intended for regular consumption. This is because the process of preparing shungite water renders it acidic, increasingly so with more time. This is also the reason for the 24 - 72 hour guide when allowing the stones to rest. It is recommended to keep it in moderation. It can provide a very strong energy boost for some people, so for this reason it is advised not to drink in the evening before bed, or to be consumed by young children in excessive amounts. Generally if following the 24 - 72 hour recommendations the water will not become overly acidic. Studies have indicated the stone on average will adjust water to a pH of 4, but as low as 2 has also been cited. Solutions to offset the low pH are for example; dolomite lime, oyster shell, or other pH buffers in agriculture, lime/lemon juice in your prepared shungite water for drinking, or consuming extra alkaline-forming foods in your diet to balance & compensate. The fullerenes are also acting and lasting for months in the body, so there is no need to drink it constantly to receive additional anti-oxidant benefits. General recommendations are 250-500 mL (1-2 cups) every other day, and limit to one cup every other day for children. This is not necessary however, and you should judge your health and interactions based on your dosage, and adjust accordingly. Once or twice a month is a good minimum. Those with illness or serious disease can increase intake but should be extra mindful of the acidic nature.

✧CONCLUSIONS✧

The most noticeable impacts we have encountered on our collective shungite experience range quite widely, as the shungite affects beings on multiple levels and in multiple ways, many of them unseen or undetected without sophisticated equipment. A general list of symptoms or ailments that have been assisted include but are not limited to: anxiety/nervousness, sleep disorders/insomnia, arthritis, hyperactivity, ringing in ears (tinnitus), headaches, pain of various origins, depression, lethargy, and many other conditions depending on the individual. There have been people who stop taking certain medications, others who have a renewed vigor and vitality in their daily life, and some who have witnessed amazing transformations in their pets behaviors and health. In Russia and Europe there are many spas and treatment facilities of various types dedicated to the use of shungite for diverse therapies. There has been much success in skin conditions, arthritis, blood disorders, muscle-skeletal injuries as well as with digestive and bronchitic conditions primarily through drinking shungite water, taking shungite baths, using oral sprays, having hot stone massage, and other applications of other Lithotherapy (therapy with stones). Besides this, shungite often brings about a state of "bliss" where people commonly just feel more positive and grounded. This is part of the comprehensive work shungite conducts on the whole being; we are more than physical entities, we have spiritual and energetic components with their own presence and fields, and it is provable with bio-energy science and adequate measuring equipment that negative electromagnetic fields and wireless radiations greatly interfere with our natural fields and energies that surround and protect us. Shungite works to negate these interferences, and balance / heal any damage caused by them previously and ongoing. The energetic components are known as vital fields and chakras, and coupled with research into torsion fields will reveal a greater understanding of how these EMF (electromagnetic fields) and radiations impact us in non-physical ways, and how shungite (and other stones) can negate or balance the impacts. Shungite holds the unique position of being able to convert damaging and detrimental left spinning torsion fields, into beneficial right spinning fields, increasing their bio-compatibility.

These are mainly anecdotal statements based on the experiences and testimonies of people who have been exposed to shungite in its many applications; drinking shungite water, wearing the jewelry, holding stones, having shungite nearby or placed on EMF sources within their home, taking a bath, etc. While some of the knowledge/results are based on medical or scientific experiments and studies done primarily in Russia & Europe, shungite in its many forms and uses cannot replace the advice and insight of your professional health care provider.

Despite no concrete mainstream scientific or clinical studies to safely confirm shungite's use in a traditional medical or pharmaceutical setting, many people are finding astonishing benefits to be had, some of which cannot be fully explained at this point in time. What we do know and has been proven scientifically is that whether or not you can feel the shungite "doing anything", it is in fact working on your vital field, your natural energy source that is connected to the chakras, and protecting and balancing you from detrimental EMF and wireless radiation. The scientific research of the fullerene molecule remains credible and promising, especially regarding its anti-oxidant properties, and shungite continues to be the only known reliable and naturally occurring source of it on Earth. The testimony of people drinking shungite water continues to be the leading inspiration of others seeking to try it. Impacts on well-being range quite widely, and reports of health benefits for pets are common as well. No toxic effects have ever been reported with the use of shungite.

For one of the most detailed and informative works on shungite available right now it is highly recommended to purchase the book "Shungite: Protection, Healing, and Detoxification" authored by Regina Martino.

Thank you & welcome to the shungite experience, feedback and personal testimony is encouraged!
---
VERY NICE! packaging is beautiful and I keep this all over the place. Reduces EMF transmission and so I feel smoother. Actually the phone service went out in the morning the internet the middle of the day and a tree fell and took out ALL if the power so everything had to be reset :) THANKS!!!
Oct 2, 2015 by brooke erler
Great Seller!!!! Can't wait to try my shunghite water!!!!! Thank You!!!! As described.
Jul 8, 2015 by Emily
Recieved my "Rubble" today! Can't wait to try my first batch of water! Thankyou so much for the extra's, they are appreciated😀🙏🏻
May 25, 2015 by Denise
very prompt!!!!!will use again!!!thank you!
Apr 15, 2015 by linda chambers
---
Shipping & policies
Preparation takes 1-3 business days
Estimated Shipping
All orders are processed and sent out within 3 business days of receiving successful payment. In the event your order has not been shipped in this time frame you will be contacted with an explanation and updated shipping date as appropriate, usually with some added gifts as compensation. Feel free to initiate the first contact if there are any concerns about delayed shipping.

Shipping within Canada arrives in 5-7 business days on average. Tracking is always included.

Shipping to the USA arrives in typically 7-14 business days. Tracking is always included.

International purchasers, depending on destination as well as unforeseen complications with customs, can expect to wait anywhere from 7 to 28 business days for arrival. Tracking is additional cost.

Any issues relating to undelivered, missing, damaged, or incorrect orders, please initiate a conversation so we can resolve the situation.
---
Payments
Paypal & Credit Card accepted.

Cancellation of purchase should be initiated prior to delivery being marked as Shipped. Failure to do so will result in the cancellation being converted to a refund and will be rectified on an individual basis, accordingly.
---
Returns & exchanges
I gladly accept returns and cancellations
Contact me within:
14 days of delivery
Ship items back within:
21 days of delivery
Request a cancellation within:
2 days of purchase
I don't accept exchanges
But please contact me if you have any problems with your order.
The following items can't be returned or exchanged
Because of the nature of these items, unless they arrive damaged or defective, I can't accept returns for:
Custom or personalized orders
Perishable products (like food or flowers)
Digital downloads
Intimate items (for health/hygiene reasons)
Items on sale
Conditions of return
Buyers are responsible for return shipping costs. If the item is not returned in its original condition, the buyer is responsible for any loss in value.
Additional return information
Refunds will be available on an individual basis. We want to encourage the ability to reconcile the issue with the shipment, but if complications persist, refunds can be arranged. Please contact us to further discuss any refunds.

Please try to be timely with initiating the refund discussion. We will not establish a time period for which refunds are no longer available, but if it has been a long period after purchase, it can affect the process.
---
Additional policies
Always check back for new product additions. Feel free to contact for more information or general questions.

Links can be provided to scientific journals on shungite for those who are interested.

The book titled "Shungite: Protection, Healing and Detoxification", authored by Regina Martino is highly recommended!