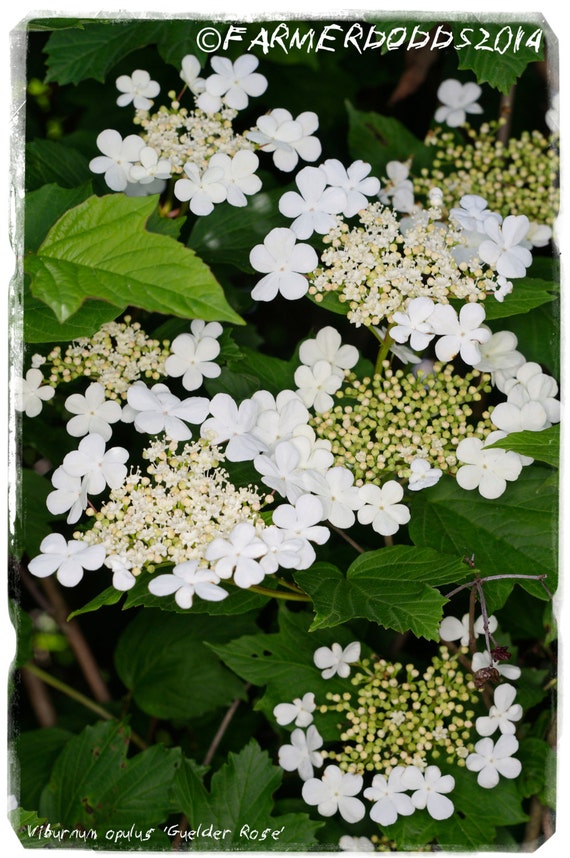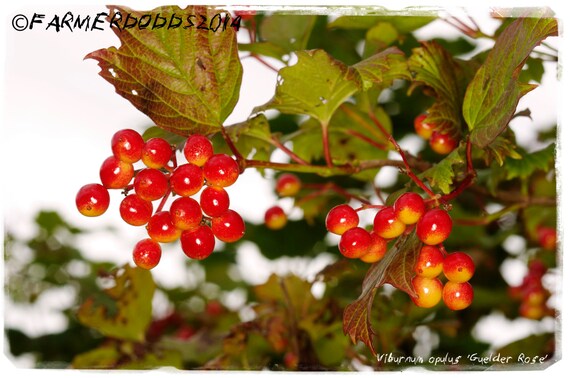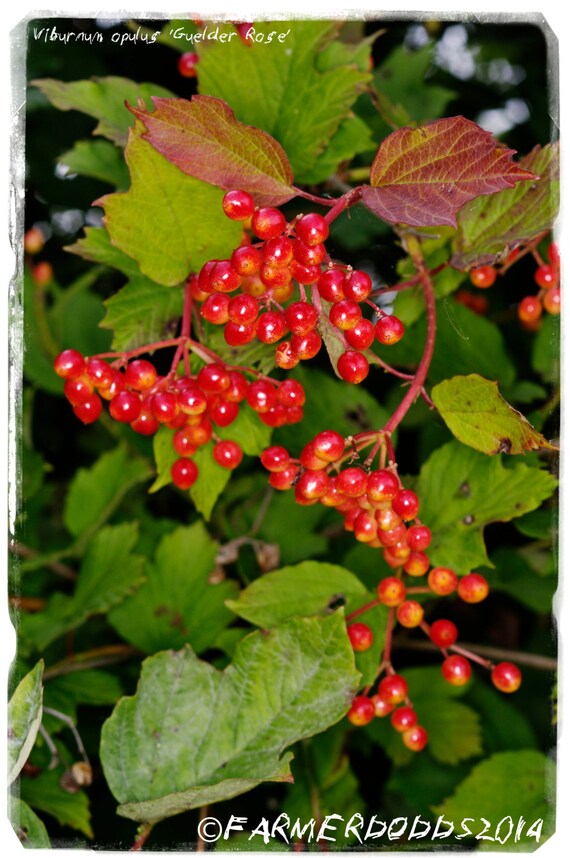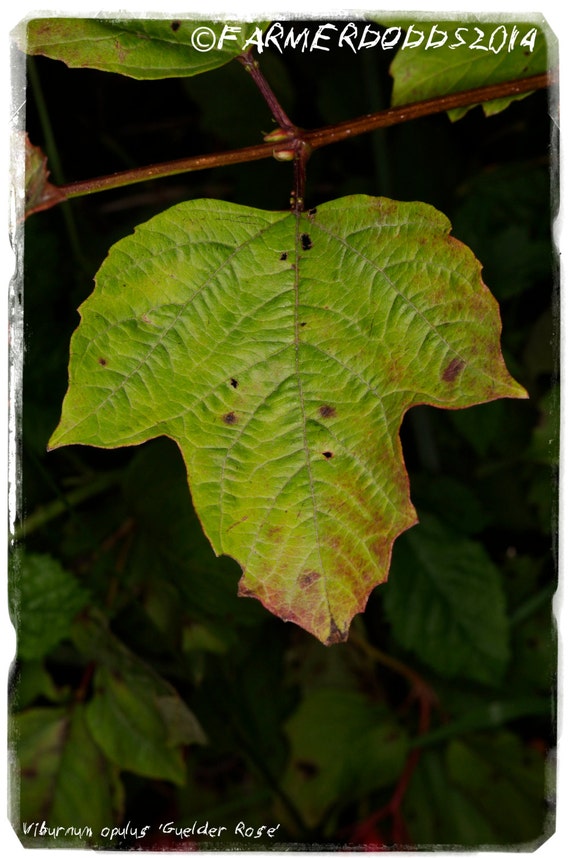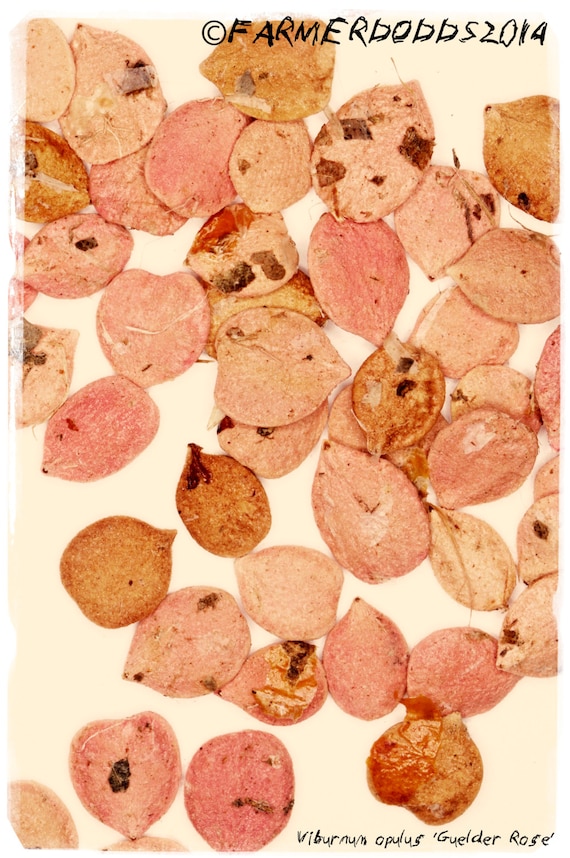 Preparation takes 1-3 business days
Arrives from United Kingdom
---
Features
Made in Durham, United Kingdom
---
Item details
VIBURNUM OPULUS 'GUELDER ROSE'

[Ex. Co. Durham, England]

Caprifoliaceae: branched, deciduous shrub to 4m, hairless, angled twigs and scaly buds. Often found growing in hedgerows and scrub, mainly on heavy soils. White flower, in flat-topped clusters, from June-July, these are followed by clusters of red berries. Widespread and common, except in the north of the country.


USES:

The fruit can be used raw or cooked, the fruit has a sour taste, and it is best cooked, used as a cranberry substitute in making, jellies, and preserves. Causes mild upsets when eaten unripe or in large quantities.

Guelder rose is a powerful antispasmodic and is much used in the treatment of asthma, cramps and other conditions such as colic or painful menstruation. It is also used as a sedative remedy for nervous conditions. The bark is antispasmodic, astringent and sedative, and contains 'scopoletin', a coumarin that has a sedative effect on the uterus. A tea is used internally to relieve all types of spasms, including menstrual cramps, spasms after childbirth and threatened miscarriage.


GROWING INFORMATION:

Guelder rose seeds have a deep dormancy within them, this requires a degree of patience to overcome and it is usually quite easy to get high levels of germination if the correct procedures are followed. The germination period is also lengthy and highly unusual. First prepare a free draining substrate into which the seeds are to be mixed, this can be a 50/50 mixture of compost and sharp sand, or perlite, vermiculite or even just pure sharp sand has worked well for me. The chosen substrate needs to be moist (but not wet), if you can squeeze water out of it with your hand it is too wet, and your seeds may drown and die.

Mix the seeds into the substrate, making sure that there is enough volume of material to keep the seeds separated. Place the seed mixture into a clear plastic bag (freezer bags, especially zip-lock bags are very useful for this) If it is not a zip-lock type bag it needs to be tied. Write the date on the bag so that you know when the pre-treatment was started. The seeds first require a period of warm pre-treatment and need to be kept in temperatures of at least 15°C for a period of at least 10 weeks - it is not critical if it lasts a week or two longer than this. During this time make sure that the pre-treatment medium does not dry out at any stage or it will be ineffective!

Next the seeds require a cold period to break the final part of the dormancy, this is easily achieved by placing the bag in the fridge (4°C) for at least 10 weeks, again if it is for a little longer it does not matter. It is quite possible for the seeds to germinate in the bag at these temperatures, if they do just remove them from the bag and plant them up - they are strong and will easily tolerate the disturbance. For small quantities I tend to just leave the seeds in the fridge and remove the germinated ones every few weeks and plant them up. I find that this way you can get the maximum number to germinate. Any remaining ungerminated seeds can have the whole warm and cold process repeated -several times if necessary.

It has also been found that fluctuating pre-treatment temperatures can give the best germination results and I have myself had excellent results by keeping the mixed seeds in a cold shed through the winter for the cold stage of their pre-treatment and allowing the temperature to fluctuate naturally. Germinated seeds can be planted in small pots, seed trays or plug trays in a good quality compost. Guelder rose has a mainly fibrous root system and is well suited to container growing.

Guelder rose has a 2-stage germination process. The germinating seed will grow a root approx. 4cm long in stage 1 then it needs to experience a long period of cold (such as the following winter for the second stage of germination to occur and for a shoot with leaves to appear above ground. Keep the partially emerged seedlings out of strong sunshine, well-watered and weed free. Growth in the first year above ground is usually between 10-30 cm but will accelerate in the following year. Allow them to grow for 2-3 years before planting them in a permanent position.

An easily grown plant, it succeeds in most soils but is ill-adapted for poor soils and for dry situations. Prefers a deep rich loamy soil in sun or semi-shade. It is probably best to grow at least two different cultivars to produce fruit and fertile seed. The fruit is very attractive to birds.


HARVESTED: 2017


APPROX. 25+ SEEDS


ETSY TERMS

Every order will receive a free packet of seeds as a thank you!

I have had to remove all listings of poisonous plants, which include the nightshade family, and monkshoods. All these plants and more are still available from my store:

https://kykeonplants.mysimplestore.com/

TERMS:

ORDERS MAY BE DELAYED TWO OR THREE DAYS DUE TO WORK COMMITMENTS, SO PLEASE BE PATIENT!

ORDERS MADE BETWEEN MARCH - MAY COULD BE DELAYED UP TO A WEEK. THIS IS A VERY BUSY TIME FOR ANYONE ONE IN THIS BUSINESS.

IF YOU ARE THE IMPATIENT TYPE PLEASE LOOK ELSEWHERE!

I LIVE IN THE UNITED KINGDOM NOT THE USA, SO ORDERS WILL TAKE 2-4 WEEKS.

Due to customs issues I do not ship to Brazil!

SHIPPING TO AUSTRALIA AND NEW ZEALAND ARE AT YOUR OWN RISK, I AM STOPPING THE REFUNDING OF LOST ITEMS TO THESE COUNTRIES!!!

IF YOU FAIL TO GERMINATE YOUR SEEDS PLEASE DON'T LEAVE BAD FEEDBACK, SEEDS ARE ALWAYS FRESH AND TESTED FOR VIABILITY BEFORE LISTING, SO I KNOW THAT THEY DO GERMINATE, IF YOU HAVE ANY PROBLEMS PLEASE JUST ASK!!!

PLEASE DO NOT LEAVE NEGATIVE FEEDBACK FOR SEEDS THAT HAVE BEEN LOST IN THE POST, THIS IS NOT MY FAULT AND COMPLETELY OUT OF MY CONTROL, SIMPLY LET ME KNOW AND I WILL HAPPILY RECTIFY THE PROBLEM!

THANK YOU FOR YOUR TIME.
---
---
Exactly as described. Thank you!
Jul 14, 2015 by jaybuchwald
---
More from this seller
---
Shipping & policies
Preparation takes 1-3 business days
Arrives from United Kingdom
Estimated Shipping