FLOWERS-50 Collection of 144 vintage images white yellow violet blue botanical pictures High resolution digital download printable instant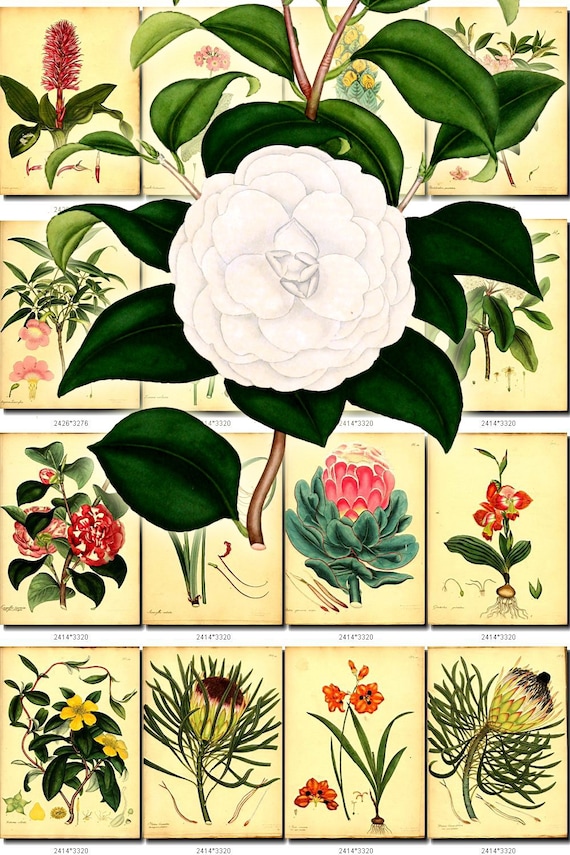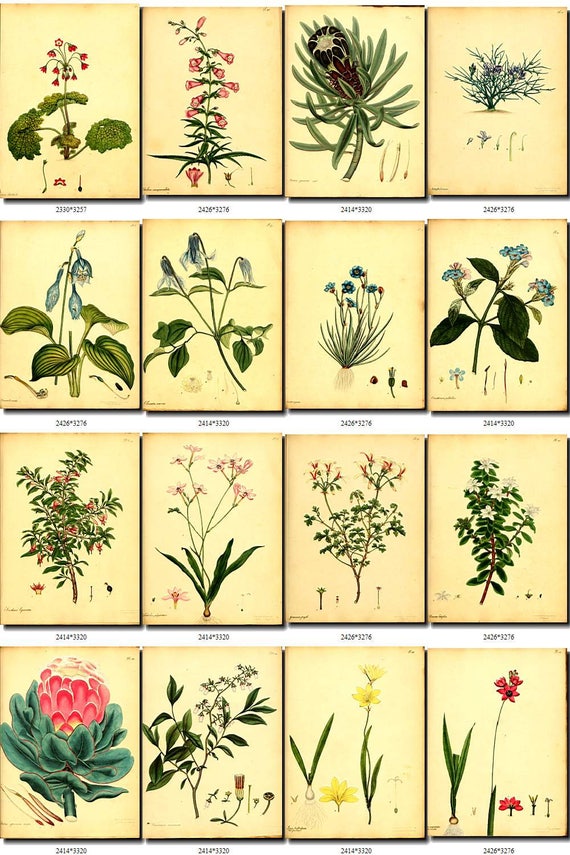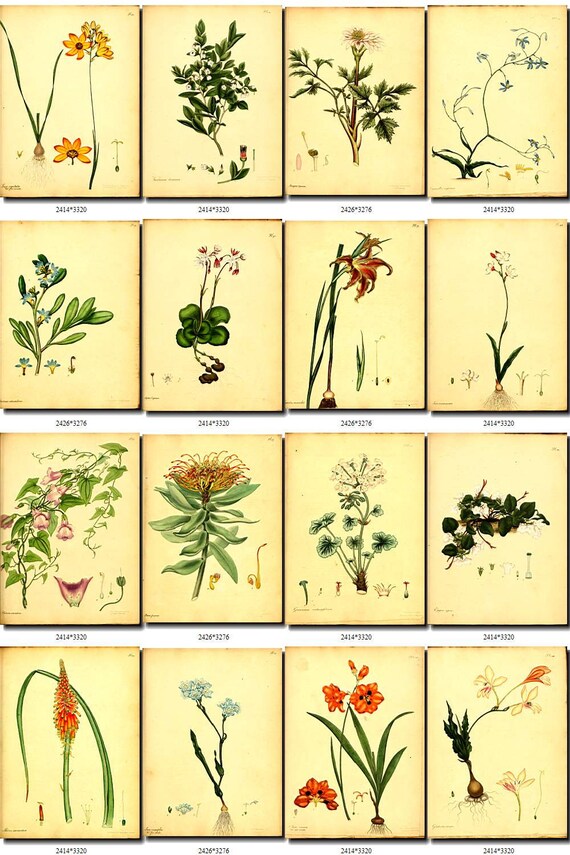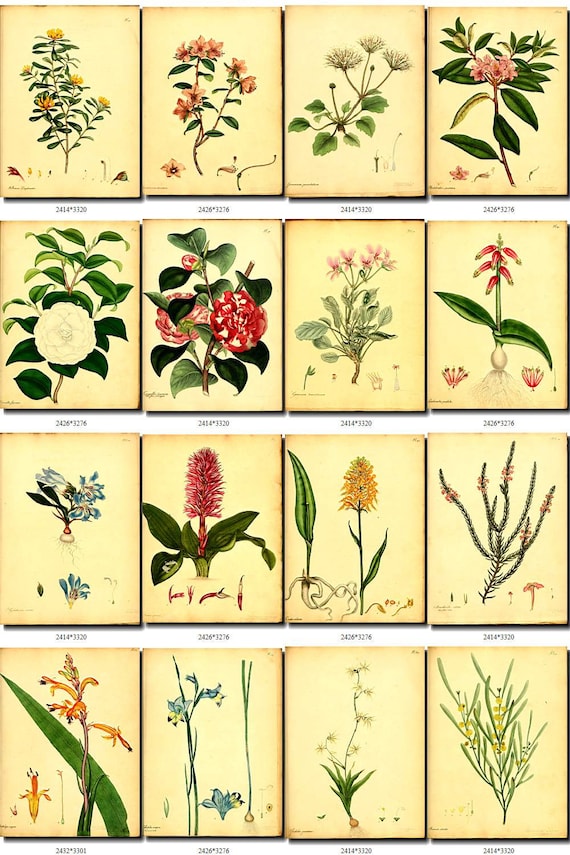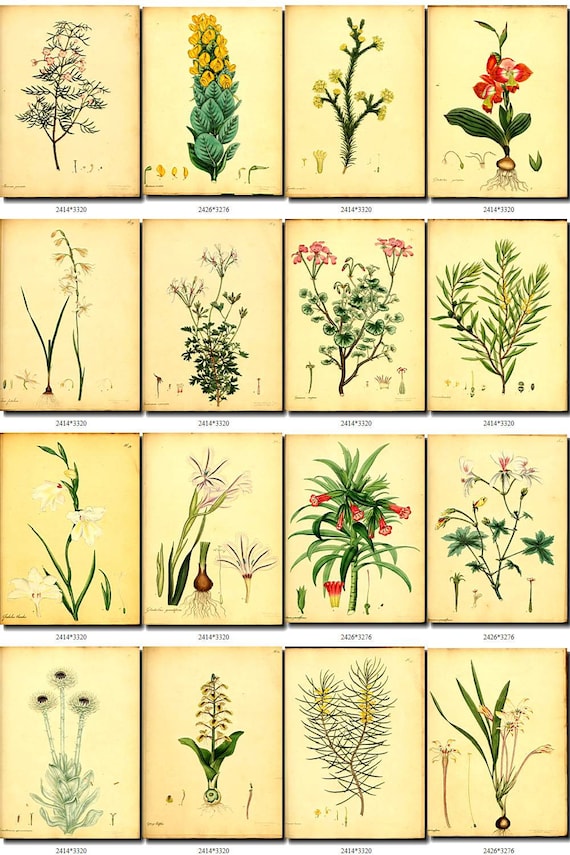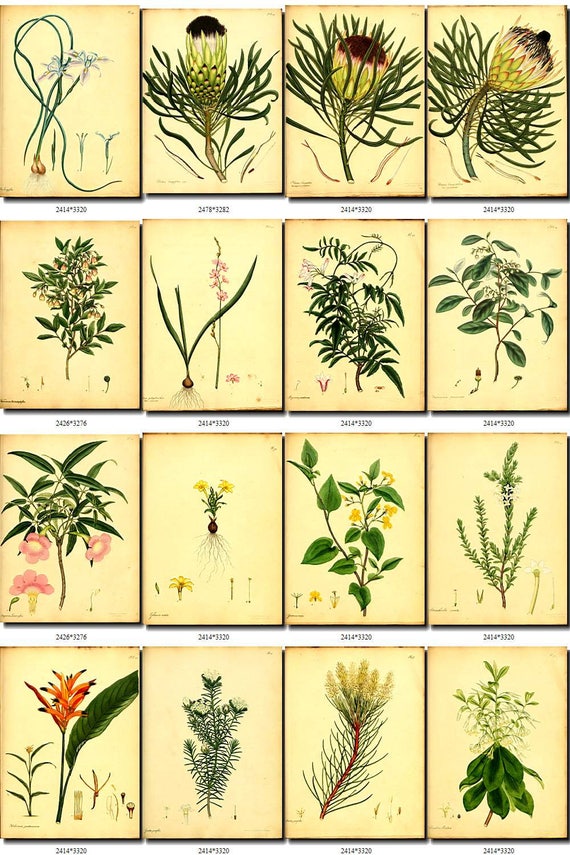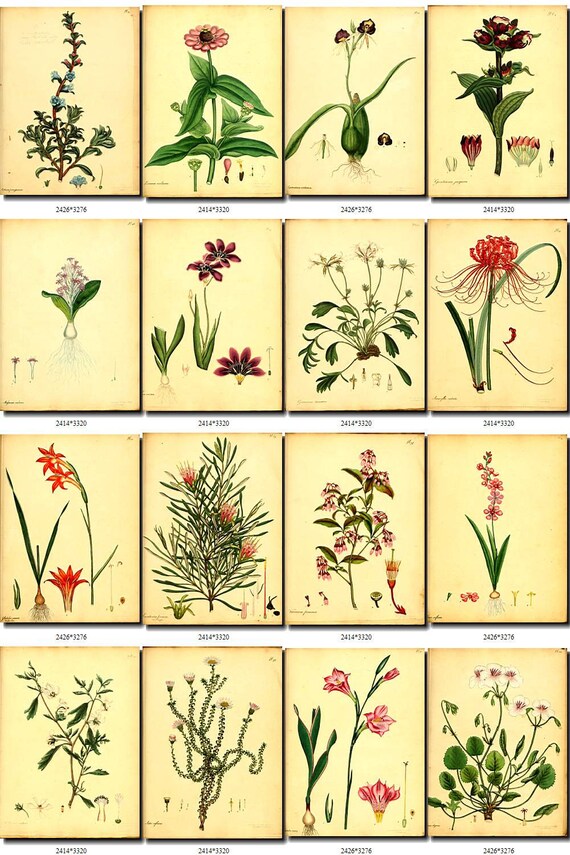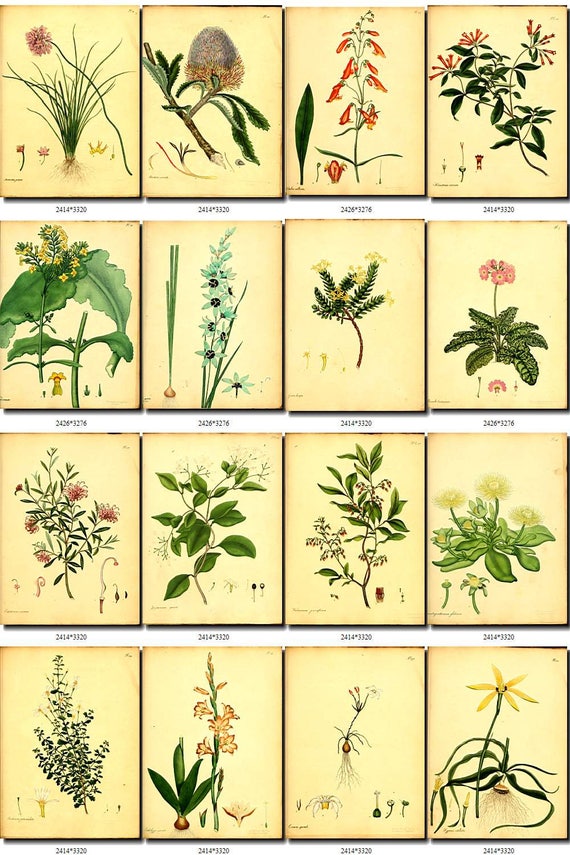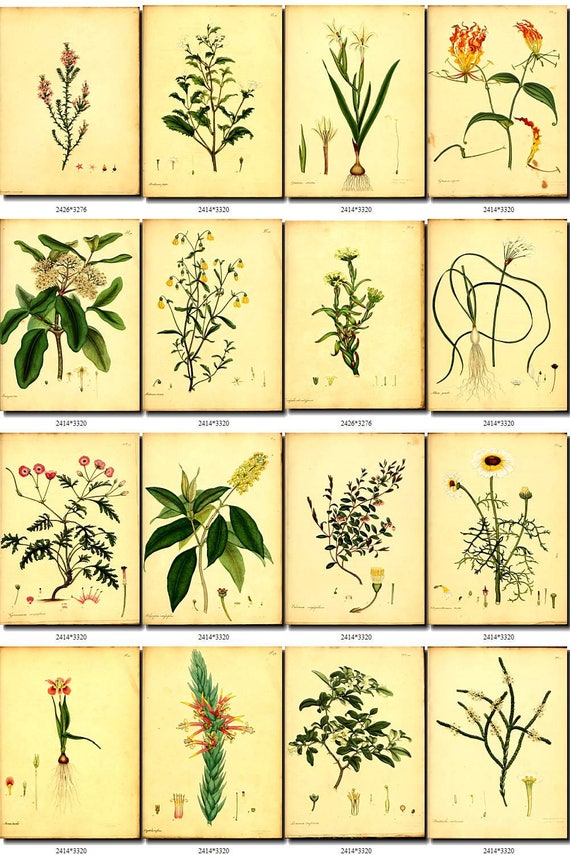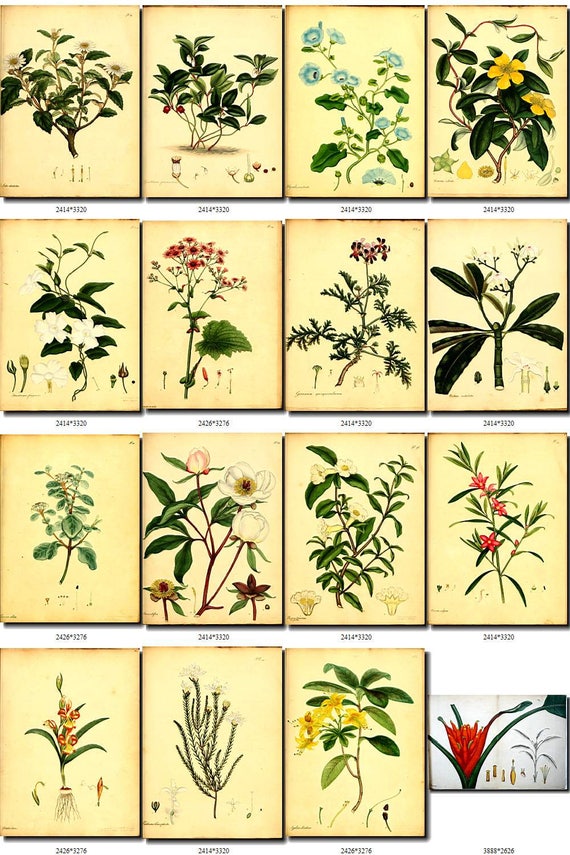 ---
Features
---
Item details
artscult.com - all images from artvintages.com

Instant digital download of 144 vintage pictures of flowers in high resolution (300 dpi, sizes from 2300x3200 px to 3800x2600 px). Look at pictures to see sizes in pixels (click "Zoom", divide size in pixels on 300 - you'll get size of print in inches with high quality, ex. 2400/300=8''). Total size of the collection is 187 Mb.

Each file has a name of shown plant in English and Latin (ex. "Reflex-flowered Mallow, malva reflexa.jpg"). Names of shown plants are listed below, at the end of description.

All images are in JPG format, separate files. Perfect for use in crafting, decoupage, collage, altered art, prints, etc. Images are in public domain in USA and may be used for any personal or commercial purposes. Information about source books is included.

Look at my other FLOWERS collections:
https://www.etsy.com/shop/ArtVintages?section_id=13682395

All-in-one FLOWERS collections:
https://www.etsy.com/shop/ArtVintages/search?search_query=all+flowers

DISCOUNTS:
Save money - Use coupons shown here:
https://www.etsystudio.com/listing/168468869/

SHIPPING DETAILS:
Digital download (TXT file with link on file in zip format on dropbox and google drive, and gallery view). Before purchase, please, make sure that you are able to download large size files. Download may take long time some cases.

NAMES of shown plants:
Aletris Sarmentosa, Allium Gracile, Alpine Sanicle, Amaryllis Radiata, Antholyza Ringens, Antholyza Spicata, Anthyllis Erinacea, Aristea Cyanea, Aster Dentatus, Aster Reflexus, Atragene Capensis, Azalea Pontica, Banksia Serrata, Bell-Flowered Chelone, Bignonia Leucoxylon, Bignonia Pandorana, Black-Flowered Protea, Blue Broom of Spain, Blue Day Lily, Blue Thick-Petal'd Virgin's Flower, Blue-Flowered Aristea, Blue-Flowered Eranthemum, Borbonia Cordata, Boronia Pinnata, Box Thorn-Like Fuchsia, Branching Gladiolus, Brittle-Stalked Geranium, Broad-Leaved Diosma, Broad-Leaved Shewy Protea, Broad-Leaved Whortle-Berry, Buchnera Foetida, Buchnera Pedunculata, Bulb-Bearing Ixia, Bunch-Flowering Ixia, Bushy Whortle-Berry, Camellia Japonica, Cape Atragene, Cape Cyanella, Cape Marygold-Leaved Goodenia, Cape Septas, Cerbera Undulata, Changeable Gladiolus, Chelone Campanuloides, Chelone Ruellioides, Chrysanthemum Tricolor, Cineraria Aurita, Cinnamon-Smelling Ixia, Clematis Viorna, Climbing Usteria, Coronet Protea, Corraea Alba, Cortusa Matthioli, Cortusa-Leaved Geranium, Crassula Odoratissima, Creeping Epigaea, Creeping-Rooted Bastard Aloe, Crinum Spirali, Crisped-Leaved Ixia, Crocus-Flowered Ixia, Crowea Saligna, Curled Leaved Gladiolus, Cyanella Capensis, Daphne Pontica, Daphne-Like Pultenaea, Dauric Rhododendron, Diosma Latifolia, Dotted-Flowered Geranium, Dotted-Leaved Rhododendron, Double White Camellia, Double-Striped Camellia, Downy-Leaved Geranium, Drooping-Flowered Lachenalia, Dwaraf Gladiolus, Echium Ferocissimum, Echium Grandiflorum, Embothrium Sericeum, Epidendrum Cochleatum, Epigaea Repens, Eranthemum Pulchellum, Flesh-Coloured Neottia, Fringed Orchis, Fringed-Leaved Struthiola, Fuchsia Lycioides, Galaxia Ovata, Gaping Antholyza, Gaping Ash-Coloured Sweet Gladiolus, Gaultheria Procumbens, Gentiana Purpurea, Geranium Cortusaefolium, Geranium Crassifolium, Geranium Elegans, Geranium Fragile, Geranium Grandiflorum, Geranium Incifum, Geranium Laciniatum, Geranium Punctatum, Geranium Quinquevulnerum, Geranium Reniforme, Geranium Tomentosum, Gladiolus Alatus, Gladiolus Blandus, Gladiolus Crispus, Gladiolus Galeatus, Gladiolus Gramineus, Gladiolus Grandiflorus, Gladiolus Longiflorus, Gladiolus Nanus, Gladiolus Polystachius, Gladiolus Praecox, Gladiolus Ringens, Gladiolus Roseus, Gladiolus Striatus, Gladiolus Versicolor, Gloriosa Superba, Gnidia Laevigata, Gnidia Pinifolia, Gnidia Simplex, Goodenia Calendulacea, Goodenia Ovata, Grass-Like Gladiolus, Harsh-Leaved Upright Mimosa, Hawthorn-Scented Boronia, Heart-Shape-Leaved Borbonia, Heath-Leaved Gnidia, Heliconia Psittacorum, Helmet-Flowered Gladiolus, Hemerocallis Caerulea, Hibbertia Volubilis, Hollow-Leaved Ixia, Houstonia Coccinea, Hypoxis Stellata, Iris Longifolia, Ixia Aristata, Ixia Bulbifera, Ixia Capitata Ovata, Ixia Capitata, Ixia Cinnamomea, Ixia Crispifolia, Ixia Crocata Nigra Maculata, Ixia Fistulosa, Ixia Polystachia, Ixia Reflexa, Ixia Spicata, Ixora Pavetta, Jagged-Leaved Geranium, Jasminum Gracile, Kidney-Shape-Leaved Geranium, Lachenalia Pendula, Lachnaea Eriocephala, Lambertia Formosa, Lance-Shape-Leaved Persoonia, Large White-Flowered Gladiolus, Large-Flowered Gladiolus, Large-Flowered Viper's Bugloss, Largest-Flowered Geranium, Largest-Flowering Everlasting Flower, Lily-Leaved Ophrys, Limonia Trifoliata, Linear-Leaved Protea, Long-Flowered Gladiolus, Long-Leaved Iris, Long-Leaved Protea Black Flower, Long-Leaved Protea Rusty Purple Flower, Long-Leaved Protea, Madeira Whortle-Berry, Mahernia Odorata, Malpighia Crassifolia, Malva Reflexa, Many-Spiked Ixia, Massonia Violacea, Mesembryanthemum Glabrum, Mimosa Stricta, Moroea Tricolor, Musa Coccinea, Neottia Speciosa, Norfolk Island Trumpet Flower, Obtuse-Leaved Whortle-Berry, Oleander-Flowered Trumpet Flower, Ophrys Lilifolia, Orchis Ciliaris, Oval-Leaved Galaxia, Oval-Leaved Goodenia, Oval-Leaved Struthiola, Paeonia Albiflora, Parrot Billed Heliconia, Persoonia Lanceolata, Persoonia Linearis, Physalis Prostrata, Pine-Leaved Gnidia, Pine-Leaved Protea, Pontic Spurge Laurel, Prickly Viper's Bugloss, Primula Cortufoides, Protea Formosa, Protea Longifolia Ferruginoso-Purpurea, Protea Longifolia Nigra, Protea Longifolia, Protea Pinifolia, Protea Speciosa Latifolia, Protea Speciosa Nigra, Pultenaea Daphnoides, Punica Granatum, Purple Zinnia, Purple-Flowered Epidendrum, Purple-Flowered Gentian, Purple-Flowered Massonia, Ragged Sheathed Ixia, Ragged-Leaved Geranium, Rayed Lily Daffodil, Red Early-Flowering Gladiolus, Red-Flowered Lambertia, Red-Twigged Whortle-Berry, Reflex-Flowered Ixia, Reflex-Flowered Mallow, Reflex-Leaved Starwort, Rhododendron Dauricum, Rhododendron Punctatum, Rose-Coloured Gladiolus, Round-Leaved Geranium, Rush-Like Sowerbia, Sawed-Leaved Banksia, Scarlet Chelone, Scarlet Houstonia, Scarlet-Flowered Plantain-Tree, Scolloped-Leaf Vereia, Sea-Green Spiked Ixia, Septas Capensis, Shining-Leaved Gnidia, Siberian Primrose, Silky Embothrium, Slender-Stemmed Jasmine, Small-Flowered Whortle-Berry, Smooth-Leaved Annual Fig Marygold, Solitary-Flowered Buchnera, Sowerbia Juncea, Spike-Flowered Antholyza, Spiral-Stalked Alphodel Lily, Sprengeila Incarnata, Star-Flowered Hypoxis, Star-Flowered Sprengelia, Stinking Buchnera, Streaked-Flowered Gladiolus, Struthiola Imbricata, Struthiola Ovata, Strythiola Ciliata, Styphelia Triflora, Superb Gloriosa, Sweet Ixora, Sweet Mahernia, Sweet-Scented Crassula, Sweet-Scented Garlic, Thick-Leaved Geranium, Thick-Leaved Malpighia, Thick-Leaved Whortle-Berry, Three-Coloured Corn-Marygold, Three-Coloured Moraea, Three-Flowered Styphelia, Three-Leafletted Limonia, Thunbergia Fragrans, Tiled-Leaved Struthiola, Toothed-Leaved Starwort, Trailing Gaultheria, Trailing Winter Cherry, Twining Hibbertia, Twining Thunbergia, Two-Coloured-Leaved Cineraria, Usteria Scandens, Vaccinium Amoenum, Vaccinium Arctostaphyllus, Vaccinium Crassifolium, Vaccinium Dumosum, Vaccinium Formosum, Vaccinium Frondosum, Vaccinium Parviflorum, Variegated-Flowered Geranium, Vercia Crenata, Waved-Leaved Cerbera, White Correa, White Paeony, White Pomegranate, Willow-Leaved Crowea, Wing-Flowered Gladiolus, Woolly-Headed Lachnaea, Xeranthemum Speciocissimum, Yellow Pontic Azalea, Zinnia Violacea.
---
---
More from this seller
---
Digital downloads
---
Payments
PayPal payment only accepted (including payment with a credit card via PayPal without having PayPal account)
---
Returns & exchanges
I gladly accept returns and exchanges
Contact me within:
14 days of delivery
Ship items back within:
30 days of delivery
I don't accept cancellations
But please contact me if you have any problems with your order.
The following items can't be returned or exchanged
Because of the nature of these items, unless they arrive damaged or defective, I can't accept returns for:
Custom or personalized orders
Perishable products (like food or flowers)
Digital downloads
Intimate items (for health/hygiene reasons)
Conditions of return
Buyers are responsible for return shipping costs. If the item is not returned in its original condition, the buyer is responsible for any loss in value.
Additional return information
Full refund available if you are not satisfied with your item. Please feel free to email me. Thanks
---
Additional policies
Images from my collections are in public domain in the US.