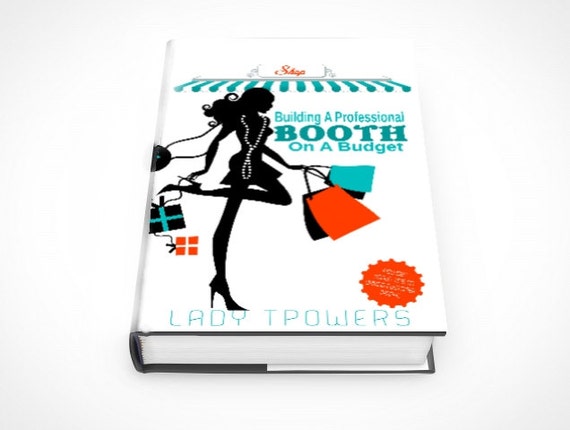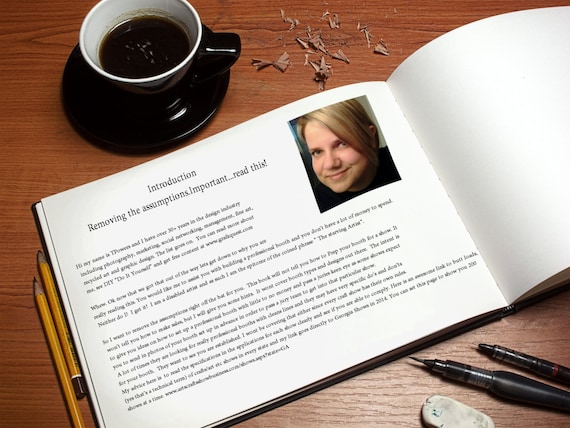 ---
Features
---
Item details
Building a Professional Booth On A Budget (Instant 26 page digital download)

This book is about you. How to go about building your vendor booth without compromising every dollar in your pocket.

You are a crafter or designer who can't stay out of trouble. Last seen in (Insert where you live) , you find yourself entangled in a deadly conspiracy that stretches back centuries. Building a better booth than your competition. An elderly curator has been murdered trying to set up his booth next to your space. Aided by the victim's granddaughter, she sets up his booth and starts hawking her wares. She sells something similar to you. You begin a danger-filled quest to sell more than your competition; but the deeper you search, the more you become convinced that long-festering conspiracies hold the answer to outselling your competition.

What do you do? You buy this short and insightful e-book to aide you in your quest to build a better booth for less to conquer your competition. The granddaughter bows to your amazing array of wares and personal touches. She wonders where you came across these amazing secrets.

Ok kidding aside this book is a light 26 pages full of fun and eventful ways to build your booth including tips and hints to market yourself over your competition at a vendor show doing it for less. This is a tried and perfected method by bypassing the pitfalls ahead of time. If you are already a professional this may help you tweak your current booth and if you are not a professional this will help you on your way.

~This E-book is heartwarming and clever staying with the reader long after the last page was turned. Great Advice!
---
---
More from this seller
---
Digital downloads
---
Payments
We Take Pay Pal which uses all major credit cards. All payments must be cleared through PayPal before item will be packaged and delivered. We also accept direct credit card payments and Etsy gift cards!
---
Returns & exchanges
No returns or exchanges for ART WORK,pottery, prints, t-shirts and Downloadable files~ Here is why:

~Art & Pottery:

Because a piece is too small or too large. Sizes are listed on each item's description, please measure your space in advance of purchase.The term "size" always refers to the artworks overall dimensions. Thus, a sculpture includes the base in the height, and wall art/paintings includes spacing if it is multiple pieces. Please note that our sculptures/art is handmade and therefore there may be up to 15% difference from the item pictured.
Color Variations: Colors vary with each computer monitor and can display colors differently. Make sure that your computer's monitor is adjusted to true colors. WE CANNOT GUARANTEE THAT THE COLOR YOU SEE ON YOUR SCREEN IS ACCURATE TO THE COLOR OF THE ARTWORK. All computer screens show different colors from each other, our pictures are accurate, but your screen may not be.
Damaged during shipping: We GUARANTEE that the artwork you purchased comes to you as it is described. We do not accept returns due to the amount of damage that occurs on transit. However, we are more than willing to work with you to resolve any issues and provide help the best we can to ensure that you are happy with your purchase! In the unlikely case that the item is damaged in transit to you, please notify us and we will help you with the insurance claim to the shipping company. All items are sold "as-is" with respect to the above statements. Each piece is a one of a kind. It has been properly insured for the purchase price. If damage has occurred during shipping, an insurance claim must be submitted to us within 24 hours of a signature receipt. Please contact us for an insurance claim form. You will also be asked to send photographic evidence of the damage. A new piece will be created as close as possible to the original at the same purchase price using the insurance claim reimbursement plus re-shipping costs which will be charged to the purchaser's pay-pal account. Communication of this charge will happen in advance. However in some cases like pottery a new piece can not be recreated in which case if a refund can be made through insurance this will be attempted if possible.

~Prints and T-shirts:

Have been special ordered and sized/created just for you and are not resell-able.

~30 Day Money Back Guarantee for Jewelry except earrings.

Any Jewelry/Card exchanges and returns will be minus the shipping costs originally paid and return shipping of new exchanged products will incur additional shipping costs. No additional shipping costs will be incurred for Jewelry that needs to be repaired and sent back due to shipping damage. All jewelry returns must be returned back in original packaging and be in resell-able condition in order to qualify for credit. Credit will not be applied until item has been shipped back, received and condition verified and once again minus original shipping costs. We want to make sure you are completely happy, so please ensure to communicate with us during this entire process.

Earrings can not be returned due to sanitary reasons.

Guitar Picks: May be returned if not used. Backsides of picks reflect backside of gift and or credit card that it was cut from, exchanges will not be made because you did not read picks are made from upcycled gift and or credit cards. We do not guarantee guitar picks from breakage due to use. We cannot guarantee they will not break during use, due to the amount of pressure each individual applies is different then others, therefore refunds will not be given for broken picks. Return postage for unused picks is the responsibility of the guest.

Digital Downloads.

CAN: PERSONAL USE
You can make anything you want for your personal use, print as many times as you like, re-size or alter to suit your needs. Print from your home computer or take to a company to have them printed for you.

THE FOLLOWING TOU (Terms OF USE) IS CURRENT FOR 2014 AND IS IN ADDITION TO TERMS IN READ ME FILE

PERSONAL Commercial Use: CUOK for
Business cards > newsletters > E-books > Avatars
Customized Announcements > Invitations > Printed cards
Scrapbooking > Photo books > Layouts
Web Graphics > Banners > Blog Headers
Blog and Web Design

1. You may create printables, crafts, handmade, embroidered items for yourself to use. You may also create items to give to your friends and family as gifts (like gifts). You can also use these clipart collections to decorate your websites, blogs and signatures.

2. You may create handmade items to sell on your website, blog, etsy, or ebay websites. You can make handmade cards, crafts, labels (like address labels/stickers - that you print yourself), embroidered items, tole painted items and dolls/toys. If you made it with your own hands - and you want to sell it - it is ok to do so. Must be part of a completed handcrafted item, cannot be part of a kit or sold just "as is" in part or whole as printed collage sheets, stickers or as stamps. What you CAN make are items such as - clothing (T-shirts, aprons, etc), magnets, buttons, jewelry, printed party favors, decoupage items.

Digital Downloads.
YOU ABSOLUTELY CANNOT...
-Get a refund for digital files. They have already been downloaded to you and there is no way to return a digital file. Replacement of any files downloaded lost by you or not working: ok for up to one year from sale.
- re-distribute/share/sell any of my designs as they are received by you.
- claim any of these designs as your own in any way, copyright remains with GraXQuest.com.
- re-distribute/share/sell any of my designs for anything other than personal non commercial small run tangible goods (See read Me File) and own PERSONAL USE.
- include my designs in any .ai, .eps, .psd, .tif, .ttf, .svg (or the likes), .abr, or tube file formats.
- turn any of my designs over to any company for any reason.
- produce pre-made logos/branding concepts, pre-made web templates for sale or for free.
- produce any CUSTOM commercial logos/branding, web designs without purchasing the extended license fee (see options in read me file)
- produce printed kits/elements, digital/rubber stamps, print on demand, home wares, clothing, fabric, vinyl art (or any kind of decals), digitized embroidery files, electronic applications, published books, photography backdrops/props, wall art or any home decor without my written permission.
- re-distribute/share/sell any of my designs in any way on print on demand sites such as Snapfish, Cafe Press, Zazzle, Minted or online photo book/photo card sites such as Michaels/MiDesign, Mixbook, Photobook Canada etc.or on CD or DVD for ressale, trade or free. 1 Backup personal copy OK. These policies coincide with those that will be sent to you both at time of sale and in the "ReadMe" file


DISCLAIMER: All items sold by Grafxquest, TPowers & Colonel Sprocket are intended for use by adults only. Please do not let children handle the items unless you are supervising them and accept all responsibility. Also, since we are not the makers of the materials we use, we are not liable and do not claim to know the process or materials used to make the items. Some items may contain small parts and can be considered a choking hazard do not let your child handle anything unsupervised.

By purchasing items from Grafxquest, TPowers & Colonel Sprocket you agree to all terms.
---
Additional policies
Buyer acknowledges that by purchasing original items from Graf-X-Quest and artist T Powers, that he/she will not copy, photograph, reproduce, or redistribute likenesses of purchase in any way without the artists written consent. Artist retains the copyrights to use, sell and make prints, copies, photos, and or any likenesses of original material regardless of current ownership of said material. Artist also retains all rights to the style used. Any violation of this copy right notice will be considered infringement and will be handled in the manner of the U.S. Copyright law.