DIY Vintage Kids Happy Birthday Fold-Out Cards -DIGITAL IMAGES -Immediate Download- You Cut & Fold -2 designs- Jack-in-Box and Indian Couple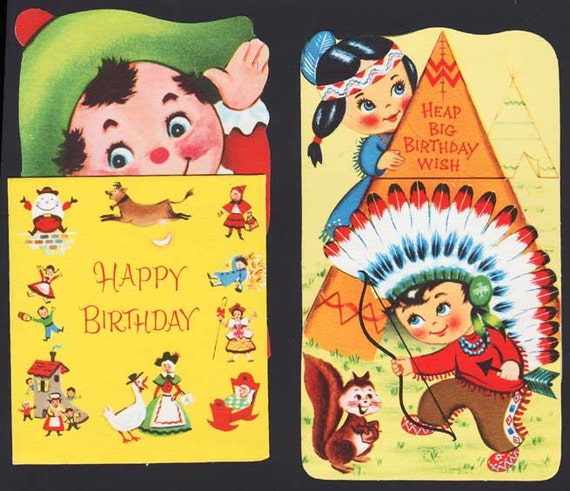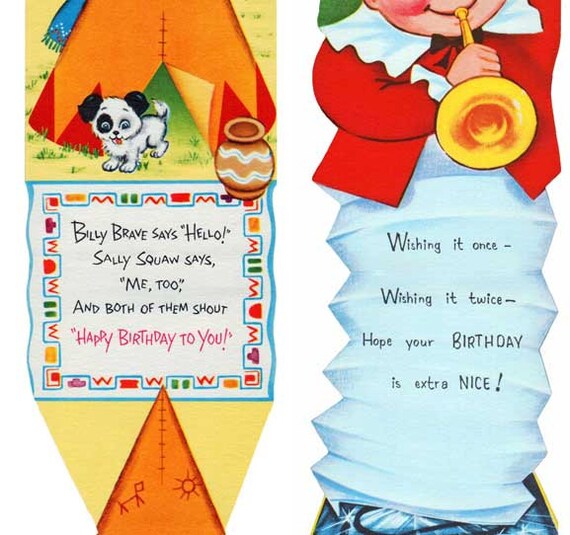 ---
Features
---
Item details
THIS IS A DIGITAL IMAGE/FILE THAT IS AVAILABLE FOR IMMEDIATE DOWNLOAD AT TIME OF PURCHASE.

*****BUY TWO $1.95 IMAGES AND GET ONE FREE*****
Just put all three images in your cart and type in this coupon code at check out: DOLLARNINETYFIVE

IMAGE TITLE: Vintage Kids Fold-Out Birthday Cards (2 Designs)

SUBJECT: DIY Kids Birthday Cards. The digital files include two vintage birthday cards. One design is a Jack-in-the-Box with Pennsylvania Dutch Folk Art designs on the base of the box; the other design is a Native American Indian couple with TeePee house and cute little animals. They are a 2-fold design. They can be printed out, folded (along crease lines which are marked on the print-out), and cut out to make two super cute vintage kids' birthday cards!
ARTIST: UNSIGNED

DATE: 1950'S

IMAGE SIZE: 6.43 MB (.pdf - both cards), Single Images: Jack-in-Box 1514 x 5596 Pixels (7.15 MB .jpg; 13.0 MB .png); Indian Tee Pee 1661 x 5569 Pixels (8.1 MB .jpg; 13.6 MB .png).

FILE  TYPE: You will have 3 different file types available for download. For those who want to alter and manipulate the image or its size, there is the .jpg format as well as the .png format (with the transparent background provided in those images where it is applicable); and for those who just want an image that can be printed as is, without any need for an image editing program, the .pdf format is also provided.

****For this image, the .pdf option is printer ready with crease line guides provided. Both cards are in the file and either can be printed as wished.
****PLEASE NOTE: THESE CARDS REQUIRE LEGAL SIZE PAPER/CARD STOCK FOR PRINTING (8.5" X 14")

NOTE: Please be aware that the downloadable file(s) is much larger and much higher resolution than the sample picture(s) above.

IMAGE SOURCES: The images offered in this store come from personal Vintage Paper Archives. They originate from vintage to antique items such as illustrations from advertisements, books, cards, newspapers, magazines and the like which have been verified to be in public domain. The images have been digitally restored (some taking many hours of digital restoration work) and then are presented here in a ready-to-use format for you to incorporate into any of your creative endeavors.

DIGITAL IMAGE USES: Uses are only limited by the imagination.

********************************
USE AGREEMENT: The use agreement is very liberal and can easily be summed up in one sentence: You can do anything you want with your purchased image except resell it in its digital form or in a collection such as a collage sheet or CD.
---
---
More from this seller
---
Digital downloads
---
Payments
We accept credit cards, debit cards, and e-checks through Paypal.
---
Returns & exchanges
Since Digital Items can't really be "returned" our Refund Policy will have to be a little different than a store with physical items. But since our goal is your happiness, you can be assured that we will do whatever it takes to make you happy!