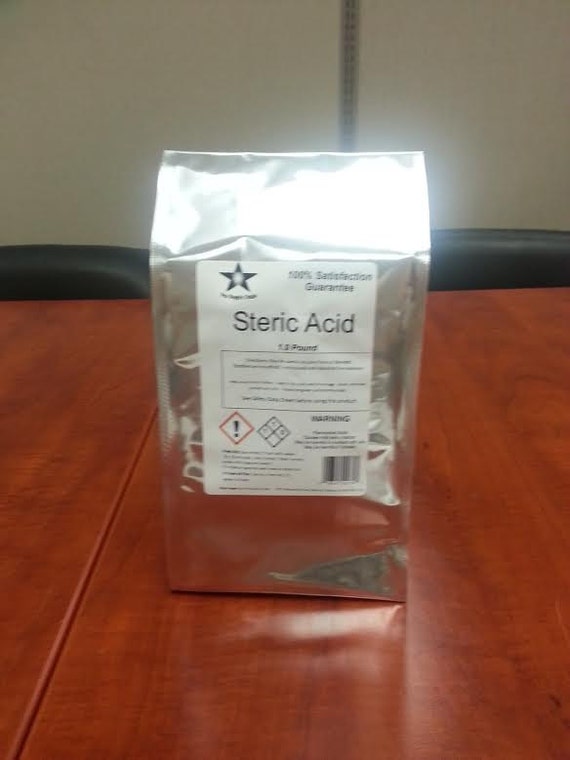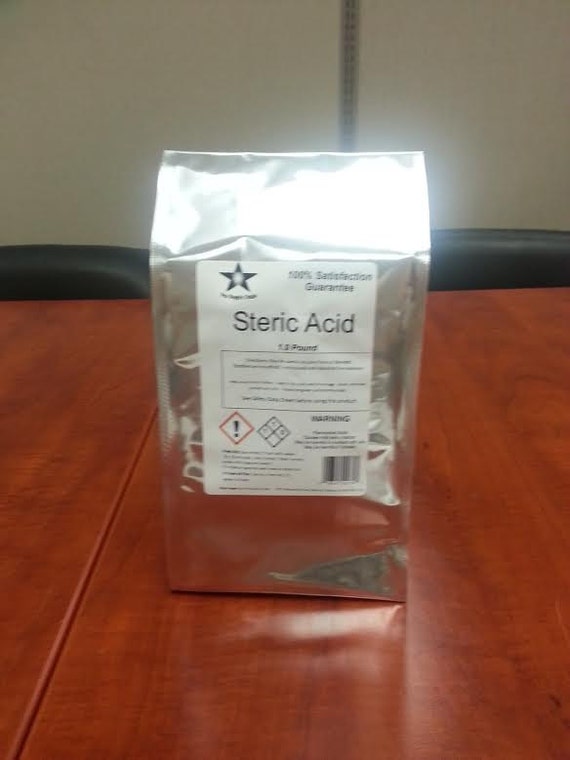 Preparation takes 1-2 business days
Arrives from the United States
---
Features
Made in Rancho Cordova, California
---
Item details
Stearic Acid 1 Pack w/ FREE SHIPPING!

- 100% Satisfaction guaranteed!!
- Average delivery 1-3 business days via USPS Priority Mail within the US
- High quality material professionally packed in resealable gloss bags to ensure safe delivery!
- Phone orders accepted!! Call us toll free at: 855-248-9059

Description: Stearic acid (stair-ik or steer-ik) is a saturated fatty acid with an 18-carbon chain and has the IUPAC name octadecanoic acid. It is a waxy solid, and its chemical formula is CH3(CH2)16CO2H. Its name comes from the Greek word στέαρ "stéar", which means tallow. The salts and esters of stearic acid are called stearates. Stearic acid is one of the most common saturated fatty acids found in nature following palmitic acid.

Uses: In general, applications of stearic acid exploit its bifunctional character, with a polar head group that can be attached to metal cations and a nonpolar chain that confers solubility in organic solvents. The combination leads to uses as a surfactant and softening agent. Stearic acid undergoes the typical reactions of saturated carboxylic acids, a notable one being reduction to stearyl alcohol, and esterification with a range of alcohols. This is used in a large range of manufactures, from simple to complex electronic devices.
Soaps, cosmetics, detergents
Stearic acid is mainly used in the production of detergents, soaps, and cosmetics such as shampoos and shaving cream products. Soaps are not made directly from stearic acid, but indirectly by saponification of triglycerides consisting of stearic acid esters. Esters of stearic acid with ethylene glycol, glycol stearate, and glycol distearateare used to produce a pearly effect in shampoos, soaps, and other cosmetic products. They are added to the product in molten form and allowed to crystallize under controlled conditions. Detergents are obtained from amides and quaternary alkylammonium derivatives of stearic acid.


Our Chemical Products are shipped with current globally harmonized Safety Data Sheets and Labeling. Quantities smaller than original package are carefully repackaged and sealed in smaller Foil, Plastic, or HDPE containers. Packaging is designed to minimize shipping costs and give you the best possible value for your compounds, craft making, toiletries and soaps. Shipments are classified ORM-D when applicable. Our packaging meets all US DOT specifications and our shipments are all made with reliable licensed carriers to deliver your high quality product in a timely manner.

Grade Definitions applied by manufacturer to original package are as follows:

U.S.P. / Food Grade: A chemical grade of sufficient purity to meet or exceed requirements of the United States Pharmacopeia (USP); acceptable for food, drug, or medicinal use; may be used for most laboratory purposes.

A.C.S.: A chemical grade of highest purity and meets or exceeds purity standards set by American Chemical Society (ACS).

Reagent: High purity generally equal to A.C.S. grade and suitable for use in many laboratory and analytical applications.

Technical: Good quality chemical grade used for commercial and industrial purposes. Not pure enough to be offered for food, drug, or medicinal use.

N.F.: A grade of sufficient purity to meet or exceed requirements of the United States National Formulary. (Since bought out and merged with the United States Pharmacopeia, USP-NF.)

Lab: A chemical grade of relatively high quality with exact levels of impurities unknown; usually pure enough for educational applications. Not pure enough to be offered for food, drug, or medicinal use.

Purified: Also called pure or practical grade, and indicates good quality chemicals meeting no official standard; can be used in most cases for educational applications. Not pure enough to be offered for food, drug, or medicinal use.

PURCHASE REQUIREMENTS / Terms of sale.

To purchase products you must meet the following criteria. Your order for products represents your confirmation that you meet the criteria and agree to the terms of sale.

I am of legal age.

This item is a consumer commodity that I am using for hobby or other household use.

As the user I understand that I am responsible for determining the suitability of this product for its intended use, and assume all risk and liability whatsoever in connection therewith. The manufacturer and seller make no representation or warranty, including merchantability expressed or implied. Seller and manufacturers' liability from any losses or damages resulting from any cause whatsoever shall in no event exceed the purchase price of this product.

This product will not be used for any illegal purpose.
---
---
More from this seller
---
Shipping & policies
Preparation takes 1-2 business days
Arrives from the United States
Estimated Shipping
---
Returns & exchanges
14 day limit for returns on unused items.