FLOWERS-65 Collection of 202 vintage botanical images Dipladenia Abutilon Crinum Myrtle pictures High resolution digital download printable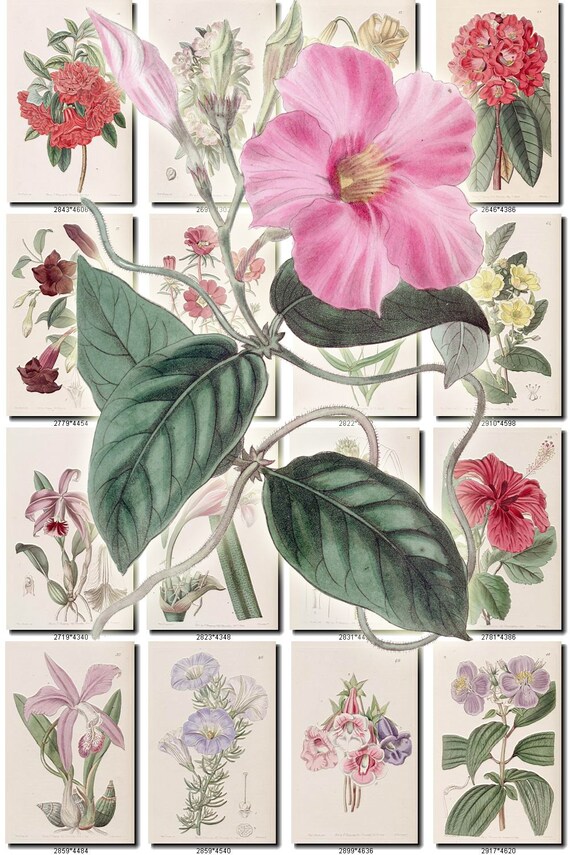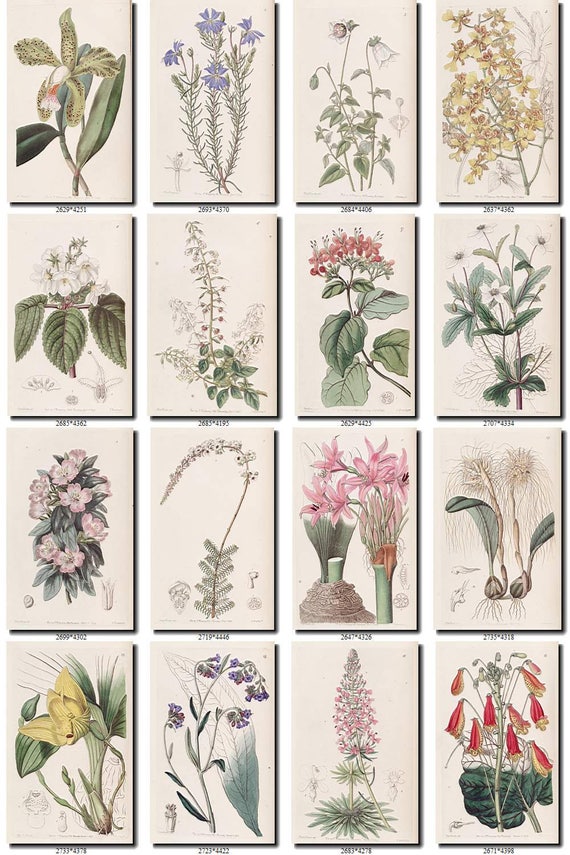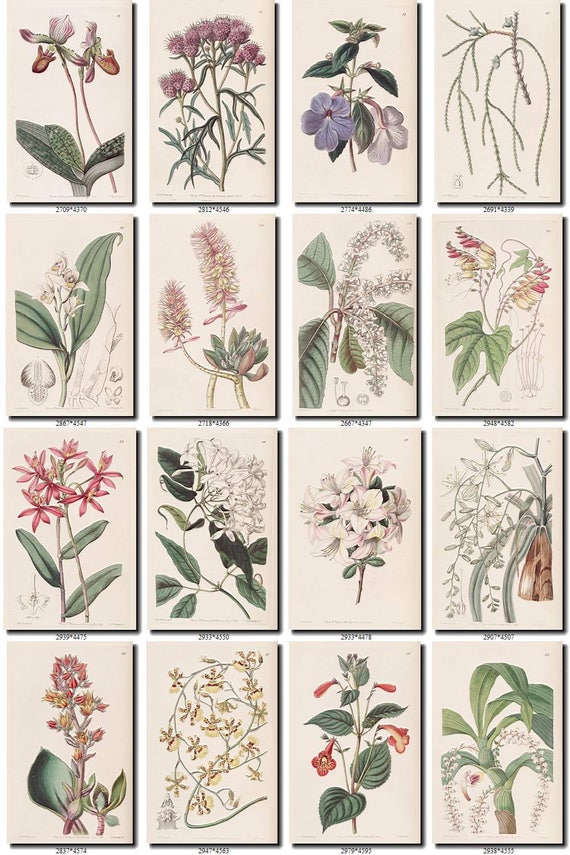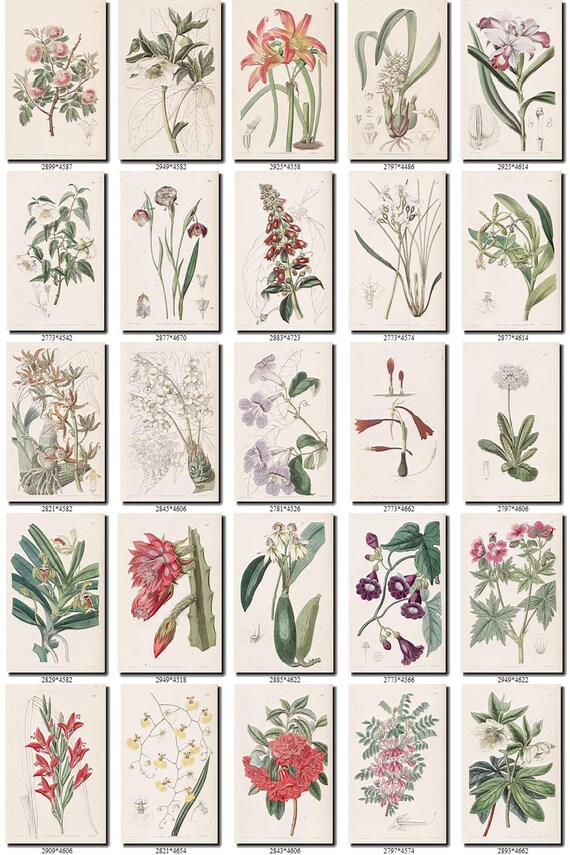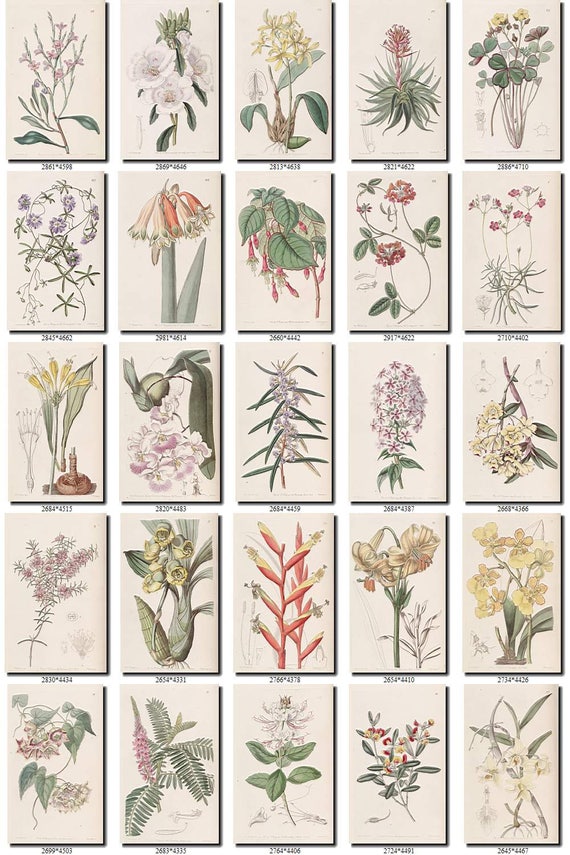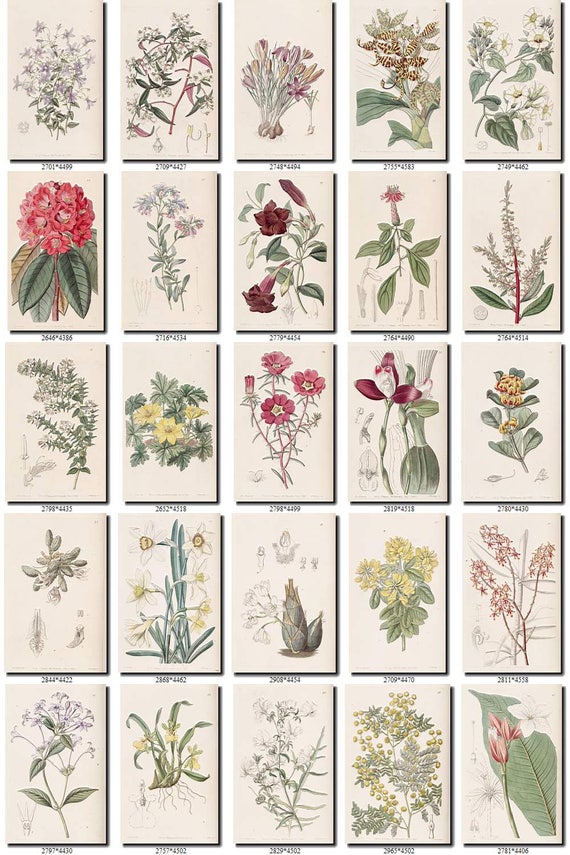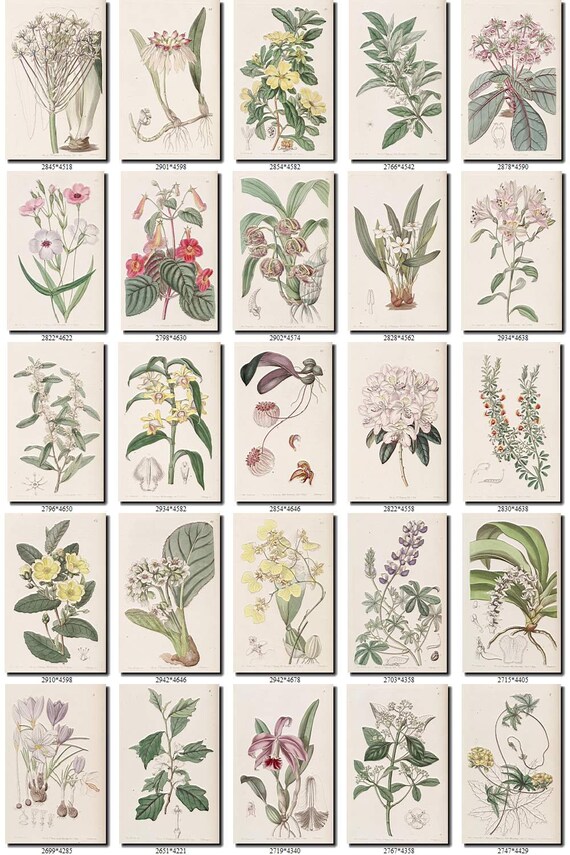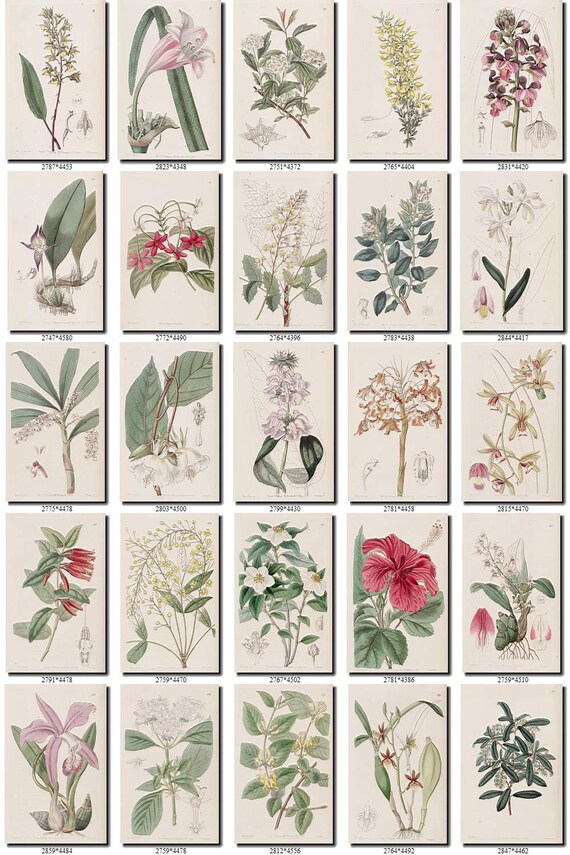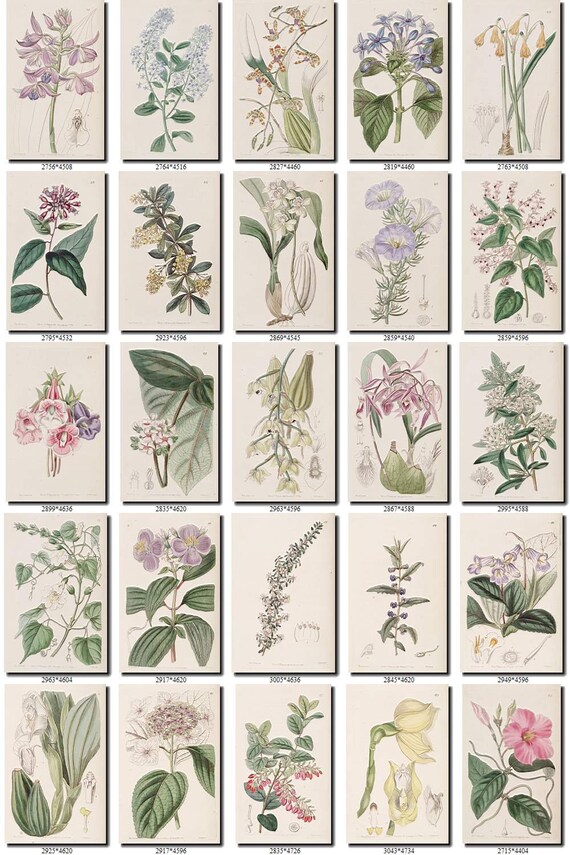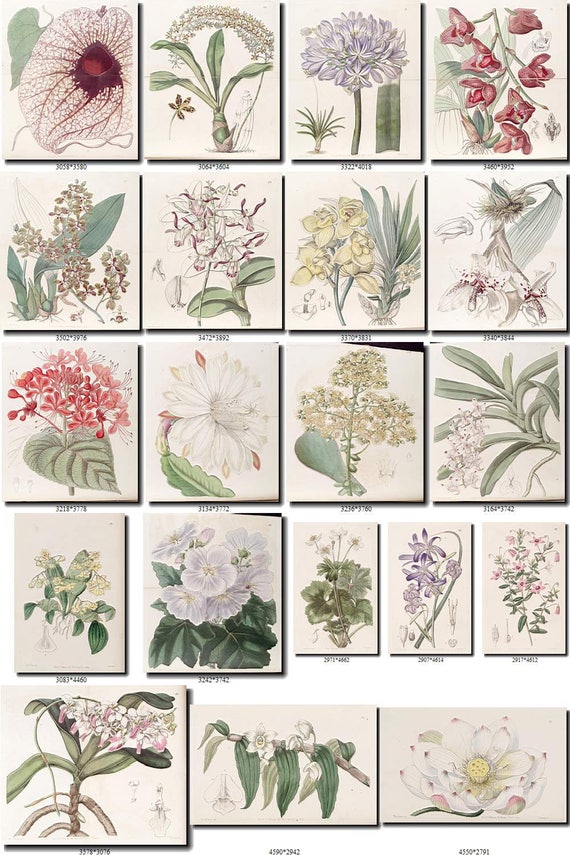 ---
Features
---
Item details
artscult.com - all images from artvintages.com

Instant digital download of 202 vintage pictures of flowers in high resolution (300 dpi, sizes from 2600x4200 px to 3000x4700 px). Look at pictures to see sizes in pixels (click "Zoom", divide size in pixels on 300 - you'll get size of print in inches with high quality, ex. 2400/300=8''). Total size of the collection is 384 Mb.

Each file has a name of shown plant in English and Latin (ex. "001-iris persica, Persian Iris.jpg"). Names of shown plants are listed below, at the end of description.

All images are in JPG format, separate files. Perfect for use in crafting, decoupage, collage, altered art, prints, etc. Images are in public domain in USA and may be used for any personal or commercial purposes. Information about source books is included.

Look at my other FLOWERS collections:
https://www.etsy.com/shop/ArtVintages?section_id=13682395

All-in-one FLOWERS collections:
https://www.etsy.com/shop/ArtVintages/search?search_query=all+flowers

DISCOUNTS:
Save money - Use coupons shown here:
https://www.etsystudio.com/listing/168468869/

SHIPPING DETAILS:
Digital download (TXT file with link on file in zip format on dropbox and google drive, and gallery view). Before purchase, please, make sure that you are able to download large size files. Download may take long time some cases.

NAMES of shown plants:
abutilon vitifolium, Vine-leaved Abutilon; acacia spectabilis, Showy Acacia; achimenes hirsuta, Hairy Achimenes; achimenes longiflora, Long-flowered Achimenes; achimenes pedunculata, Long-stalked Achimenes; aeonium youngianum, Mr Young's Houseleek; aerides crispum, Sir Richard Brooke's Air Plant; aerides virens, Green-leaved Air Plant; agapanthus umbellatus maximus, Large-flowered African Blue-Lily; alona coelestis, Sky-blue Alona; alstroemeria lineatiflora, Lined Alstroemeria; amaryllis banksiana, Banksian Amaryllis; andromeda phyllireaefolia, Phyllirea-leaved Andromeda; anemone obtusiloba, Dr Govan's Anemone; anemone rivularis, Rill Anemone; angraecum pellucidum, Transparent Angrec; anguloa clowesii, Mr Clowes's Anguloa; anguloa uniflora, One-flowered Anguloa; ania bicornis, Two-horned Ania; arctostaphylos pungens, Pungent Bearberry; aristolochia gigas, Giant Birthwort; arundina densa, Close-flowered Reedorchis; astiria rosea, Pink Astiria; azalea altaclerensis, Highclere Azalea; babingtonia camphorosmae, Camphorwort Babingtonia; barnadesia rosea, Rose-coloured Barnadesia; becium bicolor, Two-coloured Becium; begonia crassicaulis, Thick-stemmed Begonia; berberis pallida, Pale Ash-leaved Berberry; berberis tenuifolia, Thin Ash-leaved Berberry; berberis umbellata, Umbellate Berberry; bignonia carolinae, Lady Caroline's Bignonia; bignonia picta, Painted Bignonia; bolbophyllum macranthum, Large-flowered Bolbophyllum; bossiaea paucifolia, Few-leaved Bossiaea; bromheadia palustris, Marsh Bromheadia; calanthe masuca, Lilac Calanthe; campanula loeflingii, Loefling's Bellflower; candollea tetrandra, Tetrandrous Candollea; catasetum planiceps, Flat-headed Catasetum; cattleya granulosa, Rough-lipped Cattleya; cattleya pumila, Bordered Dwarf Cattleya; ceanothus thyrsiflorus, Thyrse-bearing Ceanothus; centradenia rosea, Rose-coloured Centradenia; cereus crenatus, Crenated Torch Thistle; chirita sinensis, Chinese Chirita; cirrhopetalum auratum, Gold-edged Cirrhopetalum; cirrhopetalum chinense, Chinese Cirrhopetalum; cirrhopetalum medusae, Medusa's-head Orchis; clerodendron infortunatum, Unlucky Clerodendron; clerodendron splendens, Scarlet Glory-tree; clethra quercifolia, Oak-leaved Clethra; clowesia rosea, Pink-flowered Clowesia; coburgia humilis, Humble Coburg-lily; coburgia versicolor, Changeable Coburgia; coelia bauerana, Mr Bauer's Coelia; comarostaphylis arbutoides, Arbutus-like Gritberry; corethrostylis bracteata, Rosy-armed Corethrostylis; crataegus crenulata, Indian Pyracantha; crinum variable roseum, Rose-coloured changeable Crinum; croci autumnales, Autumnal Crocus; crocus insularis, Corsican Crocus; cryptandra suavis, Sweet-scented Cryptandra; cycnoches pentadactylon, Five-fingered Swan-neck; cymbidium pendulum brevilabre, Short-lipped thick-leaved Cymbidium; cynoglossum anchusoides, Bugloss-flowered Houndstongue; cypripedium barbatum, Bearded Lady's Slipper; cytisus weldenii, Dalmatian Laburnum; dendrobium aqueum, Watery Dendrobium; dendrobium compressum, Flat-stemmed Dendrobium; dendrobium cucumerinum, Cucumber Dendrobium; dendrobium rhombeum, Rhomb-lipped Dendrobium; dendrobium ruckeri, Mr Rucker's Dendrobium; dendrobium sanguinolentum, Blood-stained Dendrobium; dendrobium taurinum, Bull-headed Dendrobium; dipladenia crassinoda, Knob-jointed Dipladenia; Double Red Azalea India; duvaua longifolira, Long-leaved Duvaua; echeveria acutifolia, Sharp-leaved Echeveria; echeveria rosea, Rosy Echeveria; echites atropurpurea, Dark-purple Echites; elaeagnus parvifolia, Small-leaved Oleaster; eleutherine anomalia, Anomalous Eleutherine; epidendrum cinnabarinum, Cinnabar Epidendrum; epidendrum lancifolium, Lance-leaved Epidendrum; epidendrum pterocarpum, Wing-fruited Epidendrum; epidendrum raidatum, Ray-flowered Epidendrum; epidendrum raniferum, Frog Epidendrum; epidendrum verrucosum, Warted Epidendrum; eria bractescens, Long-bracted Eria; eria floribunda, Many-flowered Eria; eria polyura, Many-tailed Eria; erythrochiton brasiliensis, Brasilian Red-coat; euonymus japonicus, Japan Euonymus; fuchsia splendens, Splendid Fuchsia; gaylussacia pseudovaccinium, Bilberry-like Gaylussacwort; genista virgata, Twiggy Broom; geranium erianthum, Woolly-flowered Geranium; gesnera longifolia, Long-leaved Gesnera; gesnera zebrina, Zebra Gesnera; glossocomia ovata, Ovate Pouchbell; gloxinia speciosa; godetia albescens, Whitish Godetia; godetia grandiflora, Large-flowered Godetia; grammatophyllum multiflorum tigrinum, Tiger-spotted Letter-leaf; habranthus pratensis, Meadow Habranthus; habrothamnus purpureus, Purple Habrothamnus; helleborus olympicus, Olympian Hellebore; helleborus orientalis, Eastern Hellebore; hibbertia perfoliata, Thorough-wax Hibbertia; hibiscus cameroni-fulgens; hindsia violacea, Porcelain blue Hindsia; hovea ilicifolia, Holly-leaved Hovea; hovea racemulosa, Spikeletted Hovea; Hybrid Narcissi; hydrangea japonica, Japan Hydrangea; hydrotaenia meleagris, Spotted Waterband; hypocalymma robustum, Larger Peach Myrtle; indigofera dosua, Dosua Indigo; indigofera stachyodes, Long-spiked Indigo; ipomoea cymosa, White-cluster Ipomoea; isiolirion montanum, Mountain Ixia-lily; jasminum caudatum, Tail-leaved Jasmine; lacaena bicolor, Two-coloured Lacaena; laelia flava, Yellow Laelia; laelia majalis, May-flower Laelia; leschenaultia biloba, Large Blue Leschenaultia; lilium testaceum, Yellow Japan Lily; lindleya mespiloides, Medlar-like Lindleya; lissochilus roseus, Rose-coloured Lissochilus; lonicera diversifolia, Various-leaved Fly Honeysuckle; lupinus arvensis, Field Peruvian Lupine; lycaste plana, Even-flowered Lycaste; lysimachia lobelioides, Lobelia-like Loose-strife; macleania longiflora, Long-flowered Macleania; marcetia excoriata, Loose-barked Marcetia; maxillaria cruenta, Blood-stained Maxillaria; mimosa uruguensis, Uruguay Mimosa; mina lobata, Lobe-leaved Mina; mormodes aromaticum, Aromatic Mormodes; mormodes lineatum, Streaked Mormodes; mormodes luxatum, Dislocated Mormodes; nelumbium caspicum, Caspian Nelumbium; niphaea oblonga, Oblong Snow-wort; odontoglossum citrosmum, Lemon-scented Odontoglossum; odontoglossum laeve, Smooth-lipped Odontoglossum; oncidium bicallosum, Two-warted Oncidium; oncidium bicolor, Two-coloured Oncidium; oncidium longifolium, Long-leaved Oncidium; oncidium microchilum, Small-lipped Oncidium; oncidium sphacelatum, Scorched Oncidium; oncidium uniflorum, One-flowered Oncidium; oncidium urophyllum, Tail-leaved Oncidium; ornithogalum divaricatum, Straggling Star-of-Bethlehem; osbeckia stellata, Starry Osbeckia with small scales; oxalis rubrocineta, Red-edged Wood Sorrel; oxylobium capitatum, Headed Oxylobium; oxylobium obovatum, Wedge-leaved Oxylobium; pentas carnea, Flesh-coloured Pentas; peristeria humboldti, Humboldt's Peristeria; pharbitis ostrina, Royal Purple Gaybine; philadelphus mexicanus, Mexican Syringa; philibertia grandiflora, Large-flowered Philibertia; phlomis cashmeriana, Cashmere Phlomis; Plant's Anisanth; portulaca splendens; primula denticulata, Tooth-letted Primrose; quisqualis sinensis, Chinese Quisqualis; rchium petraeum, Rock Bugloss; renanthera matutina, Morning Renanthera; rhododendron aprilis; rhododendron rollissonii; rondeletia longiflora, Long-flowered Rondeletia; saussurea pulchella, Pretty Saussurea; saxifraga ciliata, Fringed Saxifrage; schizanthus candidus, White Schizanthus; schomburgkia crispa, Crisp-flowered Schomburgkia; scilla peruviana discolor, Dingy-flowered Peruvian Squill; Small-flowered Shew-Cereus; spiraea reevesiana, Mr Reeves's Spiraea; stanhopea martiana bicolor, Two-coloured Von Martius' Stanhopea; statice monopetala denudata, Naked Monopetalous Sea Lavender; stenomesson hartwegii, Mr Hartweg's Stenomesson; stenomesson vitellinum, Yolk-of-Egg Stenomesson; stigmaphyllon jatrophaefolium, Jatropha-leaved Stigmaphyllon; stylidium brunonianum, Brown's Stylewort; stylidium pilosum, Hairy Stylewort; talinum teretifolium, Slender-leaved Talinum; tetranema mexicanum, Mexican Tetranema; tetratheca hirsuta, Hairy Tetratheca; thuja filiformis, Weeping Arbor Vitae; tillandsia rubida, Madder-coloured Tillandsia; trichosma suavis, Sweet-scented Hair Orchis; trochetia grandiflora, Large-flowered Trochetia; trollius acaulis, Stemless Globeflower; tropaeolum azureum, Blue Nasturtium; turraea lobata, Lobed Turraea; Van Houtte's Phlox; vanda cristata, Crested Vanda; viscaria oculata, Dark-eyed Viscaria; vriesia psittacina, Parrot-flowered Vriesia; zichya villosa, Villous Zichya.
---
---
More from this seller
---
Digital downloads
---
Payments
PayPal payment only accepted (including payment with a credit card via PayPal without having PayPal account)
---
Returns & exchanges
I gladly accept returns and exchanges
Contact me within:
14 days of delivery
Ship items back within:
30 days of delivery
I don't accept cancellations
But please contact me if you have any problems with your order.
The following items can't be returned or exchanged
Because of the nature of these items, unless they arrive damaged or defective, I can't accept returns for:
Custom or personalized orders
Perishable products (like food or flowers)
Digital downloads
Intimate items (for health/hygiene reasons)
Conditions of return
Buyers are responsible for return shipping costs. If the item is not returned in its original condition, the buyer is responsible for any loss in value.
Additional return information
Full refund available if you are not satisfied with your item. Please feel free to email me. Thanks
---
Additional policies
Images from my collections are in public domain in the US.