YTTRIUM OXIDE, 99.999%, 5N, Ceramic Supplies / Glass Colorants< Rare Earth Element>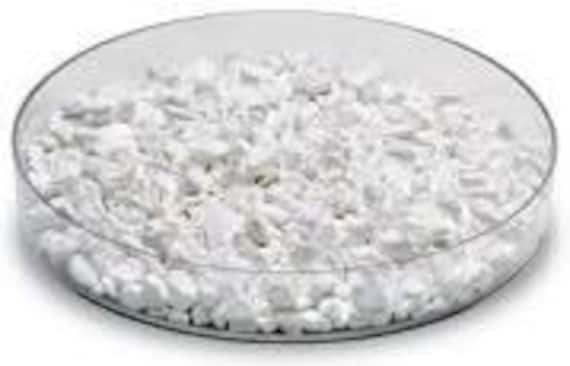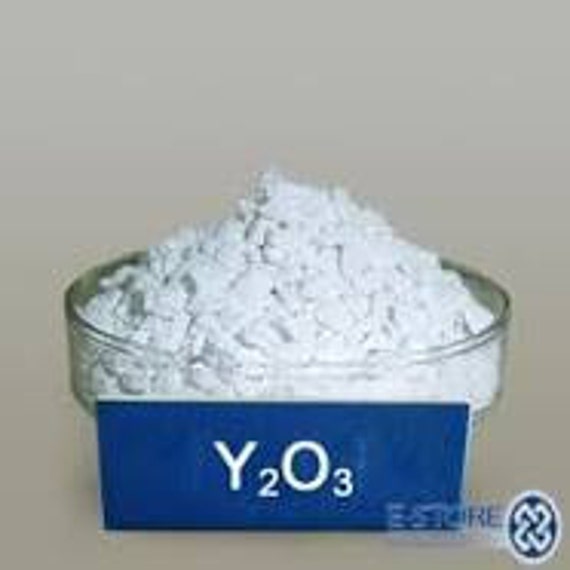 Preparation takes 3-5 business days
Arrives from the United States
---
Item details
YTTRIUM OXIDE

Yttrium oxide, also known as yttria, is Y2O3. It is an air-stable, white solid substance. Yttrium oxide is used as a common starting material for both materials science as well as inorganic compounds.

USES:

Materials science

It is the most important yttrium compound and is widely used to make Eu:YVO4 and Eu:Y2O3 phosphors that give the red color in color TV picture tubes. Yttrium oxide is also used to make yttrium iron garnets, which are very effective microwave filters.

Y2O3 is used to make the high temperature superconductor YBa2Cu3O7, known as "1-2-3" to indicate the ratio of the metal constituents:

2 Y2O3 + 8 BaO + 12 CuO + O2 → 4 YBa2Cu3O7

This synthesis is typically conducted at 800 °C.

The thermal conductivity of yttrium oxide is 27 W/(m·K).[2]
Inorganic synthesis

Yttrium oxide is an important starting point for inorganic compounds. For organometallic chemistry it is converted to YCl3 in a reaction with concentrated hydrochloric acid and ammonium chloride.
Lasers

Y2O3 is a prospective solid-state laser material. In particular, lasers with ytterbium as dopant allow the efficient operation both in continuous operation[3] and in pulsed regimes.[4] At high concentration of excitations (of order of 1%) and poor cooling, the quenching of emission at laser frequency and avalanche broadband emission takes place.[5]


Testing Policy: Testing of raw materials should be an integral part of any process including ceramic or glass making / manufacturing. Upon receipt of any new material, we strongly recommend that you test the material. "Paul Brown Studio Arts and Supplies" . has no control over either the variations that may occur in the natural materials or their application. All products are supplied as is from the manufacturer. No additional processing or technical support is supplied. Therefore, our products are sold with the understanding that the user is solely responsible for determining suitability for any purpose and the results obtained. There are no warranties expressed or implied, regarding the user's finished product or results.
---
---
More from this seller
---
Shipping & policies
Preparation takes 3-5 business days
Arrives from the United States
Estimated Shipping
---
Payments
<script type="text/javascript" data-pp-pubid="6d4aee9655" data-pp-placementtype="150x100" data-pp-td='{"d":{"segments":{"distro":"ebay"}}}' data-pp-channel="ebay"> (function (d, t) {
"use strict";
var s = d.getElementsByTagName(t)[0], n = d.createElement(t);
n.src = "//paypal.adtag.where.com/merchant.js";
s.parentNode.insertBefore(n, s);
}(document, "script"));
</script>


---
Returns & exchanges
I can not offer returns, refunds or exchanges on chemical materials due to the fact that there is no guarantee that the material has not been tampered with and I can not resell it to someone else with confidence that I have the same materials that was originally purchased from my supplier. Therefore I repeat there are NO returns on chemical materials.

I offer exchanges only on Ceramic art for equal or greater value item. The buyer is required to pay to return the original item shipping and the new item shipping as well as 25% restocking fee. Also for clarity the Free shipping is no longer applicable on exchanged items. The new item will be shipped when the original item is received intact and the additional fees have been paid.
No item will be exchanged of a lesser value item with the buyer expecting refund.

Paintings are not returnable