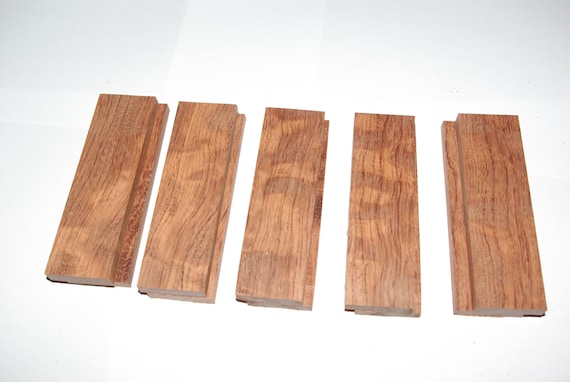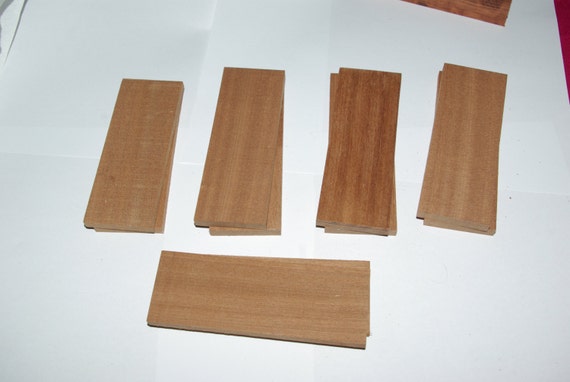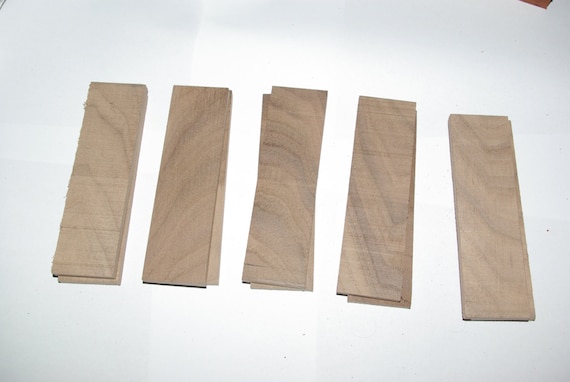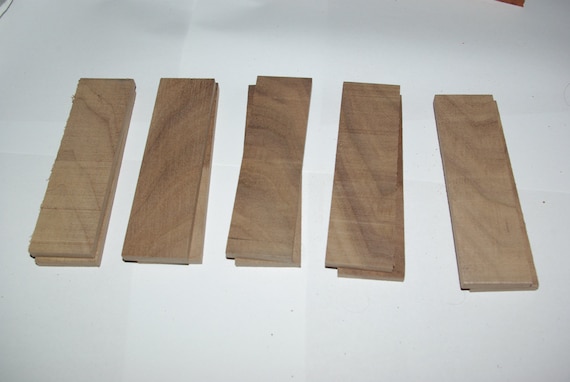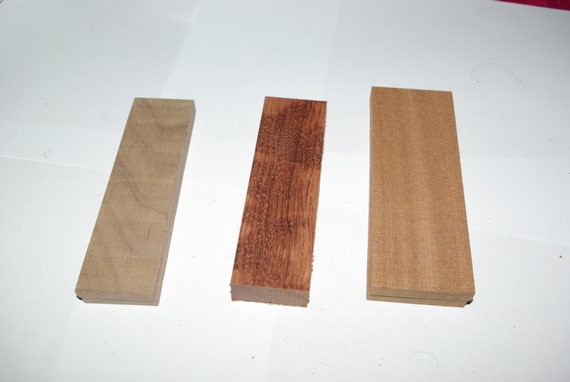 Preparation takes 1-2 weeks
---
Features
---
Item details
Sets of bookmatched pairs of wood blanks, suitable for knifemaking, wooden pistol grips, general woodworking.

Wood species available:
Iroko, Padauk, Sapele, Walnut, Oak. Each pair consists of two bookmatched blanks sized 120-130 x 35-40 x 6.5-10mm (approx. 5 x 1 1/2-1 3/4 x 1/4-7/16 ").

Premium wood species (subject to availability):
Bocote, Bubinga, Cocobolo, Ebony, Purpleheart, Teak, Zebrano (zebrawood), various rosewoods, various burls.
Blanks from premium woods may be slightly smaller:
120-130 x 30-35 x 5-10mm (approx. 5 x 1 1/4-1 1/2 x 7/32-7/16 ").

Please note that cocobolo and ebony (and now also bubinga and all genuine rosewoods) can only be shipped within the European Union. I am using material acquired legally and transparently before these woods were listed in CITES, but now that they have been listed I can't legally post them across borders.

Set sizes:
S - 2 pairs
M - 5 pairs
L - 10 pairs

Except for cocobolo and ebony, each pair will have 2 sides (the matching ones, which should generally go to the inner side) roughly sanded. The other sides will be rough-sawn by default. The idea is that you 'll have to sand the exterior anyway after final shaping, so there is no point in me duplicating the effort, but the interior of this pair will be flat enough when you get it.

Cocobolo and ebony will be rough-sawn on both sides. Sorry, I can't offer sanding for those woods, as I am highly allergic to their sawdust. For other woods, I can sand both sides to 240 grit for a small extra fee.

The blanks are in their natural state, without any kind of finish. I can advise you regarding the preferred finish depending on the kind of wood. I can also send you a couple of extra pieces (ultra-thin) for experimenting with different finishes - please specifically ask for them if required. In general, application of finish should be the very last step. If I finish the wood beforehand, this will interfere with sanding, gluing and your own finish.

The scales shown in the pictures (walnut, bubinga, sapele) are usually ready and can be posted on the workday after the order. Others will probably be posted the first Monday after the order.

If you want to order a combination of blanks from different species, please contact me for an offer (you will probably save on shipping costs compared to submitting multiple orders).

If you want specific pictures, different woods etc, please don't hesitate to contact me.

NOTE: In 2016, Bubinga and all genuine rosewood species (Dalbergia spp) have been listed in appendix II of CITES. I can therefore no longer send objects made from these species outside the European Union.

--------------------------------------------------------------------------
You can also have a look at my other items, including:

- Wooden USB sticks:
http://www.etsy.com/view_listing.php?listing_id=183459157
http://www.etsy.com/view_listing.php?listing_id=204099737
http://www.etsy.com/view_listing.php?listing_id=204084676

- Wooden cases for USB sticks:
http://www.etsy.com/view_listing.php?listing_id=207772273

- Wooden paper knives:
http://www.etsy.com/view_listing.php?listing_id=201744026
http://www.etsy.com/view_listing.php?listing_id=204082544
http://www.etsy.com/view_listing.php?listing_id=204093773

- Wooden pen cases:
http://www.etsy.com/view_listing.php?listing_id=208244783

- Desktop organisers:
http://www.etsy.com/view_listing.php?listing_id=206646971

- Raspberry pi cases:
http://www.etsy.com/view_listing.php?listing_id=206653220

- USB hubs:
http://www.etsy.com/view_listing.php?listing_id=205459011
http://www.etsy.com/view_listing.php?listing_id=206892307

- External HDD / SSD cases:
http://www.etsy.com/view_listing.php?listing_id=205433804

- Jewelry, including cuneiform tablets with your name:
https://www.etsy.com/shop/cunei?section_id=16071657

- Home decoration, including an arts and crafts sconce:
https://www.etsy.com/shop/cunei?section_id=16216384

text and images (c) 2014 cunei.etsy.com
---
---
Getting a few of the different kinds of wood, I get to see the difference. Thank you so much! Awesome!!!
Jul 24, 2015 by melaniehighsmith9455
Very happy with ordering from you!!! Very nice pieces!!!!!
Jul 24, 2015 by melaniehighsmith9455
Awesome pieces! Love them! Communication with me on delivery was very respectful.
Jul 18, 2015 by melaniehighsmith9455
Awesome pieces! Love them! Beautiful!
Jul 18, 2015 by melaniehighsmith9455
Awesome pieces! Love them! Having problems posting a review...
Jul 18, 2015 by melaniehighsmith9455
---
Shipping & policies
Preparation takes 1-2 weeks
Estimated Shipping
I post items by registered mail and you get a tracking number (via the etsy system) the day your package is shipped.

If you want your package to be insured, please contact me beforehand. You will be charged the insurance fees requested by the post office.

You (the buyer) are responsible for any import duties, custom fees etc.

My responsibility ends at the moment I post your package, with the exception of the cases listed under 'refund policy'. If the post office manages to lose the package, I can not be held responsible for this. In case you have chosen insured postage, you are of course entitled to any recompensation issued by the post office. Otherwise, you will again receive any recompensation issued by the post office (a small amount is paid even for non-insured packages when they are lost), but only that. It goes without saying that I will do my best to help you in tracking lost items, but my experience shows that this may not always bear results.
---
Payments
For the time being, I can only accept paypal payment. Paypal allows you to pay with a credit card, even if you don't have a paypal account (essentially, you use your credit card to pay just as you would in any online shop).
---
Returns & exchanges
I make every possible effort to make sure you will be completely satisfied with your purchase. Failing that, there are some cases in which I will provide a refund:

- I do my best to describe accurately the items I sell and make sure that the item you get will be exactly what you expect. In the extremely improbable event that the item you receive differs in any way from that described in the listing and any private communication through etsy channels, you can return it for a full refund (including packing & postage costs).

- I do my best to package well the items I sell and ensure they will arrive safely. Transport companies however can be extremely efficient in destroying the packages entrusted to them. In case you receive a damaged item, you can return it for a full refund (including packing & postage costs).

- Some of the items I sell contain electronic parts. The original warranty of these electronics is void since I have replaced the original case with my own. Unfortunately I cannot provide a warranty for those items. I do, however, provide a DOA refund policy - if the item you receive is dead on arrival, you can return it for a full refund (including packing & postage costs).

In all those cases,
- "full refund" includes postage costs (both ways).
- In order to be entitled to a refund, you must contact me within 3 days of receiving the defective/damaged/misrepresented item, to arrange details.
- You must package it carefully to ensure it will arrive to me safely.
- You will receive the refund within 5 working days of my receiving the returned item in its original condition.

Even if none of the above reasons apply, according to European Union legislation you may still have the right to return the item for a full refund, within 14 days of receipt. However, this right,
- Does not extend to buyers outside the E.U.
- Does not apply to custom-made or personalised items (note that most of my shop items are custom-made - see also article 16c of EU directive 2011/83/EU).
- Does NOT include the cost of return postage.

In case you want to return an item that was not defective/misrepresented/damaged/custom-made or personalised, and assuming you are in the E.U.,

- You must contact me before posting it back, and in any case within 14 days of receiving it.
- You must post it within 14 days of contacting me (preferably provably so).
- You must package it carefully to ensure it will arrive to me safely.
- You must comply with all the conditions set forth by the European Union directive 2011/83/EU (http://eur-lex.europa.eu/legal-content/EN/TXT/PDF/?uri=CELEX:32011L0083&rid=1)
- You will receive the refund within 5 working days of my receiving the returned item in its original condition.

You can have a look at https://www.etsy.com/help/article/5452 for more information (including a cancellation form you can use if you so wish) on the European Union directive on consumer protection. You can also have a look at https://blog.etsy.com/uk/2014/06/12/what-etsy-sellers-should-know-about-the-european-unions-new-online-selling-regulations/ for more information.
---
Additional policies
Who made the items sold through the cunei shop?
- All items sold through my Etsy shop are handmade by myself, except where the item description specifically and clearly indicates otherwise. So far, laser engraving is the only work done by someone else than me in the items I sell).

Do the pictures show the exect item I will receive?
- Many of the items I sell are made to order. In those cases, the pictures can obviously not show something that has not yet been made, and show previous items I have made. In all other cases, the pictures shown are of the exact item you will receive.

What if there is a defect in the item?
- In any case where there is some aspect of the item that could be seen as a defect, I make sure to accurately present this aspect, both in the pictures and in the text.

Why on Earth should I pay 70 euro for a USB memory stick that I can get elsewhere for 10 euro?
- Who said you should? All I say is that, if the added benefit of owning a thing of beauty is worth this price to you, I will be happy to provide it.

If I buy a made-to-order item, how can I be certain I will be happy with the final result?
- My advice is to contact me before buying. We can then work out together the details. When you are satisfied that we agree on everything, I will then make the item, and send you pictures for approval. After you are completely satisfied with the result, I will list it for you on Etsy and you can then buy it.

What materials do you use?
- For jewellery, I use mostly sterling silver and stones. For other items, I use mostly wood. These are the materials I am most experienced and comfortable with. They are also materials I love to work with, and love to have around me. Occasionally I will use other materials, when the project at hand demands it.

What woods do you use?
- Over the years I have worked with an alphabet soup of woods which include the following: amboyna burl, bocote, bubinga, camatillo, cocobolo, ebony, fishtail oak, honduras rosewood, iroko, kingwood, limba, mahogany, movingui, niove, oak, olive, padauk, purpleheart, rosewoods of different kinds, sapele, snakewood, teak, tulipwood, walnut, zebrano. I can't think of any woods starting from "d", "g", "j", "q", "u", "v", "x", "y" that I have worked, so I still have a long way to go (USB sticks from yew, anyone? what about a nice USB hub from jatoba?)

What is your favorite wood?
- Difficult question. I would say cocobolo, but am highly allergic to it (in order to work with it I have to wear my astronaut suit, take some anti-histamin drugs in advance and be prepared for a visit to the hospital - but I still occasionally do it). I love the looks of bubinga, but hate its hardness - still, the end results make up for the hard work. I love most aspects of teak (looks, workability), but of course hate its price tag. Bocote is another one of my favorites, but unfortunately it is quite difficult to come by, especially in larger pieces. Walnut is another wood which I love for its looks and workability. Iroko is perhaps the wood I 've worked most with, for several good reasons (looks, workability, price tag). I have pieces - small or large - of most of these woods and many others in my shop, waiting for your orders!

I have to admit I 've never even heard some of those woods.
- You are not alone. You can see pictures of some of them at http://jewelry.alfsites.com/materials/wood/ . google around for the rest, or ask me to upload pictures.

What about a favorite stone?
- That would certainly be Australian black opal. Another personal favorite is star sapphire. Spessartine (a kind of orange garnet) is sometimes gorgeous, especially in cabochons.

Why do you (and everyone else) use sterling (925/1000) silver, instead of pure silver (say 999/1000)?
- Pure silver is softer. You don't want your jewellery to scratch or bend easily. Sterling silver jewellery will simply last longer.

In some of your jewellery pieces your contribution is minimal - you just show off the natural beauty of a stone.
- That's true. I see no reason why I should try to distract from the natural beauty of a gorgeous stone.

Would you describe yourself as an artist?
- No. I try to be a good craftsman. I believe I am getting better at it as years pass.

Why "cunei"?
- the first item I listed in my etsy shop was the sterling silver cuneiform script pendant. Someone saw pictures of the ones I made for my daughter, and suggested I open an etsy shop (at the time I didn't even know what etsy is).

I have this other question, which is not covered here.
- That's what the 'ask a question' button in every item listing is for!