ORCHIDS-12 flowers Collection of 282 vintage images vegetable botanical pictures High resolution digital download printable Orchidaceae JPG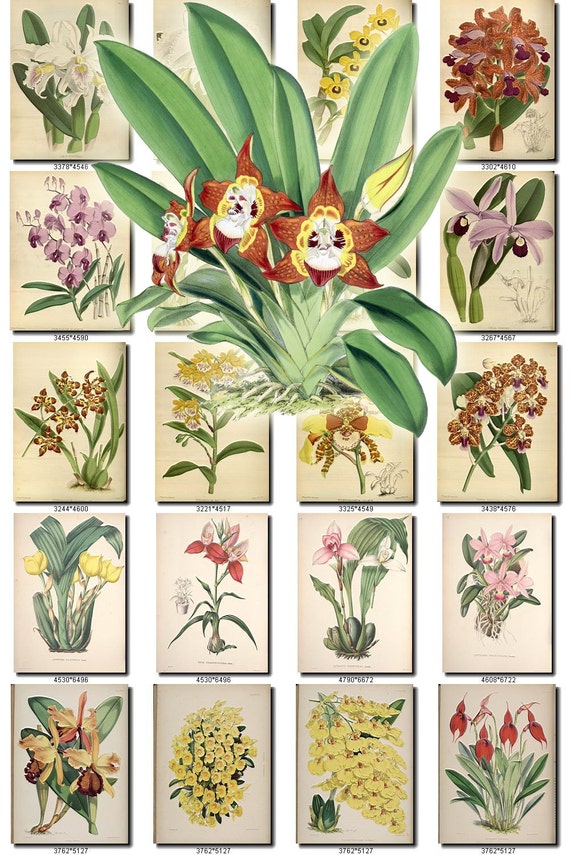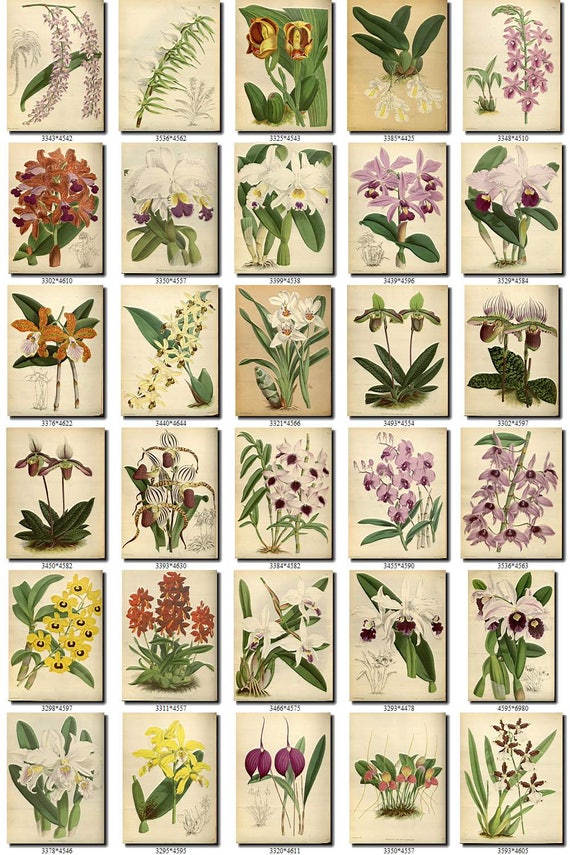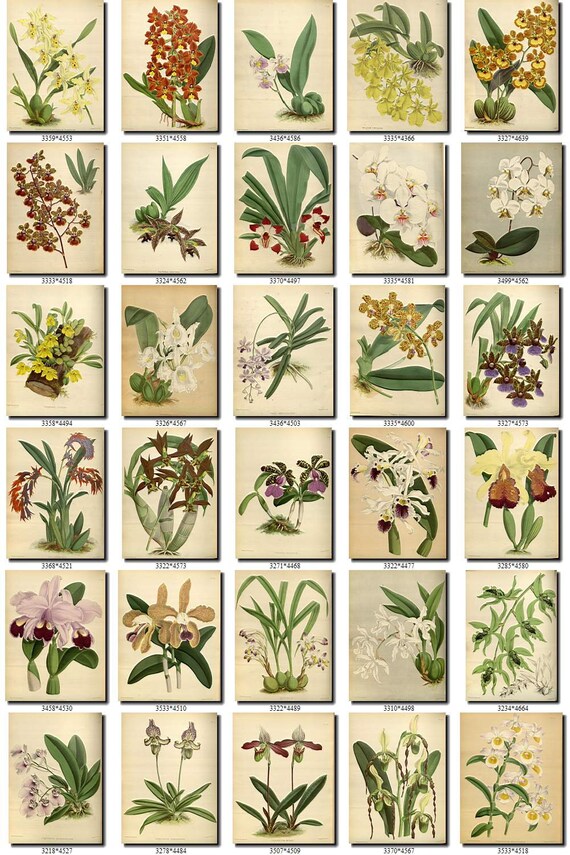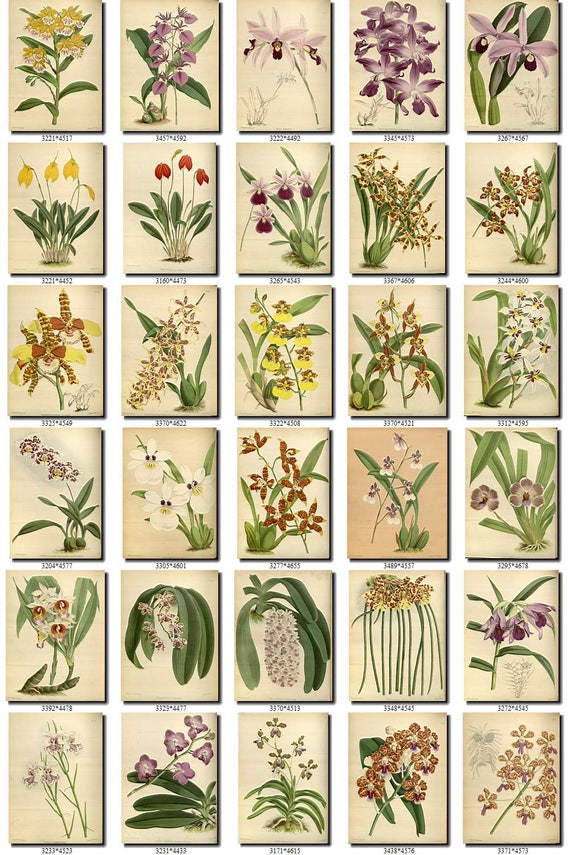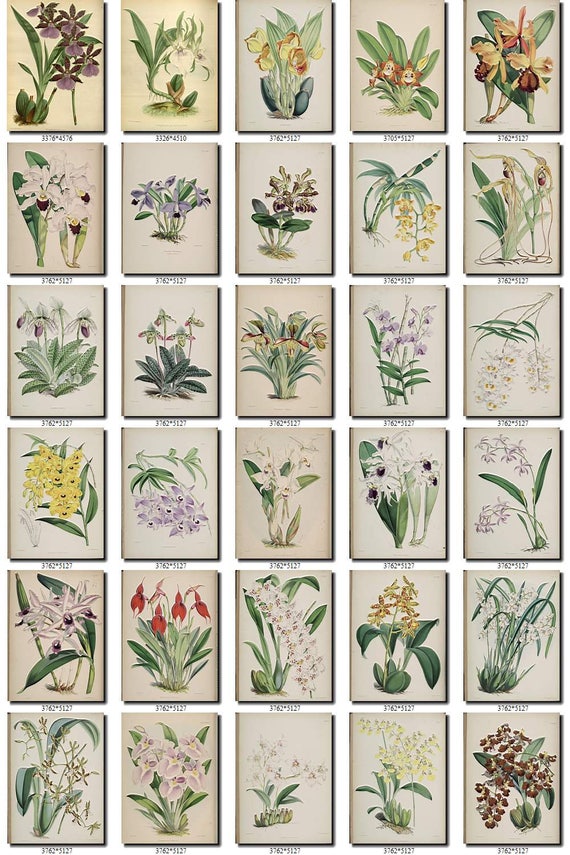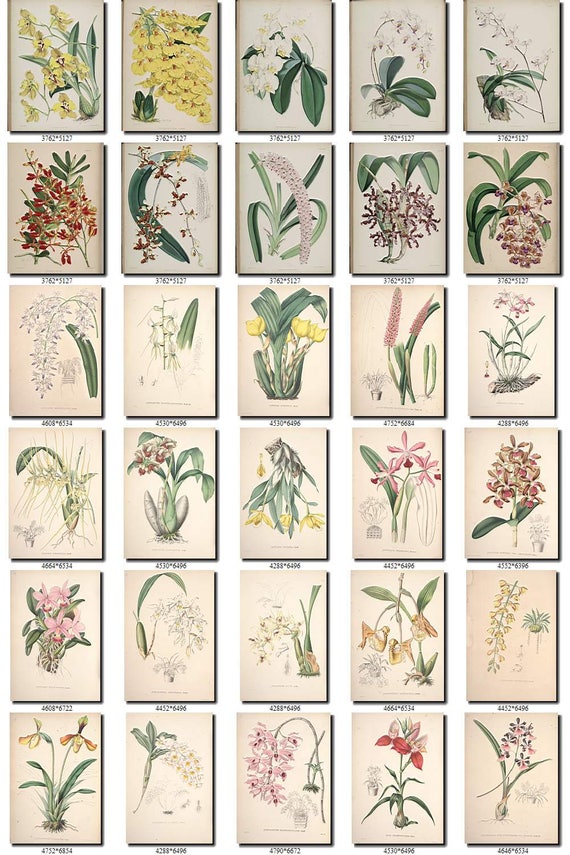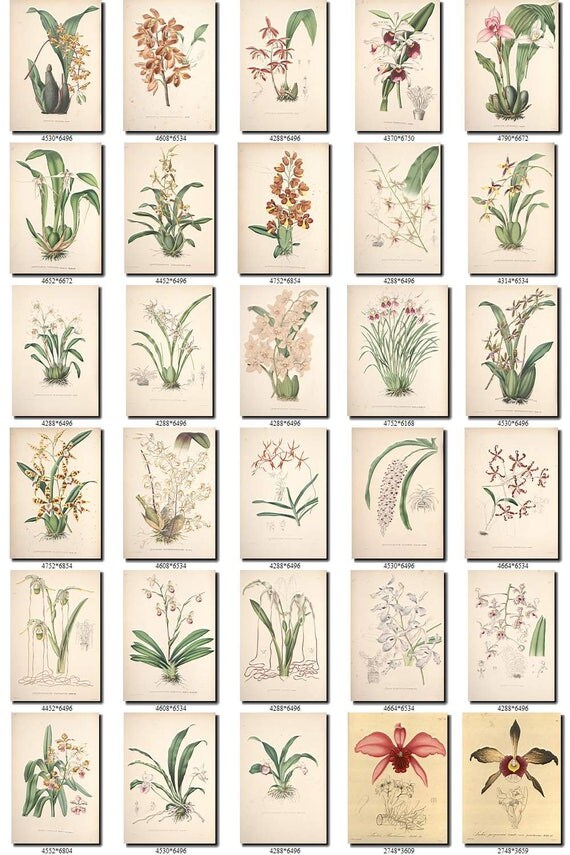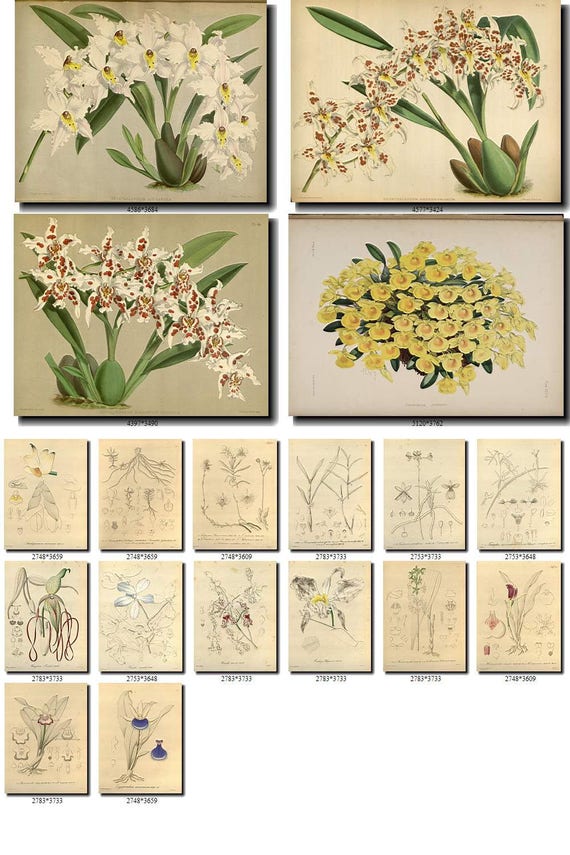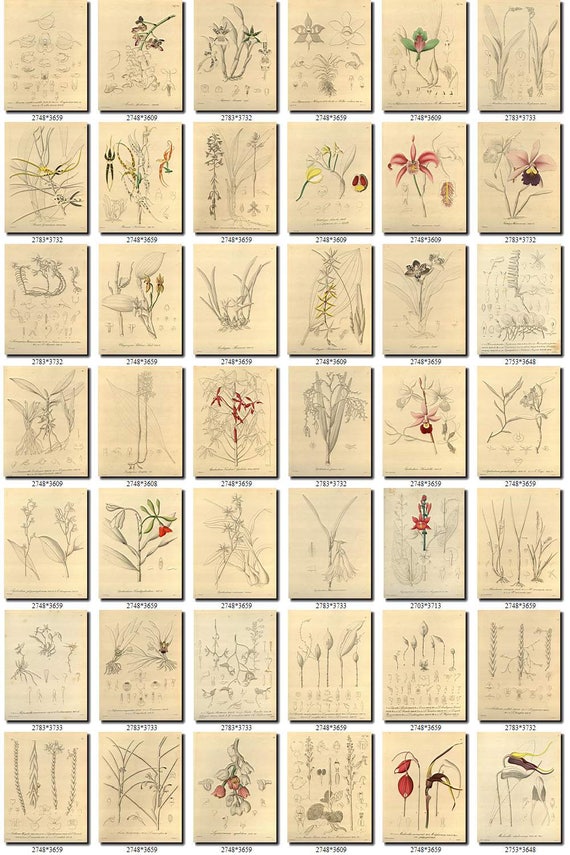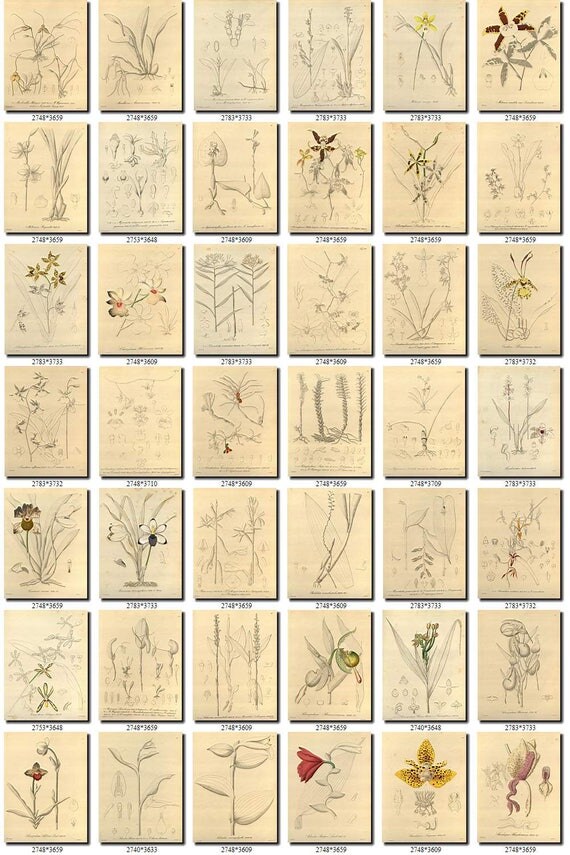 ---
Features
---
Item details
artscult.com - all images from artvintages.com

Instant digital download of 282 vintage pictures of orchids flowers in high resolution (300 dpi, sizes from 2700x3700 px to 4500x6900 px). Look at pictures to see sizes in pixels (click "Zoom", divide size in pixels on 300 - you'll get size of print in inches with high quality, ex. 2400/300=8''). Total size of the collection is 664 Mb.

Each file has a name of shown plant in Latin (ex. "oncidium concolor.jpg"). Names of shown plants are listed below, at the end of description.

All images are in JPG format, separate files. Perfect for use in crafting, decoupage, collage, altered art, prints, etc. Images are in public domain in USA and may be used for any personal or commercial purposes. Information about source books is included.

Look at my other ORCHIDS collections:
https://www.etsy.com/shop/ArtVintages/search?search_query=Orchidaceae
or all FLOWERS collections:
https://www.etsy.com/shop/ArtVintages?section_id=13682395

All-in-one FLOWERS collections:
https://www.etsy.com/shop/ArtVintages/search?search_query=all+flowers

DISCOUNTS:
Save money - Use coupons shown here:
https://www.etsystudio.com/listing/168468869/

SHIPPING DETAILS:
Digital download (TXT file with link on file in zip format on dropbox and google drive, and gallery view). Before purchase, please, make sure that you are able to download large size files. Download may take long time some cases.

NAMES of shown plants:
Acineta Cryptodonta, Acineta Erythroxantha, Acineta Sella Turcica, Ada Aurantiaca, Aerides Falcatum, Aerides Lobbii, Aerides Maculosum, Angraecum Brongniartianum, Angraecum Eburneum, Anguloa Clowesii, Anguloa Ruckeri, Anguloa Ruckerii Sanguinea, Arpophyllum Cardinalis, Aspasia Lunata, Barkeria Elegans, Batemannia Burtii, Batemannia Meleagris, Bifrenaria Harrisoniae, Bifrenaria Inodora, Bollea Violacea, Brachtia Glumacea, Brachtia Sulphurea, Brassia Brachiata, Brassia Gireoudiana, Brassia Keiliana, Burlingtonia Candida, Calanthe Mexicana, Calanthe Phajoides, Calanthe Veitchii, Catasetum Christyanum, Catasetum Sanguineum, Cattleya Aclandiae, Cattleya Citrina, Cattleya Crispa Buchananiana, Cattleya Dowiana Aurea, Cattleya Dowiana, Cattleya Elegans, Cattleya Exoniensis, Cattleya Guttata Leopoldii, Cattleya Labiata, Cattleya Luteola, Cattleya Marginata or Laelia Pumila, Cattleya Maxima, Cattleya Mendelii Grandiflora, Cattleya Morganae, Cattleya Regnellii, Cattleya Schofieldiana, Cattleya Superba Splendens, Cattleya Trianae, Cattleya Velutina, Cattleya Walkeriana, Cattleya Warscewiczii, Centropetalum Warscewiczii, Ceratochilus Biglandulosus, Chrysocycnis Schlimii, Chysis Laevis, Coclogyne Thuniana, Coelia Bella, Coelogyne Cristata Alba, Coelogyne Cristata, Coelogyne Lowii, Coelogyne Massangeana, Coelogyne Pandurata, Coelogyne Rochussenii, Cohnia Quekettioides, Colax Jugosus, Comparettia Macroplectron, Coryanthes Macrantha, Crocodeilanthe Xiphizusa, Cycnoches Pescatorei, Cymbidium Parishii, Cypripedium Candatum, Cypripedium Chloroneurum, Cypripedium Fairrieanum, Cypripedium Lawrencianum, Cypripedium Meirax, Cypripedium Parishii, Cypripedium Politum, Cypripedium Stonei, Cypripedium Superbiens, Cypripedium Venustum, Cypripedium Villosum, Dendrobium Ainsworthii Roseum, Dendrobium Bigibbum, Dendrobium Devonianum, Dendrobium Farmeri, Dendrobium Fimbriatum Oculatum, Dendrobium Findleyanum, Dendrobium Jenkinsii, Dendrobium Lituiflorum, Dendrobium Macrophyllum, Dendrobium Suavissimum, Dentrocolla Gracilenta, Dentrocolla Rhopalorrhachis, Dentrocolla Zollingeri, Diadenium Micranthum, Diglyphosa Latifolia, Disa Grandiflora, Epidendrum Atro Purpureum Roseum, Epidendrum Chiriquense, Epidendrum Friderici Guilielmi, Epidendrum Frutex, Epidendrum Humboldti, Epidendrum Pentadactylum, Epidendrum Phymatoylossum, Epidendrum Pseudepidendrum, Epidendrum Varicosum, Epidendrum Vieji, Epidendrum Vitellinum Majus, Epidendrum Wallisii, Epidendrum Warscewiczii, Epistephium Friderici Augusti, Eriopsis Biloba, Eulophia Guineensis Purpurata, Gongora Retrorsa, Gongora Scideliana, Gongora Stenoglossa, Hexadesmia Crurigera, Hexadesmia Micrantha, Hexadesmia Stenotepala, Hofmeisterella Cumicroscipica, Houlletia Brocklehurstiana, Houlletia Odoratissima, Kefersteinia Graminea, Kefersteinia Sanguinolenta, Kefersteinia Stapelioides, Kegelia Houtteana, Koellensteinia Kellneriana, Laelia Anceps Dawsoni, Laelia Anceps Dawsonii, Laelia Anceps, Laelia Autumnalis Atro-Rubens, Laelia Boothiana, Laelia Crispa Purpurea, Laelia Crispilabia, Laelia Elegans Alba, Laelia Elegans Wolstenholmiae, Laelia Perrinii, Laelia Purpurata Williamsii, Laelia Purpurata, Laelia Schroderii, Laelia Xanthina, Lepanthes Avis, Lepanthes Capitanea, Lepanthes Cyanoptera, Lepanthes Erinacea, Lepanthes Lindleyana, Lepanthes Otostulix, Lepanthes Rescifolia, Lepanthes Schiedei, Lockhartia Goyazensis, Lockhartia Lunifera, Lockhartia Micrantha, Lockhartia Mirabilis, Lockhartia Oerstedii, Lockhartia Pallida, Lockhartia Parthenocomos, Lockhartia Weigeltii, Luisia Antennifera, Luisia Brachystachys, Luisia Trichorrhiza, Lycaste Skinneri, Lycomormium Squalidum, Macodes Marmorata, Macodes Petola, Masdevallia Coccine, Masdevallia Davisii, Masdevallia Elephanticeps, Masdevallia Harryana Coerulescens, Masdevallia Ignea, Masdevallia Meleagris, Masdevallia Pumila, Masdevallia Shuttleworthii, Masdevallia Veitchiana, Masdevallia Wageneriana, Maxillaria Anatomorum, Maxillaria Venusta, Mazillaria Notylioglossa, Mazillaria Praetexta, Mazillaria Virguncula, Meiracyllium Trinasutum, Mesospinidium Warscewiczii, Miltonia Anceps, Miltonia Candida, Miltonia Cuneata, Miltonia Regnelli Purpurea, Miltonia Regnellii, Monochilus Zollingeri, Myrosmodes Nubigenum, Nasonia Ionanthera, Nasonia Myrtillus, Neodryas Rhodoneura, Nephelaphyllum Pulchrum, Nephelaphyllum Tenuiflorum, Notylia Pentachne, Odontoglossum Alexandrae Flaveolum, Odontoglossum Alexandrae Guttatum, Odontoglossum Alexandrae Warneri, Odontoglossum Alexandrae, Odontoglossum Andersonianum, Odontoglossum Brevifolium, Odontoglossum Coradinei, Odontoglossum Cordatum, Odontoglossum Coronarium, Odontoglossum Cristatellum, Odontoglossum Epidendroides, Odontoglossum Grande, Odontoglossum Hallii, Odontoglossum Hastilabium, Odontoglossum Hebraicum Lineoligerum, Odontoglossum Insleayi, Odontoglossum Kramerii, Odontoglossum Lindleyanum, Odontoglossum Londesboroughianum, Odontoglossum Maculatum, Odontoglossum Madrense, Odontoglossum Membranaceum, Odontoglossum Myrianthum, Odontoglossum Naevium, Odontoglossum Oerstedii, Odontoglossum Pescatorei Veitchianum, Odontoglossum Pescatorei, Odontoglossum Phalaenopsis, Odontoglossum Pulchellum, Odontoglossum Reichenheimii, Odontoglossum Roezlii, Odontoglossum Schillerianum, Odontoglossum Triumphanc, Odontoglossum Triumphans, Odontoglossum Vexillarium, Odontoglossum Warnerianum, Odotnoglossum Warscewiczii, Oerstedella Centradenia, Oerstedella Centropetala, Oncidium Ansiferum, Oncidium Boothianum, Oncidium Caesium, Oncidium Cardiostigma, Oncidium Carthagenense, Oncidium Cerebriferum, Oncidium Cheirophorum, Oncidium Chrysothyrsus, Oncidium Concolor, Oncidium Crispum, Oncidium Gardneri, Oncidium Haematochilum, Oncidium Kramerianum, Oncidium Lentiginosum, Oncidium Macranthum, Oncidium Meirax, Oncidium Micropogon, Oncidium Pardalis, Oncidium Phalaenopsis, Oncidium Phymatochilum, Oncidium Reflexum, Oncidium Tripterygium, Oncidium Verrucosum Rogersii, Oncidium Volvox, Ornithidium Aggregatum, Ornithidium Jenischianum, Ornithidium Sophronitis, Pachyphyllum Distichum, Pachyphyllum Hartwegii, Pachyphyllum Pasti, Pachyphyllum Serra, Paphinia Cristata, Papperitzia Leiboldi, Paradisanthus Bahiensis, Pescatorea Klabochorum, Pescatorea Lehmanni, Pescatoria Cerina, Pescatoria Triumphans, Phajus Indigoferus, Phajus Platychilus, Phajus Tenuis, Phajus Tuberculosus, Phajus Zollingeri, Phalaenopsis Amabilis Dayana, Phalaenopsis Grandiflora Auerea, Phalaenopsis Intermedia Portei, Phalaenopsis Lowii, Phalaenopsis Mariae, Phalaenopsis Stuartiana Nobilis, Pholidota Camelostalix, Pleurothallis Cardiostola, Pleurothallis Gratiosa, Pleurothallis Tripterantha, Pleurothallis Tripterygia, Ponera Leucantha, Ponera Macroglossa, Ponerorchis Graminifolia, Promenaea Citrina, Renanthera Coccinea, Renanthera Lowii, Renanthera Matutina, Renanthera Micrantha, Renunthera Bilinguis, Restrepia Erythroxantha, Restrepia Lansbergii, Restrepia Wageneri, Saccolabium Blumei Majus, Saccolabium Giganteum, Saccolabium Holfordianum, Salacistis Novembrilis, Schomburgkia Undulata, Scuticaria Steelii, Selenipedium Boissierianum, Selenipedium Caudatum, Selenipedium Chica, Selenipedium Hartwegii, Selenipedium Palmifolium, Selenipedium Schlimii, Sigmatostalix Graminea, Sobralia Bletiae, Sobralia Decora, Sobralia Macophylla, Sobralia Ruckeri, Stanhopea Fregeana, Stanhopea Haselowiana, Stanhopeastrum Ecornutum, Tacniophyllum Zollingeri, Telipogon Andicola, Telipogon Astroglossum, Telipogon Boissierinaus, Telipogon Fritillum, Tetragamestus Modestus, Thunia Bensoniae, Trichoceros Parviflorus, Trichoceros Platyceros, Trichopilia Hymenantha, Trichopilia Suavis Alba, Uropedium Lindenii, Vanda Coerulea, Vanda Coerulescens, Vanda Hookeriana, Vanda Parishii Marriottiana, Vanda Parishii, Vanda Roxburghii, Vanda Suavis, Vanda Tricolor Planilabris, Vanda Tricolor Warneri, Vanda Tricolor, Vattleya Wageneri, Warrea Tricolor, Warscewiczella Amazonica, Warscewiczella Candida, Warscewiczella Discolor, Warscewiczella Marginata, Warscewiczella Velata, Zygopetalum Aromaticum, Zygopetalum Clayii, Zygopetalum Gautieri, Zygopetalum Rostratum.
---
---
More from this seller
---
Digital downloads
---
Payments
PayPal payment only accepted (including payment with a credit card via PayPal without having PayPal account)
---
Returns & exchanges
I gladly accept returns and exchanges
Contact me within:
14 days of delivery
Ship items back within:
30 days of delivery
I don't accept cancellations
But please contact me if you have any problems with your order.
The following items can't be returned or exchanged
Because of the nature of these items, unless they arrive damaged or defective, I can't accept returns for:
Custom or personalized orders
Perishable products (like food or flowers)
Digital downloads
Intimate items (for health/hygiene reasons)
Conditions of return
Buyers are responsible for return shipping costs. If the item is not returned in its original condition, the buyer is responsible for any loss in value.
Additional return information
Full refund available if you are not satisfied with your item. Please feel free to email me. Thanks
---
Additional policies
Images from my collections are in public domain in the US.