FLOWERS-94 Collection of 253 vintage images Gloxinia Nemophila Haricot Candor botanical pictures High resolution digital download printable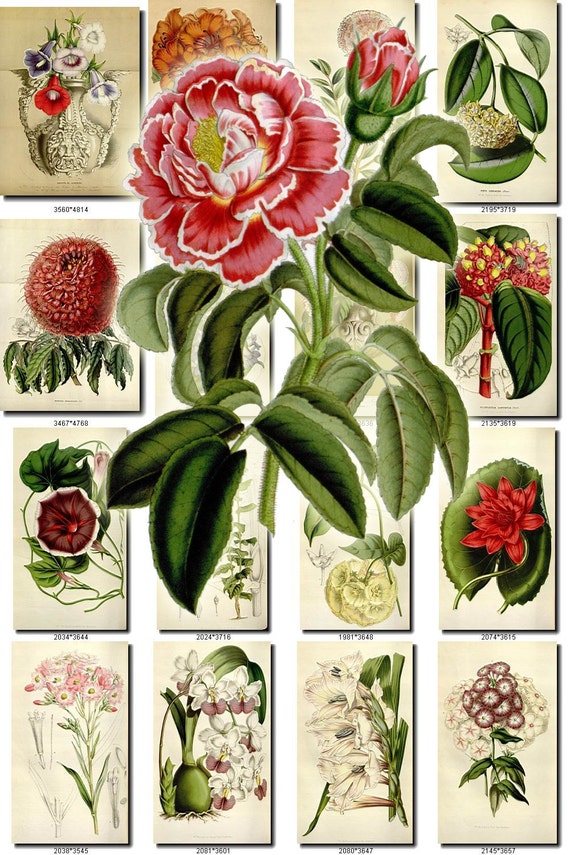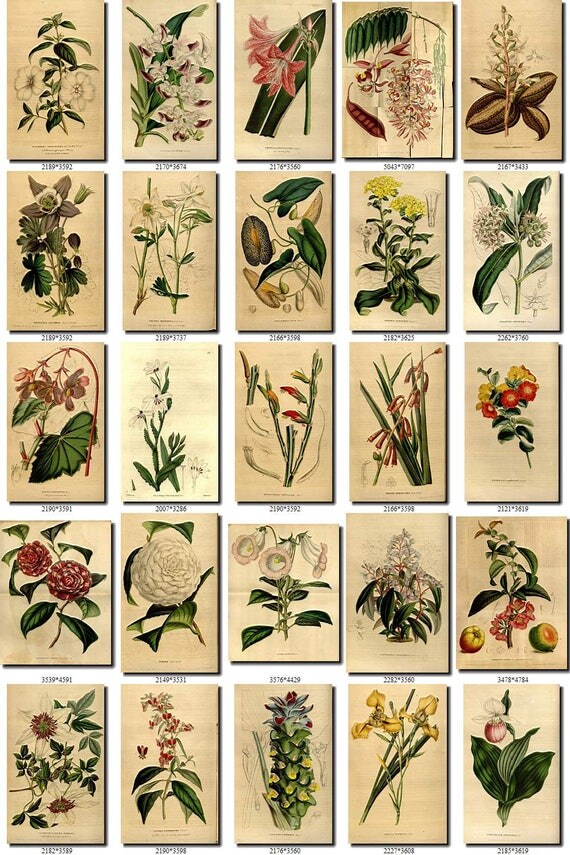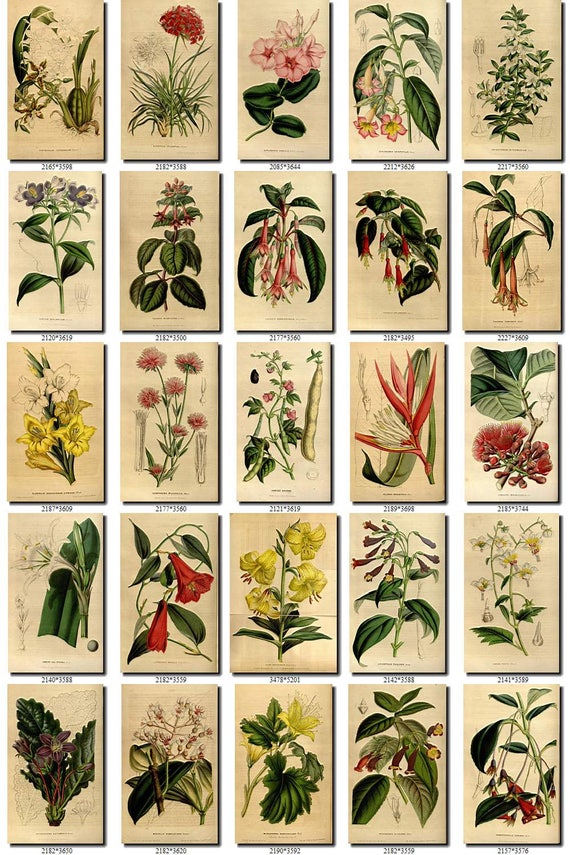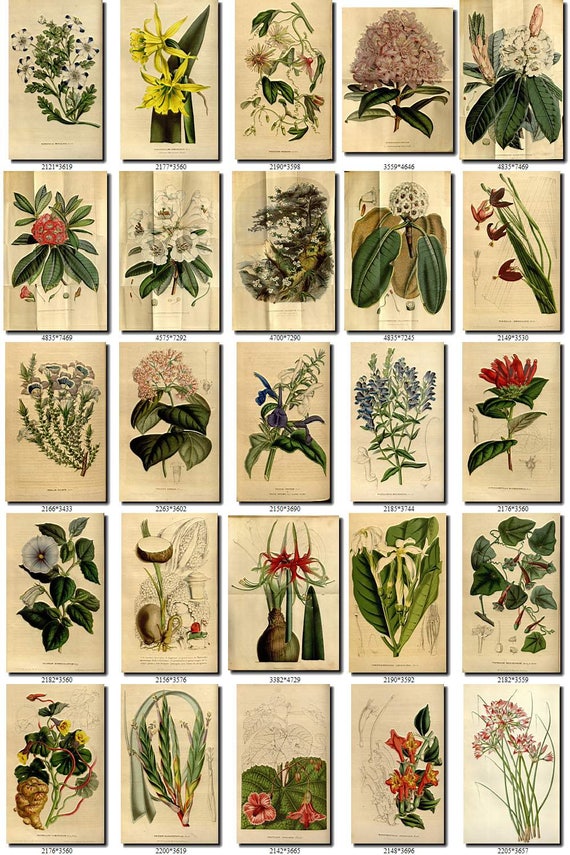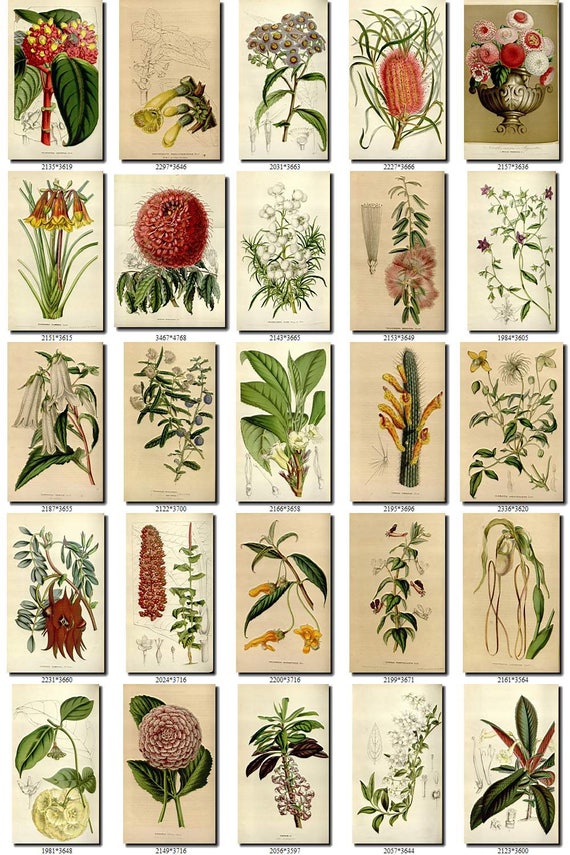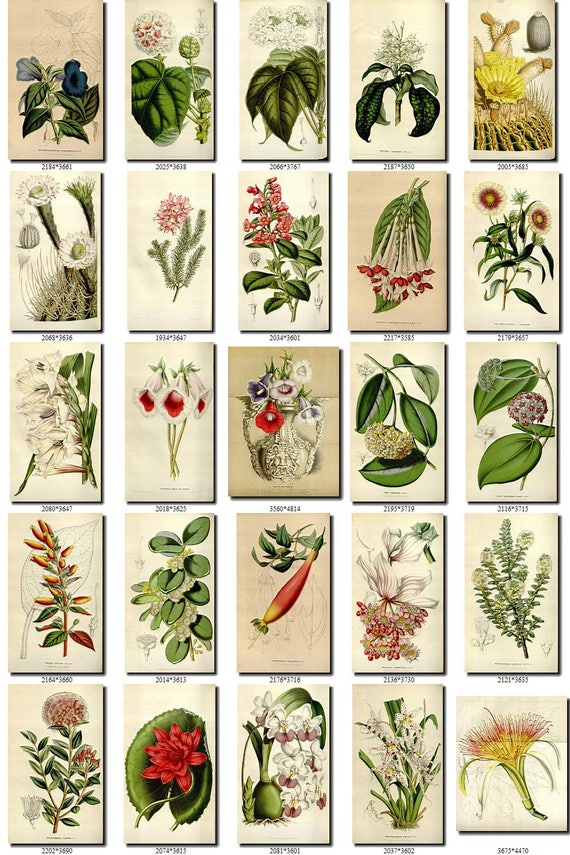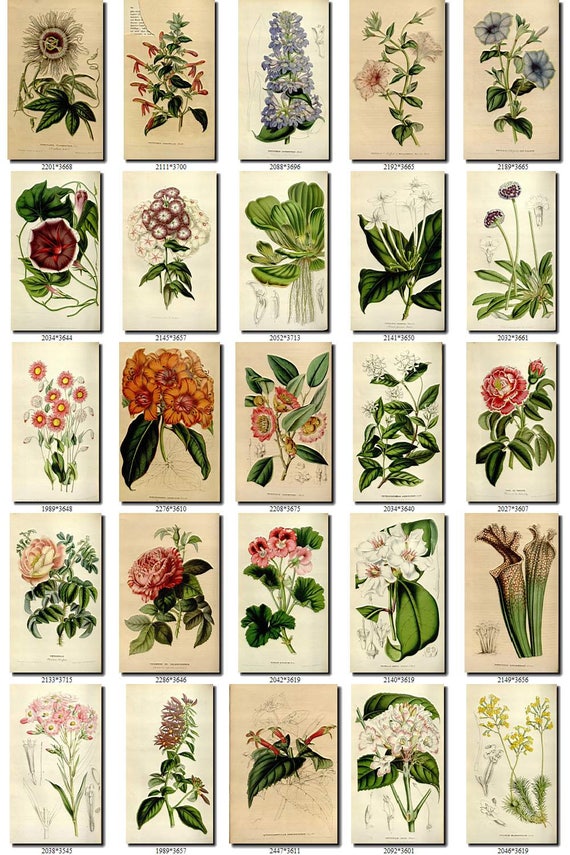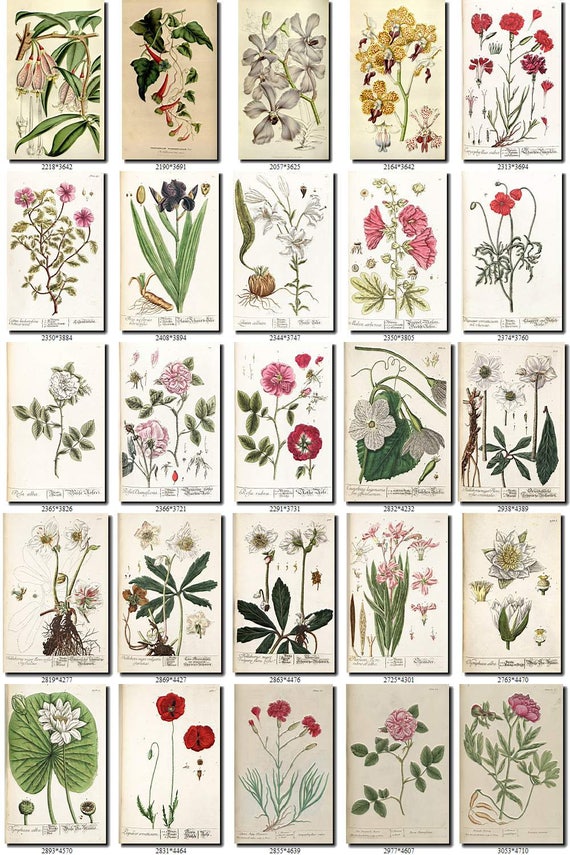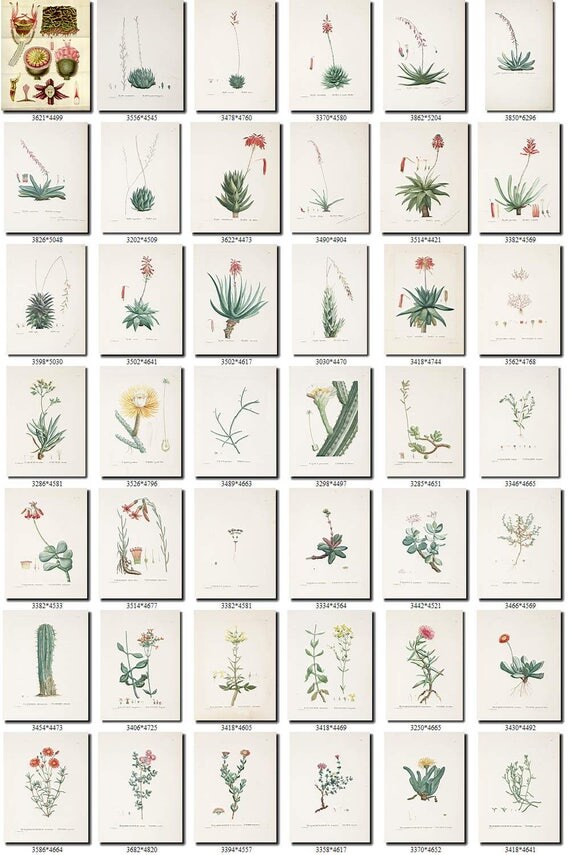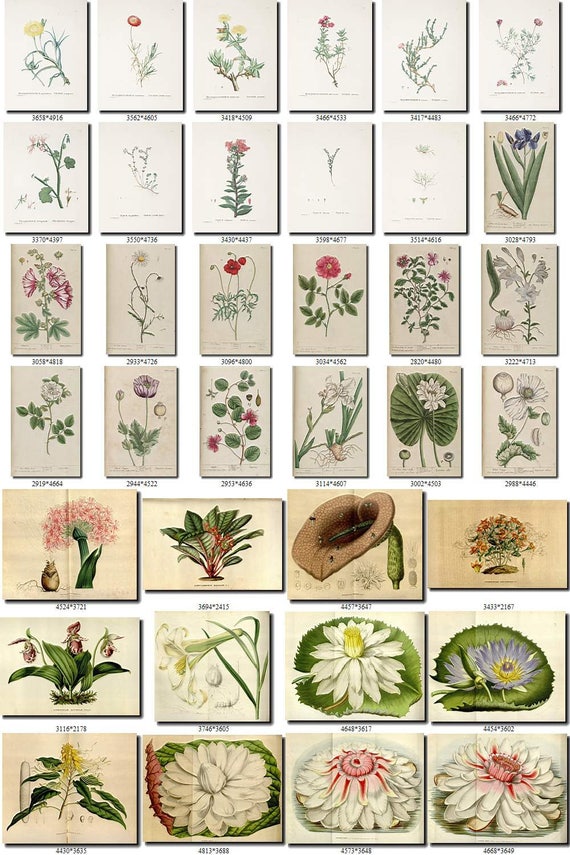 ---
Features
---
Item details
artscult.com - all images from artvintages.com

Instant digital download of 253 vintage pictures of flowers in high resolution (300 dpi, sizes from 1900x3600 px to 4800x7400 px). Look at pictures to see sizes in pixels (click "Zoom", divide size in pixels on 300 - you'll get size of print in inches with high quality, ex. 2400/300=8''). Total size of the collection is 385 Mb.

Each file has a name of shown plant in English or Latin (ex. "Magnolia Grandiflora.jpg"). Names of shown plants are listed below, at the end of description.

All images are in JPG format, separate files. Perfect for use in crafting, decoupage, collage, altered art, prints, etc. Images are in public domain in USA and may be used for any personal or commercial purposes. Information about source books is included.

Look at my other FLOWERS collections:
https://www.etsy.com/shop/ArtVintages?section_id=13682395

All-in-one FLOWERS collections:
https://www.etsy.com/shop/ArtVintages/search?search_query=all+flowers

DISCOUNTS:
Save money - Use coupons shown here:
https://www.etsystudio.com/listing/168468869/

SHIPPING DETAILS:
Digital download (TXT file with link on file in zip format on dropbox and google drive, and gallery view). Before purchase, please, make sure that you are able to download large size files. Download may take long time some cases.

NAMES of shown plants:
Abutilon Insigne, Achimenes Longiflora Alba, Aerides Crispum, Aeschynanthus Javanicus, Allium Acuminatum, Alloplectus Capitatus, Aloe Arachnoides, Aloe Atrovirens, Aloe Brevifolia, Aloe Carinata, Aloe Linguiformis Verrucosa, Aloe Linguiformis, Aloe Margaritifera, Aloe Mitroeformis, Aloe Obliqua, Aloe Picta, Aloe Plicatilis, Aloe Rigida, Aloe Serra, Aloe Soccotrina, Aloe Spiralis, Aloe Umbellata, Amaryllis Reticulata, Amherstia Nobilis, Anaectochilus Lobbianus, Aquilegia Jucunda, Aquilegia Macrantha, Arctocalyx Endlicherianus, Aristolochia Picta, Arnebia Echioides, Asclepias Douglasii, Aster Sikkimensis, Banksia Occidentalis, Begonia Cinnabarina, Bellis Niger, Bellis Perennis, Black Poppy, Blandfordia Flammea, Bouvardia Cavanillesii, Brachysema Aphyllum, Bravoa Geminiflora, Browallia Jamesonii, Brownea Grandiceps, Brunsvigia Toxicaria, Bulliarda Vaillantii, Cacalia Ficoides, Cactus Grandiflorus, Cactus Parasiticus, Cactus Peruvianus, Calceolaria Alba, Calliandra Brevipes, Camellia Japonica Archiduchesse Augusta, Campanula Colorata, Campanula Nobilis, Campylobatrys Discolor, Candor, Capanea Grandiflora, Caper, Capparis, Caryophyllus Ruber, Ceanothus Dentatus, Ceanothus Papillosus, Centradenia Floribunda, Centrosolenia Glabra, Cereus Tweediei, Chaenomeles Japonica Umbilicata, Cistus Ladanifera Creticavera, Cistus Landifera Vera Cretica, Clematis Florida Siegoldii, Clematis Graveolens, Clianthus Dampieri, Clove July-Flower, Coccoloba Macrophylla, Columnea Aurantiaca, Cotyledon Hemisphoerica, Cotyledon Hispida, Cotyledon Orbiculata, Cotyledon Tuberculosa, Crassula Glomerata, Crassula Obvallata, Crassula Portulacea, Crassula Rubens, Cucurbita Lagenaria, Cuphea Cinnabarina, Cuphea Verticillata, Curcuma Cordata, Cypella Herberti, Cypripedium Caodatum, Cypripedium Guttatum, Cypripedium Spectabile, Cyrtochilum Leucochilum, Cystidianthus Campanulatus, Dahlia Zenobia, Damask Rose, Daphne, Deutzia Gracilis, Dianthus Cruentus, Didymocarpus Crinitus, Dipladenia Nobilis, Dipladenia Urophylla, Dipteracanthus Spectabilis, Dombeya Ameliae, Dombeya Viburniflora, Dracaena Sieboldii, Dracunculus Crinitus, Echinocactus Visnaga, Echinopsis Campylacantha, Erica Elegans Concolor, Eriostemon Intermedium, Escallonia Macrantha, Euphorbia Officinarum, Exacum Zeylanicum, Female Piony, Fuchsia Corymbiflora Alba, Fuchsia Nigricans, Fuchsia Serratifolia, Fuchsia Splendens, Fuchsia Venusta, Gaillardia Picta Tricolor, Garden Flower-De-Luce, Gladiolus Gandavensis Citrinus, Gladiolus Willmoreanus, Gloxinia, Gomphrena Pulchella, Grammanthes Gentianoides, Haricot Beurre, Heliconia Angustifolia, Helleborus Niger Flore Roseo Orientalis, Helleborus Niger Flore Roseo Styriacus, Helleborus Niger Vulgaris Flore Roseo Var, Helleborus Niger Vulgaris Flore Roseo, Holly Hocks, Hoya Coriacea, Hoya Purpureo-Fusca, Iambosa Malaccensis, Iris Florentina, Iris Nostras Hartensis, Iris Nostras Hortensis, Ismene Calathina, Isoloma Pictum, Jossinia Lamarckii, Kalanchoe Aegyptiaca, Kalanchoe Laciniata, Kalanchoe Spathulata, Lapageria Rosea, Lilium Album, Lilium Szovitzianum, Lilium Wallichianum, Lisianthus Princeps, Lisianthus Pulcher, Loasa Picta, Malva Arborea, Mandragora Autumnalis, Medinilla Magnifica, Medinilla Sieboldtiana, Mesembryanthemum Acinaciforme, Mesembryanthemum Caninum, Mesembryanthemum Coccineum, Mesembryanthemum Deltoides, Mesembryanthemum Filamentosum, Mesembryanthemum Hispidum, Mesembryanthemum Linguiforme, Mesembryanthemum Nodiflorum, Mesembryanthemum Pugioniforme, Mesembryanthemum Tenuifolium, Mesembryanthemum Tortuosum, Mesembryanthemum Tuberosum, Mesembryanthemum Uncinatum, Mesembryanthemum Violaceum, Metrosideros Buxifolia, Metrosideros Florida, Microsperma Bartonioides, Moussonia Elegans, Nematanthus Ionema, Nemophila Maculata, Nerium Flore Rubro Et Albo, Nymphaea Alba, Nymphaea Dentata, Nymphaea Rubra, Nymphaea Scutifolia, Odontoglossum Citrosmum, Odontoglossum Naevium, Orris, Ox-Eye Daisy, Pachira Macrocarpa, Paeonia Faemina, Pancratium Amancaes, Papaver Album, Papaver Erraticum, Papaver Nigrum, Papaver Rubrum, Passiflora Filamentosa, Passiflora Medusaea, Pelargonium Tetragonum, Pentstemon Cordifolius, Pentstemon Cyananthus, Petunia Meleagris, Petunia Van Volxem, Pharbitis Limbata, Phlox, Pistia Stratiotes, Posoqueria Formosa, Primula Capitata, Red Poppy, Red Rose, Rhodanthe Manglesii, Rhododendron Javanicum, Rhododendron Ponticum, Rhododendrum Argenteum, Rhododendrum Barbatum, Rhododendrum Dalhousiae, Rhododendrum Falconeri, Rhodoleia Championi, Rhynchospermum Jasminoides, Rigidella Immaculata, Roella Ciliata, Rogiera Amoena, Rosa Alba, Rosa Damascena, Rosa Danascena, Rosa Rubra, Rose De Provins, Rose Pimprenelle, Rose, Roseum Striatum, Roupellia Grata, Salvia Patens, Sarracenia Drummondii, Schoenia Oppositifolia, Scutellaria Macrantha, Sedum Dasyphyllium, Sedum Telephium, Sedum Villosum, Siphocampylus Amoenus, Siphocampylus Microstomus, Siphocampylus Orbignyanus, Solanum Somniculentum, Spadice Fructifere, Spathodea Laevis, Sprekelia Cybister, Steriphoma Paradoxum, Stylidium Mucronifolium, Sweet Cistus of Candy, Tabernaemontana Longiflora, Thibaudia Macrantha, Tilleaea Muscosa, Tropaeolum Deckerinaum, Tropaeolum Tuberosum, Tropaeolum Wagnerianum, Vanda Coerulea, Vanda Tricolor, Vriesea Glaucophylla, Water Lily Victoria Regia, Water Lily, White Lily, White Poppy, White Rose.
---
---
More from this seller
---
Digital downloads
---
Payments
PayPal payment only accepted (including payment with a credit card via PayPal without having PayPal account)
---
Returns & exchanges
I gladly accept returns and exchanges
Contact me within:
14 days of delivery
Ship items back within:
30 days of delivery
I don't accept cancellations
But please contact me if you have any problems with your order.
The following items can't be returned or exchanged
Because of the nature of these items, unless they arrive damaged or defective, I can't accept returns for:
Custom or personalized orders
Perishable products (like food or flowers)
Digital downloads
Intimate items (for health/hygiene reasons)
Conditions of return
Buyers are responsible for return shipping costs. If the item is not returned in its original condition, the buyer is responsible for any loss in value.
Additional return information
Full refund available if you are not satisfied with your item. Please feel free to email me. Thanks
---
Additional policies
Images from my collections are in public domain in the US.