LEAVES GRASS-71 Collection of 278 vintage images vegetable botanical High resolution digital download printable herbarium flowers herb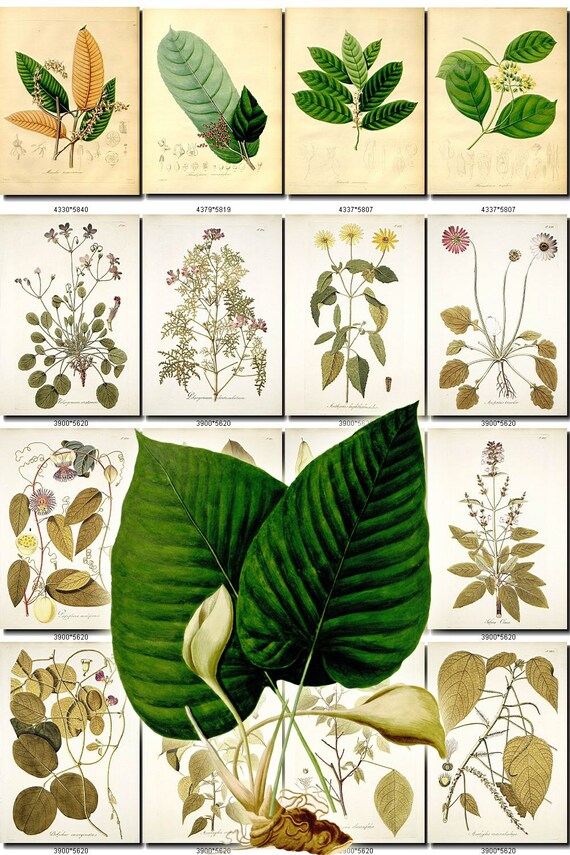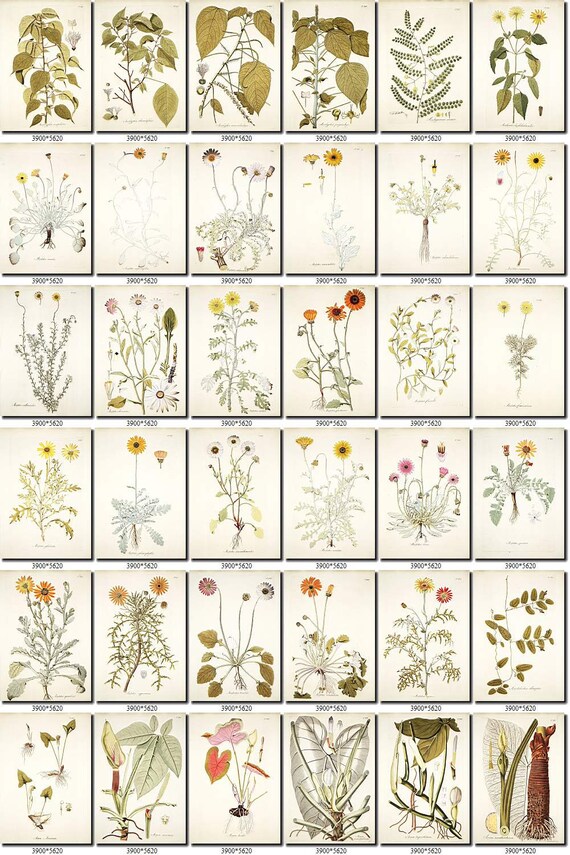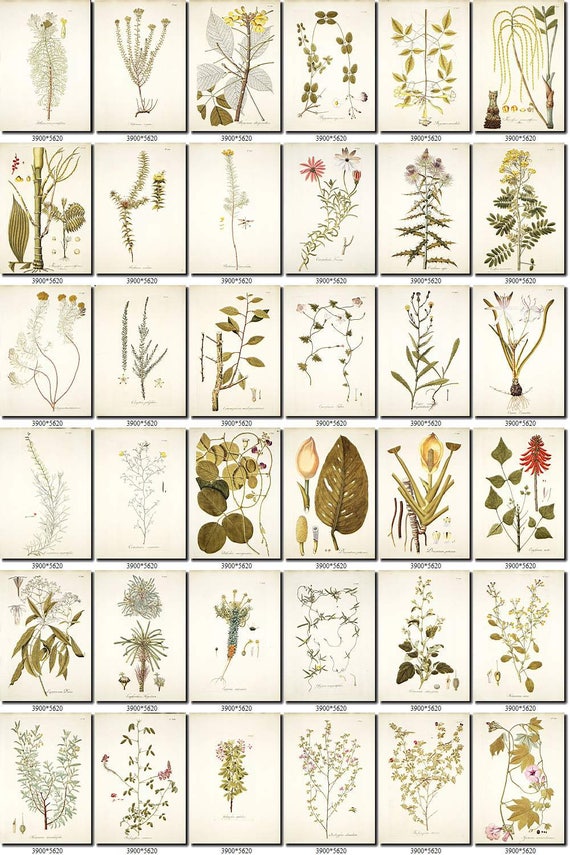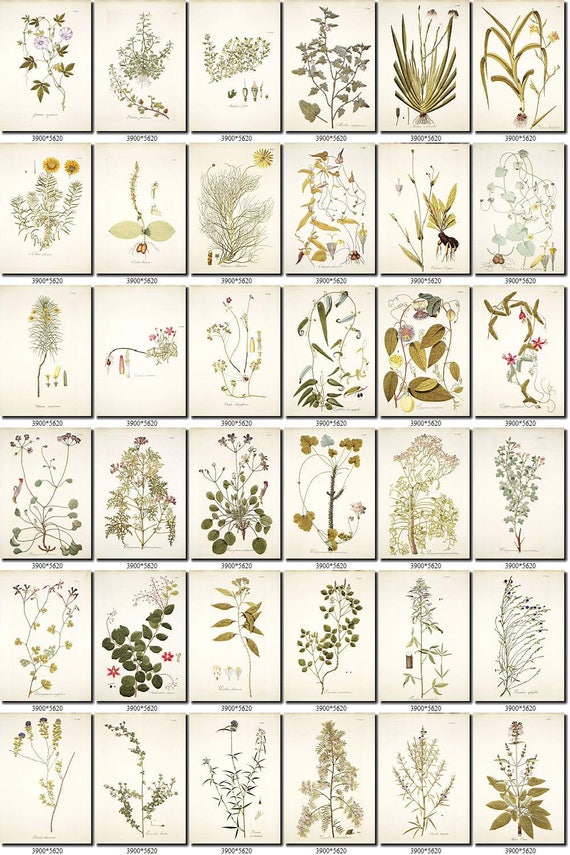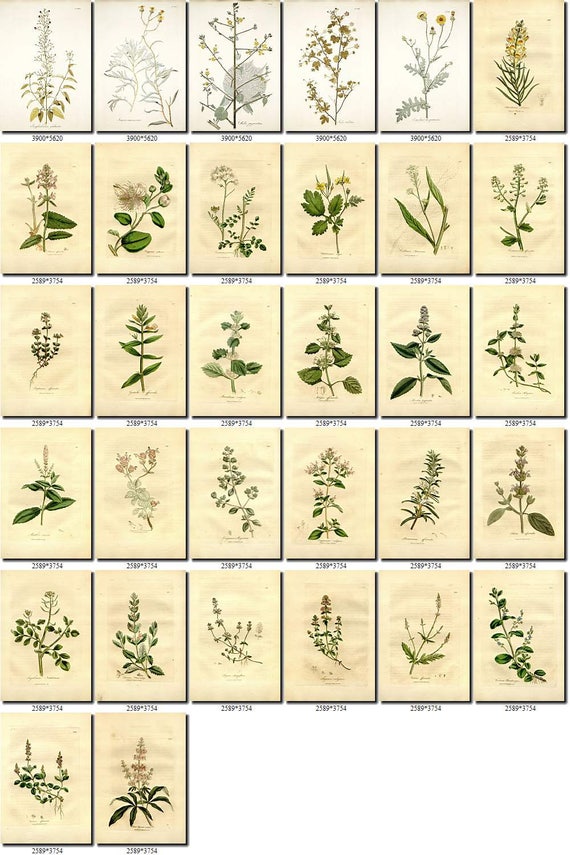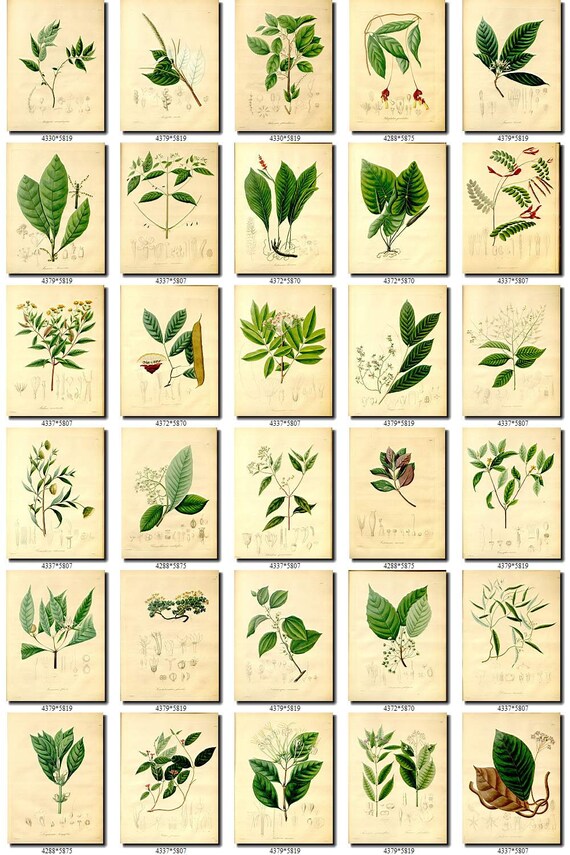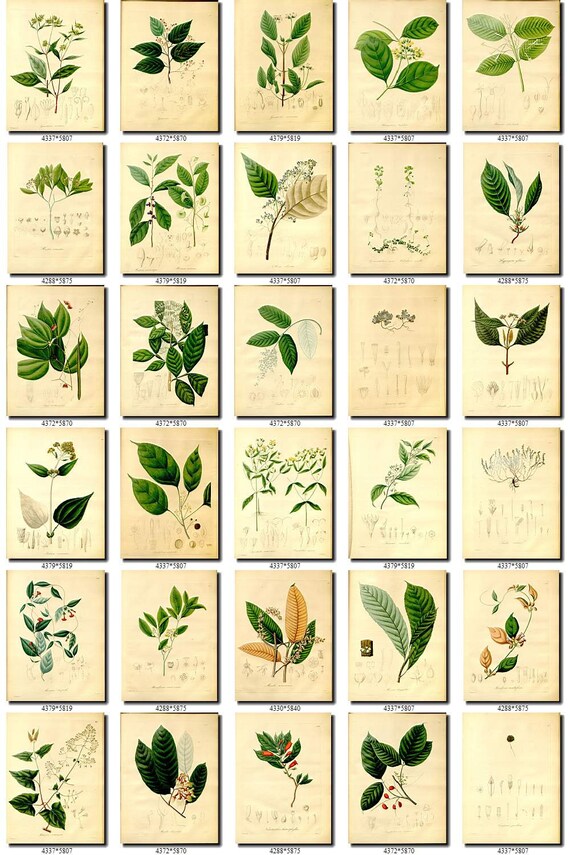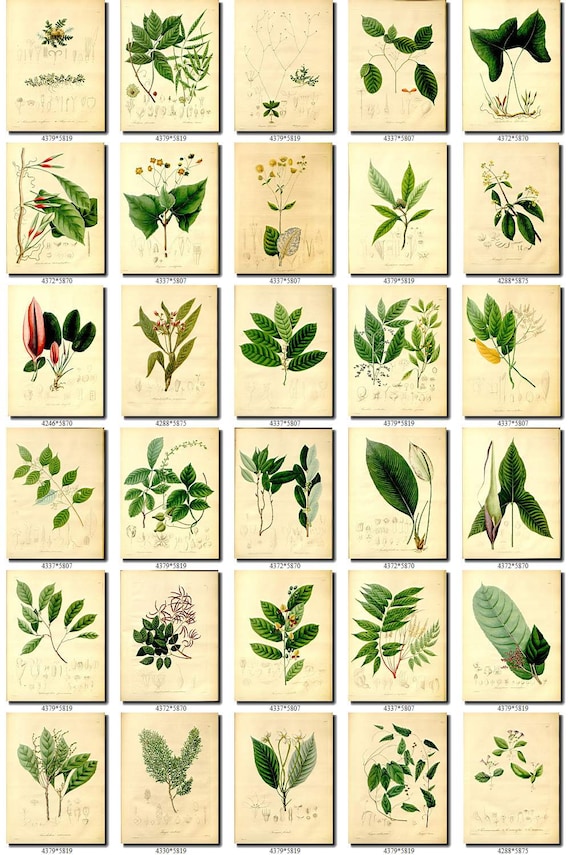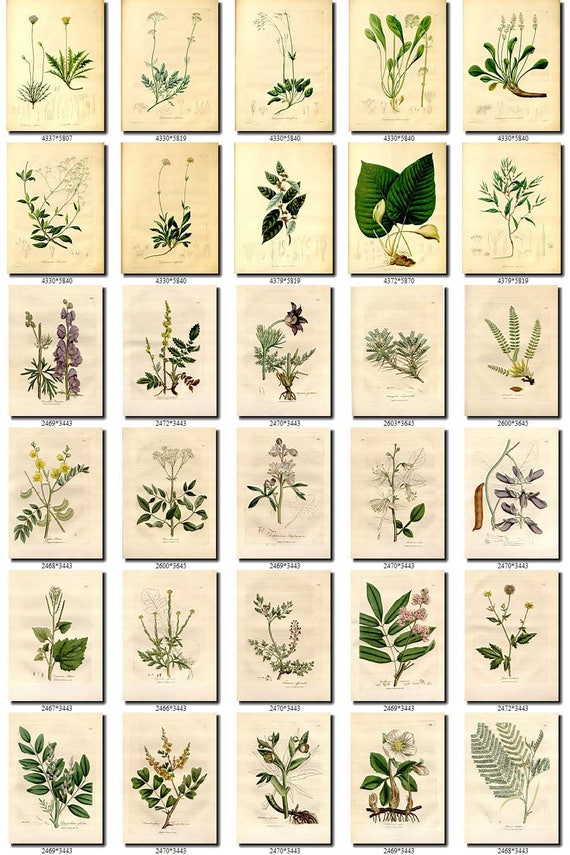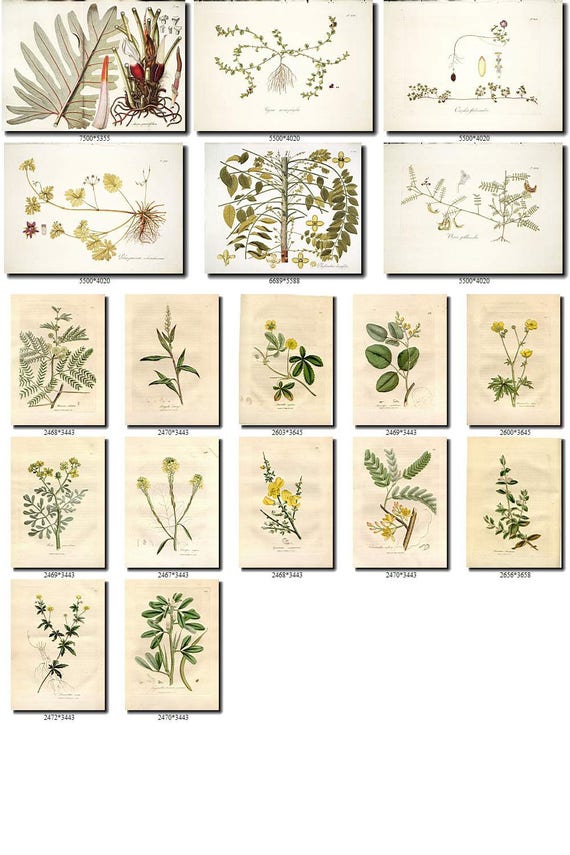 ---
Features
---
Item details
artscult.com - all images from artvintages.com

Instant digital download of 278 vintage botanical images of grass, leaves, trees, some flowers and related in high resolution (300 dpi, sizes from 2400x3400 px to 7500x5300 px). Look at pictures to see sizes in pixels (click "Zoom", divide size in pixels on 300 - you'll get size of print in inches with high quality, ex. 2400/300=8''). Total size is 690 Mb.

Each file has a name of shown plant in Latin (ex. "Phaca Alpina.jpg"). Names of shown plants are listed below, at the end of description.

All images are in JPG format, separate files. Perfect for use in crafting, decoupage, collage, altered art, prints, etc. Images are in public domain in USA and may be used for any personal or commercial purposes. Information about source books is included.

Look at my other LEAVES & GRASS collections:
https://www.etsy.com/shop/ArtVintages/search?search_query=lg

All-in-one LEAVES & GRASS collections:
https://www.etsy.com/shop/ArtVintages/search?search_query=all+leaves+grass

DISCOUNTS:
Save money - Use coupons shown here:
https://www.etsystudio.com/listing/168468869/

SHIPPING DETAILS:
Digital download (TXT file with link on file in zip format on dropbox and google drive, and gallery view). Before purchase, please, make sure that you are able to download large size files. Download may take long time some cases.

NAMES of shown plants:
Acalypha Cuspidata, Acalypha Diversifolia, Acalypha Macrostachya, Acalypha Polystachya, Acalypha Samydaefolia, Acalypha Stricta, Aconitum Napellus, Aeschynomene Aristata, Agrimonia Eupatoria, Alchornea Glandulosa, Alloplectus Pendulus, Amaioua Hirsuta, Amanoa Divaricata, Ancyrossemon Micranthum, Anemone Pratensis, Anthemis Buphthalmoides, Anthurium Decurrens, Anthurium Peltatum, Antirrhinum Linaria, Arctotis Acaulis, Arctotis Angustifolia, Arctotis Arborescens, Arctotis Auriculata, Arctotis Calendulacea, Arctotis Cineraria, Arctotis Crithmoides, Arctotis Decurrens, Arctotis Elatior, Arctotis Fastuosa, Arctotis Flaccida, Arctotis Foeniculacea, Arctotis Glabrata, Arctotis Glaucophylla, Arctotis Leucanthemoides, Arctotis Revoluta, Arctotis Rosea, Arctotis Speciosa, Arctotis Spinulosa, Arctotis Squarrosa, Arctotis Tricolor, Arctotis Undulata, Arctotisarctotis Cuprea, Aristolochia Oblongata, Arum Arisarum, Arum Auritum, Arum Bicolor, Arum Grandifolium, Arum Pinnatifidum, Arum Tripartitum, Arum Xanthorrhizon, Astragalus Fragacantha, Astragalus Oxscapus, Athanasia Parviflora, Athanasia Virgata, Barbieria Mayensis, Betonica Officinalis, Bidens Monticola, Bignonia Chrysantha, Bignonia Rigescens, Bignonia Variabilis, Borassus Pinnatifrons Mas, Borassus Pinnatifrons, Borbonia Cordata, Borbonia Lanceolata, Brownea Cauliflora, Calceolaria Tenella, Calendula Tragus, Campsiandra Rosea, Capparis Spinosa, Carapa Sericea, Cardamine Pratensis, Carduus Aser, Cassia Mexicana, Cassia Senna, Catocoma Altissima, Centroclinium Altissimum, Chelidonium Majus, Chrysochlamys Multiflora, Chrysocoma Tomentosa, Clematis Recta, Clibadium Peruvianum, Cluytia Polifolia, Cochlearia Armoracia, Cochlearia Officinalis, Columnea Moesta, Commiphora Madagascarensis, Conosiphon Aureus, Convolvulus Falkia, Coussarea Flava, Crepis Rhagadioloides, Crinum Commelini, Crotalaria Angustifolia, Crotalaria Argentea, Cruckshanksia Glacialis, Dalechampia Micrantha, Dasynema Pubescens, Delphinium Staphisagria, Dictamnus Albus, Ditassa Trivialis, Dolichos Emarginatus, Dolichos Pruriens, Dracontium Pertusum, Drymonia Longifolia, Echites Ptarmica, Erysimum Alliaria, Erysimum Officinale, Erythrina Mitis, Eupatorium Dalea, Euphorbia Hystrix, Euphorbia Tuberculata, Euphrasia Officinalis, Exostemma Maynense, Faramea Quinqueflora, Fischeria Macrocarpa, Fumaria Officinalis, Garamea Glandulosa, Garcilassa Rivularis, Geofroya Inermis, Geum Urbanum, Glycine Angustifolia, Glycine Monophylla, Glycyrrhiza Glabra, Gratiola Officinalis, Guazuma Rosea, Guettarda Aromatica, Haemadictyon Trifidum, Haematoxylum Campechianum, Hancornia Floribunda, Havetia Octandra, Hedyotis Pilosa, Heisteria Cyanocarpa, Heisteria Tubicina, Helleborus Foetidus, Helleborus Niger, Hermannia Althaeifolia, Hermannia Aurea, Hermannia Lavendulifolia, Hosta Odorata, Hydranthelium Egense, Hypocyrta Gibbosa, Indigofera Amoena, Indigofera Cytisoides, Indigofera Denudata, Indigofera Stricta, Inga Bauhiniaefolia, Inga Myriantha, Ipomoea Mauritiana, Ipomoea Stipulacea, Kuhlia Mollis, Laennecia Alpina, Latreillea Peruviana, Liabum Criocaulon, Lindackeria Maynensis, Lipochaela Amazonica, Liriosma Candida, Lobelia Pubescens, Lucilia Chilensis, Mahernia Diffusa, Malva Asperrima, Manettia Hispida, Marialvaea Amazonica, Marila Tomentosa, Marrubium Vulgare, Mayna Longifolia, Melissa Officinalis, Mendozia Multiflora, Mentha Piperita, Mentha Pulegium, Mentha Viridis, Mikania Armigera, Mimosa Catechu, Mimosa Nilotica, Moquilea Chrysocalyx, Moraea Iridioides, Moroea Bulbifera, Nematanthus Heterophyllus, Oedera Aliena, Omphalobium Rubrum, Orchis Bicornis, Oreophila Odorata, Oriastrum Pusillum, Origanum Dictumnus, Origanum Majorana, Origanum Vulgare, Othonna Athanasiae, Othonna Filicaulis, Othonna Lingua, Othonna Perfoliata, Othonna Tenuissima, Oxalis Amaena, Oxalis Lateriflora, Oxalis Silicaulis, Paranephelius Uniflorus, Passiflora Heterophylla, Passiflora Maliformis, Passiflora Perfoliata, Paullinia Rhizntha, Paullinia Tenera, Pelargonium Blattarium, Pelargonium Columbinum, Pelargonium Denticulatum, Pelargonium Eriostemon, Pelargonium Hamatum, Pelargonium Paniculatum, Pelargonium Semitrilobum, Pelargonium Trifidum, Perama Dichotoma, Peschiera Tenuiflora, Philodendron Deltoideum, Philodendron Heterophyllum, Phyllanthus Longifolia, Phyllanthus Nutans, Plagiocheilus Frigidus, Polygala Senega, Polymnia Sonchifolia, Potentilla Reptans, Prionolepis Silphicides, Psiadia Glutinosa, Psoralea Americana, Psoralea Angustifolia, Psoralea Aphylla, Psoralea Bracteata, Psoralea Hirta, Psoralea Multicaulis, Psoralea Odoratissima, Psoralea Tenuifolia, Psychotria Trichocephala, Pterocarpus Santalinus, Ranunculus Acris, Rengifa Peruviana, Rhodospatha Latifolia, Rhytidophyllum Purpureum, Rosmarinus Officinalis, Ruta Graveolens, Salvia Clusii, Salvia Officinalis, Samyda Suaveolens, Schmidelia Punctata, Schmidelia Scrobiculata, Sclerolobium Chrysophyllum, Scrophularia Glabrata, Secondatia Peruviana, Senecio Cinerascens, Serjania Dibotrya, Serjania Nutans, Sida Gigantea, Sida Triloba, Sideroxylon Elegans, Sidoroxylon Cylindrocarpon, Siegesbeckia Agrestis, Sinapis Nigra, Sisymbrium Nasturtium, Sonchus Hispanicus, Spartium Scoparium, Spathiphyllum Candicans, Spathiphyllum Caudatum, Stephanopodium Peruvianum, Stryphnodendron Paniculatum, Swartzia Calophylla, Tachigalia Polyphylla, Tamarindus Indica, Tenorium Chamaedrys, Tetrathylacium Macrophyllum, Tetrorchidium Rubrivenium, Teucrium Scordium, Thuja Andina, Thymus Serpyllum, Thymus Vulgaris, Tocoyena Foetida, Tormentilla Erecta, Tragia Serra, Tragia Subhastata, Trevirana Maculata, Trevirana Tenerrima, Trevirana Urticaefolia, Trichoseris Alpina, Trigonella Faenum Graecum, Valeriana Glauca, Valeriana Laxiflora, Valeriana Leucocarpa, Valeriana Macrorhiza, Valeriana Pavonii, Valeriana Rupicola, Verbena Officinalis, Vernonia Asterotrichia, Veronica Beccabunga, Veronica Officinalis, Vicia Pellucida, Vitex Agnus Castus, Xanthosoma Pubescens, Xiphochaeta Aquatica.
---
---
More from this seller
---
Digital downloads
---
Payments
PayPal payment only accepted (including payment with a credit card via PayPal without having PayPal account)
---
Returns & exchanges
I gladly accept returns and exchanges
Contact me within:
14 days of delivery
Ship items back within:
30 days of delivery
I don't accept cancellations
But please contact me if you have any problems with your order.
The following items can't be returned or exchanged
Because of the nature of these items, unless they arrive damaged or defective, I can't accept returns for:
Custom or personalized orders
Perishable products (like food or flowers)
Digital downloads
Intimate items (for health/hygiene reasons)
Conditions of return
Buyers are responsible for return shipping costs. If the item is not returned in its original condition, the buyer is responsible for any loss in value.
Additional return information
Full refund available if you are not satisfied with your item. Please feel free to email me. Thanks
---
Additional policies
Images from my collections are in public domain in the US.