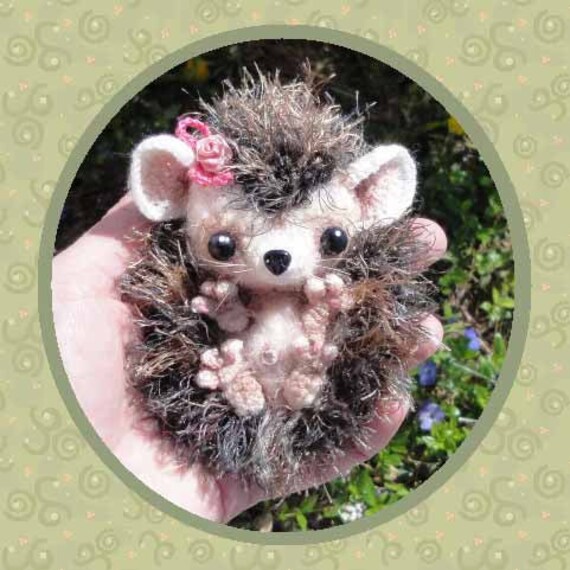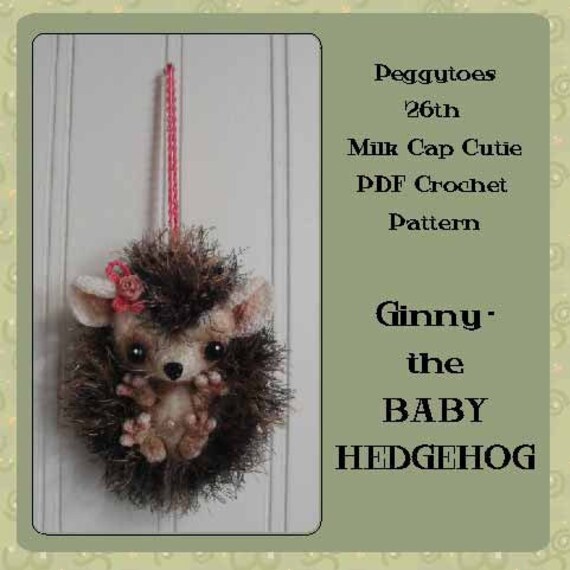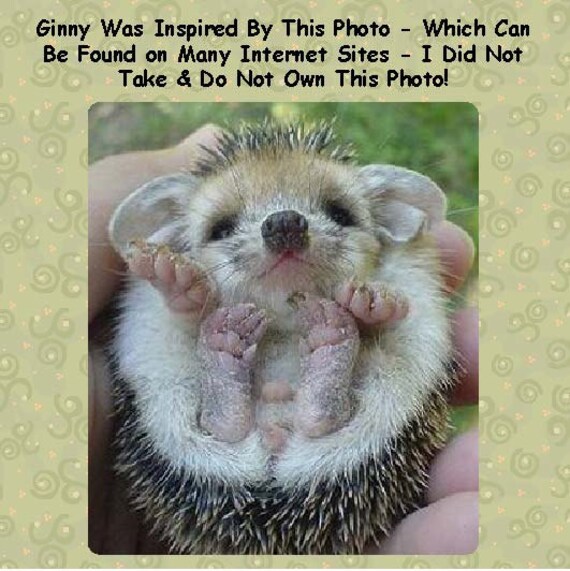 ---
Features
Made in Snowflake, Arizona
---
Item details
Meet Ginny ~ My Baby Hedgehog - 26th Milk Cap Cutie Digital PDF Crochet Pattern!

(This is NOT the finished hedgehog! Those take many hours to complete and I charge $75 plus shipping and only make up a batch 1-2 times per year, just FYI! If you want to be put on a waiting list, please contact me).

This digital pattern is downloadable after purchase! It has an added FOOT DIAGRAM PAGE ATTACHED SINCE 4-2016!

(And Yes... this hedgehog has a bellybutton!)

She is a cutie pie! And can be hung on anything ... a purse, a bag, a backpack, your car or truck mirror, etc ... or can be made just to hold and look at! But she is NOT A TOY ... She is made for displaying and if given to a child ... they need to be at least 5 years old and know how to care for things.

Ginny is about 4.5 - 5 Inches Long and she takes:
* #6, C and E Crochet Hooks, * Eyelash Type Yarns, * Lightweight 3-ply Yarn, &
* Crochet Thread, * Polyfil and Embellishments.

And You DON'T HAVE TO HAVE A MILK CAP for her or any of my Milk Cap Cutie Patterns ... You can cut a 1.5" circle of White Foamboard to fit if you'd rather!!!

(FOR YARNS USED - DRAG THE LAST PHOTO ONTO YOUR DESKTOP and OPEN AND ZOOM IN ON IT - FOR HELP IN CHOOSING YOUR SUPPLIES AND):

***NEW CHEAPER SOURCE FOR OMEGA CRYS THREAD (called Crystal Crochet in the pattern and used in combination with the Kid Mohair for head/tummy/feet): Creative Yarn Source - 90 COLORS TO CHOOSE FROM!!! http://www.creativeyarnsource.com/omegacrys_40_gr.html
(Please tell this store if ordering - that you have been referred by Peggytoes - THANKS!)

***ALSO, I found two possible replacements for the White/Cream Kid MOHAIR yarn used on the Head/Tummy/Feet: Either KUKA Brand Kid Mohair Yarn or .... type this into Ebay: " Wholesale !! Skeins, Skeins Luxury Angola Mohair Wool Knitting Yarn " and an international seller will sell you skeins with free shipping for a good price.

These Etsy Sellers sell the 6-7mm black plastic noses:
GLASSEYESONLINE and 6060.

I rate this pattern at an Advanced Level (according to other customers (sc, hdc, dc, and whip stitching).

SELLING GINNY ... Please DO NOT Make and Sell Items From This Pattern On ETSY as I make and sell these little Hedgehogs here through special order. If you do sell them elsewhere .. please give credit to me (Peggytoes) as the Pattern Designer. Thank You!

WHAT MEMBERS OF SEVERAL WEBSITES ARE SAYING ABOUT THIS HEDGEHOG:
*OMG! This might be the cutest thing EVER!!!
*The adorableness. . . its overpowering!
*Absolutely Adorable!
*SQUEEEEEEE!!! I'd swap my right leg for it!!
*Completely adorable! I want one! Sweetest little thing ever.
*Soooo ridiculously cute! Totally rocks!
*That's one of the cutest things I've ever seen.i so want this!
*I wish i could crochet oh how i wish
*WOW!!!!! Beyond totally and completely undeniably adorable!!!!! Makes me smile just to see it!
*That is so incredibly cute!
*OMG!!! I LOVE this!!! I squealed out loud when i saw this and my daughter looked at me like i was crazy till she saw it also!!! LOVE IT!! I WANT ONE!!!
*So cute I might die! Totally rocks!
*This is by far one of the cutest little things I've seen in crochet..or anywhere for that matter!
*Oh my goodness, this is so sweet! I can't get over the details!
*I love it! You did such a good job. I love the expression you captured!
*Squee- This is the cutest hedgehog I've seen! Even got a lil bellybutton and those toes! Wow, how long did this take you?
*She is just adorable, especially her huge ears and little toes!


Payment Options: Credit Card, Paypal or Money Order/Cashiers Check.

NO REFUNDS GIVEN ON ANY OF MY DIGITAL ITEMS FOR OBVIOUS REASONS.

************************************************************************************************
*Please Follow Copyright Laws! All of my patterns or printables and any and all images contained therein are NOT FOR RESALE IN ANY MANNER and are NOT TO BE GIVEN AWAY to any other person, and are NOT TO BE POSTED ON THE INTERNET (that is giving my work away for free).
*I would GREATLY appreciate it if you sell items from my patterns, to give me (Peggytoes) credit for the pattern!
All of My Patterns & Printpacks are for personal use only and are NOT TO BE SHARED OR RESOLD IN THEIR PATTERN FORM - THAT INCLUDES THE INTERNET!!! PLEASE RESPECT COPYRIGHTS. Hard work and much time are put into these projects and I appreciate you respecting that!!! THANK YOU!!!
*************************************************************************************************
THANK YOU FOR LOOKING!
---
---
Very cute pattern, grandchildren are going to love this
7 days ago by Mary Voss
Very easy transaction! Download was quick and easy! Can't wait to start on it!
Jun 12, 2016 by Fred79
I love this little one and hope I can work on it soon! Thank you
Mar 12, 2016 by Merryliza
Very happy with purchase excellent seller
Apr 19, 2015 by KIM MOSES
I got the pattern asap, an I can't wait to make this cute little hedgehog! Thank you
Feb 27, 2015 by kimmie thackef
---
More from this seller
---
Digital downloads
---
Payments
Payment is expected upon ordering.
Taxes only apply to the state of Arizona residents.
Thank you!
---
Returns & exchanges
No refunds on ANY Digital item sold for obvious reasons.