FLOWERS-99 Collection of 263 vintage images paper decoration beautiful florist botanical pictures High resolution digital download printable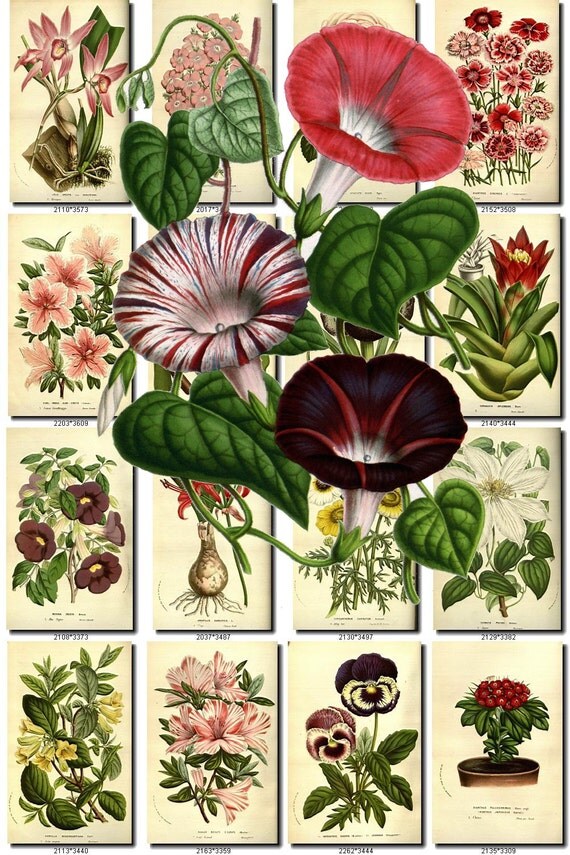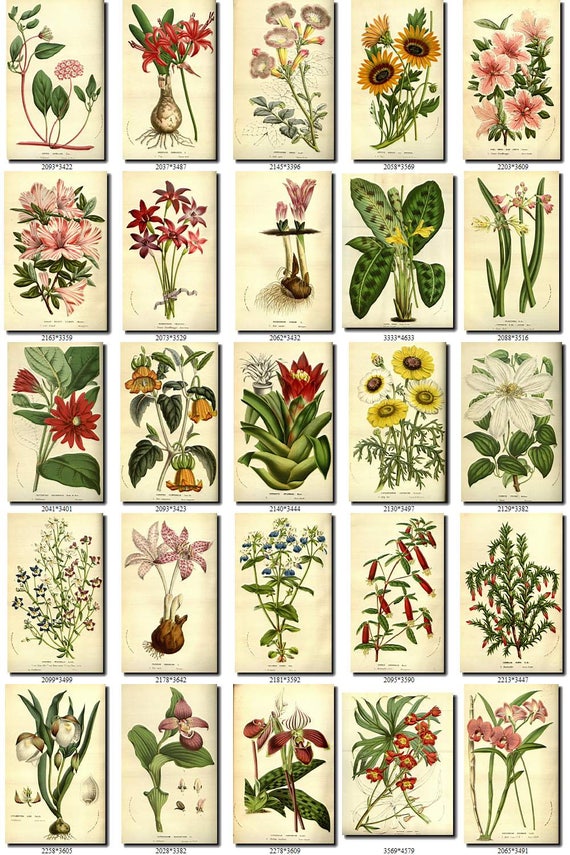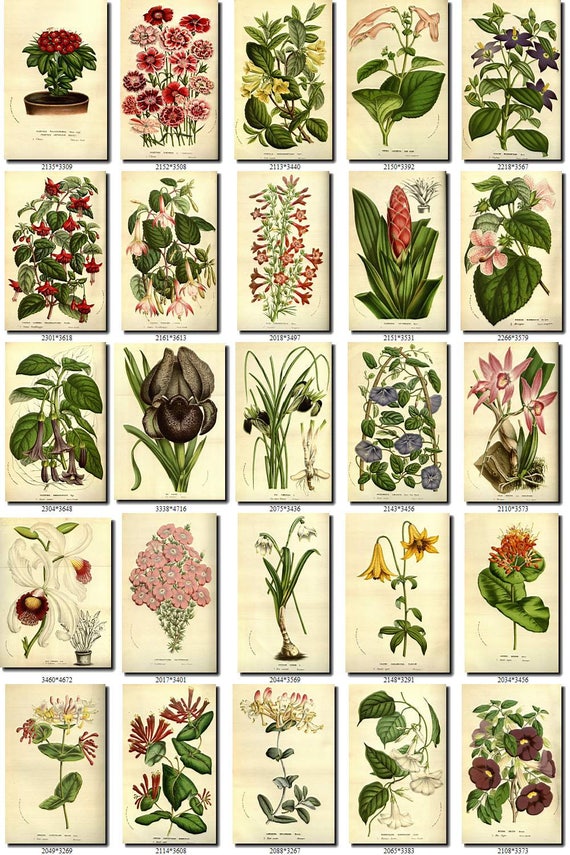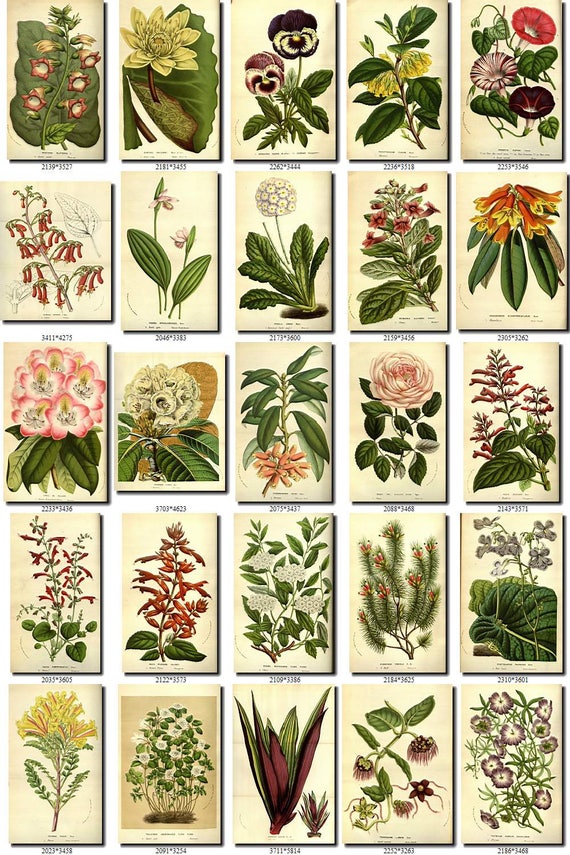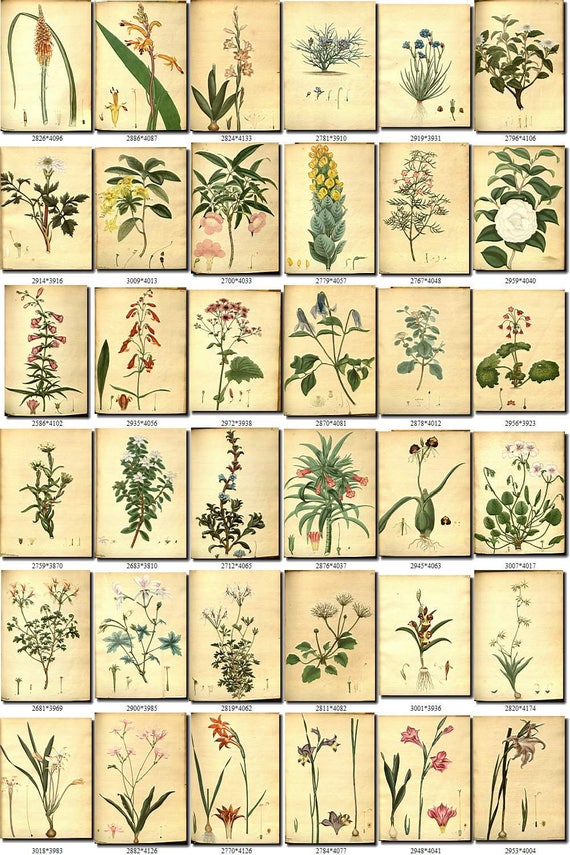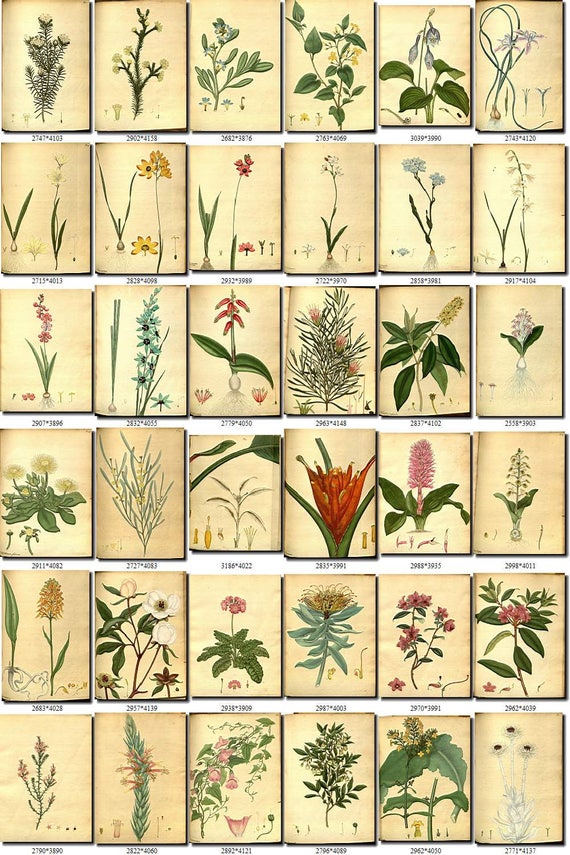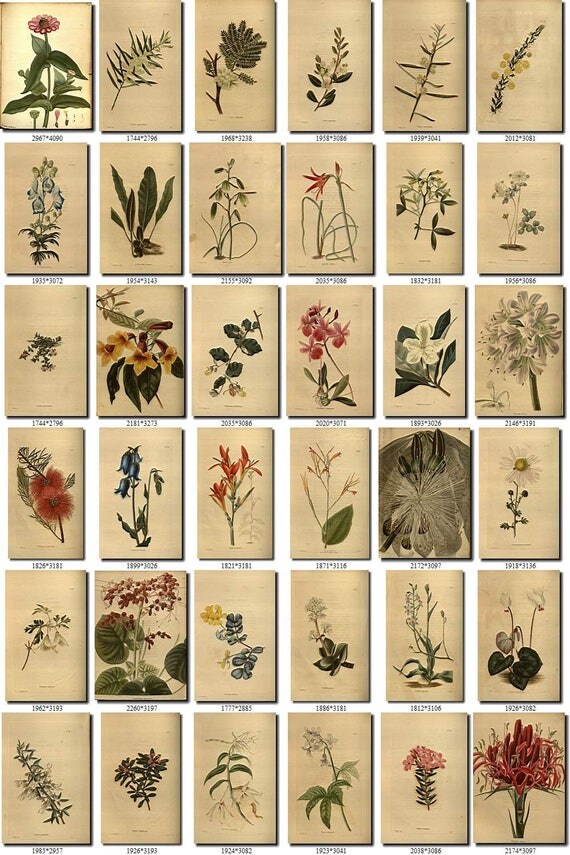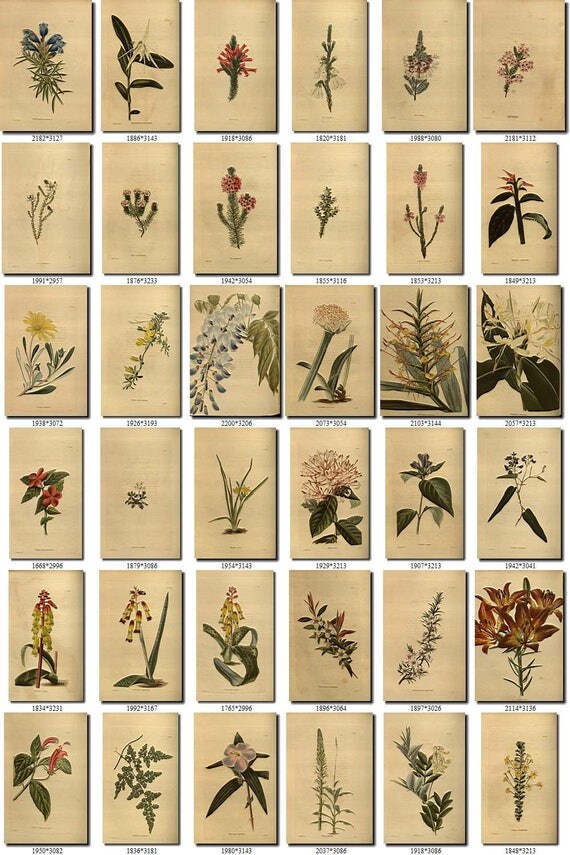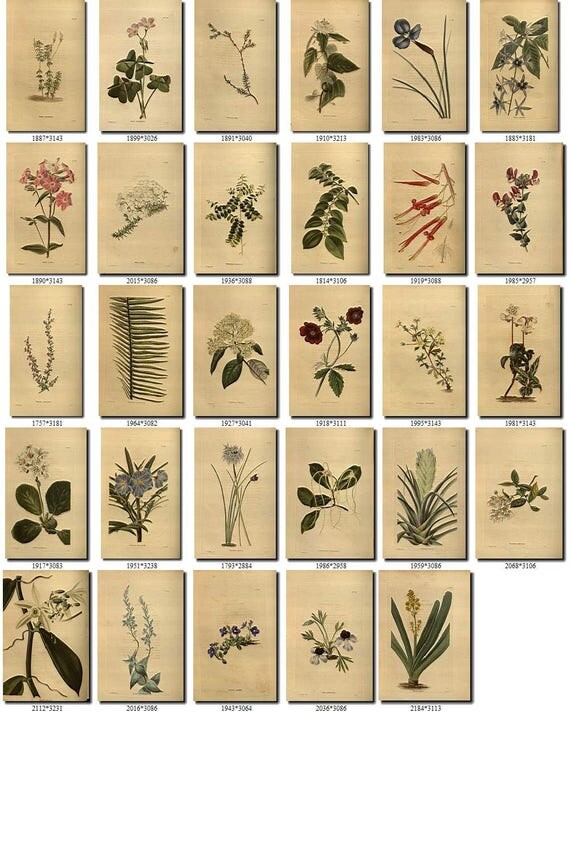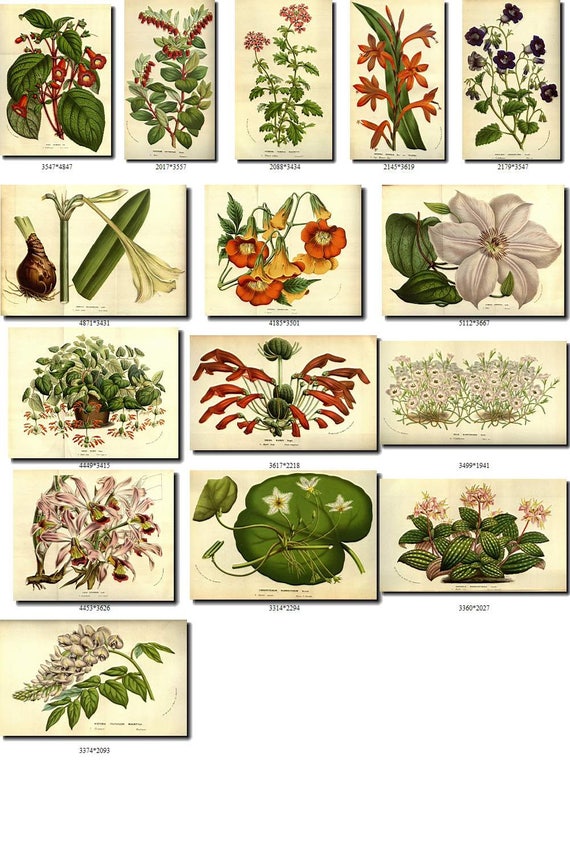 ---
Features
---
Item details
artscult.com - all images from artvintages.com

Instant digital download of 263 vintage pictures of flowers in high resolution (300 dpi, sizes from 1600x2900 px to 3700x5800 px). Look at pictures to see sizes in pixels (click "Zoom", divide size in pixels on 300 - you'll get size of print in inches with high quality, ex. 2400/300=8''). Total size of the collection is 348 Mb.

Each file has a name of shown plant in English or Latin (ex. "Magnolia Grandiflora.jpg"). Names of shown plants are listed below, at the end of description.

All images are in JPG format, separate files. Perfect for use in crafting, decoupage, collage, altered art, prints, etc. Images are in public domain in USA and may be used for any personal or commercial purposes. Information about source books is included.

Look at my other FLOWERS collections:
https://www.etsy.com/shop/ArtVintages?section_id=13682395

All-in-one FLOWERS collections:
https://www.etsy.com/shop/ArtVintages/search?search_query=all+flowers

DISCOUNTS:
Save money - Use coupons shown here:
https://www.etsystudio.com/listing/168468869/

SHIPPING DETAILS:
Digital download (TXT file with link on file in zip format on dropbox and google drive, and gallery view). Before purchase, please, make sure that you are able to download large size files. Download may take long time some cases.

NAMES of shown plants:
Abronia Umbellata, Acacia Angustifolia, Acacia Lophantha, Acacia Myrtifolia, Acacia Suaveolens, Acacia Undulata, Aconitum Versicolor, Acrostichum Simplex, Albuca Minor, Aletris Sarmentosa, Alpine Sanicle, Amaryllis Advena, Amaryllis Sarniensis, Amaryllis Solandraeflora, Amphicome Emodi, Anagyris Foetida, Anemone Thalictroides, Antholyza Ringens, Antholyza Spicata, Anthyllis Erinacea, Arctotis Acaulis Speciosa, Aristea Cyanea, Aster Dentatus, Atragene Capensis, Azalea Indica Albo-Cincta, Azalea Pontica, Azalea Procumbens, Azalea, Barbacenia, Bell-Flowered Chelone, Bignonia Capreolata, Bignonia Grandiflora, Bignonia Leucoxylon, Blue Broom of Spain, Blue Day Lily, Blue Thick-Petal'd Virgin's Bower, Blue-Flowered Aristea, Borbonia Cordata, Boronia Pinnata, Brachysema Undulatum, Branching Gladiolus, Brittle-Stalked Geranium, Broad-Leaved Diosma, Broughtonia Sanguinea, Brunfelsia Violacea, Brunsvigia Faleata, Bulb-Bearing Ixia Yellow-Flowered, Bulbocodium Vernum, Bunch-Flowering Ixia Blossom Gold Colour, Bunch-Flowering Ixia Var Egg-Shaped Purple Petals, Calathea Pardina, Calostemma Luteum, Calostemma Purpureum, Calothamnus Quadrifida, Calycanthus Occidentalis, Camellia Japonica, Campanula Barbata, Canarina Campanula, Canna Coccinea, Canna Excelsa, Cape Atragene, Cape Marygold-Leaved Goodenia, Caraguata Splendens, Carolinea Alba, Changeable Gladiolus, Chelone Campanuloides, Chelone Ruellioides, Chrysanthemum Arcticum, Chrysanthemum Carinatum, Cineraria Aurita, Cinnamon-Smellin Ixia, Clematis Calycina, Clematis Lanuginosa, Clematis Patens, Clematis Viorna, Clerodendrum Squamatum, Climbing Usteria, Clintonia Pulchella, Colchicum Variegatum, Collinsia Verna, Coronet Protea, Coronilla Iberica, Correa Alba, Correa Cardinalis, Cortusa Matthioli, Cosmelia Rubra, Crassula Lactea, Crassula Odoratissima, Creeping-Rooted Bastard Aloe, Crisped-Leaved Ixia Blue Variety, Cyanella Capensis, Cyclamen Persicum, Cyclobothra Alba, Cypripedium Macranthum, Cypripedium Purpuratum, Cytisus Proliferus, Daphne Napolitana, Dauric Rhododendron, Delphinium Cardinale, Dendrobium Bigibbum, Dendrobium Pierardii, Dentaria Digitata, Dianthus Japonicus, Dianthus Sinensis, Diervilla Middendorffiana, Diosma Fragrans, Diosma Latifolia, Dircaea Blassii, Dircaea Lateritia Sub-Alba, Doryanthes Excelsa, Dotted-Flowered Geranium, Dotted-Leaved Rhododendron, Double White Camellia, Dracocephalum Argunense, Drooping-Flowered Lachenalia, Echium Ferocissimum, Echium Grandiflorum, Epidendrum Cochleatum, Epidendrum Nocturnum, Eric Rosea, Erica Clongata, Erica Hirsuta, Erica Juliana, Erica Nidularia, Erica Primuloides, Erica Purpurea, Erica Serpyllifolia, Erica Viscaria, Euphorbia Canaliculata, Exacum Macranthum, Flesh-Coloured Neottia, Fringed Orchis, Fuchsia Globosa Racunculiflora, Fuchsia Rosalba, Gaping Antholyza, Gaping Ash-Coloured Sweet Gladiolus, Gazania Uniflora, Genista Decumbens, Geranium Elegans, Geranium Fragile, Geranium Grandiflorum, Geranium Incisum, Geranium Punctatum, Gilia Coronopifolia, Gilia Dianthoides, Gladiolus Alatus, Gladiolus Gramineus, Gladiolus Longiflorus, Gladiolus Polystachius, Gladiolus Praecox, Gladiolus Ringens Cinereo Odorato, Gladiolus Roseus, Gladiolus Versicolor, Glycine Sinensis, Gnidia Pinfolia, Gnidia Simplex, Goodenia Calendulacea, Goodenia Ovata, Grass-Like Gladiolus, Guzmannia Erythrolepis, Haemanthus Pubescens, Harsh-Leaved Upright Mimosa, Hawthorn-Scented Boronia, Heart-Shape Leaved Borbonia, Heath-Leaved Gnidia, Hedychium Coccineum, Hedychium Flavescens, Hemerocallis Caerulea, Hibiscus Marmoratus, Hibiscus Rosa-Malabarica, Hollow-Leaved Ixia, Hutchinsia Alpina, Hypoxis Erecta, Iochroma Warscewiczii, Iris Longifolia, Iris Susiana, Iris Tuberosa, Ixia Bulbifera Flore Luteo, Ixia Capitata Flore Aurantio, Ixia Capitata Ovata, Ixia Cinnamomea, Ixia Crispifolia Flore Caerule, Ixia Fistulosa, Ixia Reflexa, Ixia Spicata Viridi Nigra, Ixora Rosea, Jacquemontia Coelestis, Jagged-Leaved Geranium, Justicia Retusa, Kennedia Monophylla, Lachenalia Luteola, Lachenalia Pendula, Lachenalia Quadricolor, Lachenalia Tricolor, Laelia Anceps Barkeriana, Laelia Purpurata, Laelia Superbiens, Lambertia Formosa Longifolia, Large-Flowered Viper's Bugloss, Largest Flowered Crane's-Bill, Largest-Flowering Everlasting Flower, Leptodactylon Californicum, Leptospermum Grandifolium, Leptospermum Triloculare, Leucoium Vernum, Lilium Canadense Flavum, Lilium Croceum, Lily-Leaved Ophrys, Limnanthemum Humboltianum, Lobelia Surinamensis, Long-Flowered Gladiolus, Long-Leaved Iris, Lonicera Browni, Lonicera Caprifolium Major, Lonicera Sempervirens Magnevillei, Lonicera Splendida, Lygodium Scandens, Madeira Whortle-Berry, Malpighia Crassifolia, Mandevillea Suaveolens, Massonia Violacea, Melastoma Napalensis, Mesembryanthemum Glabrum, Meyenia Erecta, Mimosa Stricta, Musa Coccinea, Neottia Procera, Neottia Speciosa, Nicotiana Glutinosa, Nymphaea Amazonum, Oleander-Flowered Trumpet Flower, Ophrys Lilifolia, Orchis Ciliaris, Orobus Luteus, Othouna Flabellifolia, Oval-Leaved Goodenia, Oxalis Tenuifolia, Oxalis Tetraphylla, Paeonia Albiflora, Pansees, Passerina Laxa, Passiflora Foetida, Patersonia Glabrata, Pentapterygium Flavum, Petraea Volubilis, Pharbitis Hispida, Phlox Carnea, Phlox Nivalis, Phygelius Capensis, Phyllanthus Mimosoides, Phyllanthus Turbinatus, Pine-Leaved Gnidia, Pitcairnia Staminea, Pogonia Ophioglossoides, Polygala Latifolia, Polygala Stipulacea, Polypodium Pectinatum, Pomaderris Elliptica, Potentilla Atrosangulnea, Potentilla Weinmannii, Prickly Viper's Bugloss, Primula Cortusoides, Primula Erosa, Protea Formosa, Purple Flowered Epidendrum, Purple Zinnia, Purple-Flowered Massonia, Pyrola Maculata, Red Early-Flowering Gladiolus, Red-Flowered Lambertia Long-Leaved Variety, Reflex Flowered Ixia, Rehmannia Glutinosa, Rhododendron Blandfordiaeflorum, Rhododendron Dauricum, Rhododendron Etoile De Villiers, Rhododendron Falconeri, Rhododendron Keysii, Rhododendron Punctatum, Rose Auguste Oger, Rose-Coloured Gladiolus, Round-Leaved Geranium, Salvia Boliviana, Salvia Porphyrantha, Salvia Splendens Soucheti, Saxifraga Ligulata, Scarlet Chelone, Scarlet-Flowered Plantain-Tree, Scolloped-Leaf Vereia, Sea-Green Spiked Ixia, Siberian Primrose, Smooth-Leaved Annual Fig Marygold, Solanum Laciniatum, Sonerila Margaritacea, Sowerbea Juncea, Spike-Flowered Antholyza, Spiraea Reevesiana, Springalia Incarnata, Star-Flowered Springalia, Stenanthera Pinifolia, Streptocarpus Polyanthus, Strophanthus Dichotomus, Styphelia Triflora, Sweet-Scented Crassula, Tecoma Fulva, Thalictrum Anemonoides, Thick-Leaved Malpighia, Three-Flowered Styphelia, Tillandsia Anceps, Toothed-Leaved Starwort, Tradescantia Discolor, Trichosacme Lanata, Tropoeolum Azureum Grandiflorum, Two-Coloured-Leaved Cineraria, Tydaea Ortoiesii, Usteria Scandens, Vaccinium Amoenum, Vaccinium Arctostaphyllus, Vaccinium Erythrinum, Vanilla Planifolia, Verbena Tenera Maonetti, Vereia Crenata, Veronica Persoliata, Veronica Saxatilis, Voila Flabellifolia, Watsonia Iridifolia Fulgens, White Correa, White Paeony, Whitlavia Grandiflora, Wing-Flowered Gladiolus, Wisteria Frutescens Magnifica, Xeranthemum Speciocissimum, Xerotes Rigida, Yellow Pontic Azalea, Zinnia Violacea.
---
---
More from this seller
---
Digital downloads
---
Payments
PayPal payment only accepted (including payment with a credit card via PayPal without having PayPal account)
---
Returns & exchanges
I gladly accept returns and exchanges
Contact me within:
14 days of delivery
Ship items back within:
30 days of delivery
I don't accept cancellations
But please contact me if you have any problems with your order.
The following items can't be returned or exchanged
Because of the nature of these items, unless they arrive damaged or defective, I can't accept returns for:
Custom or personalized orders
Perishable products (like food or flowers)
Digital downloads
Intimate items (for health/hygiene reasons)
Conditions of return
Buyers are responsible for return shipping costs. If the item is not returned in its original condition, the buyer is responsible for any loss in value.
Additional return information
Full refund available if you are not satisfied with your item. Please feel free to email me. Thanks
---
Additional policies
Images from my collections are in public domain in the US.