LEAVES GRASS-86 Collection of 267 vintage images vegetable botanical High resolution digital download printable herbarium flowers herb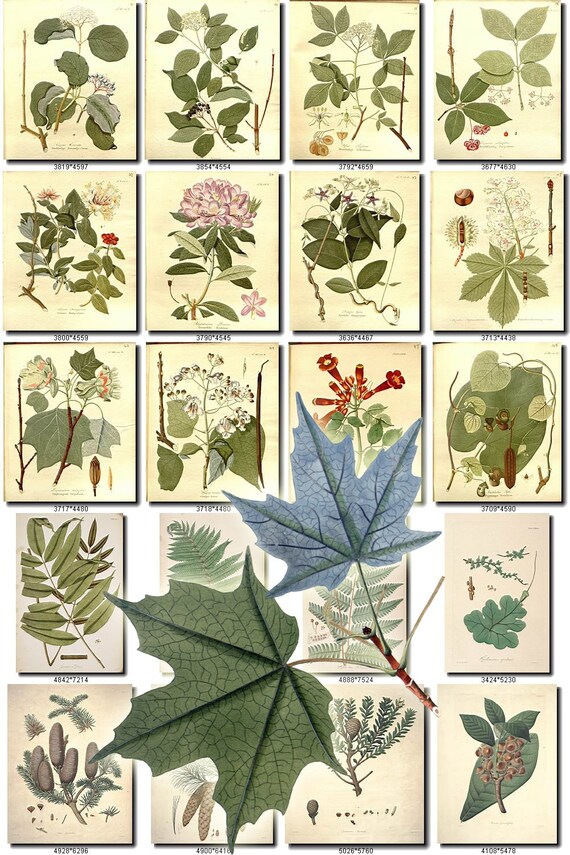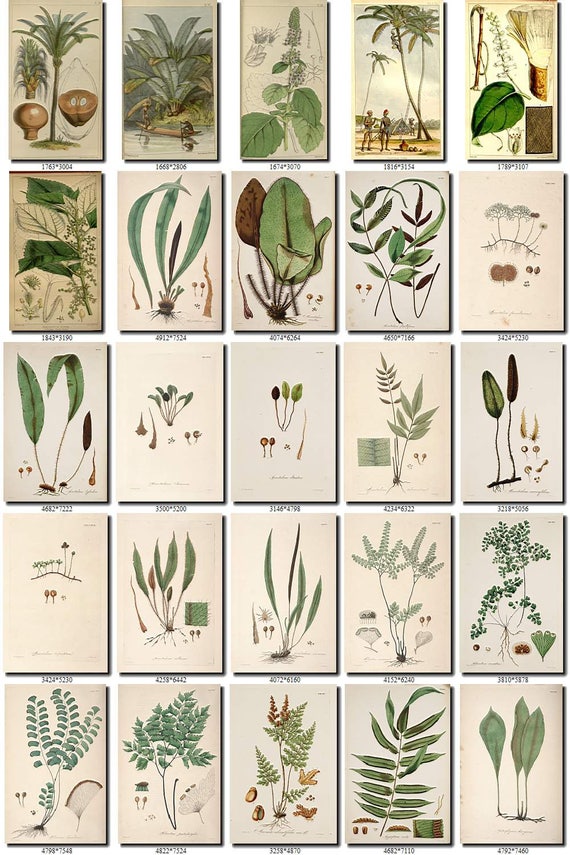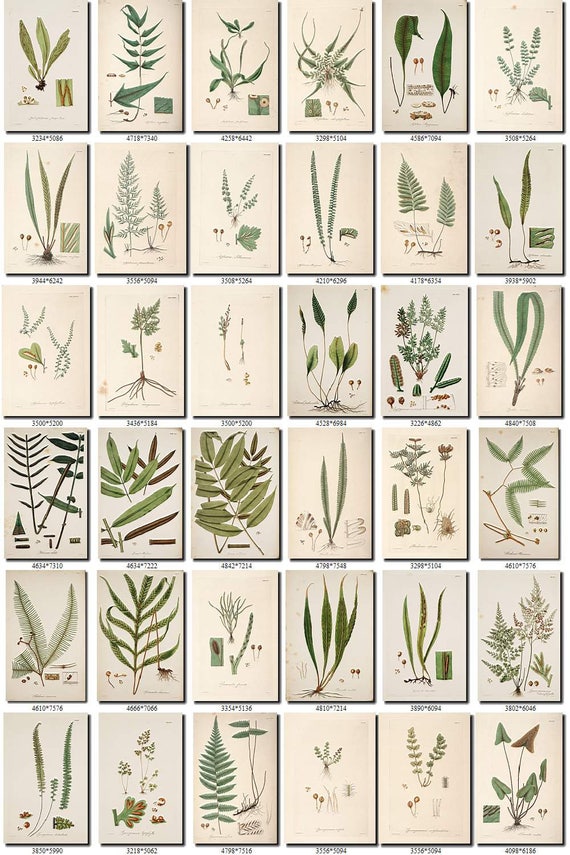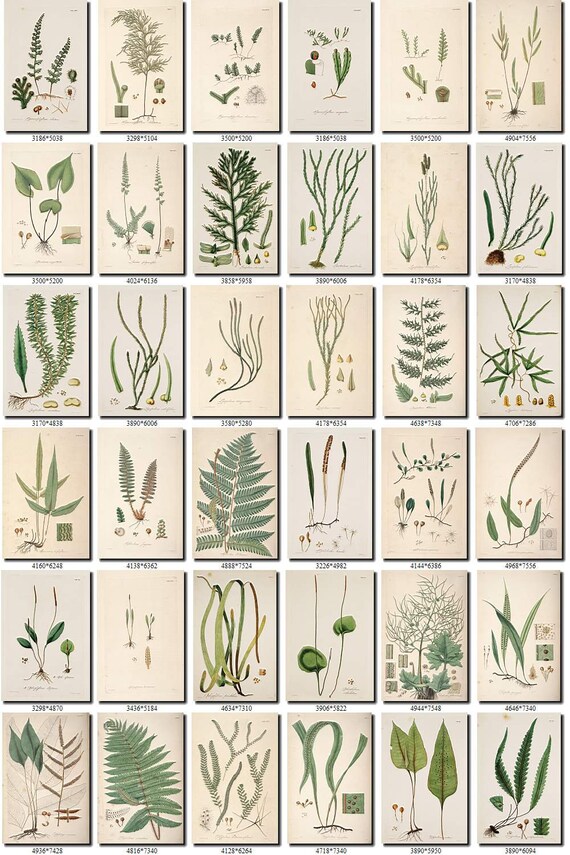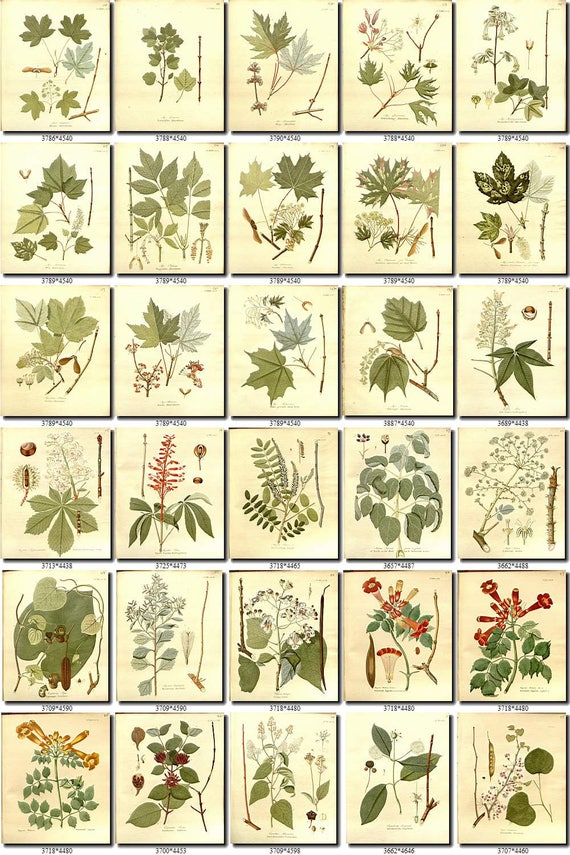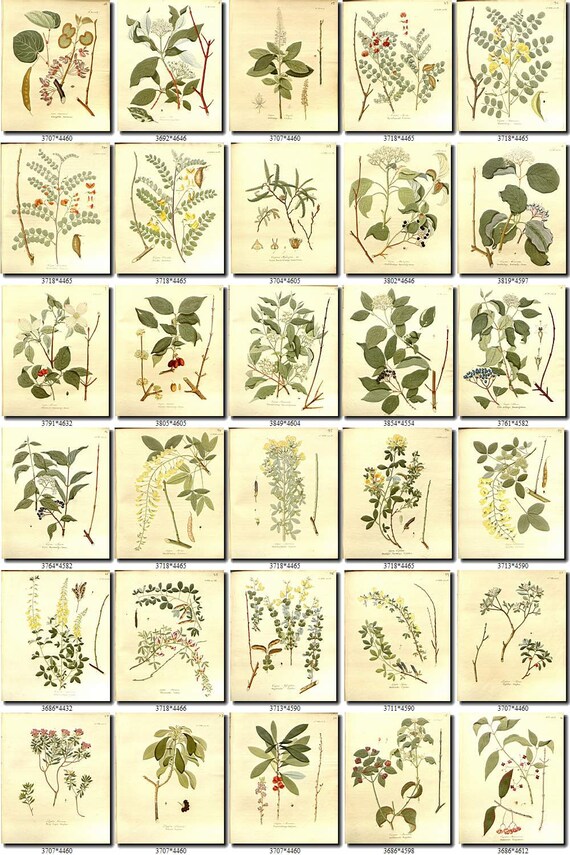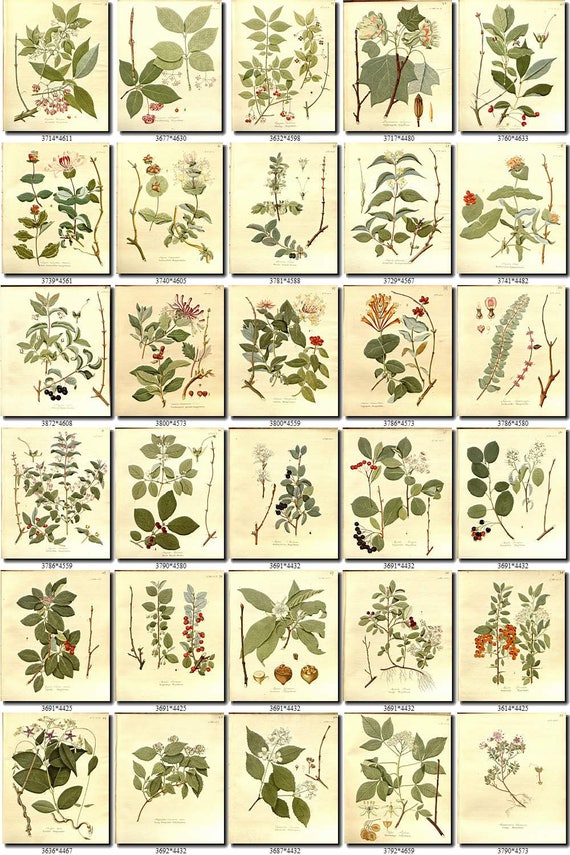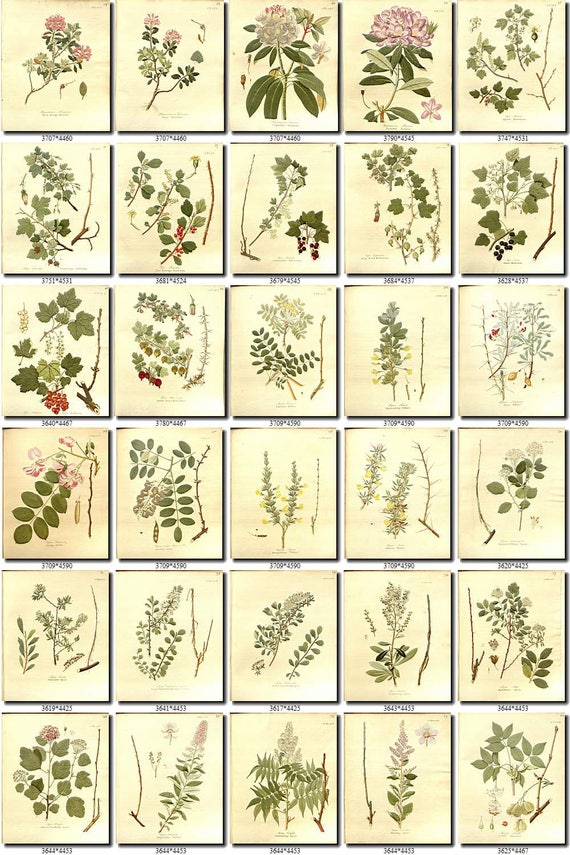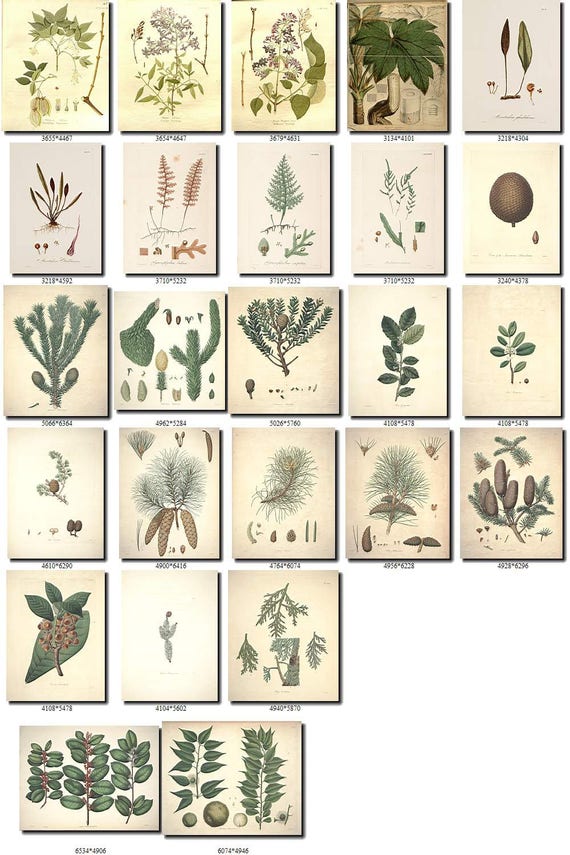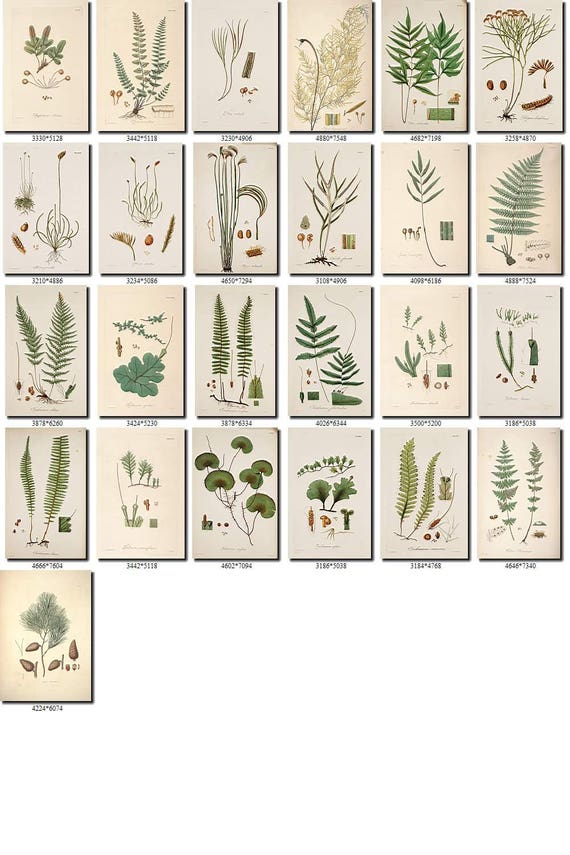 ---
Features
---
Item details
artscult.com - all images from artvintages.com

Instant digital download of 267 vintage botanical images of grass, leaves, trees, some flowers and related in high resolution (300 dpi, sizes from 1600x2800 px to 4600x7600 px). Look at pictures to see sizes in pixels (click "Zoom", divide size in pixels on 300 - you'll get size of print in inches with high quality, ex. 2400/300=8''). Total size is 549 Mb.

Each file has a name of shown plant in English or Latin (ex. "Common Butterwort.jpg" or "Phaca Alpina.jpg"). Names of shown plants are listed below, at the end of description.

All images are in JPG format, separate files. Perfect for use in crafting, decoupage, collage, altered art, prints, etc. Images are in public domain in USA and may be used for any personal or commercial purposes. Information about source books is included.

Look at my other LEAVES & GRASS collections:
https://www.etsy.com/shop/ArtVintages/search?search_query=lg

All-in-one LEAVES & GRASS collections:
https://www.etsy.com/shop/ArtVintages/search?search_query=all+leaves+grass

DISCOUNTS:
Save money - Use coupons shown here:
https://www.etsystudio.com/listing/168468869/

SHIPPING DETAILS:
Digital download (TXT file with link on file in zip format on dropbox and google drive, and gallery view). Before purchase, please, make sure that you are able to download large size files. Download may take long time some cases.

NAMES of shown plants:
Acer Campestre, Acer Creticum, Acer Dasycarpum, Acer Laciniatum, Acer Monspessulanum, Acer Montanum, Acer Negunde, Acer Platanoides, Acer Plataonides, Acer Pseudo Platanus, Acer Rubrum, Acer Sacharenum, Acer Striatum, Acrostichum Apodum, Acrostichum Crinitum, Acrostichum Flagelliferum, Acrostichum Foeniculaceum, Acrostichum Glandulosum, Acrostichum Hybridum, Acrostichum Jamesoni, Acrostichum Obtusatum, Acrostichum Raddianum, Acrostichum Subcrenatum, Acrostichum Succisaefolium, Acrostichum Tripartitum, Acrostichum Villosum, Acrostichum Viscosum, Adiantum Amaenum, Adiantum Cuneatum, Adiantum Lunulatum, Adiantum Pentadactylon, Aesculus Flava, Aesculus Hippocastanum, Aesculus Pavia, Amorpha Fruticosa, Anemia Adiantifolia, Angiopteris Erecta, Antrophyum Boryanum, Antrophyum Pumilum, Aralia Papyrifera, Aralia Spinosa, Araucaria Brasiliana, Araucaria Imbricata, Aristolochia Sipho, Aspidium Caryotideum, Aspidium Proliferum, Aspidium Rhizophyllum, Aspidium Singaporianum, Asplenium Dentatum, Asplenium Ensiforme, Asplenium Faniculaceum, Asplenium Gilliesianum, Asplenium Menziesii, Asplenium Resectum, Asplenium Subsinuatum, Asplenium Triphyllum, Bacharis Halimifolia, Bignonia Catalpa, Bignonia Radicans, Boehmeria Nivea, Botrychium Lanuginosum, Botrychium Simplex, Calycanthus Floridus, Ceanothus Americanus, Cephalantus Occidentalis, Cercis Canadensis, Cercis Siliquastrum, Cernus Alba, Ceterach Pedunculata, Chinese Grass, Clethra Alnifolia, Colutea Aperta, Colutea Arborescens, Colutea Orientalis, Colutea Pocockii, Comptonia Asplenifolia, Cornus Alternifolia, Cornus Circinata, Cornus Florida, Cornus Mascula, Cornus Paniculata, Cornus Sanguinea, Cornus Sericea, Cornus Stricta, Cryptogramma Acrostichoides, Cyathea Sinuata, Cytisus Alpius, Cytisus Austriacus, Cytisus Capitatus, Cytisus Laburnum, Cytisus Nigricans, Cytisus Purpureus, Cytisus Sessilifolius, Cytisus Supinus, Dammara Australis, Danaea Alata, Danaea Nodosa, Danoa Elliptica, Daphne Alpina, Daphne Cneorum, Daphne Laureola, Daphne Mezereum, Davallia Emersoni, Evonymus Americanus, Evonymus Atropurpureus, Evonymus Europaus, Evonymus Latifolius, Evonymus Verrucosus, Gleichenia Alpina, Gleichenia Hermanni, Gleichenia Immersa, Grammitis Decurrens, Grammitis Furcata, Grammitis Involuta, Grammitis Lanceolata, Gymnogramma Chaerophylla, Gymnogramma Cheilanthoides, Gymnogramma Leptophylla, Gymnogramma Lovei, Gymnogramma Rutafolia, Gymnogramma Subglandulosa, Hemionitis Cordata, Hymenophyllum Badium, Hymenophyllum Ciliatum, Hymenophyllum Crispatum, Hymenophyllum Dilatatum, Hymenophyllum Hirsutum, Hymenophyllum Marginatum, Hymenophyllum Semibivalve, Ilex Gongonha, Ilex Paraguensis, Lindsaea Ensifolia, Lindsaea Sagittata, Lindsea Polymorpha, Liriodendron Tulipifera, Lonicera Alpigena, Lonicera Caprifolium Italicum, Lonicera Caprifolium, Lonicera Coerulea, Lonicera Diervilla, Lonicera Media, Lonicera Nigra, Lonicera Periclymenum Serotina, Lonicera Periclymenum, Lonicera Semper-Virens, Lonicera Symphoricarpos, Lonicera Tartarica, Lonicera Xylosteum, Lycopodium Atro-Viride, Lycopodium Gnidioides, Lycopodium Heterophyllum, Lycopodium Pulcherrimum, Lycopodium Serratum, Lycopodium Subulifolium, Lycopodium Tetragonum, Lycopodium Varium, Lycopodium Wildenovii, Lygodium Dichotomum, Maclura Aurantiaca, Meniscium Triphyllum, Mespilus Amelanchier, Mespilus Arbutifolia, Mespilus Canadensis, Mespilus Chama-Mespilus, Mespilus Cotoneaster, Mespilus Germanica, Mespilus Pumila, Mespilus Pyracantha, Nephrodium Fragrans, Nephrodium Soldianum, Niphobolus Bicolor, Niphobolus Rupestris, Niphobolus Spharocephalus, Ophioglossum Ellipticum, Ophioglossum Lusitanicum, Ophioglossum Opacum, Ophioglossum Pendulum, Ophioglossum Reticulatum, Parkeria Pteridoides, Periploca Graca, Philadelphus Coronarius Nanus, Philadelphus Coronarius, Pinus Deodara, Pinus Excelsa, Pinus Laricio, Pinus Maritima, Pinus Pallasiana, Pinus Spectabilis, Pleopeltis Percussa, Polybotrya Cervina, Polypodium Crinitum, Polypodium Heteromorphum, Polypodium Longifrons, Polypodium Ovatum, Polypodium Scolopendrioides, Polypodium Scouleri, Ptelea Trifoliata, Pteris Auriculata, Pteris Australis, Pteris Chrysosperma, Pteris Denticulata, Quercus Grandifolia, Rhododendron Chamaecistus, Rhododendron Ferrugineum, Rhododendron Hirsutum, Rhododendron Maximum, Rhododendron Ponticum, Ribes Alpinum, Ribes Cynosbati, Ribes Diacantha, Ribes Floridum, Ribes Grossularia, Ribes Nigrum, Ribes Rubrum, Ribes Uva Crispa, Rice-Paper Plant, Robinia Caragana, Robinia Frutescens, Robinia Halodendron, Robinia Hispida, Robinia Pseudo Acacia, Robinia Pygmea, Robinia Spinosa, Schiyaea Dicholoma, Schizaea Pusilla, Schizaea Rupestris, Schizea Trilateralis, Spiraea Chamadrifolia, Spiraea Crenata, Spiraea Hypericifolia Varietas, Spiraea Hypericifolia, Spiraea Laevigata, Spiraea Media, Spiraea Opulifolia, Spiraea Salicifolia, Spiraea Sorbifolia, Spiraea Tomentosa, Staphylea Pinnata, Staphylea Trifolia, Syringa Persica, Syringa Vulgaris Purpurea, Taenitis Furcata, Tanitis Interrupta, Taxodium Sempervirens, Thuja Dolabrata, Toddy, Todea Fraseri, Trichomanes Alatum, Trichomanes Apodum, Trichomanes Crispum, Trichomanes Floribundum, Trichomanes Himile, Trichomanes Lanceum, Trichomanes Lucens, Trichomanes Quercifolium, Trichomanes Reniforme, Trichomanes Reptans, Trichomanes Sinuosum, Trichomanes Venosum, Woodsia Perriniana.
---
---
More from this seller
---
Digital downloads
---
Payments
PayPal payment only accepted (including payment with a credit card via PayPal without having PayPal account)
---
Returns & exchanges
I gladly accept returns and exchanges
Contact me within:
14 days of delivery
Ship items back within:
30 days of delivery
I don't accept cancellations
But please contact me if you have any problems with your order.
The following items can't be returned or exchanged
Because of the nature of these items, unless they arrive damaged or defective, I can't accept returns for:
Custom or personalized orders
Perishable products (like food or flowers)
Digital downloads
Intimate items (for health/hygiene reasons)
Conditions of return
Buyers are responsible for return shipping costs. If the item is not returned in its original condition, the buyer is responsible for any loss in value.
Additional return information
Full refund available if you are not satisfied with your item. Please feel free to email me. Thanks
---
Additional policies
Images from my collections are in public domain in the US.